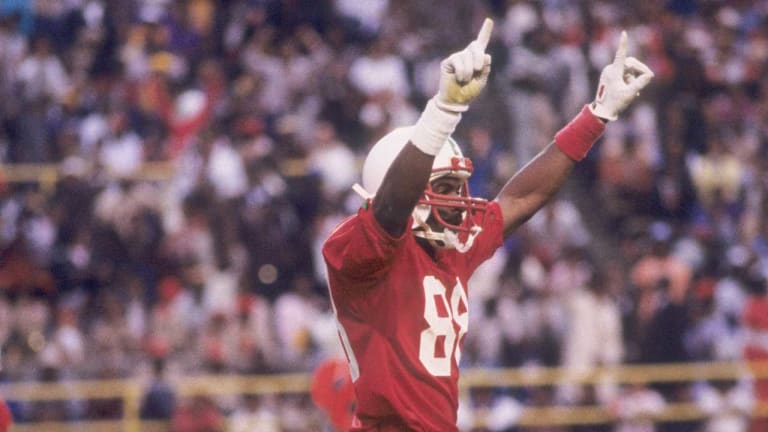 He's the catch of the year
Mississippi Valley State's Jerry Rice is a record-breaking wide receiver
Jerry Rice's hands are big, thick, rough, the kind that convey power even in a gentle introductory clasp. And when people describe one of Rice's catches, they usually finish the simulation with a kind of space age schhoooop that cuts off as the imaginary pigskin is sucked neatly into form-fitting fingers.
Gloster Richardson, Rice's receiving coach at Mississippi Valley State, lived by his hands for 10 years in the AFL and NFL. Today they are adorned with two Super Bowl rings from victories in 1970 and '72 with Kansas City and Dallas, respectively. Richardson's admiration for the dexterity in Rice's battle-scarred mitts is almost loving. "They're just beautiful." says Richardson, playing a Rice highlight film in his head. "Real soft, real quiet. Always right on time, He doesn't need to use his body to catch the ball. His hands are just a gift."
By being a dedicated worker and a main cog in a passing attack known as the Satellite Express, Rice, a junior, is making the most of his gift. He's leading all NCAA receivers, with 91 catches, 12 more than anyone else. His next catch will break the NCAA Division I-AA record. Rice had a statistically subpar four-reception, one-touchdown performance in a 42-14 trouncing of Alcorn State on Saturday, but after it he still owned four Division I-AA marks: most career catches, 187; most yards in a season, 1,304 (this year); most yards in a game, 279 against Tennessee State in 1982; and most catches in a game, 24 on Oct. 1 in a 31-28 loss to Southern U. In that game, several more Rice receptions were nullified because of penalties.
Rice and his quarterback, Willie Totten, who leads Division I-AA in passing efficiency, have paced the Delta Devils to a 6-2-1 record. A win this week over Tennessee State would mean that Mississippi Valley would finish with its best mark since 1956 and move the Delta Devils a step closer to their first Division I-AA playoff berth
Rice has been called World by teammates ever since Coach Archie (Gun-slinger) Cooley suggested last year that Rice could "catch a BB in the dark." Rice's average reception is good for more than 14 yards and typically comes after a smooth series of intricate cuts that free him from double and even triple coverage. "You've got to get rid of the first man, run the pattern on the second man and take the ball away from the third man," Rice says.
The 6'3", 205-pound Rice, who's blessed with 4.45 40-yard speed and unusual jumping ability, strength and toughness, already ranks as one of the best receivers ever to play in the SWAC—no small accomplishment considering that the conference alumni include Otis Taylor. Charlie Joiner, Harold Jackson, Harold Carmichael, Sammy White and Trumaine Johnson, to name a few. Some pro scouts think Rice has the ability to be better than all of them.
"He has developed such concentration and field sense, and his routes are so precise," says Richardson, who favorably compares Rice to Taylor, Richardson's old Kansas City Chiefs teammate. "Plus, he comes across the field with so much intensity, guys seem like they are getting out of his way."
As did Taylor, Rice does some of his best work after he catches the ball. "I like to deliver a blow," he says of fighting fire with fire in a conference—SWAC!—known for its fierce hitting. "I'm always looking to turn it upfield and run over some people."
Rice, a self-contained 21-year-old, is slightly uncomfortable with his growing fame. But although he's reticent in public, as one of the Delta Devils' captains he speaks up and commands respect. On the rollicking 120-mile bus ride home after the win over Alcorn, Rice's wish to express an opinion caused some teammates to silence a group of revelers with shouts of "World talking! Listen up!"
This fall, inspired by the University of Houston's basketball team, which called itself Phi Slamma Jamma, Rice named Mississippi Valley's wide receiver corps Phi Lookum Jukum. Cooley builds his offense around this fraternity. His motto is "The fastest way between two points is to fly," and he knows a wide-open attack is a recruiting plus. At a school with only 2,580 students in a state that provides meager funds for education, he needs all the help he can get. So, Cooley carries 17 pass receivers on his team.
Mississippi Valley State, which was founded in 1950, lies on a former cotton patch in the middle of Itta Bena (pop. 2,901). Itta Bena, approximately 80 miles north of Jackson, means "home in the woods" to the Choctaw, and the school still isn't out of the woods financially. Cooley has only four assistant coaches and a $162,000 football budget. While the Mississippi Valley colors are Yuletide green, red and white, the players could surely use some new uniforms for Christmas. This year, Cooley purchased some green cotton sweatsuits, which the Delta Devil players not accustomed to such luxuries proudly wear everyplace.
"These guys are not from middle-class backgrounds," says Cooley, a 1959 All-America center and linebacker at Jackson State. "A lot of them are from sharecropper families that just live day to day. They don't know disappointment because they never had anything. This is their chance to achieve something."
Rice's father, Joe Nathan, is a brick mason in Crawford who expected his six sons to help him when they weren't in school. "I got used to hard work early." says Jerry, the third youngest in a family of eight children. "It made my hands rough, but it made me strong."
His mother, Eddie B., says football success has had little effect on Jerry. "He never gave anyone any trouble," she says. "He was always quiet, but he loved his ballplaying. He has worked hard at everything he's done all of his days."
By the time he reached high school Rice realized he had football talent, but even after making 80 catches and scoring 35 touchdowns his senior season at tiny B.L. Moor High School in Crawford, he received only a few scholarship offers. His older brother, Tom, who had played for Jackson State, advised him to go to Mississippi Valley because of Cooley's passion for passing. "Jerry was about 6'1", 180 pounds and ran about a 4.8 40," says Cooley. "You can find that anywhere But he had those hands. And he had that desire to improve He still doesn't know how good he is." Cooley pauses and smiles—a very proud SWAC coach "The big schools may get the blue-chippers, but we make the blue-chippers."
Over the past couple of years Rice has applied his good work habits to weight training and a sprinting program. He caught 30 passes as a freshman and 66 last year. "I just felt natural right away," he says. "Then things just started getting easier." Still, Rice, Totten and the other wideouts usually come to practice an hour early. "We all know each other's moves so well, especially Jerry and me," says Totten, a sophomore who Cooley believes is a better quarterback than Doug Williams was when he was at Grambling from 1974 to 1977. "When I look for a big play, Jerry will just be there." Adds Richardson, "Jerry is so spectacular, he fires everyone up."
Opponents now tired of watching Rice do spectacular things in games have resorted to desperate measures. "After the play is over, they'll knock me down," Rice says. "They'll talk a lot. But I'm the quiet type. I can control myself."
Rice was under control against 5-3 Alcorn. In fact, Cooley used him primarily as a decoy as the Delta Devils gained 305 yards on the ground and ran for four touchdowns. But with 21 seconds left to play, Totten noticed Rice being covered by a single defender and hit him—wide open—for a 41-yard TD, his 12th scoring catch of the season.
Rice isn't particularly excited about his imminent pro career. He wants to get his degree in technical education, with a speciality in auto mechanics. "I've never really owned a car," he says. "When I get one, I want to get the best."
He should be able to afford it.
THREE PHOTOS
Rice caught his 91st pass of '83 against Alcorn with hands toughened from laying bricks.
TWO PHOTOS
Life isn't fancy at Mississippi Valley, but the football is, thanks to the Gunslinger.