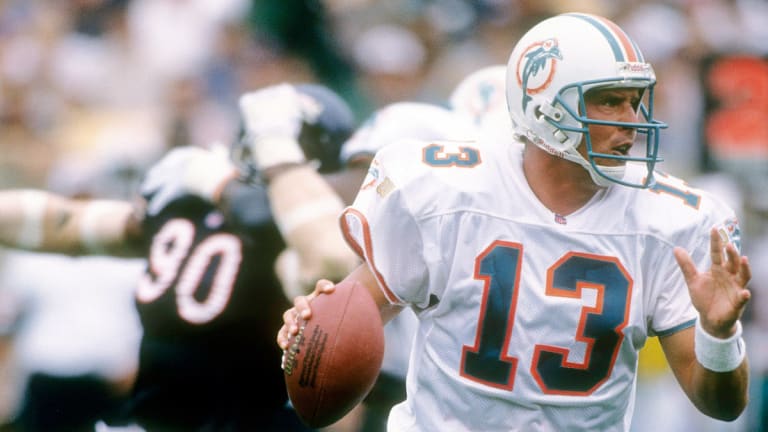 Publish date:
The Class of Their Class
Eric Dickerson, Curt Warner and Dan Marino are the cream of the NFL's deepest crop of rookies ever
Draftniks called 1983 the Vintage of the Century. For them, the collection of college football players waiting to be picked by the pros was the finest ever. Football historians said it was the best since '73, a year that sent eight rookies into the Pro Bowl. At any rate, it was going to be one heckuva college crop.
Just how good has it been? Well, there's plenty of talent, all right. Rookies have invaded the NFL in great numbers, more than ever before, thanks in part to a four-man increase in the roster size that took effect in '82, and defections to the USFL. This year the league's teams had 266 "first-year" men (a designation that also includes Canadian imports and '82 rookies who had never played because of injuries) on their opening-day squads. Sixty-five of them now are starters. Both figures are alltime highs. But while the '83 rookie crop certainly looks solid, it hasn't been as brilliant as expected, a bit of its flash having gone to the USFL. "A great draft for red-chippers," says Mike Giddings the superscout who evaluates all the pro players for eight NFL clubs "but not great for blues—yet."
Right now three members of the class of '83 seem headed for the Pro Bowl—the Rams' Eric Dickerson and Seattle's Curt Warner, who lead the NFC and AFC, respectively, in rushing, and Miami Quarterback Dan Marino. That's where it gets interesting, because 1983 was also supposed to be the Year of the Quarterback, and on draft day Marino rated at the bottom of what was known as the Group.
The Group, a.k.a. the Big Five. They were the five quarterbacks who figured to go in the first round, giving the position the heaviest first-round overload in drafting history. Stanford's John Elway was going to be the No. 1. Everyone knew that. Then the scramble was on. Illinois' Tony Eason, Miami's Jim Kelly and Penn State's Todd Blackledge would be the next three. Choose any order. Then Pitt's Marino. At the beginning of his senior season he had rated as the No. 2 pick, right behind Elway, but 1982 was a downer for him. He seemed out of sync with the offense. His receivers kept dropping the ball. "I don't want to talk about last year," Marino says now. "I don't even want to think about it."
By draft day he was projected as a low first-rounder. Some scouts were even predicting second round for him. "A pusher," one player personnel director said. "He pushes the ball. He's lost his throwing rhythm completely."
Elway went to Baltimore on the first pick, Denver eventually getting him in a trade. Blackledge went to Kansas City on the seventh, Kelly to Buffalo on the 14th and Eason to New England one choice later. On the 24th pick the Jets went for Ken O'Brien, a sleeper quarterback from UC-Davis. In the war room in Miami, Don Shula stared at the board in disbelief. He had been thinking about defensive-line help. The Dolphins had the 27th selection.
"I'd been hoping Marino would be there, but I didn't see any logical way he could," Shula says. "I'd seen him in the Hula Bowl and Senior Bowl. All he'd done was win the MVP in both. I had him rated right up there with Elway."
Cincinnati took Nebraska Center Dave Rimington on the 25th pick, the Raiders took USC Tackle Don Mosebar, and Marino belonged to Miami. Everyone's calling it a steal now, but at the time no one could figure it out. "What's Shula want that guy for?" one scout said.
Six months have gone by. Elway started five games for the Broncos, and they went 2-3. In game No. 6 he sat down, Steve DeBerg took over and the Broncos won four straight games. Last Sunday DeBerg went out with a shoulder injury in the third quarter at Seattle, and Elway was waved in. He completed eight of 15 passes for 134 yards and a touchdown, but couldn't overcome Seattle's 20-9 lead—and Denver ultimately lost 27-19. "In time John'll be a great one." Denver Coach Dan Reeves says. "We gave him too much all at once." Kelly went to Houston of the USFL; he'll see his first action in '84. Blackledge has thrown five NFL passes, Eason four and O'Brien none. No one wants to rush them into anything. And Marino?
Well, when he took over for David Woodley after five games, the Dolphins were 3-2; they were last in the NFL in passing and fifth from last in scoring. Marino made his first start against the Bills in the Orange Bowl, and things began disastrously. Midway through the second quarter he had thrown two interceptions and been sacked once, and the Bills had a 14-0 lead. But there he was, marching down the sidelines, grabbing his running backs' shoulder pads, patting his linemen's helmets, nodding to his receivers and telling each one to relax, he wasn't going to fold. He didn't...and he hasn't since. Miami lost that game in overtime, but Marino finished with 322 yards passing. Since the Buffalo game the Dolphins have gone 4-0. Under Marino they've upgraded their scoring from 16.2 points a game to 21.9 and moved eight notches up in the pass rankings.
Marino, who completed 15 of 29 passes for 194 yards and two touchdowns in Miami's 20-17 win over San Francisco Sunday, now leads the AFC's passers with a 102.7 rating. He has thrown only one interception in his last 139 passes. The last rookie to lead a conference in passing was Greg Cook, when he was with the Bengals in 1969. The highest completion percentage for a rookie passer in NFL history is Jim McMahon's 57.1 last year with the Chicago Bears. Marino is currently at 60.1%.
"I'm throwing the way I've always thrown," he says, low-keying his success. "I'm reading coverages better because it's a full-time job now, an all-day thing instead of just a few hours in the afternoon. Plus I've got Coach Shula working with me."
"That's where he got lucky," Redskin General Manager Bobby Beathard says. "There are not a lot of great quarterback coaches around. Shula happens to be one of them. He took that kid down there right after the draft and really prepared him. He handled him just right. He didn't throw him in to sink or swim; he put him in when he thought he was ready."
"If you were a scientist, you'd have to run a control on this," says one player personnel director who was an original Marino knocker. "Put Marino in someone else's system and see where he'd be now. Then take an Elway or an Eason and put him with Shula and see where he'd be. Maybe they'd be doing the same things Marino's doing."
Marino could make the Pro Bowl by default. The major AFC competition—Dan Fouts and Terry Bradshaw—is on the sidelines with injuries. Dickerson, whose 10-game, 1,223-yard total is the sixth best in history at this stage, is a shoo-in; his 15 rushing TDs, including two in the Rams' 21-14 win over Chicago on Sunday, are a rookie record. "A great, great runner so far," says his Ram coach, John Robinson, "and his true greatness is still to be realized." The Seahawks' Warner is also a safe bet. "He reminds me of O.J. Simpson in a lot of ways," says Seattle's left guard Reggie McKenzie who blocked for O.J. "Same ability to cut on a dime, same knack for finding the holes." After that, the Pro Bowl pickings from this year's rookie crop look slim, unless Willie Gault or James Jones suddenly goes crazy.
Gault, who chose the Chicago Bears over a high hurdles berth on the Olympic team, has been nicknamed Dr. Gault by Left Guard Noah Jackson, "because he makes all our other receivers feel well." Gault has averaged 20.9 yards a catch and had one streak of six touchdowns in three games. The Bears' other first-round choice, Jimbo Covert, has been a fixture at offensive left tackle, a rough-cut diamond who makes mistakes but still shoves people around. "When Chicago played Tampa Bay," Giddings says, "I saw him drop Lee Roy Selmon a couple of times with his hands. There might not be a stronger tackle in the game today." Jones, the big Florida fullback who was supposed to block for Billy Sims in Detroit, has been doing just fine on his own, leading the Lions in rushing while ranking second in receiving.
In San Diego, the Chargers were thinking of their four rookie defensive starters in terms of the Super Bowl, not the Pro Bowl. Cornerbacks Gill Byrd and Danny Walters and inside linebackers Billy Ray Smith and Mike Green were supposed to give the Chargers a defense that would bring them a title—much in the manner of the 1981 49ers, with Ronnie Lott, Carlton Williamson and Eric Wright—but it hasn't worked out that way. Byrd and Walters have been doing a fine job at the corners, but the lack of a pass rush has given them nightmares. Green has been terrific as an inside plugger and run-stuffer, but Smith, the fifth player drafted, has had trouble making the conversion from stand-up defensive end to inside backer, where the traffic moves in all lanes at all speeds.
Considering the talent that went to the USFL, this could have been a truly dazzling rookie crop. People like running backs Kelvin Bryant and Gary Anderson, Wide Receiver Trumaine Johnson and Safety David Greenwood could have been Pro Bowl-bound, but we'll never know. Some scouts say that the presence of the USFL caused NFL clubs to hold onto their draft choices and give them a longer look—to keep them away from the new league. Whatever the reason, there are certainly an awful lot of rookies around—low-round choices, high-rounders...it doesn't seem to make any difference.
The Steelers, never heavy on rookies in their Super Bowl days, added nine to their active roster, and that's after 13 made it last year. At Atlanta, 16 rookies made the club, including eight of its 11 draft choices; Houston kept 15, nine of whom start. The Bengals didn't cut any of their 12 picks in the first 11 rounds. Ten of the 12 are on the squads, one's on the injured reserve and one went to the USFL. There are 12 Colt rookies, including Left Guard Chris Hinton and Right Linebacker Vernon Maxwell, both of whom have had an immediate impact; the Colts won a total of only two games the last two seasons, but after beating the Jets 17-14 Sunday they were 6-4 and challenging first-place Miami (7-3) in the AFC East.
In terms of blue-chip quality, though, it's hard to match the 1973 rookie group, when Ray Guy, Greg Pruitt and Isaac Curtis made the AFC Pro Bowl squad, and Charle Young, Tom Wittum, Nick Mike-Mayer, Chuck Foreman and Wally Chambers the NFC team. Future All-Pros from that year included John Hannah, Joe DeLamielleure, Jerry Sisemore. Drew Pearson, Leon Gray, Bert Jones, Fouts, Ron Jaworski, Otis Armstrong, Terry Metcalf Harvey Martin, Cody Jones and Brad Van Pelt. One exotic note: On the 17th round of that '73 draft, the Vikings picked the guy who would become the richest athlete of them all, a basketball- and baseball-playing tight-end projection from the University of Minnesota named Dave Winfield.
Before '73, the most famous NFL rookie crop probably was the one in 1965. That year George Halas turned the Bear draft over to an assistant, George Allen, and Allen promptly chose two Hall of Famers, Dick Butkus and Gale Sayers, and later on also grabbed Michigan State's Dick Gordon, who wound up a Pro Bowler and the Bears' fourth-leading alltime receiver. Who says Allen doesn't know how to draft? Across the board the '65 group was blue chip all the way—Joe Namath, Craig Morton, Jim Nance, Ken Willard, Mike Curtis, Fred Biletnikoff, Otis Taylor, Jethro Pugh, Chris Hanburger.
Two earlier groups of rookies stand out from the days when drafting was less scientific. The class of '57 produced such stars as Jim Brown, Jim Parker, Sonny Jurgensen, Len Dawson, Paul Hornung, John Brodie and the late Willie Galimore. And 1952 will be remembered as the great West Coast invasion, when three Pacific Coast running backs, Ollie Matson, Frank Gifford and Hugh McElhenny, all began careers that would end in the Hall of Fame. Seven Hall of Famers, total, emerged from that '52 rookie contingent—Gino Marchetti, Bill George, Night Train Lane and Yale Lary, in addition to the West Coast trio—making it, for top of the line quality, the bluest of all the blue-chip classes.
There are teams that can put their finger on a specific rookie group and say, "This is the one. This did it for us." The Steelers got five Pro Bowlers in '74, the final push into their Super Bowl years and the topper in a six-year period during which they added 14 players who eventually made the Pro Bowl, including six from the class of '71. The Redskins say the '81 group, which brought them three of the Hogs who block for John Riggins (Mark May, Russ Grimm and Joe Jacoby) plus pass-rusher Dexter Manley and Wide Receiver Charlie Brown was the key to their Super Bowl triumph Redskin historians recall that one of the more unusual drafts in history belongs to their club. On their first two choices in 1964 they selected the players who would become the NFL's alltime career leaders in receptions and interceptions, Charley Taylor and Paul Krause.
How well does this class of '83 measure up? Well, check back in a decade or so, when Marino is staring down his whiskers at some youngster who wants his job, when Dickerson and Warner are trying to squeeze some more mileage out of old and battered legs, when Willie Gault has lost a step or two and the new Transworld Football League, based in Tokyo, is threatening to sign the class of '94 en masse. By then we'll have it all sorted out.