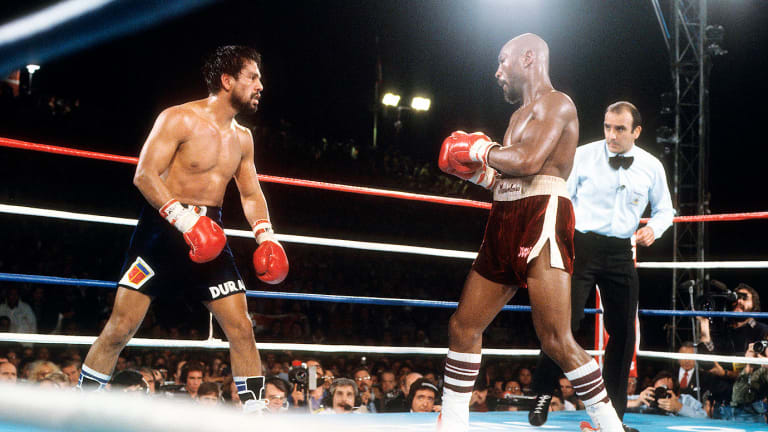 Marvelous Was Something Less Than Marvelous
Marvelous Marvin Hagler retained the middleweight title but tarnished his image in beating Roberto Duran
Toward the close of the 12th round last Thursday night, Marvelous Marvin Hagler and Roberto Duran fought at a savage pace. Duran scored with hard, straight right hands to Hagler's face, and just before the bell blood trickled from Hagler's swollen left eye, as Duran taunted Hagler by pointing to his chin and saying, "Hit me! Hit me!" Hagler, the undisputed middleweight champion, obliged with a hard right as he chased Duran into a corner.
The crowd of 14,600 in the stadium at Caesars Palace in Las Vegas was on its feet roaring long after the bell had sounded. But the 12th, which Duran won with such a flourish, was mere prelude to what would happen in the next round. Duran brought the multitude up again, and again, and then it was chanting, "Dooooran! Dooooran! Dooooran!" Spurred on by the crowd and driven by the force of his own furious will and considerable talent, Duran, the WBA junior middleweight champion, appeared to seize control of the fight.
Midway through the 13th, Hagler struck Duran with a mighty left to the face, but Duran countered to the body, jarred Hagler with a sharp right to the head, cracked him with another right and then a third, and followed with a left and a right. Now someone in the crowd was blowing a bugle, a clarion call, it seemed, for Duran. At the bell he landed a final right to Hagler's head, and Hagler smiled sarcastically as he went to his corner. It was Duran's round, and Hagler knew it.
Suddenly—and quite miraculously—there was a sense in the stadium that Duran, a 4-to-1 underdog who had been so roughed up in the sixth round it looked as if he'd never make it to the ninth, had not only survived but might yet prevail; that the former lightweight and welterweight champion of the world was about to make history by becoming the first man ever to win four world titles; and that Hagler's middleweight crown, which he'd won three years before and had successfully defended seven times, all by knockout, was in grave danger of being taken.
Hagler was simply Marvin now. It was Duran who had been marvelous. At the end of the 13th, Luis Spada, Duran's manager and strategist, told him, "You win the last two rounds, you win the fight. Throw punches. Make points. You have to win the last two rounds!"
Goody Petronelli, Hagler's trainer, told his man the same thing. Almost four years earlier at Caesars, Hagler had suffered his biggest ring disappointment, losing his first bid for the middleweight title when the judges, in a highly questionable decision, called his fight with then champion Vito Antuofermo a draw. Now Petronelli feared a similar shaft. "I want a strong 14th and 15th," he told Hagler. "You can't make this fight close. You've got to win these last two rounds."
At that point judge Guy Jutras of Canada had the fight even, at 124-124, while judge Yasaku Yoshida of Japan, whose indecision had been such that he'd called six rounds even, actually had Duran ahead 127-126, as did Ove Ovesen of Denmark, 125-124. If many at ringside would later be astonished at the judges' cards—Hagler had certainly landed more and harder punches to this juncture—it was unmistakable that Duran had craftily fought within reach of victory in the 12th and 13th rounds.
That this was so, after what Duran had been through during the preceding year, and particularly in the previous 51 minutes, gave an otherwise routine evening a sudden sense of moment. Only 363 days earlier, in the Orange Bowl in Miami, Duran had decisioned someone named Jimmy Batten in what appeared to be the closing fight of his career. It was a dreadful performance for a man who had once been so consummate a fighter, and it looked as if he had lost the skills that had served to make him the fighter of the '70s.
But then, 2½ months later, Duran whipped Pipino Cuevas, and on June 16 of this year he stunningly lifted the junior middleweight title from the inexperienced Davey Moore by stopping him in the eighth round. Despite the skeptics, who could not forget that Duran quit in the eighth round of his 1980 welterweight title rematch with Sugar Ray Leonard and who doubted that something of the old Duran remained, promoter Bob Arum made the Hagler-Duran fight. Both fighters trained with fervor, and by the time they arrived in Las Vegas they were dead fit for the occasion of their lives. On the morning of the fight Duran weighed in at 156½, Hagler at a pound more.
"I'm in the same shape I was when I fought Leonard the first time," said Duran, referring to his WBC welterweight title victory in June of 1980. And he was additionally armed with a strategy, devised by Spada, that called for Duran to box—to move rather than attack—and induce Hagler to miss.
"How ready can you get?" Hagler asked three days before the fight. "I want to get it over with. After a while, all the talking gets to you. I go to sleep now listening to myself talk."
Talk they eventually did, though it took Hagler a while to learn the strange new language Duran brought into the ring. And Hagler's discomfort with the relatively passive Duran showed in long, inexplicable lapses of his own originality and will, until he became aware that his title was truly at risk.
Aside from Referee Stanley Christodoulou—who did a superior job of preventing Duran's low blows from becoming a factor while letting the fighters fight—the only man in the ring who knew at all times what he was doing was Duran. "People think I'm going to go crazy in there, like against Leonard," Duran said before the fight. "But, no." Though decidedly undersized and outgunned—Duran is an inch shorter than Hagler and has eight inches less reach—he arrived at the 14th round with a chance, on more than the judges' cards, of finessing Hagler's belt from him.
It was a strange fight, with small eddies and currents that made it difficult to score, but fascinating for what it revealed about the personalities of its leading men. Duran is an imaginative actor onstage, an original who creates ring drama by the mere feint of his head. Hagler is a stoic, without creative urgency or flair. He's a stalker, conservative and cautious, almost insecure, whose ring presence can be likened to that of a mechanic in a garage—speak softly and carry a big wrench.
The first round was a sleepwalk. "I knew that Hagler was waiting for me to get inside to fight with him," Duran said afterward, "so he could get his punches in with force." Nothing doing, of course.
When Duran didn't attack in the second, Petronelli began to worry: "I thought, 'What's going on here?' "
Not that much, really, which was the source of Petronelli's concern, though the fighters did mix it up somewhat more than they had in the first round. Hagler caught Duran with a solid right jab, a punch Duran would feel throughout the fight, and he scored uppercuts to the body and head when they fought inside. But Duran was making himself a difficult target and finding the range with his straight right hand, the punch that eventually took him as far as he went.
"Duran was fighting the smarter, more composed fight," Ovesen would say. "He made Marvin miss and countered on his own. I made those two rounds for Duran, but not by much." The fight was going as Duran and Spada had planned it. "I fought him at half-distance," Duran said. "I was waiting for him to unload so I could score on him. Whichever hand he unloaded, I was ready to counter. He didn't confuse me with anything. I was beating him without mixing it up too much."
Petronelli's foreboding deepened. "Duran waited and waited and waited for Marvin to lead," he said. "We had to change our tactics and go on the offensive, which isn't really Marvin's style." So at the end of the third, Petronelli told Hagler, "This ain't going too well. Put the pressure on him."
Through the uneventful fourth and fifth rounds, Hagler showed a harder jab but to little effect. "He'd slip and counter, slide back and wait for me," Hagler said. "When you're trying for a knockout, it's the hardest thing to get. That's what I was after, but you have to let them come. He wasn't there. Duran is too crafty to go after for a knockout. You leave yourself open, and he takes advantage of it."
Duran, meanwhile, was using every trick picked up in his 80 pro bouts (of which he had won 76) to keep out of harm's way: gliding left and right, then facing Hagler straight on, now giving him angles, then slipping and bobbing under punches, picking them off with his hands and arms, even turning his head to avert Hagler's savage uppercuts. "They were strong,' I Duran said. "I turned my head to be careful of his right because it's his most dangerous hand. His left is dead. The hand he most relied on was his right."
Hagler had trouble with Duran's hand speed, and he often couldn't find Duran's head. "I wasn't getting my jab off the way I generally do," said Hagler, who was more effective when he switched from a lefty to a righty stance, which brought him two feet closer to Duran. "It seemed everybody was disappointed that I didn't knock him out. I felt that way myself. But he wasn't that vulnerable to a knockout. It was hard to hit him with a solid punch. I didn't catch him with a solid shot."
Oh, but he did, especially in the sixth, when he tagged Duran repeatedly and heavily with lefts and rights to the body and head and appeared to have him on the ropes. Duran needed his chin of stone to survive the sixth, but the fight was clearly Hagler's if he would only reach out and grasp it. And now Duran had another obstacle to contend with. In the fifth round he'd driven a hard right to Hagler's forehead, and thereafter he felt pain in his right hand every time he landed it. Hagler never knew this.
Duran soon came to feel that his major protection against all-out attack, his cocked right hand, was so enfeebled that it left him vulnerable. "I was a little scared because he was coming in straight up," Duran said. "I could reach him with any right, but actually I was scared to throw the right hand." To survive, if not to win, Duran kept throwing it anyway through the rest of the fight.
All of this might have been moot had Hagler seized his advantage. But he didn't. Though Duran hadn't hurt him—and apparently couldn't hurt him—Hagler fought from the seventh to the 10th rounds as if Duran were Larry Holmes.
"He came to tear my head off," says Duran, "but when he saw that I could hit him hard, with strength, he got scared and became a coward. That's why he didn't take too many chances and mix it up with me. Everyone was saying he was a destroyer, but when he hit me, he didn't do anything to me. His punches absolutely did me no damage. He got scared every time he threw a jab because I could get my right in under it. That's why he held off so much."
Why Hagler, whose general motto is "Destruct and destroy," came so close to self-destructing became a central question following the 11th round, when he danced and let a tiring Duran back into the fight. What was he worried about? "I'm not a fool either," Hagler would say, "going in to get hit. You don't barrel in there on a guy like Roberto Duran. Why take unnecessary punishment unless you have to? I'd been effective and was winning the fight, so it isn't like I had to go in there and take the punishment to bomb him out."
No matter. Hagler won the fight by heeding Petronelli's advice and battering an exhausted Duran for the last six minutes of the fight, finally shedding his caution when he had to and taking the fight to the challenger. Briefly, Hagler was marvelous again. "The better man won," Duran said, after two judges had given Hagler the victory by one point, the other by two.
Ironically, the loser came away with $4 million and his reputation enhanced, while the winner stepped out of the ring with $8 million and his image diminished. And all the possibilities seem to be Duran's, with a unification bout against WBC junior middleweight champion Thomas Hearns and another multimillion-dollar payday in the offing. Hagler, who ran his record to 58-2-2, is left to fight in the mediocre middleweight division, with his next defense against Juan Domingo Roldan, the Argentine who knocked an inept Frank Fletcher unconscious in a fight before the main event.
Hagler proved himself the best middleweight on the block, while Duran showed that he is a fighter for the ages and should again be the object of celebration.
PHOTO
While Duran threw oomphless jabs in the 15th round, Hagler could still flat punch.
PHOTO
Although he wasn't able to rock Hagler, Duran chipped away with counter rights.
PHOTO
In his 16½ years as a pro, Duran never had to face a jab as menacing as Hagler's.
THREE
PHOTOS
Petronelli kept busy, using an iron to reduce swelling around Hagler's eye before the eighth (above) and closing cuts before the 14th.
PHOTO
During his comeback late in the fight, Duran flexed his muscles and his mouthpiece.
PHOTO
Having lost, Duran didn't think the decision was so hot...
PHOTO
...while Hagler got a real belt out of the judges' ruling.