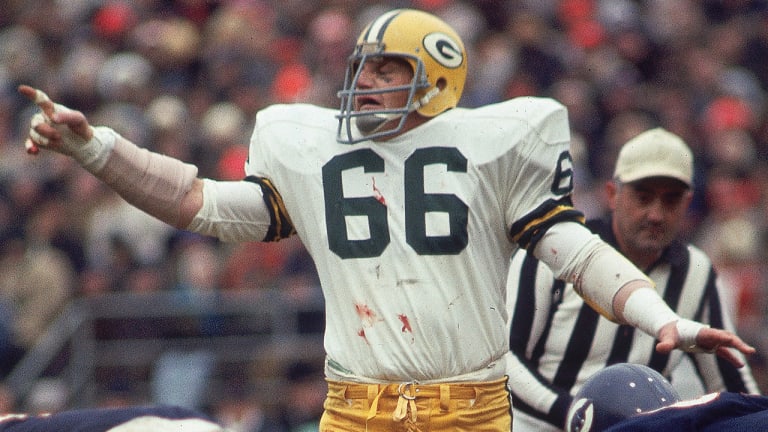 Publish date:
Pete, The Way They Play Today Stinks
The author and Ray Nitschke offer the same message to Pete Rozelle: The NFL just ain't what it used to be
I was watching the Jets and Patriots on TV two Sundays ago. NBC was doing promos on the following Sunday's Cleveland-Denver game, which I guess they figured was the most interesting matchup of Week 14 in one of the dullest NFL seasons I can remember. Six, eight, 10 times they ran that promo. I lost count.
"Watch the big, bad Browns battle the hard-charging Broncos," the guy was saying, and do you know what they used to illustrate that big, bad, hard-charging battle? Dennis Smith, a Bronco safety-man, doing a backflip in the end zone. That's it, I thought. That's the 1983 season, a big, bad, hard-charging backflip. An 8-5 team against a 7-6, two clubs from that great, gray mass that is pro football these days. Going into last weekend's games, 13 teams were either 6-7 or 7-6 and the biggest and baddest Brown was Jim, talking about a comeback with the Los Angeles Raiders at the age of 47.
Once giants like Brown roamed the NFL. Every team had an identity. The Packers against the Lions—the mere thought of that battle made you tingle. Alex Karras and Joe Schmidt laying it on Paul Hornung and Jim Taylor. Ray Nitschke and Dave Robinson and all the rest of those superstars. These days Robinson would be a designated blitzer. Schmidt and Nitschke would be situation linebackers; they'd come out on passing downs. Karras would be a noseguard, Hornung would be the single back in the one-back offense and Taylor would come in for short-yardage plays.
There used to be teams that would make you nervous just thinking about them. In their playoff run from '72 through '79 the Steelers were 50-1 against losers, against teams that finished under .500. Man, you needed some credentials, some pedigree papers, to play the Steelers in those days. Fifty and one! And when someone gave them a battle, the world tuned in. Well, yeah, they're 9-5 and leading their division this year, but they're shaky. Anyone can beat them on a good day. Detroit blew 'em away, 45-3, two weeks ago.
Look at Sunday's lineup. Twenty-four clubs were still in contention for the playoffs. Saints-Patriots? Did that turn you on? How about Bears-Packers? You say you can't name three guys on the Bears, once you get by Walter Payton? What's the difference. They were contenders. Or how about Bills vs. Chiefs, or was it Chills vs. Beefs?
The league office likes the idea of a lot of contenders around for the final countdown. "The New York teams are down, so a lot of New Yorkers are turned off," Pete Rozelle said last week, two days before an NFL record 51,589 no-shows at the Giants-Cardinals game in the Meadowlands, "but you'll find plenty of enthusiasm around the rest of the league. Fans' enthusiasm generally rises and falls with the fortunes of their own teams. Attendance is off 2% from 1981, our record year, but we'll still finish in the top three, alltime."
You'll finish in the top three because there are more people in the U.S.A. every year, the stadiums keep getting larger, and corporations can still write off season tickets as a business expense. As far as local interest—hey, once upon a time the NFL was universal. Everyone knew the Jets meant Joe Namath, the Bears were Dick Butkus and Gale Sayers, and when you saw a game in the Black and Blue Division you were going to see some hitting. That's what made the game so great. The guy in Kansas City knew about the Colts and the Rams. They had faces. Every week there was a game that turned you on. Now the pro football world marks time until this coming Sunday when Washington meets Dallas, the first big one since Dallas played the Raiders a month and a half ago.
"Dallas-Washington is the only game I hear people talking about," CBS's John Madden says. "I think people will get interested in the playoffs once they start, but they don't seem interested in the road to the playoffs like they used to be."
I blame last year's tournament—that expanded playoff format the NFL used in the wake of the strike. The NFL keeps repeating, "It was only a one-year thing," but guys like Patriot owner Billy Sullivan wanted to continue it this year. The tournament cheapened the playoffs, reduced them to the NBA and NHL level, where everyone gets in. Sixteen teams out of 28 made it, losers made it—stiffs. After that, who could take the playoffs seriously, or the road to the playoffs?
And how can you get excited about a game in which the defensive backs and defensive linemen have no identity. Oh, sure, here and there you can recognize a Randy White or an Everson Walls, but there used to be lots of guys like that. Not now. The rules, plus the great corporate game of "situation substitution," have made them faceless. Defensive linemen are sacrificial lambs, double-team absorbers, gap occupiers, so that the outside linebackers, who are probably the most gifted athletes in today's game, can strut their stuff. Sacks today come on stunts and blitzes. Walls stands out among the cornerbacks, but elsewhere they shine briefly and then dim. Guys like Herb Adderley used to go half a season without getting beaten deep, but now everyone's vulnerable to the picks and crisscrosses and no-bump rules. It makes for wilder football, but it's also rendering some positions virtually anonymous.
It's Monday night. We're watching the ABC game with the sound turned off. They break for a commercial, and all of a sudden my 11-year-old is yelling, "Turn it on! That's L.C." Sure enough, it's L.C. Greenwood doing a commercial (my boy is a heavy Steeler fan).
"Can you name the Steel Curtain defensive line?" I ask him.
"Sure," he says. "L.C. and Mean Joe and Mad Dog and, uh, and..."
"C'mon now," I say, "all four." Suddenly he shoots a fist into the air. "And Fats Holmes!" he yells.
"Right," I say. "Now name this year's defensive line."
Yeah, I know. It's cruel. It's unfair. Why should he be able to do what no adult east or west of McKeesport can do? "Goodman, Dunn and Beasley," I tell him. His look is as blank as if I'd said Rote, McKissack and Benners.
Where have they gone? Defenses don't even have nicknames anymore. There's no more Steel Curtain, with Mean Joe and Fats, no more Fearsome Foursome with Rosey and Deacon and Merlin the Magician, no more Purple People Eaters or Doomsday Defense or Gold or Silver Rush. O.K., you say there's one—Miami's Killer Bees—but give me another. I dare you, just one more.
I can hear the snickers out there. What's wrong with Dr. Z? Put him out to pasture. Doesn't he know the game is different now? It's a speed game, it's played in space. It's a game of formations and motion, freeze frames and chalkboards. It's a game of situation substitutions: You move your pieces on the board, we move ours. Cerebral football played on synthetic grass.
It's corporate football and I think it's dull. I hear Woody Widenhofer, the Steelers' defensive coordinator, tell me, "We can use up to 20 different players on one series. Everybody makes a contribution. It's better than the old Steel Curtain defense," and I want to kill him. Makes a contribution? What is this, the March of Dimes? 
"You watch defensive guys today, and you know they are making more money than you ever did, and they aren't playing the game as they should be," says Nitschke, the Hall of Fame middle linebacker on the Packers' glory teams of the '60s. "They don't know how to tackle. All they worry about is pass defense and blitzing and doing sneaky things."
The 49ers' inside linebacker, Jack Reynolds, says that people like Nitschke and Butkus would be "situation linebackers" today, run-stoppers, 40% players. I'm not so sure. Such ferocity would not be allowed to rest on the bench. Today they'd feed 'em a steady diet of steroids and weight training, bulk them up to 260 and play 'em at noseguard. Noseguard. The mere name makes me shudder. Sounds like a piece of equipment, which, in a sense, the noseguard is. The Humane Society ought to step in. Noseguards get double- and triple-teamed, and strangled and face-masked and chopped down by swerving and swooping tight ends and flankers.
In today's game everything is sacrificed for scoring, to bring you more of those 48-47 heart-stoppers. Well, maybe some people like all that scoring, the cheap touchdowns, but I don't think it's real football. Neither does Madden. "It's exciting," he says, "but it's not good. To me it's just lousy defense."
And here's another thing about those routinely cranked-out 300-yard passing games. They're making heroes out of so-so's. Everyone can do it. Going into last weekend the 10 top passing-yardage days belonged to nine different quarterbacks. And Dan Fouts wasn't one of them. Lynn Dickey was the only quarterback with a double entry. Of the 20 top pass-receiving performances in total number of catches, there was only one repeater, Tampa Bay's James Wilder, a running back. J.J. Jefferson's name wasn't on the list. Neither was James Lofton's.
Maybe the fans love all this, but the people at ABC are getting nervous about the way their ratings have nose-dived (see box). Last year's strike seems to have cut the underpinning out of the record TV ratings of '81, as well as the record attendance. CBS and NBC are off slightly, but the Monday night fans, the non-hard-core variety, aren't watching. ABC's ratings are the lowest they've been in the show's 14-year history. Too many blowouts, the network says. Not true. There were more runaways in '81. Only five games were close at halftime—seven points or less—that year. This year there were 11 close ones in the first 13 shows. ABC execs are complaining that the NFL handed them doggy teams. Well, what happened when unbeaten Miami met the unbeaten Raiders in Week 3? The rating was a miserable 15.9, third lowest of the year.
Another sign of apathy has been the press coverage this season. For the last year the breaking stories have involved drugs or contracts or the other league or the strike or the Raiders vs. NFL lawsuit. The football fan who wants football has been getting blitzed. The biggest story this season has been Brown's talk of a comeback. The second biggest has been Donald Trump, the real-estate guy who owns the New Jersey Generals, and all the people he was going to sign—Marc Wilson, Don Shula, Brian Sipe. The guy was getting a million dollars of free publicity without spending a dime. He was even able to puff his Trump Tower with all that nonsense about how Shula wouldn't come unless he got a fancy pad, and the press ran it straight.
Meanwhile, what would normally have been big stories were buried. The Hail Mary pass that Atlanta used to beat San Francisco with three weeks ago succeeded because of a bad call. One ref indicated Billy Johnson was down on the one, then another ref came in from left-field to call touchdown. This should have been a good national story. It barely got out of San Francisco. Dallas beat Tampa Bay in overtime, and the Cowboys' TD that tied it at the end of regulation time, Timmy Newsome's 52-yard run, resulted from a bad call. Newsome stepped on the sideline on the 25. Yes, he did. Left foot, squish! I never saw this written.
O.K., here are my solutions: First, the press coverage. Have a special Turmoil Page, near the sports section but not part of it. Put your medical writer on the drug stories, your legal expert on court cases, your labor writer on strike stuff and your real-estate editor on Donald Trump. Give us sports on the sports pages.
Second, the playing of the game. Limit substitutions to three per team per series, both offensively and defensively. O.K., Woody, stop screaming. This will make people people again, instead of just numbers. Let the defensive lineman play football. Outlaw the offensive lineman's use of his hands above opponents' shoulders, or rather crack down on it. Stranglers need not apply. Outlaw any chop block or cut block from the side. If someone wants to cut the noseguard, or any other defensive lineman, he can do it only if he's playing him head-up. Clipping is illegal everywhere else on the field. Why should it be allowed on the line?
Third, the great gray mass. A tough one. You can't reverse parity. You can't outlaw the draft or tell teams to abandon their scouting operations. But maybe, just maybe, if the playoffs have impact once again now that they're back to their 10-team size, if the players have an identity, if defense is allowed to truly defend, it'll be a little more meaningful to have a 7-6 record and a shot at the playoffs. At least it would be a start. And who knows, the fans might even like it.
[originallink:10628011:43432]