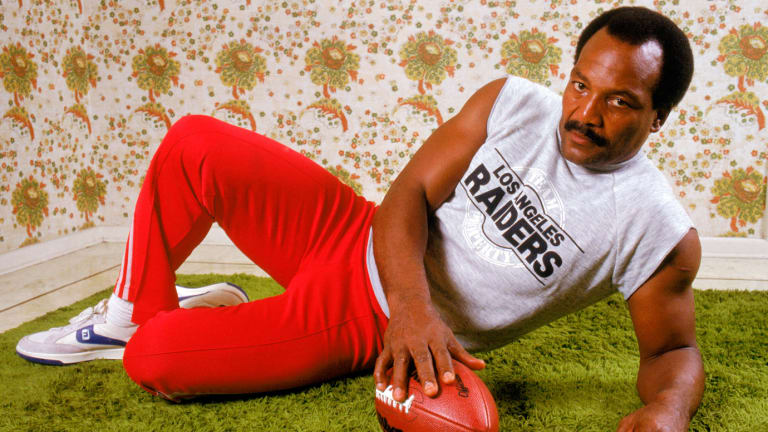 'The Game Needs More Heroes, More Gladiators'
Why does Jim Brown, at 47, even think about making a comeback?
Jim Brown, the greatest running back in pro football history, is seated in the living room of his house high in the Hollywood Hills with his "lady" of the past three years, Kim Jones, a 22-year-old Cal State-Northridge student, and their daughter, Kimberly, 21 months. Brown met Jones while roller-skating in nearby Venice. Later, if the whim grabs them, they may tuck Kimberly into a backpack and roller-skate several miles along the coast. That's unless Brown takes up an offer from Berry Gordy, founder of Motown records, who called to suggest a game of tennis. Or unless he feels like dropping in on his friend Richard Pryor. (Brown was the executive producer of Pryor's current concert film, Here and Now.) Or unless Hef asks him to take a dip in the Jacuzzi at the Playboy mansion. For the moment, however, Brown is more interested in talking about his NFL "comeback."
"I don't want my life here disturbed," says Brown, the NFL's alltime leading rusher, with 12,312 yards. "I have more important things to worry about. I may not come back, but I will if people don't admit to the fraud that's being perpetrated."
Eighteen years after he retired from the NFL; after more than 20 movies, including The Dirty Dozen, and numerous TV roles; after one marriage that produced three children, and other relationships that produced "lots of babies," why does Jim Brown, at 47, even think about making a comeback? Twice weekly he co-hosts a live two-hour radio show from Las Vegas called The Stardust Line. His annual income is estimated at $250,000. So why has Brown challenged Pittsburgh's Franco Harris to a head-to-head 40-yard dash, if and when Harris, who has gained 11,791 yards, overtakes his record? Why does Brown say he'll call Al Davis, the L.A. Raiders' managing general partner, "after they win the Super Bowl" and ask to join the team for the '84 season? Why is Brown, whose mustache is flecked with gray, into Nautilus workouts and drinking fruit juices? And just why has he felt a need to go public with his case?
Brown says it has to do with principles, a philosophy and a search for the truth. He retired just before the 1966 season—at his peak—having never missed a game in his nine-year career. He played a 12-game regular season from 1957 to '60 and a 14-game season from '61 to '65, averaging a league-record 5.22 yards a carry and 104.3 yards a game. In eight of his nine seasons he led the NFL in rushing. He prided himself on his 6'2", 230-pound frame and often bragged about his 32-inch waist; his weight today is 235.
Harris, 33, who has missed only eight games in his 12-year career, has averaged 4.15 yards a carry and 72.33 yards a game during six 14-game seasons (1972-77), five 16-game seasons ('78-81, '83) and the nine-game '82 season. He hasn't had a run longer than 21 yards in more than two years.
"Gaining 1,000 yards in a 14-game season is like walking backwards," says Brown. "Gaining 1,000 yards in a 16-game season isn't even worth talking about. The standards today are lower, the conditions are easier and the expectations are less." He will concede this to Harris: "Franco is having a lovely performance in his twilight years." Then he gets in a jab. "If Franco hangs around long enough," Brown says, "and keeps running out of bounds, he'll get my record."
Brown blames sociological changes for wiping away the "passionate human spirit" with which he says he played the game. "Where are the heroes, the gladiators?" he asks. "We need more Jim Plunketts, Ted Hendrickses, Lyle Alzados, Jack Lamberts and John Rigginses. They are throwbacks to the old days. Today's heroes are insulated by their money. They're more worried about their women and their drugs. The Lady [cocaine] and the ladies go together. Cocaine is the prettiest lady of them all."
Brown calls the NFL today a big hoax. "Where has the danger in the game gone?" he asks. "I can't accept quarterbacks sliding and running backs running out of bounds. Ever since the merger in 1966 and the creation of the Super Bowl, the owners have been more concerned with ratings than the level of the game. Coaches put up with players waving into TV cameras, giving high fives and spiking the ball. That sells. The Monday Night Football broadcasters have become bigger than the game. Who is kidding whom?
"Who's to say a 47-year-old can't do it? I'm not talking about being Jim Brown of 1965. I'm talking about being Jim Brown of 1984. If Franco Harris is gonna creep to my record, I might as well come back and creep, too."