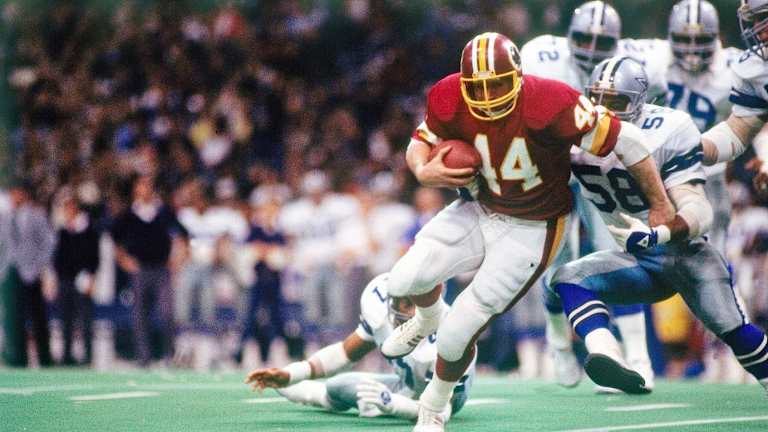 Publish date:
The 'Boys Lost Poise
The Redskins ran away from Dallas 31-10 as the Cowboys unexpectedly came unglued
Warning to the Washington Redskins: Beware the wounded animal.
The Dallas Cowboys are down. Their ears are burning. The Skins squashed them 31-10 Sunday at Texas Stadium in a game one Dallas paper called Super Bowl XVII½, a game that drew scalper prices as high as $250 a seat. They were humiliated, and worst of all—you're not going to believe this—the Cowboys lost their poise. In the third quarter, the quarter in which Tom Landry always says you "take command," they came apart completely. They botched a fourth-and-inches play, snapping the ball when they shouldn't have, an error that had Landry screaming "No! No! No!" on the sidelines. Two Dallas defensive backs showed up in the middle of a Washington Fun Bunch celebration in the end zone and tried to start a rumble. They had 10 men on the field one time. The computer broke down and funny wires popped out. They supplied valuable footage for NFL Films' Football Follies series.
But before the Redskins do too much celebrating, they should note that this is exactly the time when Dallas is most dangerous: when it's wounded and cornered.
Just ask the L.A. Rams. In December 1980 the Rams beat the Cowboys 38-14 to drop Dallas to wild-card status in the playoffs. Two weeks later the Cowboys came back and crushed the Rams 35-13 in a postseason game. In 1978 the Rams handed Dallas a convincing 27-14 regular-season drubbing. The Cowboys waited their turn. It came in the NFC championship game. Final score: Dallas 28, L.A. 0.
And Sunday's game against the Redskins, as epic as it appeared going in, was only Round 2 of a three-round fight. The Cowboys won Round 1 back in September. Now the rounds are even. Barring some unforeseen disaster, such as an early playoff loss, Round 3 should occur in three weeks when the teams meet again for the NFC title. Washington will go in as the Eastern Division champion, unless it blows this week's game against the Giants and Dallas beats San Francisco. But if form prevails, the Cowboys will make it via the wild-card route, thanks to last Sunday's loss. The teams are destined to meet again, and Dallas will remember. Beware the wounded animal.
Before this game, both teams showed an almost psychopathic desire to avoid any statements that might be the least inflammatory, anything that could appear on the opponent's bulletin board. "I think the coaches' paranoia is beginning to rub off on the players," said Skins Free Safety Mark Murphy.
"Everyone is so quiet...it kind of scares me," said Cowboy Cornerback Everson Walls.
No more. There will be plenty of bulletin board stuff for the Dallas players to read. The newspapers will take care of that. The Cowboys will have a nice fat month to learn about how they got their noses shoved in it last Sunday. The third quarter is what they'll read about the most. They were on a high, going in. The Redskins had stunned Dallas with 14 quick points in the first quarter, but then the Cowboys stopped Washington on fourth-and-inches and scored on their last two possessions of the first half to cut the lead to 14-10 at the intermission. And the stands were buzzing because this was exactly the sort of thing Dallas had done in the September game—bounced back from a 23-3 deficit to win it 31-30. Clearly, momentum had shifted.
The Cowboys took the second-half kickoff, picked up a first down and moved out near midfield where they faced fourth and less than a yard. Washington was in trouble. The Skins' regular strong safety, Ken Coffey, had knocked himself out on third down making a heroic tackle, holding Ron Springs short of a first down. He was replaced by Curtis Jordan. Murphy had left the game with an aggravated hamstring pull in the second-quarter, and his place had been taken by a second-year free agent named Greg Williams, third string on the depth chart and No. 8 of the eight defensive backs on the roster. It was time for the Cowboys to take command.
Instead it was Football Follies play No. 1. The Cowboys weren't punting. They loaded up their left side, and Quarterback Danny White got behind the center and called his signals and waited...and waited...and waited.
"It was weird, it was deathly quiet," Williams said. "I was thinking, 'C'mon, Dallas, bring it to us. What are you going to do, run a play, or take a delay penalty and punt, or call a time-out, or what?' Then I heard White call an audible, and his center yelled at him, and I realized they didn't know what they were doing."
"Tom Rafferty, their center, yelled to White, 'Don't run that play!' " Defensive Left Tackle Dave Butz said. "White told him, 'Be quiet, we'll run it anyway.' You feel pretty good when you hear that."
So Dallas ran the audible. Landry watched in horror as the ball was snapped, and on the sidelines you could see him screaming that "No! No! No!" even before Springs got the hand-off and swept left, only to be engulfed by Linebacker Neal Olkewicz and short-yardage specialists Charles Mann and Larry Rubin for a two-yard loss.
"If we had a chance to successfully quarterback-sneak it, we were going to take it," Landry said afterward. "If we didn't, we were going to let the clock run out [take the delay-of-game penalty] and punt the football. Danny called an audible on the play because he saw a gap there. We weren't ready to audible at that point...he wasn't sure of the play...the backs weren't ready, although it was one of our basic plays."
"I saw something I didn't expect to see," White said. "It looked like they were missing a man on that side."
"I figured they'd run that side, because that's where they had the lead blocker," Williams said. "All of us figured that."
"From there on we made a lot of errors," Landry said. "Dallas is human," he added. "Don't think they're not human out there."
The Skins took over, got stopped when Quarterback Joe Theismann overthrew Wide Receiver Charlie Brown on third down, and punted. Then the Cowboys were stopped and punted, and little Virgil Seay, in for the explosive Mike Nelms, who had sprained his left knee, ran it back 42 yards to the Dallas seven. Momentum had shifted and reshifted.
John Riggins was stopped after a yard run, Theismann threw behind his receiver, Art Monk, on the goal line, and on third down he tried to force a pass to Running Back Joe Washington, double-covered in the end zone. Cowboy Safety Michael Downs intercepted and ran it out to the 22. Another momentum shift. "A bad decision on my part," Theismann said. "I went to the wrong man."
"Weirdest game I ever saw," Washington General Manager Bobby Beathard said. "I never saw so many changes in momentum."
Next came Football Follies play No. 2. On third-and-four from the Dallas 28, White hit Tight End Doug Cosbie on a curl pattern. The ball bounced off Cosbie's hands, Cowboy Drew Pearson snatched it, Skins Nickel Back Vernon Dean knocked it loose from him and Washington's 5'8" cornerback, Darrell Green, grabbed it, fell over Pearson, got up and sprinted to the five-yard line, where White yanked him out of bounds by the face mask. The Cowboys were coming apart. On the sidelines a few of them heaved their helmets in disgust.
Green was ruled to have been down on the Dallas 43. Dallas buckled up, expecting John Riggins left, John Riggins right. He had already carried 16 times, but he seemed to be just getting warmed up. The Skins had been in a formation designed to loosen things up for him—three wide receivers and only one tight end, with the littlest of the Smurfs, 5'7" Alvin Garrett, as the third wide-out. "They called up the wide receivers on Tuesday, our day off, and told us to come on in because they wanted to work on that formation for the Cowboys," Garrett said. "I was so excited about it I didn't even mind missing my day off."
"The idea was to spread their defense out so we could run at them," Theismann said. "Dallas' safeties are very run-conscious. They play almost like linebackers, so we wanted to get them away from the line and into coverage. It's easier running at seven guys than at nine."
And that's what Washington was doing. The Cowboys opened the game in their basic defense—three linebackers, four defensive backs—and the Skins ran. Then they began using their dime package—six secondary people, one linebacker—as their base defense, and the Skins ran some more. Riggins carried the ball seven times in the first nine plays. "He'll get tired," a member of the Dallas stat crew said in the press box. "Yeah," said the guy next to him. "Next week."
By halftime Washington had run the ball 23 times, for 109 yards, and thrown eight passes. Twice Theismann had crossed up the Cowboys by going deep on first down. One of those passes had given the Skins a 27-yard gain on an interference penalty, setting up their first score; the other had given them a TD—a 40-yarder down the middle to Tight End Clint Didier.
Now, after Green's third-quarter interception, the Redskins had first down on the Dallas 43 and Theismann crossed up the Cowboys once more. He let one fly to Monk, down the left sideline, 43 yards for a score, over Nickel Back Ron Fellows, who'd been caught in single coverage. The Fun Bunch gathered in the end zone for a group high five. All of a sudden there were two Cowboys in the middle of the celebrants, Downs and Cornerback Dennis Thurman, and that's when the real fun started. Downs took a shot at Garrett—then Monk—then Brown. "I was frustrated," Downs said. "I took it personally. I just didn't want to see that in Texas Stadium."
"It's funny now, but it wasn't then," Garrett said. "They said, 'Y'all aren't jumping in Texas Stadium.' I said, 'The hell we're not.' They kind of lost their cool. You win games by holding on to the ball, not fighting about some dance."
Dallas sent out only 10 men against the extra-point try. When the fourth quarter opened the Cowboys had the ball—and the short end of a 21-10 score. Pearson drew a clipping penalty. Tony Dorsett, who was to rush for only 34 yards on the day, drew a 15-yarder for heaving the ball at Tackle Darryl Grant. That Dallas drive, such as it was, ended with an interception by Williams, which set up Riggins' second short TD run. Williams also snuffed out Dallas' next possession on an interception. It set up a 38-yard Mark Moseley field goal.
The Cowboys will have a while to think about this horror show in Texas Stadium. They'd been on a roll—they'd averaged 37 points over their three previous games—but the Skins shut down their running, forced them to pass more than they wanted and held them to 10 points. The 295-pound Butz was a holy terror, getting three sacks and generally creating havoc.
Before the game there had been talk about Dallas' being able to throw deep on a Washington secondary that had lost two Super Bowl starters, Strong Safety Tony Peters (drug suspension) and Left Cornerback Jeris White (contract difficulties). Danny White did throw for one touchdown, a 29-yarder to Cosbie, but he also had three passes picked off.
The members of the Redskin secondary had started calling themselves the Pearl Harbor Crew—"because we get bombed so much," Murphy said—and that nickname, along with the linebacking corps' handle, Airborne Rangers, led to one of the more bizarre sights of the weekend. A couple dozen Skins checked into their hotel, the Summit, on Saturday wearing full camouflage fatigues, complete with combat boots.
"Looks like the Marines coming home from Grenada," said the Summit's assistant sales director, Howard Meincke.
"Caught me completely by surprise," Washington Coach Joe Gibbs said. "Lord only knows where they got those outfits. You never know what they're going to come up with."
"Don't you have a dress code?" someone asked him.
"Yeah, they have to be neat," he said. "I guess neat fatigues qualify."
"You'll notice that I wore civvies," Riggins said. "I didn't want anyone mistaking me for their commander. I have enough, trouble taking care of myself, let alone 25 other guys."
Riggins gained 89 yards on 27 carries Sunday. He took care of himself just fine. His two rushing touchdowns gave him 23 for the season, tying the NFL record set by O.J. Simpson in 1975. Riggins also has 1,225 yards rushing this year, a personal high, and Brown has 73 catches, tying a club mark. The Skins have another game left to set more records. All the Cowboys have are memories. Watch out. It's not over yet.
PHOTO
Washington and other Skins runners got 166 yards, nearly double what Dallas usually allows.
PHOTO
Bruce Huther rammed Riggins a split second too late to prevent the Skins' last TD.
PHOTO
Theismann, who seldom threw, caught Dallas asleep with occasional first-down flings.
PHOTO
Thurman (32) and Downs were failures at foiling the flying fives of a Fun Bunch frolic.
PHOTO
Frustrated by Green's interception, White yanked him to the ground by the face mask.
PHOTO
Pearson was upset by this pick-off by Williams, whose two thefts led to 10 points.