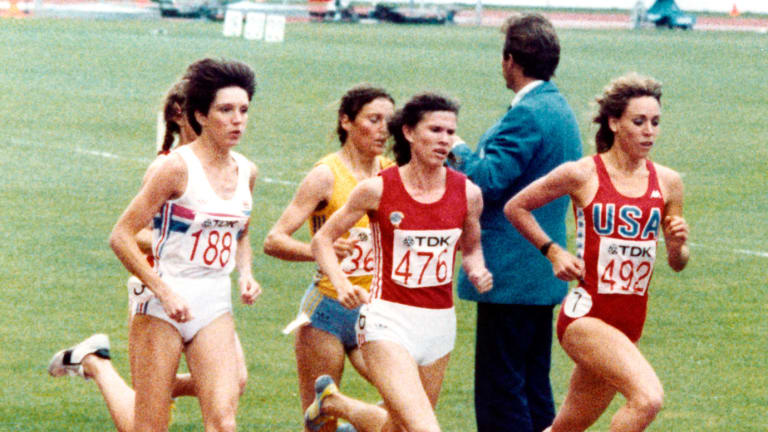 She Runs And We Are Lifted
What a glorious conceit it is to pick a Sportsman of the Year. Can anyone really study the ranks of different champions and record setters and know who did the best? Are not victorious golfers, hurdlers and tennis players ultimately apples and oranges? Even more presumptuous is judging who came closest to attaining private potential, for that might be, remember, an athlete who didn't come near winning. Perhaps most arrogant of all is to proclaim which athlete serves the rest of us as the most luminous example.
But, Lord, we want to. Who follows sport, who understands competition, who does not care to know an overall winner? At year's end, we almost involuntarily return to those few moments when an athlete's movement and personality joined to lift us into ecstatic assent, be it partisan, esthetic or moral.
We know what we like. We know how we feel. In 1983 we honor Mary Decker as our Sportswoman of the Year. We do so for her dramatic double victory in the 1,500 and 3,000 meters in the first World Championships of track and field, in Helsinki; for coming to hold all seven American records from 800 through 10,000 meters; for breaking, over the past two years, seven world records—an unprecedented feat both in terms of absolute number and in the span of distances over which those marks were achieved—and for being undefeated this year in 20 finals, on tracks indoors (three) and outdoors (16) and on the undisciplined surface of a road, an unrivaled and masterly accomplishment.
We also honor her for the devotion that sustained her through 14 years of effort and injury and renewed effort, after which she still has not had the chance to participate in an Olympic Games. It is a remarkably long period, yet she is but 25, and by no means is her career completed; we look forward to what is still to come. But we are drawn to her, ultimately, for the jubilant response her running has evoked in us, for her being ineffably but indelibly charismatic.
Decker is moved by a competitive yearning that rises from so deep in her character that it connects with her will to be loved. Since she was a child, she has tried to transform her hunger for comforting approval into dominating athletic performance. In 1983, she succeeded supremely. Not coincidentally, she found a sanctuary in the reassuring embrace of British discus thrower Richard Slaney. Seeing her there, so majestically rewarded, is satisfying, seeming to signify that her compelling wish to please has come true, even if it is her own feeling that there are miles to go before she can be truly content.
America has always adored Mary Decker, though for shifting reasons. When she was 15 and 89 pounds and in braces and pigtails, she was Little Mary Decker. When she threw a relay baton at a Soviet runner who cut her off in an indoor meet in Moscow, she was applauded for her spunk, for what it foretold. And she didn't like that one bit.
"I always wanted to be accepted in running," she says now. The braces are gone, but at 5'6", 108 pounds she is still not too far removed from the "Little Mary" of the observer's mind. "I wanted to prove to people that I was noteworthy because of my performance, not for simply being young."
Or beautiful, or sexy, or our only hope against an Eastern European juggernaut, which were, and are, some of the succeeding reasons she later won affectionate regard from her countrymen. No, despite her willing acceptance of being all that and more, she holds that running for its own sake has been her constant aim, her deepest solace. "It was a means to early approval," she says. "It was therapy in the rough times, but mainly it was just such a great physical joy that I know I was born to run. Thinking back over the days in Helsinki, I don't think I did what I did for anyone but me.
"Besides," she goes on, "if winning was for other things, then anyone could have won, whoever had the greatest cause or deepest obligation...or something." She doesn't conclude the thought, because that wasn't the way it happened. What happened was that the best runner won.
Decker went into the Helsinki championships with an odd lack of support from track and field's experts. She had set 11 world and American records in 1982, but had never seemed to race well in the few chances she'd had at the best Europeans. In 1980, Tatyana Kazankina of the Soviet Union had beaten her by nearly seven seconds in setting the 1,500 world record of 3:52.47. That defeat remains a memory, says Decker, "as clear as yesterday."
Bob Hersh of Track & Field News had not even picked her to win a spot on the Helsinki team, believing her too susceptible to injury, and guessing that the emotional turmoil surrounding a separation from her husband, Ron Tabb, would make her even more vulnerable, particularly after Tabb made the marathon team for Helsinki.
Too, Decker had so dominated American women's running that she seldom had had a close contest. Surely she would be unprepared for the rough, tactical races she would have to run in the World Championships. Even when forging on to her records, she had never demonstrated a blazing kick.
So Helsinki was a revelation. The 3,000 was first. Decker avoided any chance of being imprisoned in a jostling pack by at once seizing the lead. A phalanx of the best women in the world on her heels didn't exactly cause her to emotionally disintegrate. "It was a good feeling, compared to being way out in front," she says. "You can't make mistakes, and you sure keep alert. It seemed no time at all until we were coming up to the last lap."
With 600 meters to go she began a gradual acceleration that left only one runner able to challenge as they entered the stretch—the redoubtable Kazankina, three times an Olympic champion, at 800 and 1,500 meters in Montreal and at 1,500 in Moscow.
Kazankina loomed alongside with 50 meters to run. Decker "took a deep breath, relaxed and went," outkicking her by four meters.
"Until that moment," says Hersh along with many others, "we never knew how good Mary Decker was."
The poetic climax came four days later in the 1,500. Again, Decker led, but this time less tranquilly. The Soviet champion, Zamira Zaitseva, used every trick known to wily milers to break Decker's concentration. "She hit me practically every stride the whole way," recalls Decker. "Not obviously, but just brushing elbows, touching shoes."
It had its effect. "I thought about taking a swing at her, but then I worried about being disqualified, too. I was conscious of the U.S. vs. U.S.S.R. thing there a little. But it's lucky I didn't have a relay baton this time. I might have thrown it again."
Zaitseva wasn't finished. With 170 meters left, she bolted past Decker and, too sharply, bore in to the rail. Decker had no choice but to back off to avoid contact. "It was a mistake, letting her cut me off," says Decker. "But I didn't want to have to make a sudden move. I stay more relaxed if I move into my sprint gradually. So I had to let her get a little lead, and then she surprised me by cutting in."
Decker had two yards to regain as they hit the stretch. She still needed one with 20 meters to go, but Zaitseva was tying up. Decker drew even with 10 meters left, shut her eyes and drove herself all out. "I lost my temper," she says. "I caught her because I was so angry." Zaitseva threw herself at the line, fell spectacularly and finished the race on her left side (see cover).
Decker strode across the finish upright, opened her eyes and coasted to a stop, her expression blank. "I hadn't seen her fall," she says. "My eyes had been shut. I didn't know I'd won until I saw the replay on the scoreboard." Even then she was not observably rapturous. Her expression was less of triumph than justice restored. "The only way of getting back at her was to win."
That done, and a cooling victory lap taken, Decker immediately turned her full attention to doing it all over again, and better, at the 1984 Olympic Games in Los Angeles. In her postrace interview she allowed that it was wonderful to be the first-ever world champion in her events, but that people had to understand she had missed the 1976 Games in Montreal with injury, missed 1980 in Moscow through boycott, and that she had been brought up from the age of 10 near Los Angeles. "It just seems perfect," she says now.
To the observer it was Decker herself who'd seemed perfect. She'd run smarter, faster and tougher than anyone else. Her races had provided riveting images. Indeed, months later her Athletics West coach, Dick Brown, says, "I continue to be amazed at the number of people, not necessarily track fans, who come up to say, 'I get goose bumps or I get tears in my eyes when I think about it.' "
And even at Helsinki she was affirming that her greatest victories yet weren't going to dilute her lifelong Olympic passion, which seemed to raise a question of perception. How was it that an athlete of such ability and balance hadn't been able to be seen for what she was until then?
Because the rest of what she was got in the way. Decker, more than any other runner, blooms in partnership with others, with coaches, with close friends, with lovers. There has always seemed a schism in her nature, between Decker in competitive flight, controlling things—"I am more comfortable on the track; I have more confidence there than in anything else in my life"—and Decker the rest of the time, buffeted by circumstance. It has been easy to doubt Decker's competitive force, to get it mixed up with her constant requests for reassurance, with her need to depend on a good support team.
The roots of this are in her very early experience, in a family not constructed to supply her with unconditional love. During her first 10 years, in Bunnvale, N.J., Mary's parents, John and Jacqueline Decker, in her recollection, "were never close." In 1978 Mary was quoted in this magazine as saying, "The atmosphere was dominated by my mother. My father is a very quiet person. My mother is a very unquiet one." Though chagrined, Jacqueline Decker did not challenge the truth of that assertion, and we can see the characters of both parents contending in Mary still. She can be demanding. She can be shyly coy. She can show an explosive temper. She can sit all evening at the feet of a friend and not say anything, just smile and let the talk wash over her.
Seeking acceptance outside her family led Decker, at 11, to running. Her need to please combined with her prodigious natural talent to produce, first, a host of junior and open records, and then, as she raced too much and trained too hard, a succession of injuries. In early 1975 she developed fiery pain in her shins. Casts, therapy and rest helped not a whit. It wasn't until mid-1977, with the Montreal Olympics long past, that New Zealand's 5,000-meter world-record holder, Dick Quax, met Decker and told her of an operation that had saved him from the same pain, which was the result of the then newly diagnosed "compartment syndrome." It occurs when the muscles have grown too big for their surrounding sheaths. After a surgeon sliced through the confining membranes, Decker was running free in less than a month.
She has had that operation performed twice more by now, as well as surgery on an Achilles tendon. In 1977 she was in two auto accidents. In 1979 a fall tore a muscle in her back and wiped out half her year. She suffered from plantar fascitis (an inflamed connective tissue on the bottom of her right foot) in 1980. In 1981, having just left the hospital after her third shin operation, she went to a Jackson Browne concert in Eugene, Ore., someone accidentally bumped into her crutches and she fell on both fresh incisions, which made for a long, worrisome recovery.
Yet Decker does not seem to be classically accident-prone. She is deft in movement and concentrates on what she's doing. Rather, she seems, like Gus Grissom or Gerald Ford, one to whom Things Happen. It happened again this year when a truck rear-ended her car, and she spent the spring with a sore neck.
The effect of all these hurts was to accentuate Decker's need for others, for the comforting word, the hug. She depended on Quax for all that, and coaching, too, until 1980.
She then worked for a time with retired Oregon Coach Bill Bowerman, who felt honored to be entrusted with her talent and a little burdened with her temperament. Bowerman, in the mode of a good teacher, wants his runners to strive for independence. He is superb as a counselor, a stater of principles, but he didn't have the time to offer daily support. With a hint of impatience, he realized Decker needed more, and a transfer was arranged.
Brown, an expert in running physiology and director of Athletics West, took over her coaching, though he continued to consult with Bowerman. The progressive acceleration by which Decker controlled the Helsinki 3,000 was a Bower-man suggestion.
But it was Brown, a man described by all who know him as beneficently soothing, who assumed the role of constant aide. Decker, who is candid about her psyche, goes right to the heart of it. "He was so calming, so confident in me that he was like a father, and when you've had a family background like mine...that's wonderful."
Brown shrank not at all from this. "I could understand how people might have seen her as a spoiled brat, but I knew she wasn't. She's done well with all the attention that's been shown her all her life, but through it all, she's really been searching for a family."
Brown's coaching was the essence of confidence. "If we keep you healthy," he told Decker, "no one can beat you." He began monitoring Decker's every reaction to training, in blood-cell count, body fat, hours of sleep. Always he urged caution and consistency. That was the physical foundation of her present success. And by this summer, he knew her pretty well, too.
"She's matured so much," he says in a tone that can only be called paternal. "On the plane to Helsinki she giggled the whole way. That meant to me that she was starting to get a little hyper. There were days to go yet before her preliminary races. There was the danger of her depleting her reserves. I said only, 'When you're giggling, I know you're dripping the adrenaline out.' She responded, calmed right down, and...well, you saw how she controlled her emotions in the races."
Decker took on more family in September 1981 when she married Ron Tabb. It did seem that Tabb, cheerful, energetic, a gifted but until then erratic marathoner, was the one guy who could set aside his own career to help Decker.
Of course, this would be no contemporary, 50-50, mutual-support kind of marriage. All Mary's friends understood that. She'd given fits to more than one suitor with her expectations that they run with her, plan races with her, travel with her, negotiate agreements for her and sometimes just love her like the little girl she always was at heart. When that had been too much for them, she had been quick to look elsewhere.
Decker did benefit from Tabb's support, his reinforcement of Brown's cautions on mileage and speed. He was there at every one of her world-record races in 1982. But it seems that try as he might, he wasn't the guy. His constant nearness began to wear on Decker.
The problem, oversimplified, was that Tabb got a little crazy after Decker's races. The perhaps inevitable reaction of a good athlete to becoming a supporting player came out in a hurtful inconsistency. "He was unhappy with me if I ran well because I got so much attention," Decker said last spring (a judge mercifully threw a gag order over both parties last month; their divorce was to become final Dec. 23). "And he was unhappy if I ran poorly, because I ran poorly. I felt I couldn't win."
So she left. As it had to be, failure at love was a wrench to her, and she showed it. Her weight dropped below 100 pounds. Tears would come at odd times.
Then, in New York in February to receive an award for her run of records, she met Slaney, a friend of a friend. She had a sore back. As athletes do, she asked him to crack it. Then she paused, and said, "You won't hurt me, will you?" Never was there a more sensible question, because Slaney is 6'7" and weighs 290 and does not strike most people as entirely sweet-tempered.
And never was there a better answer, because Slaney, touched, has taken care of her ever since.
Decker has lived in Eugene for five years. She's pretty much given up her BMW 320i for a Jeep. Her hillside house, which is not sumptuous, speaks of a love of order, a congenial domesticity. A visitor is likely to find her sewing pillowcases or mending one of Slaney's shirts. There is a warm fire, cushiony furniture and friendly animals (cats Tigger and Jezebel, and a Rottweiler named Samantha). On a shelf, among a glittering welter of the trophies Mary has won, rests a silver tray awarded to Slaney by the British meat industry for being BRITAIN'S STRONGEST MAN.
He ought to get another one for the clarity of his views on Decker. "He is the first to be impressed with Mary not as a runner, but as a person," Brown has said.
Slaney is 27, has an engineering degree, has worked in aircraft maintenance and rebuilds high-performance sports cars. He has thrown the discus 212'1". He gets along with Decker by telling her the absolute truth about herself.
"Do you know that she is a photoholic," he says to a visitor. "I spend two hours every morning destroying pictures she's taken the night before...."
Decker has begun to giggle.
"...I'm in the bathroom," Slaney continues, with weary forbearance. "The door swings open.... I'm blinded by a burst of light. Then I'm embarrassed...."
By now, Decker has entered quiet hysterics.
Slaney goes on to more serious things. "She doesn't have a bad memory. She has a memory of convenience. She seems to have an inbuilt defense system. If she disagrees with something, she simply turns off. I may as well be discussing things with the refrigerator."
"It is conditioning," protests Decker. "I have somehow been trained to ignore the things I don't want to face. It's good in racing. In the rest of life...I don't know." Her tone contains a trace of penitence.
Perhaps the toughest thing for Decker to face just now is the chance of things not going right for L.A. "What," she is asked, "would you do if for some unforeseeable reason the 1984 Olympics were canceled?"
She struggles for an answer, not happy to talk about this. "It wouldn't mean anything anymore," she says finally. "So I'd concentrate on the next World Championships."
"And what if you hurt yourself right before the Games?"
This time there is no pause. "It won't happen."
Earlier, Decker had been asked a question circulating among runners gearing up for a try at the Olympics, a question designed to separate the fanatics from the rest of us: "Would you take a guarantee of the gold medal if the price was you could never run again?"
"Hell no," she said at once. "If someone just gives you the medal, what's it worth? To talk about a deal like that just wrecks the sense of the gold. It isn't anything you can buy, it's only something you can win. It's only a symbol of how good you are. No, I'd rather take my chances. And..." she added in satisfaction, "be able to run later, too."
Hearing of this, Slaney can't keep from beaming. "Who else would say that?" he said. " 'I'll take a chance. I'd rather earn it.' Ninety-nine percent of the people would take the shortcut. That's why she's special."
A friend, concerned that Mary not repeat the pattern of unwittingly placing too many demands on this relationship, once asked Slaney if he were ready for it. "I think I'm strong enough," he said, grinning. "There is no conflict within me that she runs, that she's so successful. She does that because she's made to, wants to. We're different people. Discus throwing is important to me, but I don't do it to the detriment of the rest of my life. I don't have pinpoint vision...."
"And I do?" asked Decker.
"Yes."
"Yes, I always have."
And that vision these days is locked on Los Angeles. She remembers what Yekaterina Podko-payeva, who was third in the 1,500 in Helsinki, said then: "We will change our tactics and find something new. We will change."
About the only thing left untried is the lure of a suicidal rabbit. This is what Slaney feels Decker must expect, a Soviet runner sent out to suck her along, to use her own eagerness against her, to exhaust her before the last lap. "They'll sacrifice somebody good, you know," he says.
"I know. I'll just have to not go chasing after a crazy pace," says Decker. "But in Helsinki I felt I could handle any pace they could, and still kick. And in Los Angeles, I know I'll be stronger and faster at the end. And they are older than I am." She wriggles against Slaney, impatient, already hearing the starting guns of August.
[originallink:10628221:43403]
PHOTO
Decker has found sanctuary in the sheltering arms of Slaney, who has been called "Britain's strongest man."
PHOTO
As Zaitseva, the Soviet champ, lunged for the line, Decker won the 1,500 World Championship.
PHOTO
In the Helsinki 3,000, Decker withstood the challenge of another strong Soviet, Kazankina (451).
TWO PHOTOS
The domestic Decker: At her home in Eugene, she stitches pillowcases and whips up a salmon dinner with Slaney.
PHOTO
Brown, the coach who has become a father to Decker, uses calipers to measure her body fat.
PHOTO
Romping with Samantha, Decker reflects on the good times.