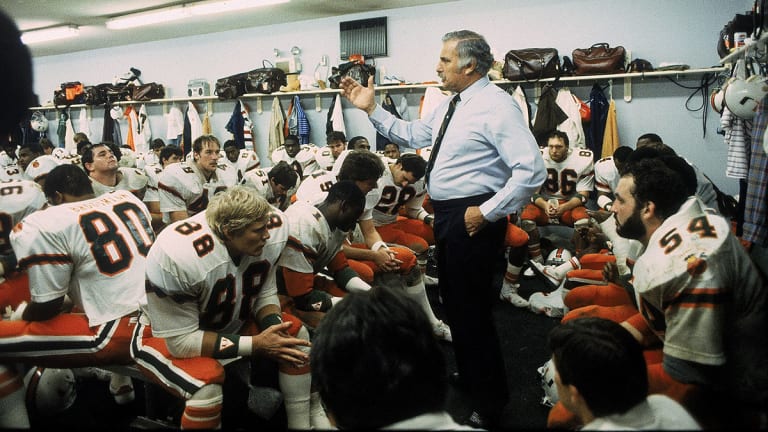 No Team Was Ever Higher
Aroused Miami climbed all over mighty Nebraska in the Orange Bowl to lay claim to the 1984 national championship
On the morning before he sent his sacrificial lambs out to slaughter the butcher, University of Miami coach Howard Schnellenberger gazed out a picture window in his hotel suite high above downtown Miami and wondered aloud if the Nebraska Cornhuskers realized "what a bunch of alley cats they're about to run into." He said he doubted it. He said he doubted a number of things about No. 1-ranked, 12-0 Nebraska, including whether it was as unbeatable as everybody thought. The bookies, for example, had made the Huskers an 11-point favorite. Looking lordly in his Oriental smoking jacket and red felt slippers, Schnellenberger bit down on a bagel and wondered, too, if the Huskers realized they were about to get hit from the heavens by a round-eyed, curly-haired freshman quarterback who talks as if he's 30, thinks as if he's 40 and may not be spacy but is definitely from another world. "I doubt it," said Schnellenberger.
What he didn't doubt was his Hurricanes. "The only thing that worries me," he said, "is that they're so high I have to walk among them like a zombie so they won't get any higher. I mean they are high." He pointed out that the Hurricanes were "about to face the Russian Army, and they don't care. They think they're going to win. And I'm the silly bastard who has everybody around here thinking they will." Schnellenberger smiled. "That's O.K. I think so, too."
It's unlikely that any team in the history of college football ever got higher for a game than Miami did for Nebraska, and if you missed Monday night's Orange Bowl, you missed an emergence. Before a crowd bleating with passion, the hometown Hurricanes dealt themselves the national championship by pulling it from the hands and from under the nose of a Husker team to which many honored observers, including those with names like Parseghian, Paterno and Devaney, had already conceded supernal status. In the end, the bitten-fingernail-thin margin of a batted-away two-point conversion attempt with less than a minute to play was the difference in Miami's 31-30 victory. The win, combined with Georgia's 10-9 Cotton Bowl defeat of previously unbeaten Texas, locked up the No. 1 spot for the Hurricanes.
When the two-point pass failed, the 72,549 Orange Bowl fans—a lot of them, anyway—poured onto the field like a wave of green and orange lemmings even before the game was finally and mercifully over, mercifully because the crowd couldn't have taken much more. Down went Nebraska's 22-game winning streak, and up went the burgee of a team that may well be the next great name in the game. For this is no flashdance Schnellenberger has choreographed in Miami; it's a precision chorus line of young, tough, talented and cocky-loud high-steppers, and they look and act as if they might be around for a while.
What made the upset all the more stunning is that Miami was rebuilt from slag by Schnellenberger in five short years. When he took the Hurricane job in 1979, the university wasn't even sure it wanted a football team and had a pretty good idea it couldn't afford it. But now it's stuck with the best. Said Schnellenberger as the sweat dripped from his mustache in the Miami locker room, "No words can describe it."
Well, some words can and should. "Bernie Kosar" are a couple that will do for starters. Kosar has what Hurricane quarterback coach Marc Trestman calls "the gift." It almost need not be said that the gift includes the ability to pass—all good quarterbacks can do that. What distinguishes this gawky-looking post-adolescent is a mind Trestman calls "razor-sharp" and the uncanny ability, says Schnellenberger, "to find the right receiver 18 out of 20 times." Completion records are often deceiving. A quarterback who connects on 10 of 12 passes might have thrown half of those to the wrong man and thus gotten only half the yards he could have. Kosar, says Trestman, "picks up the subtleties" and is so icy cool under fire that he not only amazes his coaches but astounds his fellow players as well. "They tell me they'd protect me with their lives," Kosar says. And they do.
In the final hours before the Orange Bowl, Trestman said he knew Kosar was ready for Nebraska because "he was going around like he was bopping, loose and relaxed. But I could see the wheels turning. We run a very sophisticated offense, and he makes it go. Inside, his mind was going wild."
Against the would-be champions, Kosar did indeed go wild. Schnellenberger said if Kosar had any kind of day at all, the Cornhuskers were in for it "because in their conference [the Big Eight] they haven't seen a drop-back passer all season to compare with Bernie." The first time Miami got the ball, Kosar announced the kind of day he was going to have: three completions in three attempts on a 57-yard touchdown drive, climaxed by a two-yard toss in the right flat to tight end Glenn Dennison. Another Hurricane march ended in a field goal, and before the first quarter was over, Kosar found Dennison again, this time over the middle on a 22-yard pass play that put Miami ahead 17-0. In all, Kosar completed 19 of 35 passes for 300 yards. No quarterback had had a better day this season against the Huskers, but more crucial was this: Kosar's passing canceled the Nebraska ground attack, which had accounted for 401.7 yards a game. Against the smallish Miami defense, which gave up 36 pounds per man on the line of scrimmage, Nebraska runners had to settle for 287.
To offset the Huskers' tonnage, the Hurricanes chose to forgo the reckless chances—safety blitzes and the like—other teams had taken against Nebraska. Instead, Miami combined its natural tenacity with a bewildering number of looks, which defensive coordinator Tom Olivadotti had devised in hopes of getting the Corn-huskers into a "second-and-15 situation" at least once every time they had the ball. Certainly the Hurricanes weren't wholly successful, but Olivadotti's tactics worked frequently enough. Before the game Schnellenberger had said, "Weight only works against you if it's leaning on you. If it's not, if it has to stop to figure out where to lean, it's not a factor."
Looking at the films the Miami coaches had picked up a vital key: Nebraska center Mark Traynowicz snapped the ball on his own count—that is, whenever he was ready. The Miami linemen, like the Husker blockers, keyed off Traynowicz, which gave the Hurricanes a crucial split second they wouldn't have had if Nebraska had gone on a snap count determined in the huddle. Further, the Hurricane front five and linebackers seemed to strike from every possible angle, which saved them the wear and tear of straight-on confrontations with the Huskers' beefy line. Finally, the Miami linemen got a stunning variety of support from the secondary. "I'd give my left ear if I could get them to pass," Schnellenberger had said, and he tempted the Huskers by sending his irrepressible cornerbacks, Rodney Bellinger and Reggie Sutton, flying up to meet the dreaded Nebraska option plays. As often as not, Bellinger and Sutton were playing like linebackers, and as a result, every Husker TD drive, save the last, consumed at least 10 plays. In other words, Miami denied Nebraska the big play.
The Hurricanes had Nebraska's 52-points-a-game offense misfiring for a quarter and a half. They didn't give up a score until Husker coach Tom Osborne dusted off an old hidden-ball play that had 270-pound guard Dean Steinkuhler pick up a deliberate fumble by quarterback Turner Gill and, running against the direction of the play, pound 19 yards to a touchdown. For the remainder of the half Miami went overly pass-happy, and the Cornhuskers effectively mixed up their coverages and, for the time being, shut down Kosar. Meanwhile, I-back Mike Rozier, the Heisman winner, broke loose on a couple of options, and Nebraska pulled even. A Gill sneak late in the second quarter and a 34-yard field goal after a fumble recovery a minute-plus into the second half made the score 17-17.
At this point, it seemed that Miami's jig was up and the inevitable rout on—were it not for two things Schnellenberger had emphasized in his pregame analysis: 1) that the Hurricanes could move on Nebraska whenever they got their pass-run act in proper balance and 2) that as long as Miami kept the score close, the Huskers would have to play their starters. "With the season they had, blowing everybody out, their regulars aren't used to playing so much," he'd said. "If it's hot, they'll wear out. Their size will work against them."
The weather wasn't hot (66° at kick-off), but Miami was on two well-designed third-quarter drives. The first covered 75 yards in 10 plays. It was made up of three Kosar completions—the first to his best receiver, Eddie Brown, who wound up with a game-high six catches—and an assortment of traps and counters that featured freshman fullback Alonzo Highsmith. Highsmith scored on a one-yard dive to put Miami ahead for good.
Miami drove to another touchdown and took a 31-17 lead into the fourth quarter. If a rout was on, the wrong team was doing the routing. Miami was getting superior blocking from its "rejects and retreads," as Schnellenberger calls his linemen, and, equally important, from fullbacks Highsmith and Albert Bentley. The Cornhuskers realized from the start that given time Kosar would pick them apart, so early in the second quarter they started sending their safeties and corner-backs crashing in—as often as not to be met by crushing blocks from Bentley or Highsmith. Kosar seldom was pressured and never was sacked.
Schnellenberger doesn't worry about falling behind because, he says, "our entire offense is a two-minute drill." The ploys used to offset Nebraska's size and rush included quick screens and sprint draws. Indeed, the Hurricanes were much more successful on the ground than expected. On the night, Highsmith gained 50 yards on just seven carries, Bentley picked up 46 on 10, and Keith Griffin added 41 on nine.
If Schnellenberger's forecast regarding the Nebraska regulars was correct, the Hurricanes were in the clubhouse with their 14-point lead with less than 12 minutes remaining. But Nebraska had saved something for the last hole. With Jeff Smith spelling Rozier, who had left the game with a twisted left ankle in the third quarter after having gained 147 yards on 25 carries, the Cornhuskers marched 76 yards—the last yard coming on a Smith plunge—to make the score 31-24. Then, after a Miami field-goal attempt went wide, Nebraska got the ball back with 1:47 to play.
One-forty-seven was an extravagance. Gill needed only 59 seconds to take the Huskers 74 yards, but he nearly ran out of downs. On fourth-and-eight from the Miami 24-yard line Smith took a Gill pitch, swept right and dived into the end zone. Suddenly it was 31-30: a point to tie and still gain the national title, two to win. "I knew they'd go for two," said Hurricane roverback Kenny Calhoun. "They're champions. They had to."
Schnellenberger was so sure of it he ordered up a two-point defense even before he observed which conversion unit Nebraska had on the field. Gill rolled right, and Calhoun's man, wingback Irving Fryar, released to the inside. "When I saw that, I went out to pick him [Smith] up," said Calhoun. "He [Gill] threw a little behind [Smith], and I got three fingers of my left hand on the ball." The pass fluttered away, and with it Nebraska's No. 1 ranking. "I do that kind of thing all the time," Calhoun said, and winked.
The victory, the Hurricanes' 11th in a row, gave Miami the longest winning streak in major-college football. This was also the Hurricanes' first appearance in the Orange Bowl in 33 years, and it's worth noting that they, with the freewheeling Schnellenberger conducting, treated themselves to every pregame entertainment available. "Join the Hurricanes and see Miami," said middle guard Tony Fitzpatrick. The Cornhuskers, meanwhile, kept their noses to the grindstone and their practices off limits—Miami even invited Nebraska reporters to its workouts. On press day Schnellenberger arrived in a helicopter. Osborne came in a Volkswagen bus.
A few nights later, at a private dinner during which the shrapnel from the stone crabs was flying and the football conversation more or less centered on the way the Hurricanes were conducting themselves—enjoyably, for the most part—Osborne asked a friend if Schnellenberger "always did things like that." No, he was told, "but he looks like he would like to get used to it."
[originallink:10628306:41538]