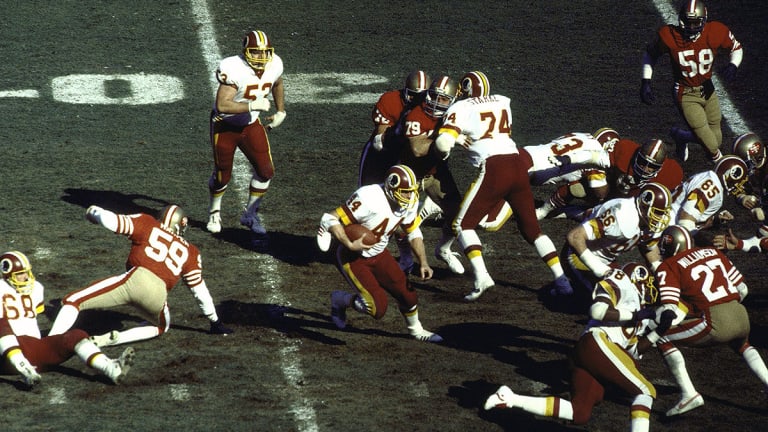 The 49ers Got Skinned
San Francisco's fourth-quarter heroics went for naught as the Redskins won 24-21 with more than a little help from some dubious penalties
O.K., Commish, get out your calculator. It's time to start adding up fines.
The Redskins beat the 49ers 24-21 in RFK Stadium on Sunday to advance to Super Bowl XVIII against the Raiders, and most San Franciscans feel they were robbed of the NFC championship.
"The invincible Redskins had six plays from in close, and they still couldn't get it in at the end...they needed help from the officials," said 49er Ronnie Lott. He's the corner-back who had an interference penalty called on him in the third quarter, which set up the Skins' second touchdown. He also had a holding penalty called on him with two minutes left that set up Mark Moseley's winning field goal. That penalty burned a minute off the clock when San Francisco was desperate for time and cost the 49ers their last two time-outs. You get fined for criticizing officials in the NFL. Both calls were questionable at best. Will Lott be fined? Well, let's see.
"I don't think the officials were very precise. All three calls were incorrect," he said.
Is that statement finable? It's close, a judgment call. Besides, what did Lott mean, three calls? Oh yes, there was also the one on Eric Wright.
This was the biggie, 27 yards worth of penalty real estate, and it came on the Skins' final drive, moving them from the 49ers' 45 to the 18, setting up the holding call on Lott, which set up Moseley's decisive field goal, a 25-yarder. Believe me, Moseley needed all that yardage, the way he was kicking. He'd missed from 45, 34, 38 and 41 yards.
The call on Wright wasn't bad, it was criminal (attention NFL lawyers, this is not only finable but libelous). Wide receiver Art Monk ran an up pattern. Wright, the cornerback on the right side, had him shaded. When the pass was thrown and Monk stretched for it, Wright got a hand on him. That's not exactly kosher, but the ball flew over Monk's head and out of bounds. No penalty, right? Uncatchable ball. Well, no. Tom Kelleher, the back judge, dropped the flag. Tom Kelleher has been an NFL official for 24 years. The Skins didn't give out any game balls Sunday, but maybe they can vote Kelleher one, post-mortem.
"[Quarterback Joe] Theismann overthrew him by a long shot," Wright said. "Monk extended himself. I had a hand on him as he went down."
No, that's not finable. But listen to Bill Walsh, the 49er coach: "It was a ball a 10-foot tall Boston Celtic couldn't catch, let alone a receiver. [Washington's] final drive was really a pair of penalties. Right now I'm a little bitter about the officials. It's just too bad that a championship game's decided by a call that close. I'd rather lose by the Redskins driving for a touchdown than on a call so close."
Yes, nail him for that, Pete. He criticized your officials. I heard him. And what does Kelleher have to say about that? Sorry, we'll never know. To get an NFL official to answer a question, a formal request must be made, through a pool reporter. In the postgame hustle and bustle nothing formal was arranged.
Lott's interference on Monk in the third quarter was worth 15 yards, and it took the Skins down to the 49ers' six. And it was also Kelleher's call. It was a brush, a nudge, nothing outrageous, but the call was chintzy. Lott said it was a good play, not a foul. Kelleher saw it differently. Monk said the two calls he drew "made up for the times they fouled me earlier and they weren't called."
Hey, Art, don't you start criticizing the officials, too. We've got enough 49ers for that. I mean, why shouldn't they be mad? They played a heroic game on defense. They never cracked, even though there were times when they could have. They slanted their line, and guys like Pete Kugler and Dwaine Board and Larry Pillers were beating the Hogs to the punch, and John Riggins was gang-tackled into exhaustion by the end. "I could see some daylight outside," Riggins said, "but honestly, I was just too beat up and tired to make it out there."
Riggins faced the postgame microphones with bruises on both arms and a raw mark on his chin, where the 49ers had knocked a bolt loose from his helmet. He gained 123 yards, but it took him 36 carries to do it—a 3.4 average. He had come into the game with a sore back; he'd missed Friday's practice. "There are a lot of U-boats out there in the ocean waiting for this big ship," he said. "From what I've been reading, those guys on the 49ers can't wait to get at me."
The Niners played him tough, and they did a good job containing Theismann in the first half (7 for 16 for 105). The Redskins helped them out by screwing up the trick plays coach Joe Gibbs had put in—a lateral pass off a punt return that went for a TD (called back because the pass went forward), a reverse to linebacker Monte Coleman on a kickoff that went for big yardage (called back, hands penalty). But when the Skins caught the 49ers in linebacker coverage and broke Charlie Brown over the middle for a 70-yard touchdown late in the third quarter, it looked like curtains. The score was 21-0, and 49er quarterback Joe Montana had had a terrible day against a defense that seemed to have the book on him. They took away his backs as receivers, and when he went to his wide men, they either dropped the ball or he misfired. The running game? Forget it—15 carries, 80 yards, 42 of them on scrambles by Montana.
But then all of a sudden the rocket went off. Montana spread the field and started finding his wide receivers. Nine plays and 1:15 off the clock and the Niners were on the board, the payoff a five-yard corner pass to Mike Wilson. Next possession was one pass, one TD, 76 yards to Freddie Solomon, who'd beaten Darrell Green down the middle. Next possession—53 yards and four plays, the TD a 12-yarder to Wilson again: 21-21. Washington was coming apart.
And then came the two-penalty drive at the end. Wright's infraction made it first down on the 18 with a little over two minutes left. Two shots by Riggins brought it to the 13 at the two-minute warning. Theismann tried to get the ball to Alvin Garrett in the right corner of the end zone, but nickelback Tim Collier knocked it down. The Niners were jubilant. Even if Moseley kicked the field goal, they'd get the ball back with more than a minute and a half and two time-outs left. The three Niner scoring drives had taken less than a minute and a half each. The 49ers were hot.
Forget it. Flag. Lott called for holding up Brown at the line. He argued vehemently with Ed Merrifield, the field judge. Lott and Brown had leaned on each other. Lott had a hand on him in the legal bump zone and Brown made no effort to get away.
"He held me for a full four seconds," Brown said."I did this," Lott said, briefly pushing one hand up against a bystander's shoulder. "I jammed him. We both just stopped and watched the play. For a ref to make a call on something like that is just devastating."
Riggins carried twice and the 49ers had to call two time-outs. For some unknown reason they let 15 seconds run off the clock—from 1:09 to :54—before calling their first one. When Montana got the ball back after the field goal, there were 36 seconds left and all miracles had ended for the day.
Isn't it sad, really, that it comes down to this? There were so many heroes in the game, heroes who'll never get recognized, because the outcome hinged on these fringe calls.
"It's the nature of the game now," said the old Giant linebacker Sam Huff, who does radio broadcasts in Washington. "These are the rules; this is the way they want it to end up. They'll call the least little touch downfield, but offensive linemen can strangle people and get away with it. What was there, one offensive holding penalty called out of 75 passes thrown?"
Right, Montana's stats were 27 for 48 for 347 yards. Theismann was 14 for 26 for 229, and Riggins, who had thrown only one pass in a 12-year NFL career (incomplete, "a flutterball," he says), connected on a 36-yarder to Brown, setting up a missed field goal. And out of all that passing, in which the Redskin pass-pushers were getting their heads snapped back, there was one holding penalty—against the 49ers' John Ayers.
And at the end it came down to Moseley or overtime. "After his last miss," Riggins said, "I offered him a blindfold and a cigarette. If he would have missed the fifth one, it might have been the first time in playoff history a guy would have been fired on the field."
Moseley blamed his lousy day on RFK's sandy surface which had him sliding into the ball. "Even on the one I made." Moseley said, "I slipped six inches. I walked through it."
At least he didn't sleepwalk through it, which is more than can be said for the officials. It's a shame it ended that way.