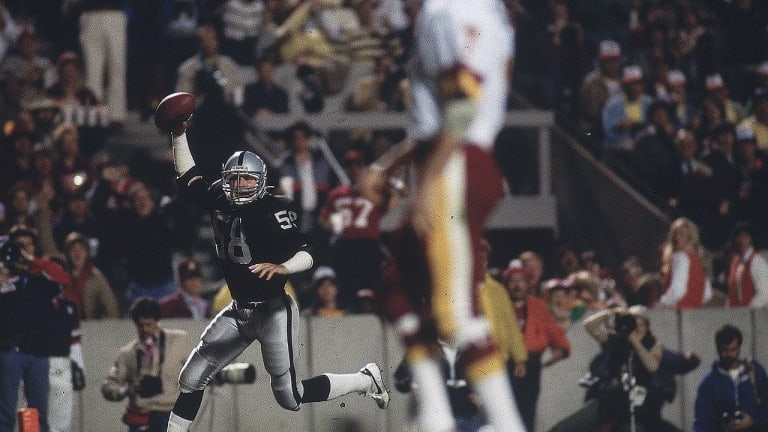 A Runaway For The Raiders
Playing an old-fashioned man-to-man brand of football, Los Angeles beat Washington 38-9 in the Super Bowl
The Los Angeles Raiders' 38-9 victory over the Washington Redskins was a memory, and equipment men were hustling the last few Raiders out of their Tampa Stadium locker room toward the buses that would carry them to their celebration of the biggest Super Bowl crushing in history, but in a far corner, right next to the bins of dirty towels, one guy had taken up residence.
Al Davis wouldn't leave. He didn't want to let go of the moment, of the scene. Davis, the Raiders' managing general partner, was dressed in a white V-neck sweater and a black leather pullover, and when he talked, he leaned very close to his listener. His words carried the weight of a great secret revealed to modern man. "We could have scored 50 today," he said, "but we shut it down in the third quarter. This is the greatest team we've ever had, one of the greatest in history, hell, one of the greatest of all time in any professional sport. Next year, God, wait till next year, the depth we have on this team...."
Someone asked Davis a technical football question, and he stared at the guy for a moment. "Look," he said, "we play a two-back offense; we play man-to-man, bump-and-run, pass defense. Our quarterbacks call their own plays—we don't have coordinators. Some of the other teams—well, all the technical stuff they use is getting so technical I don't think they understand it themselves."
Technical football. A slap at Redskin coach Joe Gibbs and the Air Coryell show in San Diego, a pointed dig at football of the '80s, with its one-back offenses and motion and multiple sets and everything. O.K., let's not be too hard on Gibbs, just because his Skins were shut down Sunday. The guy won last year's Super Bowl with his approach, and one blowout couldn't erase the magnificence of this season, with its 16-3 record. Besides, the whole Raider operation wouldn't have worked against the Redskins if 245-pound Reggie Kinlaw, a small, swift middle guard in an era of pachyderms, hadn't played inspired football and patrolled the middle like a minesweeper; nor would it have worked if L.A. hadn't had a pair of All-Pros, Lester Hayes and Mike Haynes, playing corner-back. And the Raiders do have a coordinator, although his title is linebacker coach. He's Charlie Sumner, a wiry, leathery old Virginian who coordinated a defense Sunday that had everything the Redskins tried blueprinted and neatly stacked in piles. He made a brilliant call and spot-substitution to produce Los Angeles' biggest play of the game, reserve linebacker Jack Squirek's interception and five-yard return for the TD that closed out the first half at 21-3. Sumner also helped design the defense that set Kinlaw a yard off the line and had him chasing down John Riggins' tackle-to-tackle thrusts. He had his two big inside linebackers, 255-pound Matt Millen and 235-pound Bob Nelson, play up tight on the Hog guards and stuff those big fellas before they could get their hooves churning, and he had the two ends, Lyle Alzado and Howie Long, close down hard and destroy Joe Theismann's passing pocket. The corners were put in bump-and-run and told to shut off the short stuff. The Raider rush and the swirling winds in Tampa Stadium would take care of anything deep. Oh yes, Sumner is a coordinator, all right.
"Yeah, I guess you could call him that," Davis admitted. "He does some of that."
Of course, that's just playbook stuff, and it doesn't mean a thing unless you have the people to make it work. And for this you must give credit to Davis, who orchestrates the Raiders' strategy and trades and drafts players who can run his kind of show, football of the '60s. And he hired the right guy to coach those players—Tom Flores, who had been a Raider quarterback back when Davis was still coaching and who has been around long enough to have a feel for running the L.A. operation just right.
What beat the Redskins Sunday was old-fashioned football. L.A. didn't show much motion on offense, very little jumping around, and the Raiders' basic sets and formations didn't dazzle you or strain the imagination. They had no sideline signal system, no semaphore wigwags that look like the Coast Guard trying to rescue a foundering tanker, and best of all, they used bump-and-run on defense, good old man-to-man, in an era of multiple zones and combinations. You remember man-to-man. That's the defense that winning quarterbacks talk about when they've just thrown for 400 yards. "Well, we caught 'em in a man-to-man," they say, like they're telling you they caught them in their underwear. For the Raiders it was I-got-him-and-you-got-him football, and Davis had found the guys to make it go—Hayes, a linebacker and safetyman at Texas A&M, and Haynes, who came from New England after the trading deadline had slipped by (Haynes's legal action against the league resolved that little problem).
Hayes and Haynes were brilliant Sunday. The Redskins' wideouts, Charlie Brown and Art Monk, didn't catch any of the seven passes thrown to them in the first half, when the game was still a game. Close your eyes and you could see Willie Brown and Kent McCloughan playing the corners for the Raiders in that same bump-and-run style, the old Oakland style devised to combat the wild passing orgies of the early AFL.
"Smurfs," Hayes said afterward in the locker room, grinning widely, using the nickname for some of Washington's receiving corps. "Smurfs, ha ha."
"Charlie Brown said he was open all day long and Theismann just didn't have the time to get him the ball," a reporter said, and Hayes threw back his head and howled.
"Oh, that's good," he said. "Very good, indeed. Please tell the Redskin trainers to procure some NoDoz for Charlie, because there's a strong possibility he was dreaming out there."
Yes, the team of the '60s beat the team of the '80s. Davis had used six defensive backs in long-yardage situations then, just as the Raiders did against the Skins Sunday. He even used a variety of the 3-4 in the old days, with a roving, sometimes-up, sometimes-down lineman named Dan Birdwell. Raider teams always have attacked—defensively and offensively. They strike deep with their passes, and their linemen come off the ball hard with a minimum of finesse, and the fullback leads the halfback through, while on defense the Raiders try to shut down everything. They've been consistent for almost two decades, and it gave Super Bowl XVIII a nice, Old World touch.
Marcus Allen is the big new element. The Raiders have never had a back quite like him. Oh, they've had good halfbacks—Clemon Daniels, Clarence Davis—but none of them had the moves or game-breaking potential of Allen. During Super Bowl week he spoke of how he didn't feel he was getting the ball enough. "In September I was talking with Mr. Davis on the practice field one day and I said, 'I'd sure like to run more,' " Allen said. "He told me, 'Take a few laps after practice.' The conversation was ended."
Allen started off slowly against the Redskins. At halftime he had 51 yards on 11 carries, decent but nothing spectacular. Early in the third quarter, though, he gave a preview of things to come. The Skins had just driven 70 yards to cut the L.A. lead to 21-9. The Raiders had taken the ensuing kickoff and moved to Washington's five. On second and goal, Allen slanted right, cut back left and slid into the end zone, leaving three Skins clutching air. It was a typical Allen cutback, neat, smooth and final.
On the last play of that quarter, when the Raiders took over after Riggins had been stacked up by Rod Martin, the right linebacker, and Mike Davis, the strong safety, on a fourth-and-one shot at the Los Angeles 26, Allen won the Super Bowl MVP award. He swept to his left, where he was shut off by strong safety Ken Coffey, and then reversed direction. But here's what makes Allen the runner that he is. Nine out of 10 other NFL backs would have kept going wide to the right, picking up their eight or 10 yards, but all of a sudden Allen broke inside, straight up the middle, past linebackers Monte Coleman and Rich Milot, past clutching middle linebacker Neal Olkewicz, who hit the deck, and away from pursuing cornerback Anthony Washington. Seventy-four yards in all, for the touchdown that made the score 35-9 and sent the game into the history books.
"They kind of overpursued," Allen said later. "I kind of cut back, they kind of missed me. It was all reaction. No thinking involved."
"I was just picking myself up off the ground," Raider right guard Mickey Marvin said. "Then I looked around and a rocket went through."
On his 20 carries, Allen ended up with 191 yards, breaking Riggins' Super Bowl rushing record of last year. He added two more Super Bowl marks, longest run—his 74-yarder—and most all-purpose yards, 209 counting the two passes he caught for 18. But I wouldn't have given him the MVP award. The issue already had been decided when Allen broke his big run. And as brilliant as he was, it was a defensive victory for the Raiders. They held a team that set a record for most points in a season (541, a 33.8 average) to its lowest total in 45 games. They held Riggins to 64 yards on 26 carries, a 2.5 average. The L.A. defense intercepted Theismann twice, sacked him six times, forced him to cough up the ball once on a fumble and scored a TD. My MVP would have been Kinlaw.
"He made a lot of tackles," said the Skins' alternate running back Joe Washington, who had been the big man in Washington's regular-season victory over the Raiders but was no factor Sunday. "He messed up a lot of plays. He had a lot to do with other guys making big plays behind the line of scrimmage. He really had a great game. He was the major force on defense."
"Reggie and me," Martin said, "just two 12th-round draft choices trying to get by."
And how about the Raiders' defense in general?
"They were butchering us at the line of scrimmage," Washington said. "They just put an old-fashioned can of whip-ass on us."
The Los Angeles defenders had been so typecast as intimidators and roughnecks that people forgot how much genuine talent they have. Intimidation was no factor Sunday. There were a couple of scuffles, a bit of finger-pointing, but very few late hits or cheap shots. "The game was too big for any of that junk," Alzado said.
On Tuesday night, after the Raiders had been in Tampa for only one day, they were ready. "I want to play right now," Alzado said. "I read one paper that said I couldn't handle Joe Jacoby. I don't want to hear his name. I can't stand to hear it. I want to go out and play, now, right now; I want to settle this thing."
In his room in the Raiders' hotel, Millen, the former Penn Stater, endlessly ran the films of Los Angeles' 37-35 October loss to the Redskins. "Look at this, we're stuffing them on the line," he said. "The Hogs, the great Hogs. Look at what Kin-law's doing to [Skins center Jeff] Bostic. Look at Howie Long caving in the whole right side of their line. They can't block him with one man. Watch [Washington left guard] Russ Grimm come out to block me here—a stalemate, right? They can't budge us. I know they can't. If we just don't screw up and overpursue and make mistakes, we'll kill them.
"I get up in the middle of the night and run these films. I've run them eight, 10 times. I can't sleep, thinking about this game. I lie in bed at three or four a.m. wishing I could play it right then. Look here; [Skins right guard] Mark May pushes me in the back. I get up. I'm talking to him. I said, 'Don't do that, Mark. You're from Pitt, ha ha.' Lyle yelled at me, 'What's wrong with you?' I said, 'I know this guy.' It makes me sick now. I let him do that. So nice, I was so nice. If May does that again, I'll rip his throat out. Let's not talk about it anymore. It makes me sick."
In the Raiders' Wednesday practice, their first contact of the week, there were near-fights, just as there had been three years ago before they beat the Eagles in Super Bowl XV. It was an omen.
"We ran 22 line drills—offense versus defense," reserve offensive guard Steve Sylvester said. "Usually we win about half. This time we won maybe one. I said, 'God almighty, these guys are ready to play.' Don Mosebar, our rookie guard, got hit above the nose. They had to stitch him. He was bleeding all over the place."
"When we went 11-on-11 it was intense," free safety Vann McElroy said. "I looked over at Millen. You should have seen the look in his eyes. I said, 'Is this for real, or what?' Al Davis was kind of egging us on. He wanted an intense practice, and he got it."
On Thursday there was a fight. Millen vs. Marvin. It was also a set-up, an orchestrated affair. "Sam Boghosian, our offensive line coach, said to me, 'Come in on a blitz and start a fight,' " Millen said. "He told me, 'I want to get something going.' So I did it. I picked on Mickey. I was hoping Shelby Jordan wouldn't pick me up—he's 6'7", 285—but Mickey got me and I started a fight. Sam didn't let the offense in on it. All Mickey knew was that all of a sudden he was fighting for his life. It's childish, I know, but it worked. It livened up the practice."
That morning, in the press interview session, Millen had issued the quote of the week. Grimm had been asked how badly he wanted to win the Super Bowl. "I'd run over my mother to win it," he said. The quote was repeated to Millen. "I'd run over Grimm's mother, too," he' said.
The Raiders had left their mark on Tampa during the week. All over town, on the benches and the billboards, silver and black signs had been pasted up: COMMITMENT TO EXCELLENCE. That's the Raiders' new motto, replacing Pride and Poise. In front of their hotel was another Sign: YOU ARE NOW ENTERING RAIDER LAND. The only thing missing was a skull and crossbones.
Super Sunday broke cloudy and mild, with a wicked, swirling, 20-mph wind. Before the kickoff hundreds of balloons were released. They danced crazily in the air, ducking and bobbing and darting, with no direction to them. Waiting for the intros, Theismann and Jim Plunkett watched the air show and worried. The Raiders' offense is predicated on the ever-present fear of the long pass. Theismann knew that the Raider cornerbacks would be playing his receivers tight. He knew he had to try something deep to drive them back. But in this wind....?
On the opening series the Raiders were stopped and punted. Theismann tried Haynes on a quick out to Monk, and Haynes broke to the ball immediately and almost intercepted it. Time to go deep. Theismann went up on top to Monk, and Haynes was with him and the ball sailed. Theismann tried it again. Same result. It was going to be a long day. "We weren't able to get our wide receivers in the offense," Theismann would say. "The wind grabbed the long stuff and took the ball where it wanted to."
Washington punted. The snap was high, Jeff Hayes was late getting the kick off, and Derrick Jensen, the captain of L.A.'s special teams, crashed up the middle, blocked the ball and recovered it in the end zone for the game's first score.
The Skins tried to get something going. They lined up Clint Didier, a reserve tight end, wide on the flank, with a wide-out inside him. They switched sets, breaking out late from an I formation, lining up two tight ends next to each other and putting one of them in motion. L.A. adjusted. Mike Davis picked up Didier, man-to-man. They had a read on the formations. "We had them typed perfectly," Millen said. "Everything they'd done in the past off a particular move, they did again. They didn't fool us."
"No matter what formation they ended up in," Haynes said, "in the end it just came down to man-to-man, very basic stuff—you take that guy, I take this one. My kind of football, the kind of football I missed at New England."
Theismann was to try Haynes twice more in the first period. Both passes were for Brown and both fell incomplete. He had gone 0 for 5 against Haynes's coverage; he hadn't tried Hayes at all. "I was getting lonely out there," Hayes said.
"I kind of figured Theismann would work on me right away," Haynes said. "No one had done it, so why not try? He looked at the films; he saw that I hadn't been getting much work. Maybe he thought I'd be lax in my techniques."
Meanwhile the Raider offense was being conservative. Plunkett hadn't gone deep, and the Skins had been containing him pretty well. It was a ticking time bomb, though, and with 10:48 to go in the half and L.A. on its own 35, it went off. Plunkett, with the wind more or less at his back, found Cliff Branch streaking down the middle, after he'd jumped into a slot position, inside the other wideout, Malcolm Barnwell. Darrell Green, Washington's rookie cornerback, hesitated for a moment, and Branch wound up with the ball on the Skins' 15, a 50-yard gain. Two plays later Plunkett hit Branch for a 12-yard TD, a curl pattern that left cornerback Anthony Washington flat-footed.
For some reason the Raiders then switched into a zone. Before they had gotten out of it, the Skins had driven the length of the field, down to L.A.'s seven, where Mark Moseley kicked a 24-yard field goal. Washington trailed 14-3. Not a good spot to be in, but not untenable, either. The Raiders picked up a couple of first downs and punted. The Redskins had the ball on their 12 with 12 seconds left before the half, and the fans were moving out to beat the lines at the concession stands.
Washington lined up three receivers on the right side, a Hail Mary. In the old days you'd take your 14-3 deficit into the locker room and get ready for the second half, but this is the modern era, the age of miracles—anything can happen in 12 seconds. And it did.
Something clicked in Sumner's brain. He remembered that when L.A. played the Skins in October, they'd been in a similar situation and thrown a little screen pass to Joe Washington on the left side. It had picked up 67 yards. He yanked Millen out of the game and sent in Jack Squirek, a faster linebacker. "I almost didn't get him in on time," Sumner said.
"I was mad," Millen said. "I'd called a blitz, and I was cranked up for it, but he told Jack to play the screen and sent him in. I guess Charlie knows what he's doing, huh?"
The three rightside receivers took off, and Washington slipped out to his left. Alzado, the end on that side, smelled the screen. He drifted to the outside, between Washington and Theismann, and Theismann had to loop his pass to get it over Alzado. Squirek took the ball on the run and the Raiders had TD No. 3. Gibbs's strategy was severely questioned afterward. "There were 23 seconds left," he said, missing the number by 11. "I thought we could set something up. The same play worked last time."
"What surprised me," Washington said, "was that they had me double-covered over there with only seven seconds left." His watch was running fast.
It was 21-3 at the half, and the Raider heroes were a couple of guys named Squirek and Jensen. Theismann was 6 for 18, and the Skins had picked up only 113 yards, total. The only thing in their favor was that the L.A. defense had been on the field a long time—39 plays, compared to 27 for Washington's defenders. When the Skins drove 70 yards for the TD that made it 21-9—Moseley's extra point was blocked by Don Hasselbeck—on their first possession in the third quarter, there was hope for Washington again. It had scored 17 unanswered points in the fourth quarter in that earlier game against the Raiders.
Los Angeles' next drive turned out the lights. It stretched 70 yards and was built around a 38-yard interference penalty—Green on Barnwell—on the second of only three times in the game that Plunkett went deep. (His third bomb, to Barnwell later in the third quarter, would go incomplete.) Allen's five-yard TD climaxed the march, and his 74-yarder, three possessions later, would officially certify this as a blowout.
In the locker room afterward, the 34-year-old Alzado, who had played for a month with pain-killers in his damaged right ankle, broke down and cried. "I've been an athlete for 27 years and never a champion," he said. "There's nothing left now. This is the best, this is everything."
"Lyle has left a lot of his blood on the field in 13 years in the NFL," Long said. "He's spent most of his life playing football. I feel very good for him. It's probably the nicest part of this thing."
"We got our rear ends handed to us on a platter; we embarrassed ourselves," Theismann said as he left Washington's locker room.
"Joe, you got a ride?" a teammate asked him.
"I've got a limo," he said.
Moments later, outside the Raider locker room, AI Davis stared into the darkness and talked about his team one final time. "In 18 games before this one we got nine quarterbacks out of there," he said. "Nine quarterbacks. This guy went the distance against us today. We let 'em move it just to get the game going. We could have scored 50. This team will be great for years to come."