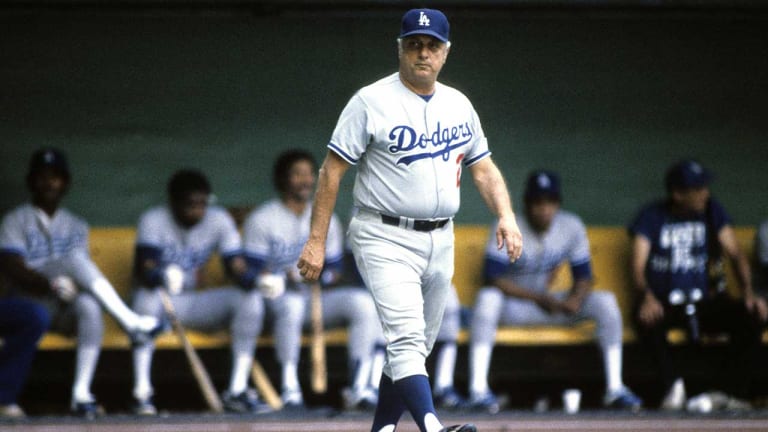 He Goes Where The In Crowd Goes
Buckle your seat belt, because you're about to experience life in the Hollywood fast lane with Tommy Lasorda and some of his closest friends
Tommy Lasorda is driving to his dentist in Beverly Hills. The dentist, Dr. Roger Lewis, is, like most of the millions of people Lasorda knows, "outstanding," which is fortunate because the Dodger manager will have a bridge replaced this day and will be in the chair for nearly two miserable hours. Lasorda is nonetheless chipper as he swings his Chrysler New Yorker through the Wilshire Boulevard traffic. He's wearing a checkered coat, blue slacks and a blue shirt mostly concealed by a sleeveless white pullover sweater, this last article being a Lasorda sartorial trademark. His jaunty demeanor masks a certain fatigue. He had been to a charity ball at the Beverly Wilshire the night before, Dec. 12, honoring, among others, that good friend of his, Frank Sinatra, and he and wife Jo hadn't made it home to suburban Fuller-ton until past three in the morning. Frank, Tommy and their whole crowd—Robert Wagner, Jill St. John, Milton Berle and his wife, Frank Jr., Dionne Warwick, Angie Dickinson, Ed McMahon and his wife, et al.—had gone for a late supper at Matteo's after the party, and those things will go on. "Frank never sang better than last night," says Lasorda. "I was a little worried because he'd had a sore throat. Say, there's Frank now." Not in person, mind you, but Ol' Blue Eyes could be clearly heard on the Lasorda car radio—tuned always to either KMPC or KPRZ, the big-band stations—singing Witchcraft.
The Beverly Wilshire party—for the City of Hope—was the third major show-biz event Lasorda had attended in the past month. He had himself appeared on a nationally televised All Star Party for Frank Sinatra, and he had sat in on a White House reception for Kennedy Center honorees Sinatra, James Stewart, choreographer Katherine Dunham, director Elia Kazan and composer Virgil Thomson given by another good friend of his, President Ronald Reagan. The Marine officer charged with announcing the guests had been startled when the President interrupted the Lasorda introduction to greet him personally, "Tommy, how are you?"
"This was the second time I've been to the Kennedy thing," Lasorda says. "The first one was for Cary Grant. He's a good friend of mine. I tell you, only in this great nation of ours could the third-string pitcher on the Norristown, Pennsylvania high school team, the son of an Italian immigrant, be friends with some of the greatest entertainers in the world." Lasorda has so many famous friends, one half expects him to call out, "Charlie, say hello to Di and the kid," or "Yuri, where you been keeping yourself?"
But he's still capable of awe. "Did you hear that speech Richard Burton gave for Frank at the All Star dinner?" he inquires, waving at a passing cabdriver. "Bee-yootiful. Outstanding. And do you know that he asked to sit at my table that night? I didn't even think he knew what a baseball was for. Well, he told me that when he was in the hospital one summer, about all he did was watch the Dodgers on TV. He's an outstanding baseball fan." By now Lasorda is in high gear, talking and singing along with the enduring crooners of KPRZ—"I look into your green eyes...."
Lasorda was more or less swept into office as the Dodger manager in 1977 on a wave of Hollywood enthusiasm. He had met Sinatra in '76 through yet another good friend, the late Pat Henry, an Italian-American comic who had been the singer's warmup act. "Pat called me once when we were playing in Chicago," Lasorda recalls. "I was only a coach then. Anyway, Pat says, 'Come on over to the hotel. Frank Sinatra wants to meet you.' Now, that was a thrill for me. I grew up respecting that man for his talent. Surprisingly, Frank and I struck up an immediate friendship. He's an outstanding baseball fan. Finally, after we'd talked awhile, he says to me, 'Tommy, you should be manager of the Dodgers.' I said, 'Lord willing, someday I will.' He said, 'I think so much of you that when you become manager, I'll come out and sing the national anthem.' I looked over at Pat and Jilly Rizzo [a longtime Sinatra crony] and asked them, 'Is he serious?' They said, 'When this guy says something, you can take it to the bank.' Well, that September they named me the manager for '77. And on Opening Day Frank came through. My family and I just love him and his family."
Lasorda's car is waved on by a traffic cop, who, recognizing the great man, salutes him. "The thing about people in the entertainment business," Lasorda continues, as the radio plays Helen Forrest's I Don't Want to Walk Without You, "is that we in sports are celebrities to them. We're their escape from their jobs just like they're our escape from ours. I remember once I went to a birthday party for R.J.—that's Robert Wagner, a good friend of mine—and he took me over to meet Miss Bette Davis. I was thrilled. I said to her, 'Thank you for so many great moments. You are to your industry what Joe DiMaggio, Ted Williams and Sandy Koufax are to mine.' She looked at me and said, 'I really sympathized with you when Joe Morgan hit that home run off Terry Forster that knocked you out of the playoffs.' Turns out she was an outstanding baseball fan. They all are. I'll tell you another story about that. Not long ago I was speaking at a banquet in Toronto, and Ted Williams was in the audience. He's a good friend of mine. After the dinner we went back up to his room and sat around talking about hitting. Finally he said to me, 'Hey, you're a good friend of Frank Sinatra, aren't you?' I said I sure was, and he said he wished that the next time I saw Frank I'd tell him what a fan he was of his. I said, 'Why don't you tell him yourself?' Now, it's 3 a.m. in Toronto, but I grabbed the phone and called Frank in Palm Springs. 'Francis,' I said, 'there's someone here who'd like to say hello,' and I put Ted on the line. Well, Ted Williams goes on for five or 10 minutes on how much he admires Frank Sinatra, then he hands the phone back to me and Francis says to me, 'Tommy, I can't believe I just talked to the great Ted Williams.' "
As the car pulls up in front of Dr. Lewis' building, Sinatra on the radio and Lasorda are doing a duet of Nancy (With the Laughing Face).
Lasorda's singing voice isn't entirely unpleasant, though it tends to crack in the higher reaches, but his penchant for singing along with his idols can prove disconcerting to passengers in his automobile, for there are occasions when the idol may be performing live. Dodger coach Joey Amalfitano recalls the time in Houston he and Lasorda were driving with Lasorda's good friend, singer Vic Damone. "Now, I'm impressed that we've got Vic Damone in the same car with us," says Amalfitano, "but I get my courage up and I ask him, 'Mr. Damone, of all your hit songs, what would be your personal favorite?' He looks at me and smiles, and the next thing I know he's actually singing Because of You. I couldn't believe it. We're getting a private show. I was thrilled. Then, the next thing I know, there's another voice singing. It's my manager. We've got a private show by one of the great pop singers and my manager is drowning him out!"
Lasorda could be described as a frustrated entertainer if it weren't for the fact that he's onstage so often he is an entertainer. Bill Shumard, the Dodgers' director of community services and special events, is the front-office employee assigned the unenviable job of keeping track of the team's manager in the off-season. According to Shumard's official schedule, Lasorda will have made 70 public appearances between last Oct. 18 and Feb. 15, but this isn't the actual figure because Lasorda is famous for accepting speaking invitations on the spur of the moment. Once, a high school in the little Southern California town of Lancaster had a fire and wanted Lasorda to speak at a fund-raiser. Eager to help, Lasorda made a late-night call to one of the school's coaches. "This is Tommy Lasorda, manager of the Los Angeles Dodgers," he addressed the coach. "Yeah," came the reply, "and this is Christopher Columbus." When the coach hung up, convinced he'd foiled a prankster, Lasorda called him back. "This," he repeated, "is Tommy Lasorda...." Two months later, the guest speaker at a fund-raising banquet for the school was Tommy Lasorda, manager of the Los Angeles Dodgers.
Lasorda himself can't count the number of appearances he makes, but he does know he loves them all, whether, as with the Lancaster engagement, he's doing it without compensation or receiving a fee of $3,500 to $10,000. "I won't take a dime from churches or schools," he says, but he can be costly for those who can afford him. His appearances range from a guest spot on the Hee Haw show in Nashville to a "motivational" talk to Merrill Lynch executives in Los Angeles. By the time spring training begins, he will have spoken at DePaul, Valparaiso, North Carolina at Charlotte and Southwestern Louisiana universities, at the Saskatoon, Canada sports dinner, at St. Rita's Church in Sierra Madre, Calif., at the New York and the Southern California Baseball Writers' associations' dinners, at a prayer breakfast for the U.S. Air Force in Los Angeles, at the Italian-American Sports Hall of Fame in Chicago, to Armour-Dial executives in Phoenix and to the Catholic bishops in St. Louis. He has even opened a presidential press conference—this at the urging of his good friend Larry Speakes, the White House press aide.
Beyond question, no one else in all of sports has such a rigorous off-season schedule. Lasorda may be corny, but he's no phony; without seeming overly pious about it, he sees himself as a sort of messenger of goodwill, an emissary of his game and his team. "I feel I owe the people something," he says. "I want to get out and spread the word about the Dodgers and baseball. How many people in all those little towns get to see a big league manager in person? Why, they open their hearts to you. I feel I've done something for someone when I show up in some place like Grand Forks, North Dakota, which I have. It's also my way of saying thank you to the people who have given me so much. You might say it's like putting something back in the pot. I've got a lot to be thankful for."
The Dodgers, for their part, are thankful he's so thankful. "He makes my job easier," says Shumard. "There's never anything that is too much to ask of him. He never places himself above any of us in the office. He recognizes that we all have a common goal. From management's side, he's the ultimate team player. It's no accident that we've gone over three million in attendance four times since he's been the manager. He knows a large part of this game is entertainment, and he has a great feel for what an audience wants. He's the one who gets the players to come out of the dugout and tip their caps after a homer or a great play. I've seen him dog tired after a long flight and then get out and knock the socks off a group."
Lasorda arrives right on time, 10:30 in the morning, at the recording studio where he will read a radio commercial for Chicago Brothers Frozen Pizza. He will perform this relatively menial chore because he likes both Chicago Brothers Frozen Pizza and the four former Chicagoans—David Levy, Bob Steinborn, Craig Schechtman and Barry Robbins—who make it. Lasorda is, of course, a famous eater whose paunch has become a television celebrity in its own right. He gave up smoking years ago and stopped drinking hard liquor within the past few years because he feared it aggravated an arthritic condition in his fingers, but overeating he will not renounce.
"When I thought smoking was a weakness," he will say, "I took a pack of cigarettes from my pocket, stared at it and said, 'Who's stronger, you or me?' The answer was me. Then I took a glass of vodka and said to it, 'Who's stronger, you or me?' And again the answer was me. Then I took out a plate of linguine with clam sauce, looked it in the eye and said, 'Who's stronger, you or me?' And the answer came back, 'Linguine with clam sauce.' I cannot beat linguine."
The four Chicagoans, who now live and make their pizza in San Diego, are in the studio to greet their benefactor. Noting that they are all of ballplayer age, 29 or 30, Lasorda feels compelled to give them a pep talk. "I admire guys like you," he says. "You're the kind of guys who make this country work. This is what makes it great—you don't want anything for free. Working together as a team is the secret. I've been married to the same woman, Jo, for 33 years. If I had asked God to give me the perfect wife, she'd be it. Still, we have arguments. But we love and respect each other. Love and respect. They'll overcome anything. When I was a kid in the rookie league, I was the happiest guy in the world. Now I've got more money than I ever dreamed of, but I'm no happier. You guys stick to it. Stick together. Make it work. Yes, you're what makes this country great."
Lasorda's reading of the commercial is impassioned—"I could just taste those fresh ingredients, the crispy deep-dish crust oozing with layers of real mozzarella cheese and juicy tomato chunks seasoned to perfection"—and nearly flawless on the first take, but he cheerfully does five more, jazzing up his delivery for each one until he finally has a wrap.
Lasorda's virtues as a public relations man for his employers, as a sort of clown prince of hype, have long been recognized. Who among us hasn't heard of "Dodger blue" and "The Big Dodger in the Sky?" His show-business connections, indeed his shameless showboating on the Game of the Week, are familiar to even the most casual fan. But despite four division titles, three pennants and one World Series championship, as a manager he has never been considered much more than a relatively harmless cheer-leader for teams bulging with talent. And in those few seasons when the Dodgers haven't won, Lasorda has taken the heat. He has revealed himself as the incompetent he has always been, his critics say. He neglects the team to spend more time with his Hollywood chums. His team, despite the goody-goody image, has been racked with dissension.
But even his most persistent detractors—and in L.A. they are many—must now set aside their hatchets, for Lasorda was truly a Manager of the Year in '83. That was to be a rebuilding season for the Dodgers, a year without stars Ron Cey and Steve Garvey, a year of testing the young talent the Dodgers had had on hold while the veterans played. But Lasorda was beset with more serious problems. His best relief pitcher, Steve Howe, was shelved for drug abuse and was ultimately suspended; his No. 1 catcher, Mike Scioscia, went down early with a rotator-cuff injury; his most reliable hitter, Dusty Baker, slumped badly (from .300 to .260); and his star second baseman, Steve Sax, seemed to have acquired Steve Blass's Disease, an affliction that made the easiest throw an adventure. The Dodgers finished eighth in the National League in runs scored. And for the first time in seven seasons as Dodger manager, Lasorda became a juggler. By season's end he had fielded more than 100 different lineups. But the Dodgers won the division, and had they not lost 15-game winner Bob Welch to a bursitis flare-up, they might have won the pennant. Lasorda was elected National League Manager of the Year by the AP, UPI and the Baseball Writers' Association of America.
After this crowning achievement, he wanted the security of a long-term contract. For a while people wondered if the Dodgers, whose policy of hiring managers for one year at a time goes back to the last century, would accommodate him. The unthinkable—Lasorda no longer bleeding Dodger blue—was being considered. He was strongly rumored to be Billy Martin's replacement with the Yankees. The Dodgers acceded, and Lasorda signed a reported three-year, million-dollar contract. He had done something Walter Alston hadn't been able to do in 23 years: He had assured himself of a job for more than one season.
"There are four things in life I've never regretted," says Lasorda. "I've never regretted my love for God or my love for my family. I've never regretted living in the greatest country in the world. And I've never regretted for one day my 35 years with the Dodgers."
Tommy and Jo are sitting in the den of their surprisingly modest three-bedroom house on a quiet residential street in decidedly unglamorous Fullerton. The den is dominated by two furnishings—a 48-inch television screen, before which a nearly dormant Lasorda will repose for hours on end, and a bust, cast in Spain, of his good friend, Ol' Blue Eyes. Mrs. Lasorda is a Southern girl, and her speech retains remnants of a genteel upbringing. Lasorda, the perfervid talker, loves listening to her. He sits across from her, softly humming to himself. He is obviously at home.
"Tom's work is his life," Jo says. "If you can get used to being Number Two in a marriage, it's fine. The thing most people in his business find a pain—all this public speaking—he loves. But when he's home, he's right in front of that TV, resting up. He's no handyman, that's for sure. And he has no hobbies whatsoever, unless you count walking the dog—our Irish Setter, Shan. And Shan's 13, so he doesn't like to walk too far. I guess you could say Tom is spoiled rotten around here. But I can't complain, because I'm the one who spoiled him.
"We've lived in this old house for almost 20 years now," she continues. "The pattern in this neighborhood has always been, when people get a little money, they move out of Fullerton. The kids, Laura [30, who works in a gift boutique] and Tom Jr. [25, who sells clothes], used to ask me, 'How come we're still here? Aren't we rich?' But I'm not trying to impress anybody, and this house gets Tom back to the basics. He gets so much applause on the outside that he needs me and this place for some balance." Lasorda agrees. "So many ballplayers live beyond their means," he says, "that when their careers are over they can't adjust to having less. That's no problem for us."
Lasorda is not necessarily "on" at home, but he's not exactly off, either. "I don't know if I'm a different person here," he says, encompassing the room with a sweeping gesture. "But this is where I love to be. I can relax here and feel comfortable. I try to be the same person wherever I am. But there's no question I'm a different person on the field than off it. I hate to lose so much, I do a lot of hollerin' at the park. And swearin'. My ballplayers who hear me there can't believe it when they see me around Jo or in front of their own wives and children. In my whole life I've never said one word of profanity in front of my wife and children or in front of my ballplayers' wives and children." Jo concurs. "I've never heard him utter a single cussword, and I've never heard that stupid tape."
The "stupid tape" is one made of Lasorda responding to a reporter who asked him in a postgame interview what he thought of Dave Kingman's play on a day in 1978 when Kingman, then with the Cubs, hit three homers and drove in eight runs against the Dodgers. It is pure testimony to the ballpark Lasorda, a frequently profane man who, though he is rarely rude to television people or prominent writers, can be brutal on newspaper beat writers. In response to this admittedly inane question, Lasorda set what is considered to be a world record for use in a single sentence of the cussword most favored by professional athletes.
The Lasordas will have been married 34 years in April. They met in 1949 when he, a lefthanded pitcher, was assigned at his own request to the Dodgers' Class A farm team in Greenville, S.C., which, as fate had it, turned out to be Jo's hometown. "You know, the thing I admired most about him from the beginning," she says, "was his ability to get along with people. Now this is the exact thing that keeps him away from me so much."
Lasorda is hanging out in the Dodgers' publicity office, trading insults with publicity director Steve Brener, whom he calls Junior. Brener nettles him by repeating the Lasorda litany—"Only in this great nation of ours could the third-string pitcher on the Norristown high school team...." Escaping this blasphemy, Lasorda makes a call to Bob Bailor, a utility man the Dodgers acquired from the Mets during the winter meetings.
"Bobby," Lasorda bellows into the receiver, "at last you're in the major leagues! You're finally coming to a winner. I'm happy to have you. You're my kinda guy, and we're both from Pennsylvania [Bailor is from Connellsville]. I tell you, Bobby, you can walk tall through Connellsville now. You've joined a great organization, an amazing organization. Let me tell you a true story. This July there were 10 people in Southern California on their deathbeds. And the last words they all uttered to their loved ones were, 'How did the Dodgers do?' Naturally, they were told that the Dodgers had won. All 10 died with smiles on their faces. True story. Good talking with you, Bobby. I know you love to play."
Lasorda and Vera Lynn are singing Auf Wiederseh'n, Sweetheart as he drives to a businessmen's luncheon in a wealthy little town 22 miles outside Los Angeles with the shamelessly capitalistic name of City of Industry. Lasorda is mourning the fact that they don't write lyrics like "Don't let the teardrops start" anymore, when he starts thinking of his father, Sabatino (Sam) Lasorda. "My father was the greatest human being on earth," he says. "He taught me more about philosophy than anyone. He'd come in from a hard day working at the quarry—he drove a truck—and his feet would be so cold and tired I'd have to rub them to get the circulation back. Then he'd look at me and say, 'I'm the luckiest man on earth.' I'd look back at him and say, 'Pop, how can you say that? We're poor.' He'd say, 'I came here from the old country. I had nothing. Now I've got a wife, five sons, a little house, and I'm living in the greatest country in the world. I'm the luckiest man on earth.'
"Four years ago I went over to Italy to visit my father's home in the Abruzzi region, where they were honoring me for helping them with their amateur baseball movement. There was a little parade in my father's hometown, Tollo. And there, right in the middle of the town, was a banner that' read, in Italian, WELCOME TOM, SON OF SABATINO LASORDA. I Saw my father's name on that banner and I started to cry. I felt so proud.
"When I was a kid, all I ever wanted to be was a ballplayer. I'd actually dream of playing in Yankee Stadium. I was the only one who wanted to be a ballplayer that bad. My brothers all went into the restaurant business. When I finally got a chance to sign, I knew my dad would be disappointed. Coming from the old country and all, he wanted me to go on to college. But when I told him what I wanted to do, he said, 'It's your life. If I tried to stop you, you'd come to look at me with hate and regret in your eyes because I denied you. You go ahead, but always do your best. Don't ever quit. You can become anything you want in this country.' My father died in 1959."
There are tears in Lasorda's eyes as he joins Rosemary Clooney in I'm in the Mood for Love.
A few minutes later, 800 men and women rise to applaud Lasorda as he strides into the grand ballroom of the Industry Hills & Sheraton Resort. He is to share the dais with his boss, Dodger general manager Al Campanis, and Rod Dedeaux, the USC and U.S. Olympic team baseball coach. The master of ceremonies is Dedeaux's son Justin, who played minor league ball for Lasorda at Ogden, Utah. There is much lighthearted joshing among the speakers, all good friends. "I am the only general manager in baseball," Campanis says, "who, when he wants to reach his manager, has to call either the Oval Office at the White House, Caesars Palace in Las Vegas or Lasorda's restaurant in Exton, Pennsylvania."
"Only two good things ever came out of Italy," says Rod Dedeaux, "and Sophia Loren has both of them."
Lasorda gets his turn at bat. "The O'Malleys' advice to Al Campanis was, spend the money as if it was your own. He has.... 'I believe in free speech,' I told Justin. 'Good,' he told me, 'because you're gonna have to make one....' I once told Rod that in a poll of big league managers, he was elected the second-best college coach of all time. 'I'm flattered,' Rod said, 'but who's first?' 'The other 1,100 all tied for first.' " This is a roomful of Dodger fans, and Lasorda has them in his palm. He tells them how fortunate he was—"the third-string pitcher on the Norristown, Pennsylvania high school team"—to be named Manager of the Year. "I never got a base hit, I never struck anybody out. I owe it all to my players. I love the Dodgers. Every day I take time to thank God for letting me manage this team."
The audience rises to give him another ovation. He's knocked their socks off.
Lasorda is driving back to Dodger Stadium on the Pomona Freeway, alternately talking about how much he enjoys meeting the public and joining Frank, the Francis Albert of many years ago, in All the Things You Are, when a California highway motorcycle patrolman draws alongside and beckons him to pull over. Lasorda bangs the steering wheel with his fist and swears like a ballplayer. "I was speeding," he admits, braking. "And I don't even have my license with me. This looks bad." More profanity. He jumps out of the car smiling wanly.
"Tommy!" the patrolman shouts on recognizing him. "Hey, I wouldn't have pulled you over if I'd known it was you." Lasorda gratefully clasps the officer's hand and apologizes profusely for his malefaction. "Don't worry about it," says the patrolman. "Say, there's one thing you can do for me, though." Lasorda allows as to how he'd go to the ends of the earth to be of any aid whatsoever. "I got a kid who loves the Dodgers," says the patrolman. "He'd give anything to have your autograph." Lasorda accepts the officer's pad and writes a lengthy paean to Dodger blue for the patrolman's offspring.
Lasorda sighs with relief as he climbs back into the driver's seat, waving merrily at the departing patrolman, whose day he's made. A young voice on the radio is singing something about Venus. "Frankie Avalon," says Lasorda. "Good friend of mine."
A sound argument could be made that in a city of stars, Tommy Lasorda, the manager of its baseball team, is the biggest star of them all. He cannot drive on a freeway or a city street without being acknowledged by motorists and pedestrians. He's regularly stopped on sidewalks by well-wishers. He cannot enter a restaurant and escape recognition. He has no privacy whatsoever. And he loves it. In fact, he freely gives out his telephone number and encourages even the most casual acquaintance to ring him up. Lasorda will talk to anyone anywhere. He learned to speak Spanish while playing winter ball in the Caribbean in the '50s, so in a community with an enormous Chicano population, language is no barrier for him, either with players such as Fernando Valenzuela or with the busboy in the Polo Lounge. After a prolonged chat recently with a Spanish-speaking kitchen helper at one of the film-studio commissaries, Lasorda turned to his luncheon companions and said, "Now that guy's going to go back to his neighborhood and tell at least 20 other guys that he's a good friend of Tommy Lasorda's. It makes me feel good to make him feel good."
Even the Hollywood stars concede that Lasorda is a star. Wagner, a star of television's Hart to Hart, says of him, "He's a tremendous celebrity. And yet he can make people in any walk of life feel important. He has an interior quality about him that's very rich. You can just feel that energy. He's so full of life. He's a special man, and he's very close to me." Lasorda enjoys telling of a ride he and R.J. took in a golf cart around the 20th Century-Fox lot one day. "Everybody was waving and calling out to me. Finally R.J. turned to me and said, 'Tommy, if I hang around you much longer, you'll make me a big man around here.'"
Lasorda has moved on to KTTV, Channel 11, where he's preparing to tape an appearance as a guest host on the station's 35th-anniversary show. The makeup man eyes his subject's oval, big-nosed, 56-year-old countenance. Lasorda eyes him back and says, "If you'd watched Steve Sax throw balls away for five months this season, you'd look like this, too." This elicits a laughing attack from his seatmate, Ted Knight, the television actor who will emcee the show. "Ted," says Lasorda, "did you see Burton on Frank's show? Wasn't he outstanding?"
"He was," says Knight. "Looked good, too. I think Burton's done something to his face. Looks younger. Maybe a little nip and tuck there somewhere. So what, I say, if your business depends on it."
Lasorda has trouble getting into his dinner jacket. "The vest shouldn't work that way, Sy," he says to Sy Sussman, a William Morris staffer who's helping him dress. Much profanity from Lasorda, then a look of recognition. "Jo's packed the wrong tux," he says. "This is my old one. No wonder it doesn't fit right." With a little nip and tuck, the old tux is finally adjusted to the portly frame. Lasorda is made up, dressed to the nines and ready for action. Unfortunately, there isn't any. The taping of the anniversary show goes slowly, what with technical breakdowns, blown lines and missing film clips, and Lasorda, with his irrepressible energy, is an extraordinarily impatient man.
Backstage, Lasorda taps his feet. Knight joins him during a break. "Once you learn to fake sincerity," he says in the voice of Ted Baxter, his anchorman role on The Mary Tyler Moore Show, "you've got it made." Lasorda barely smiles. He's growing increasingly anxious. He's due down the block at KTLA, Channel 5, to tape a comedy sequence with Wayland Flowers and his puppet Madame for the Solid Gold show, a syndicated program with a far larger audience than this local anniversary production. The producers are finally persuaded to let Lasorda do his bit—a congratulatory message to the station and the narration of some Dodger film clips—out of sequence. Knight introduces him, the studio audience applauds noisily on cue and Lasorda descends a long flight of stairs to join Knight onstage. Although he has gone over his lines only once, he reads them flawlessly off the cue cards and completes his portion of the show in a single take. As he hurries backstage he's again applauded, this time by admiring fellow performers and crew members.
Sussman and Jeff Witjas, another William Morris man, escort him, still in his evening clothes, to his second show of the night. When he arrives, he's advised that he should be wearing a Dodger uniform, not a dinner jacket. Fortunately, he has one in the trunk of his car and is hustled off to a dressing room to make the change. While he's undressing, the script is brought to him by a worried-looking young man who identifies himself as the producer. Sussman reads it to Lasorda while he changes. Lasorda stands there in his shorts, looking innocent somehow and frankly appalled. The script calls for a barrage of insults from the wisecracking lady puppet, whose specialty is blue humor, and the dialogue is in monumentally poor taste. Lasorda quickly changes back into his street clothes. "I won't do it," he tells Sussman. "I don't like it. It's not me. This is bad for baseball. Tell them to get somebody else. It's demeaning. I know it's their style, but I won't do it."
The producer's protests notwithstanding, Lasorda walks out of the studio, forfeiting the $1,000 he would have been paid for the short routine. Sussman explains that Lasorda is well within his rights in turning down scripts he finds distasteful. At the car, Sussman shakes his hand. "You've got class, Tommy Lasorda, and you've got principle. I love you for it."
Lasorda strolls into the 20th Century-Fox studio commissary, humming Love Is a Many-Splendored Thing, which the Four Aces have just sung for him on the car radio. Lasorda and Sussman are to meet Wagner there after he and other studio stars finish dining with King Birendra and Queen Aishwarya of Nepal. Wagner, looking every bit as dashing as he does on the little screen, stops by the Lasorda table to apologize. "Hey, you're the greatest," he tells Lasorda, "but I'm sitting at the same table with the king. You know what I mean."
Lasorda concedes that some sort of protocol might be violated if Wagner were to slip away. Studio head Alan Hirschfield sends his regrets via the maître d'. They should all get together after lunch, he suggests. Henry Mancini does drop by for a nice chat, though, and after he leaves, Lasorda takes pains to point out that Mancini is another Pennsylvanian. Deprived of celebrity companions, Lasorda chats bilingually through lunch with waiters, busboys, passersby, a pretty girl in the next booth, two Secret Service agents assigned to the royal visitors, a studio guard and anyone else within his considerable vocal range.
In a twinkling, it's time to meet the others. Hasty movement by the Secret Service men suggests that the Nepalese monarchs have finished their dessert. "Let's go take a look," Lasorda says. "Say, where is Nepal, anyway?" He and Sussman stand on the sidewalk outside the commissary as a red carpet is rolled out from the back door of the private dining room and down the stairs to the sidewalk. The door swings open, debouching the king and queen. They descend the red carpet to a waiting limousine as security guards scurry about.
The other guests soon appear. They spot Lasorda and, as one, rush to embrace him. Wagner is there, of course, and so are his current girl friend, Jill St. John, and Michael Douglas—"How's your dad?" Lasorda asks him—and Dennis Weaver and Robert Stack and Gene Hackman. They are, every one of them, his good friends. "I was gonna crash the party," Lasorda tells his pals. "I thought it was the King of Naples." Much laughter and clapping of shoulders.
"Did he speak English?" Lasorda asks.
"Almost as good as you do," someone famous answers. Wagner tells him that he will be the dialogue coach for a nonspeaking role Lasorda will play in a new movie. More laughter. The Hollywood people baby and flatter him. They also employ some of the insult humor Lasorda has heard in clubhouses for lo, these many years. Finally, Hirschfield appears at the stairway above the red carpet. He sees Lasorda and waves for quiet. "Now there," Hirschfield says with conspicuous solemnity, "is real royalty—Tommy Lasorda."
Lasorda, refreshed by such banter, drives slowly through the studio backlot, past all the Gothic churches, medieval villages, middle-American town squares, Broadway night spots, Paris hotels, London town houses. "That R.J. is outstanding," he mutters to himself. It's nearly Christmas, and Gene Autry is singing Rudolph the Red-Nosed Reindeer on KMPC, the station Autry owns. "Gene Autry is a good friend of mine," Lasorda says, then squeakily joins the old cowboy in the chorus: "...had a very shiny nose...." He pauses. The song has dredged up a dark thought. "Now, who the hell would ever want to shoot a deer?" he asks in a sudden burst of anger. He drives out through the gates of a glittering fantasyland, this third-string pitcher on the Norristown, Pa. high school team. His question goes unanswered, but he's singing again, anyway, "...you'll go down in his-to-ree...."
PHOTO
His pipes aren't bad, but the Dodger manager can drive you crazy with his sing-alongs.
PHOTO
Ol' Blue Eyes was there as promised for Tommy's first Opening Day, in 1977.
PHOTO
Lasorda has batted things around with Reagan on five visits to the White House.
PHOTO
He's a true gentleman with Bionic Woman Lindsay Wagner.
PHOTO
The feisty Lasorda was 1983 National League Manager of the Year.
PHOTO
"He gets so much applause on the outside that he needs me and this place for balance," says Jo.
PHOTO
Speaking for free or $10,000, Lasorda tells audiences about the Norristown kid who made it big.
PHOTO
Lasorda is a goodwill ambassador to fans of all ages, selling his sport and Dodger blue everywhere that his unbridled enthusiasm takes him.
PHOTO
[See caption above.]
PHOTO
Since the season ended, Lasorda has spoken at 62 functions.
PHOTO
Anybody who would pay him to eat is "outstanding" in Lasorda's book.