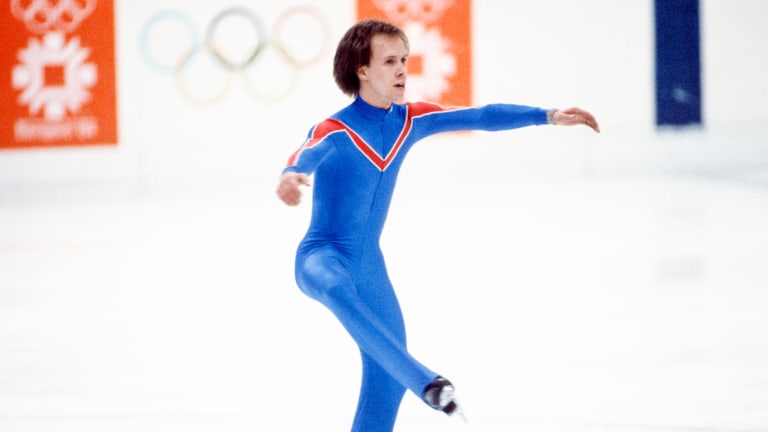 Wow! Power
A sure bet for Olympic gold is Scott Hamilton, the U.S. and world figure skating champion, who has a knockout program for Sarajevo
To know yourself is the ultimate form of aggression.
—HAMILTON'S LAWS TO LIVE BY
The little boy is standing beside a road near Denver, watching the cars go by. One can see him from a block away, a slight, sandy-haired tyke, pleasant looking, a cinch to have a sprinkling of freckles across the bridge of his nose. Why, goodness sakes, this could be Scott Hamilton as a boy—a wistful lad standing beside Life's Great Highway, wishing he were somewhere else. And then, as the Mazda RX-7 downshifts and swings around the corner, the kid suddenly holds up both hands, grinning evilly, and flashes his two middle fingers in the classic double bird.
Inside the car there's a moment of thoughtful silence. Then the real Scott Hamilton says, "You know, that's the nice thing about being a celebrity. You get greeted so warmly wherever you go."
There's another welcome a few minutes later at lunch, in a tiny restaurant with a terminally cute name: The Happy Cooker. The waitress hovers over the table, alternately offering and pulling back a bowl of soup as Hamilton reaches for it. "You're someone," she says. Hamilton nods; he's indeed someone. The soup is offered again.
Then she pulls it back. "Skater!" she says. When Hamilton nods a second time, she offers the soup, but just as he's about to get his hands on it, she pulls it back once more. "Who?" she says. "I've seen you on television." Hamilton nods in desperation. "Did I look hungry?" he asks. Then she bursts out: "Scott Hamilton!" She wheels around to make sure that everybody in the kitchen is aware of this. The other diners fall silent. The waitress, soup in hand, now has her back to Hamilton. "That's another nice thing about being famous," he says. "You always get served promptly in restaurants."
Hamilton appears in brief bursts: here, then gone again. Somehow, it's fitting; he's as short as his appearances, 5'3" in height and 4½ minutes in his freestyle figure skating routine. In the few moments he's around, the mind leaps vainly to catch and hold him.
He comes off the ice, having performed patently impossible things, graceful arabesques and aerial curlicues, moves that are his alone. He has poured so much of himself into his routine that the color has drained from his face. He's pale and gasping. Even before he can breathe freely, Hamilton says, "Welcome to the wonderful world of pain."
Of the approximately 130 U.S. Winter Olympic athletes now on their way to Sarajevo—established champions, fierce challengers and hangers-on—none is subject to such close scrutiny and adoring pressure as Hamilton. For here's the nation's Mr. Gold Medal, the mortal lock who seems to be skating for all of us—a role that has been thrust upon him in the past year or so.
Hamilton's style is so uniquely American that he calls it "apple pies and Chevrolets." With it, he has won the world title for the past three years, a reign unmatched by an American male since David Jenkins in 1957 through '59. Hamilton is undefeated since 1980. Now come the Winter Olympics, where no U.S. male has won a figure skating gold medal since Jenkins at Squaw Valley.
"Let's go get a beer," he says. And then, "No, wait. You drink a beer, and I'll have, I don't know, a Coke or something. I'm not going to have a drink until the night of March 23, after the men's worlds finals. You like Mexican food? I've got a place where the burritos are guaranteed to give you the Rocky Mountain Quick Step."
This is in Denver. Hamilton comes from Bowling Green, Ohio, but he has become a full-bore Coloradan. Something in Denver speaks to him—its leftover cowboy ruggedness, the laid-back sprawl of the place. He has an apartment building picked out, a modern high-rise, in which he plans to buy an expensive condo when he turns pro. It's smack in the middle of downtown, hard by Larimer Square, where all the swinging singles parade nightly, with a view that looks out on Pikes Peak. Hamilton is 25 years old and single.
Which is why the dates coming up are so important to him: The Olympics will end Feb. 19. Then come the world championships in Ottawa from March 19 to 25. And after that, he'll be free. And he'll definitely be in there swinging with the rest of young Denver.
Hamilton's freestyle program starts with the crackling sounds of a laser battle; one can almost see the pencil-thin beams of intense blue light flashing across the ice. He stands like a George Segal statue through the first few blasts, all pulled up to his full height, looking off into intermediate space. Then, suddenly, both he and the music swing into The Routine. The first section lasts exactly one minute, 35 seconds; no other figure skater so completely integrates action and mood and music. Much of Hamilton's new program is based on modern jazz. The opening section is performed to the overture to George Duke's Guardian of the Light, and then there's a slide into something Oriental and eerily haunting—Hiroshima's Third Generation. Much of this music is played on synthesizers, and the blend is so silky that one is pulled along by the sound. "It wills the crowd," Hamilton says. Watching all of this, you can only faintly remember the time when skaters performed to The Emperor Waltz. Still, there's something puckish in Hamilton's routine, which is typical of him. "The secret idea is that the music sort of gets under your seat," he says.
An explanation: Hamilton doesn't mean the seat of your pants; he means seat as in chair, as in the thing spectators alternately settle back in and then find themselves being pulled to the edge of. Hamilton and his coach, Don Laws, call this the Wow-Wow-Wow Theory of audience and judge grabbing. "Open with some technical stuff to show them you're proficient," says Hamilton, "and then hit them with some drama to get their approval. Then put in an ominous mood. Without realizing it, they're out of their seats. Then they're back in. Then out. And back again. If I do a triple jump, they go 'yea.' But if I follow that up immediately with another triple, they all rise and go 'yea!' "
Hamilton produces a new Wow-Wow-Wow routine every season; the Duke-Hiroshima program is what he has developed for Sarajevo. "I want to show them all that I'm unbeatable," he says. "But then, I've got to, haven't I?"
The basement hideaway apartment is Hamilton's refuge from everything that's chasing him, the relentless crush of reporters and fans ready to smother him with affection. Hamilton regards this place as an underground fortress, and only a few friends are allowed in. One wall is covered by a bookcase filled with record albums, and the boxlike components of a sophisticated sound system are stacked all around. He puts on Welcome to the Rodeo by a country and western band called Showdown; one barn dance number crackles with the earthiest of swearwords. "Music to relax by," Hamilton says. The beat is pulsing and the air is full of heavy cussing to twanging guitars. "One time, just once," he says, "like, maybe at the end of my career, I'd like to slap on this song in some competition and skate my short program to it."
This air of irreverence is emerging more and more in Hamilton, who's now the grand old young man of figure skaters. He has been at it for 16 years, since he was nine, driving himself toward perfection, and at last he's confident.
Ever since his fifth-place finish at the Lake Placid Olympics in 1980, he has been on an unprecedented roll. And during that span Hamilton also has established his masculinity in a sport that attracts sometimes outrageously effeminate young men. He's now self-assured enough to scorn the beaded and spangled costumes that most male skaters wear—"Some of these guys look like a Las Vegas lounge act," he has said—adopting instead a no-nonsense stretch suit similar to that worn by former U.S. speed skater Eric Heiden. What's more, Hamilton feels he can speak out on the subject, which many in the sport tiptoe around. There's no tiptoeing when Hamilton says, "Ho-boy, wouldn't it be great, after the Olympics and the world's, to jump in my Ferrari and go whipping back to Bowling Green, where a few people used to call me a faggot, and say, 'O.K., faggot this, you clowns!' "
And then there's the Big Guy fantasy. Every less-than-average-size male in the world experiences it. Hamilton is crazy about the Denver Broncos, and he uses football linemen as an example. He chuckles wickedly and says, "Wouldn't you like to be big just one time—I mean, really huge—and just kick the——out of a few bad guys?" It's not a matter of muscle: Hamilton weighs only 115 pounds but he's all sinew, with a washboard stomach and iron legs.
"I'm this size because of my childhood," he says. "I lost a lot of the years until I was nine. The only good thing to come out of it is that I've never developed any excess poundage, like some other athletes. It ain't much, but everything I've got here is a skating muscle."
Hamilton's background as the sport's alltime sickly child has been endlessly covered, too often incorrectly. He's tired of telling the story. "For the real truth," he says, "you should go to Ohio and talk to my dad."
"We picked him up when he was just six weeks old," says Ernie Hamilton. "Cute little guy. He had been born Aug. 28, 1958, and we adopted him through a family service agency in Toledo. As for his genetic background and bloodlines, that sort of thing, we know as much about Scotty, maybe even more, as we do about our own daughter."
Ernie lives alone in a small frame house on the rural outskirts of Bowling Green. He takes long walks these days for exercise, part of the recovery process from open heart surgery last June and a cervical disk operation in October. He's a small man, with thinning hair and a charming manner: Almost as soon as you meet him, you get the feeling you've known him for years. By purest luck, in physical size and looks, he might be Scotty's natural father. The Hamiltons, Dorothy and Ernie, had one daughter of their own, Susan, who was five when they adopted Scott, and later they adopted another son, Steven, who is now 21. Dorothy died of cancer in 1977; both Susan and Steven still live in Bowling Green.
"Everything went beautifully with Scotty," Ernie says, "until he was two years old. And then, just like that, he stopped growing. We were stricken. Doctors ran exhaustive tests and determined that it was some sort of malabsorption syndrome [i.e., Scott was unable to absorb the nutrients from his food through his intestines], but nobody knew then exactly what it was. One doctor insisted it was celiac disease, an inability to tolerate certain basic foods, and we put Scotty on a gluten-and milk-free diet for a year. But all that did, in effect, was to starve the poor little kid. Other doctors weren't so sure; Scotty was in and out of several clinics and children's medical centers. Once, we were told that he had cystic fibrosis and had just six months to live. In fact, if you were to run a blood test on Scotty this very day, he would test positive for cystic fibrosis, though he didn't have it and doesn't have it, of course; one recessive gene caused that. We grew more and more desperate." Ernie Hamilton shakes his head at the memory. The family lived in a big old house in town then, near the Bowling Green University campus, where Ernie is an associate professor of biology.
Scott's malady finally sent the Hamiltons to Boston Children's Hospital, where the ailment was at last correctly diagnosed as Schwachmann's syndrome. "About two-thirds of his intestine was paralyzed," Ernie says. Scott was eight then and terribly frail, his growth forever stunted. There wasn't much that could be done to lessen the effects of the disease, so the elder Hamiltons took Scott home to Ohio. "And then," says Ernie, "one day Susan went skating and Scotty went along to watch."
Ernie wants to make certain the rest of this is understood: Too many accounts have reported that Scott was in a wheelchair, his little hands plucking feebly at the coverlet on his lap. "Nonsense," says Ernie. "He was never in a wheelchair. But I'll always remember the sight of him then: He had a feeding tube in place; it went to his stomach. One end of it came out his nose, and when he wasn't using it, we taped it out of the way behind one ear. This frail little kid with the tube running across his cheek turned and said, 'You know, I think I'd like to try skating.' " He tried it, he loved it, and he went at it with a vengeance.
Everybody in figure skating knows the rest of the story, but nobody knows exactly what happened to the ailment. During Scott's checkup the next year, the doctor said to Ernie, "What have you done to this boy? He's healthy!" Scott had actually started growing again. It was too late for him to reach normal size, but nobody in the family cares about that. The consensus of the doctors is that the intense new activity and the cold atmosphere of the ice rink produced some sort of magical benison. Scott figures he simply skated his way out of it. But whatever it was, Ernie and his son came out of their experience very close, much more so than most fathers and sons.
To that point, Ernie tells this story: "When Dorothy was alive, she'd be the one to attend all the skating events. I just couldn't do it; I'd get so nervous for Scotty, and there was nothing I could do to help him out there. Now I go to all of the competitions. So there I was at the 1981 national championships in San Diego. Scotty had been gaining on everybody, as you know, but he had never won a major title. He was doing well, too. And then, a couple of days before his finals, I had a slight stroke."
Ernie sighs and shakes his head. "I've since recovered. But I knew it was a stroke then; I'm enough of a scientist to know the symptoms. My left arm went numb and became a bit palsied; my speech started to slur a bit. But I couldn't tell Scotty because this was his big chance. My friends knew what had happened and they were worried. So was I. On the day of the men's finals, I went over to the arena and talked to Scotty, to assure him that I loved him no matter what. I deliberately kept turned away from him so that my left arm and hand wouldn't show. And I spoke slowly, enunciating my words as best I could. He was so excited about the competition that somehow I got by with it."
Only then did Ernie permit himself to be taken to a hospital, where they wanted to sedate him immediately. But Ernie got into bed and told the doctors not yet, that as soon as his boy won the national title, he'd take anything they wanted him to. And sure enough, about 1 a.m. the door burst open and Scott Hamilton, the new U.S. champion, dashed in. After their tearful reunion, Ernie told the doctors, "O.K., guys, you can put me under now."
Though he has dashing good looks, Don Laws drives much more conservatively than his star pupil, and, fittingly for a man whose every silver hair is always in place, he owns a 1976 BMW in mint condition. It rolls along sedately behind Hamilton's RX-7 as they travel in tandem to the Colorado Ice Arena. Hamilton is going through several murderous workouts a day—six hours on the ice—as he tunes up for the Olympics. It's 7 a.m. and still dark.
"The rink is at its coldest early in the morning," Laws says, "and so is your body. That's when we work on school figures and some freestyle moves; if you can skate under those conditions, you develop consistency. At 12:45 p.m., we work on the long program. And finally, at 7 p.m., we work on the long program again. Scott must make himself skate well at the end of a long, tough day, when his body is tired, because that way lies stamina."
Inside the arena, Laws says, "How do you feel?"
Hamilton groans over his Styrofoam cup of coffee. "Like I'm wearing someone else's body," he says.
Hamilton insists in interviews that "I'd be nowhere without Don Laws," and, indeed, the two have become an unshakable team. Hamilton once trained under the noted Carlo Fassi, but in 1979 he switched to Laws and has won all of his major titles since.
"Scott has become the best this sport has ever seen," Laws says. "On the ice he's aggressive—but never abandoned. He's always in control, never angled wrong. What has happened to Scott is this: Everything about him, his stance, his actions, his body, says skater." As for the Triple-Wow Theory: "We've got to play on emotions. Show them excitement, hazard. Give them 45 seconds of outright dangerous stuff and then throw in some whimsy."
At the end of a typical day, with Laws relaxing over a glass of white wine and Hamilton drinking apple juice—and grumbling about not having a Coors—the two talk about what they often talk about, cars and women. They're at the bar at a suburban spa called The Sports Club, where, by artful design, a picture window looks directly into the aerobic exercizing room. A dozen or so young women can be seen dancing and undulating in leotards. "Will you look at all that" Hamilton says, shaking his head in admiration. "I'll tell you, being in training is tough, but you know one of the laws I live by?" He answers his own question: "Celibacy isn't hereditary."
Laws nods absently as he looks at the women. "You're in training," he says, "not me."
They switch to cars: "When you look at me," Hamilton says, "what do you see?"
"A Ferrari, definitely," says Laws. "And me?"
"Oh, I don't know. A big Mercedes, maybe. Certainly not that old wreck you drive now."
And then comes their private joke. At this stage in Hamilton's career, it pleases them enormously.
It's a well-known fact inside figure skating that the skaters at the top are besieged by agents. All of the major ice shows have representatives stalking the competitions, and other agents lurk on the sidelines, all with gaudy inducements to sign pro contracts. It's also well known that many of them flout the rules on amateurism: Sign now and here's a lot of money and we'll never tell. "The best example of this," says Hamilton, "is one top New York agent—I mean very well known in show business—who takes figure skaters to lavish lunches at a fancy hotel. They always sit at the same table; he offers supposedly fabulous deals to sign secretly, before they've won their gold medals or titles or whatever and have any real sense of what their market value is. But all the kids are on to this guy; they all make terrible jokes about him. Only a very few are impressed."
Not only are Hamilton and Laws unimpressed by the agent's approach, but they also find the idea of signing such a contract downright dumb. "What can an agent do now for Scott except take his money?" asks Laws. "Can an agent get out there on the ice and do a double toe loop? It's Scott who has done all the work, all of his life, going without things. And in a month or so, when the time comes when he can finally earn money, he should get it all."
And here comes the Wow-Wow-Wow, the freestyle number that all the world will see at Sarajevo. Just before going out on the ice for the practice session, Hamilton had said, "I've got a theory on peaking. Call it another of Hamilton's Laws to Live By. It's simply this: In competition, you'll skate 20 percent better than in training." A pause and a faint shrug. "Or worse."
And now, in action, Hamilton suddenly appears everywhere at once on the ice, as if he does it all with mirrors. The effect is stunning. His size becomes appropriate to his actions, and illusion takes over: The carefully practiced leaps and spins now look spontaneous. Each move seems more daring than the one before it, and if you look closely, every stunt is accompanied by the hint of a devilish grin. The jumps and spins are crisp, and Hamilton is airborne over great swaths of ice, and yet he comes wheeling out of these maneuvers gracefully, arms out, as if he'd somehow changed tempo in the air. And only at about mid-Wow does one realize that all of this is being done at a dazzling speed that whirls him from one end of the rink to the other while the music swells and crashes around him.
This is the 4½ minutes—actually, Hamilton stretches the limit a bit to 4:36—of action: While the laser battle still rages, Hamilton opens with his best jump, the triple Lutz, and he follows that with a triple flip. On all of his leaps, he spins to his left, counterclockwise, for no other reason than that's the way he learned to do it. "If I spun the other way," he says, "I'd fall flat on my ass." Thus, all of the heavy work in his program is done on his right leg. Then, in quick order, there is a dance section, a display of intricate straight-line footwork that explodes into a walley-jump, a triple toe walley and "my version of the Hamill camel," which somehow melts fluidly into a sit spin. All this in 1:35. Next comes the Oriental segment—a slow section lasting 1:15 that includes a triple toe loop combination, two double Axels and a variety of spins.
And now there's perhaps the best portion of the routine, the signature of a champion daring enough to break with tradition. Hamilton sweeps into—what have we here—a waltz? It is, indeed, a send-up of the elegant stuff that ice dancers take very seriously, a comedy takeoff based on an oldtime Jackson Haines routine from figure skating's past. "It's risky," says Laws, "but I figure that if it entertains me, it'll entertain the crowd. It takes people about one and a half seconds to realize what's happening."
Now there are only 55 seconds left in the program. "From that moment on, it's push, push, push," says Hamilton. He leaps into the finale with a double Axel, double Lutz, Axel, Russian split jump and half-loops into a double Salchow, and finishes with a scratch spin in which he becomes a total blur. "It's a whipping action," he says. "The more you decrease your overall diameter, pulling in your arms, the faster you go. If you get perfectly on the ball of one foot, with just one and a half inches of the skate blade touching the ice, you can spin for days." And Hamilton and his music finish exactly together on the final Wow.
With all of this, every time Hamilton competes, something important happens to men's figure skating. Style? His mastery of skating is his style. Gradually in the past three years Hamilton has subtly changed the image of figure skating to something he regards as being closer to pure sport. "There's been too much emphasis on ballet," he says. "Too much artistry by graceful men in jeweled costumes. I don't hate spangles; they just got to be too much. At the end of a performance, people shouldn't swoon. They should look upon it as a sporting event."
Prowling around downtown Denver after dark in starched, pressed jeans and sweater and running shoes, Hamilton appears in perfect proportion to the things around him. It's not a case of getting by in the land of the big people. He makes his way through the crowd at El Chapultepec Café, meeting every glance comfortably—with something in his bearing providing the compensation for his size. And when the situation calls for it, he's the master of the self-deprecating shrug.
To reporters who press him about his size, he'll pull off the shrug and say, "Well, yeah, uh huh. When I go into a department store to buy a blue blazer, I always get the one with the little duckie on the pocket." Or, "Once I bought a tuxedo, and when I got it home, I discovered the hole in the back of the jacket where the ventriloquist puts his hand." All of these wisecracks are dutifully noted; years ago, they were a sort of wry defense. But now that Hamilton's self-assurance has matured with his accomplishments, he often feeds newsmen the old lines with a certain weary resignation.
El Chapultepec, one of the Mountain West's great jazz joints, is packed and thick with smoke; it's a long, narrow room with a bar along one side. Hamilton surprisingly finds an open spot in the front row. In the diffused, dusky light, he might be actor-dancer Joel Grey, who's perhaps the only other guy in the country capable of the same truly devilish smile as Hamilton. But in his stance, in the way he holds his body, there's also a suggestion of early Jimmy Cagney. At times there's an outthrusting of his chin; one can almost picture the next move—whap!—the half grapefruit in the kisser.
Hamilton's hair is thinning fast, but in a sense even that's a plus. The incipient baldness gives him a more workmanlike look than other male figure skaters have; it provides the same feeling of vague satisfaction you get every time you see Kareem Abdul-Jabbar out there in the pivot, with his fine, respectable bald spot: a comfortable sense that, well, this guy is one of us—he's not pomaded and sprayed like some show business pony, no siree!
Belting back a Coke while everybody around him swills beer, Hamilton reflects on his life. Blues played sweetly in a smoky dive usually does that; one can wax philosophical without embarrassment when there's a satiny saxophone playing in the background.
•On the high spots: "Carrying the American flag in the opening ceremonies at Lake Placid in 1980 was one of the biggest moments of my life," he says. "The team had a meeting about who to pick—it's a terrific honor, you know—and someone made this emotional pitch for me, pointing out that I had overcome terrible obstacles, sickness and all, and that my mom had died at a crucial point in my career, and that I was the smallest male Olympian there. And suddenly there I was, marching along and peering out from under the rim of this cowboy hat a couple of sizes too big, leading the parade into the stadium. I was so proud."
•On the secret underground of adopted kids in sports: "There are a lot of us," he says, "and perhaps someday some sociologist can read something into all this; I just haven't got the time. But there's Greg Louganis, the world champion diver. And Charlie Tickner, the recent U.S. men's figure skating champion. And me. And also Peter and Kitty Carruthers, the national champion pairs skaters. All adopted and making their marks."
Hamilton pauses regretfully at the mention of Kitty. They began dating in 1979, but Kitty and Peter train in Wilmington, Del. They, too, are candidates for a medal at Sarajevo, and Scott's and Kitty's careers, for the moment, keep them apart.
•On where he's going: "Physically, you can only do this stuff so long," Hamilton says. "It's a great destroyer of bodies. And then, too, you can only hang on publicly as long as the people want to see you in action. You've got to balance these factors carefully. So what I want to do is get the most out of these few years I've got coming."
The walls in Hamilton's tiny bedroom have become a picture gallery over the years: Hamilton and pals; family members; Tai Babilonia and Randy Gardner looking unrecognizably glamorous in their ice show makeup; Hamilton and former President Jimmy Carter; Hamilton's friend Susan Anton, whom he figures just might be the ultimate woman. Best of all is the poster listing Hamilton's nutball homilies and Laws to Live By. "I believe in all of these," he says. "Like this one: If you fool around with a thing for very long, you will screw it up."
He fondly points out his various mementos, but with a subdued air, like an old man reminiscing. "What I'm trying to do now is grow up," he says. When Hamilton leaves this hideaway for the 1984 Olympics and the world championships, he'll be departing, in a sense, for the last time. When he comes back to Denver next spring, his life will have changed dramatically: A childhood will be over and a new life will be starting.
If events work as they should, there'll be big money—experts agree that Hamilton's payoff as a pro will be the highest ever for a figure skater. Then will come the Ferrari and the condo, investments, the works. "And between appearances I'm going to go to college," he says.
He almost made that trip before, back in 1976. His high school senior year had been spread among three different schools because of training in various parts of the country. "My folks had spent all the money they could possibly afford to keep me going," Hamilton says. "Dad had remortgaged the big house; Mom had been teaching. So I decided to quit skating and start college at Bowling Green." It was at that point that Hamilton picked up a sponsor, a wealthy couple who had lent support to other skaters. "They came around and met my folks," says Hamilton, "and we agreed that they would pay my training expenses [Laws's fee, for example, is $45 an hour] for the next few years. They became like a second set of parents, insisting that I develop character and responsibility as well as my skating." Hamilton still has the same sponsor; the woman, a widow now, insists on remaining anonymous. "It's not an investment in skating," the widow says, "it's an investment in people."
Hamilton lives modestly. He earns a few extra dollars each week from four video game machines, located in the Colorado Ice Arena, that he and Laws own together. But the RX-7 is on loan from Ernie Hamilton, who leases it, and the tiny basement apartment is provided by Dr. and Mrs. Henry Landis, who take in wandering figure skaters from time to time. Dorothy Hamill lived there while training for the 1976 Olympics. "I suspect she kept the place neater," Hamilton says, moving a stack of laundry from one chair to another.
And then he brightens, irrepressible again. "You want another Law to Live By?" he says. He consults the poster. "How about this: Never play leapfrog with a unicorn." And then he looks around at his hideaway, satisfied with the setting. Nearby is his gear bag, bulging with two pairs of skates; he's all but packed for Sarajevo. Two weeks ago in Salt Lake City, he won the national championship for the fourth time. The tough stuff is coming up fast, but he figures he's ready.
"Look at all the neat things that have happened to me," he says, his arms spread out to take in the world. "I got over being sick as a child and I've grown. Who cares how tall I got. I'm happy with myself, I've got no hangups about my size. I've worked hard to become a champion. I've finally learned to skate a program like this: cleanly, solidly—and Bam! Don Laws has helped me add dimensions. One day, maybe many years from now, I want to be able to look back on all of this and say: These were the golden moments in skating."
PHOTO
HEINZ
KLUETMEIERILLUSTRATIONTWOPHOTOSHEINZKLUETMEIERHamilton weighs only 115 pounds, but most of it's muscle built up over long hours spent working out in a gym and on the ice with his coach, Laws.PHOTOHEINZ KLUETMEIERAfter cleaning up at the Games and turning pro, Hamilton will trade these modest digs for a condo.PHOTOHEINZ KLUETMEIERThe triple toe loop above is one of five three-revolution jumps Hamilton will do to keep Sarajevo crowds—and judges—on the edge of their seats.TWO PHOTOSHEINZ KLUETMEIERHamilton, who de-sequined his costumes for a more macho look, enjoys talking football with the likes of Bronco Dave Preston.PHOTOHEINZ KLUETMEIERHamilton's feats—make that skates—on the ice have attracted loyal fans, both old and...PHOTOHEINZ KLUETMEIER...young, who seem perfectly willing to allow their hero to lead them around by the nose.PHOTOHEINZ KLUETMEIERErnie once pictured a life of tragedy, not triumph, for Scott.PHOTOHEINZ KLUETMEIEREven at 10 Scotty was being out Fitted in—yuk!—sequins.PHOTOHEINZKLUETMEIERThis Bowling Green team may not have been the toughest one around, but they say the little squirt sitting on the far right was a pretty good skater.