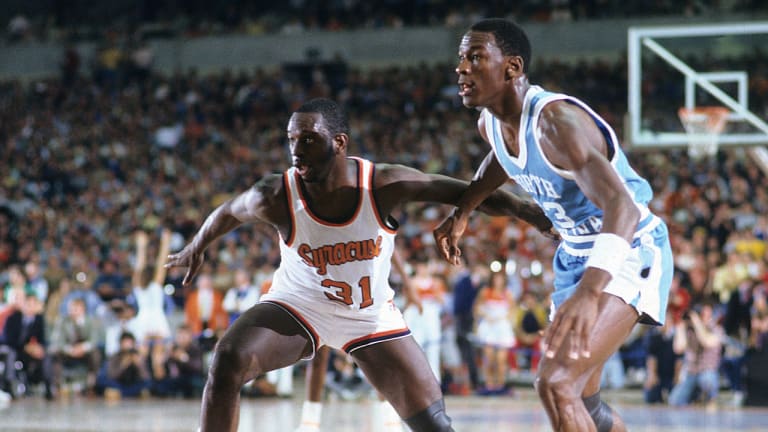 It took him a mere three seconds of his first season to score his first basket, four games to break a record held by Magic Johnson and 10 weeks to have his name hopelessly screwed up on TV by Al McGuire. Presto: instant immortality. And so Syracuse University continues to be a jeweler's paradise. A gem of a coed, Vanessa Williams, became Miss America last September, and now, as advertised, freshman Dwayne Alonzo Washington has turned out to be a Pearl.
This Pearl was a Pearl long before he heaved a last-second half-court miracle swisher to beat Boston College, and before he scored 55 points in two dazzling games against Villanova, and before he directed the Orangemen to an 8-0 surge through the first four weeks of Big East play while leading the league in shooting percentage. (Shooting, by the way, was the one thing Washington supposedly couldn't do.) It's just that on a couple of early occasions the Pearl wasn't all that lustrous. There was the humbling handed him by fellow rookie point guard Kenny Smith of North Carolina, and then the discomfiture of fouling out at Marquette on four offensive charges and a silly reach-in. Those performances left central New Yorkers not only searching for the existence of a jewel but also asking, "Where's the beef?"
"I wasn't fully ready. College ball was definitely tougher than I thought," says the 6'2", 190-pound Washington. "The North Carolina and Marquette games confused me. I'd always dribbled through to the basket, drove to the glass, just went all-out. It wasn't so easy to do anymore. I think I've adjusted now. As long as you know what your mistakes are, it's easy to correct them."
Washington made a New Year's resolution to work harder on his outside shot, to keep his dribble out of traffic and not to overpenetrate, to concentrate more intently and even to guard somebody once in a while. With the help of Syracuse coach Jim Boeheim, he realized he was trying to do too much, to force the action rather than let the game come to him. It's a difficult enough challenge for a freshman to take over the quarterbacking of any team, but the Orange was an immature club of new faces in new positions. Kenny Smith, for example, had a couple of Tar Heel legends named Michael Jordan and Sam Perkins to depend on; Washington had a former sub named Rafael Addison.
"We were warmin'," Addison says, which, translated from Orangian jivese, means simply that by January the boys from Syracuse were ready, willing and psyched up to get it on with Washington at the controls.
The Pearl Watch didn't just start when Washington averaged 35 points, 10 rebounds, eight assists and four steals a game as a senior at Boys and Girls High in Brooklyn. Or when he played one-on-one with the Harlem Globetrotters or matched moves with World B. Free on the playgrounds of Brownsville. Or even when he scored 13 straight points in a matter of seconds and then ran past the opposing team's bench and said, "Coach, I think you'd better call a time-out." It has been a cumulative saga.
As Sean Kerins, the Syracuse co-captain, says, "Dwayne didn't come here looking to make a name of himself. He already had that."
The name, of course, was Pearl. Young Pearl met the original Pearl, his idol, former NBA star Earl Monroe, shortly before enrolling at Syracuse, and the following exchanges were recorded by the New York Daily News:
Washington: "Sometimes I can't understand some of the moves I make, Earl. I'll have to ask my brother, 'Can you tell me what I did out there on this play or that?' Did that happen to you?"
Monroe: "Sure. You'll run down the court, make a move and say to yourself, 'Wow! Wow! I hope they have a replay on that.' "
Washington: "As I got older, like 8 or 9, I started playing more. I'd embarrass a man and people used to say, 'Wow!' You know what I mean?"
Monroe: "Believe me, Dwayne, I know. My game was built on embarrassment.... I'd do things that make players say 'I've gotta get him the next time....' "
Washington: "I started playing when I was 6 or 7. But I was on the sidelines then. I had to pay my dues."
Monroe: "At 6 or 7, I hope so."
Way back, young Pearl's oyster was the Seth Low housing project, hard by Hispanic East New York—a community through which, Washington says, he "didn't want his mother and sister to take a stroll." George Washington—not the father of our country, but the father of our Pearl—and his wife, Janie, kept a firm grip on their family of six, a rare circumstance in the opinion of Dwayne's 32-year-old brother, George Jr.
"You hardly ever find the one-two combo, the mother and father, both at home," says George Jr., known to his friends as Beaver. In fact. Pearl found basketball as religion through Beaver, who despite his flashy image—Cadillac Eldorado, a wardrobe of Big Apple fedoras—prodded his brother out of his laziness and forced him to take advantage of his athletic gifts.
In the ninth grade at Norman Thomas High, Washington discovered girls and averaged 50 points for the season. His season lasted one game. When report cards came out, it was Girls: all A's; Classes: all F's.
Washington later transferred to Boys and Girls, attended night classes and summer school to make up for the wasted year and ultimately achieved a combined 670 on his SATs, which got him into Syracuse as something of a student as well as a teen-age basketball folk hero. "He's the most exciting player going coast-to-coast with the ball to come out of New York in 20 years," says Syracuse assistant coach Brendan Malone.
That Pearl would turn Orange was a given. Syracuse had a running, scoring style plus a campus near enough to Brooklyn for Beaver to roll up to in the Caddy. And of course there is the enormous 33,000-seat Carrier Dome wherein Washington could do his thing in front of a few people. "I turn on to crowds," says Pearl.
Before this season the only questions about Washington's game concerned his coachability, personality and outside shot. "Nobody had stopped him in high school," says Boeheim. "Nobody had even played him." Surely an entertainer of such flamboyance and extraordinary individual skills would be hard to channel into a team picture. He would be an obnoxious loudmouthed jitterbug intent on taking over. And where did Pearl get that sleazy no-jump, semi-push one-hander anyway? The K Mart catalog? Take that dirt-bag shot out of here, Pearl.
The reality is that as brash and loud and galvanizing as Washington is on court, he's as quiet and unassuming off it. Not only has Pearl made all the right moves, but he's also said all the right stuff about the upperclassmen, team spirit and the American Way, assuaging some fears, as Kerins puts it, "that the rest of us would be forgotten."
Gene Waldron, the other senior co-captain, had the most to lose—a certain amount of limelight, not to mention his point-guard position. "Then I saw Pearl play and I got excited," Waldron says. "I knew from day one my new role would be to shoot, and if he got me the ball, we'd be O.K." In the finals of the Carrier Classic early in December, Syracuse beat Iona 109-92 when the Gaels threw up a triangle-and-two to contain Washington and Addison. Pearl got 12 assists—breaking Magic's tournament record—and Waldron, a 7.1 career scorer, soared to 40 points. "What's the surprise?" says Washington. "Genie's 40 made me happy. That means I'm keeping things under control and dishing to whoever's hot. The situation is in hand."
The elder Syracusans aren't about to let Washington pump up his ego even if he were so inclined. A loose, irreverent bunch, the Orangemen ride Pearl about everything from his luminous neck jewelry and grotesquely wide razor-cut sideburns—Elvis would turn over in his grave—to the shape of his head and, uh, stern. His teammates say Washington could pawn his gold nameplate necklace and buy them all condos. They say he can't run or jump or shoot the J correctly because "his booty's in the way."
On account of his sad lack of leaping prowess. Pearl actually pretends to dunk the ball in layup drills, slamming it against the hoard under the rim to effect a thud sound and a swoosh of the net. Then he shakes his fist—yeah!—as if acknowledging his own monster slam. A self-described "terrible practice player," Washington is the last, exhausted finisher in all practice drills, usually weaving along with his head bobbing backward. "Yo, Stevie," players shout. "Stevie Wonder." They also call him Fat Butt and Olive Head. One guy stuck olives on his fingers at the training table, held up his hand and announced "Dwayne five times over." Washington roared right along with the rest of them.
Malone is the official Pearl-primer. "Sometimes he falls into his bad habits," Malone says. "He was so much bigger and stronger than everybody in high school, he didn't have to work. But I tell him if he practices well, our practices go good. If he plays well, the games will be good. Great players have a responsibility to their sport. I think that gets through to him. Dwayne knows who he is. He knows he's Pearl."
He sure is. In the open court, or on the break, or steering through the lane one-on-one, there's nobody better. His feinting and sleight of hand put Mike Moses of St. John's and Karl Hobbs of Connecticut fiat on their keisters. He whipped a game-long embarrassment on Michael Adams of Boston College, and his dipsy-doodle, multi-direction, see-ya-later drive past Villanova's Ed Pinckney ranks with the moves of the year. NBC's McGuire became so enamored of the Pearl during a televised Syracuse defeat at Villanova that, between calling him Dwight and Derrick, McGuire lost all semblance of reality and bellowed out such descriptions as "PT boat" and even "airport." Huh? Be there.
However, it's Washington's conservative play—Pearl calls it his "basic ball"—that has drawn the most attention. "The fact that he's so entertaining is great for the fans," says Boeheim. "But as a coach, I love Pearl's steadiness." While averaging 14.7 points and 5.9 assists a game and shooting 56.2% from the field, through Sunday Washington had led Syracuse to a 15-5 record (8-2 in the Big East) while maintaining his solid floor work and passable defense. In the Orange's recent losses to Georgetown and Villanova—two of the better defensive units in the land—Washington played 79 minutes and made just four turnovers. Then on Saturday he got a welcome break, contributing 12 points and seven assists in Syracuse's 103-86 victory over the C.W. Post Toasties.
"This guy is very, very special," says Boeheim. "Before it's all over, I think he will be one of the great point guards to play the game."
An intriguing melodrama may occur this spring at the Olympic Trials when Washington comes under the eye of coach Bobby Knight—Pearl meets Captain Blood—in competition with Carolina's Smith, Leon Wood of Cal State-Fullerton, Mark Price of Georgia Tech and Steve Alford of Indiana, among others, for the point-guard position on the U.S. team. "My rep's against me," Washington said the other day while filling out his application form for the Trials, "but I'm going to show the man I can run a team." On the form was a space labeled "prefer to be called." It was left blank. "Bobby Knight sees my nickname in there, he'd be flipping out," said Dwayne Alonzo Washington.
Pearl is becoming cultured already.