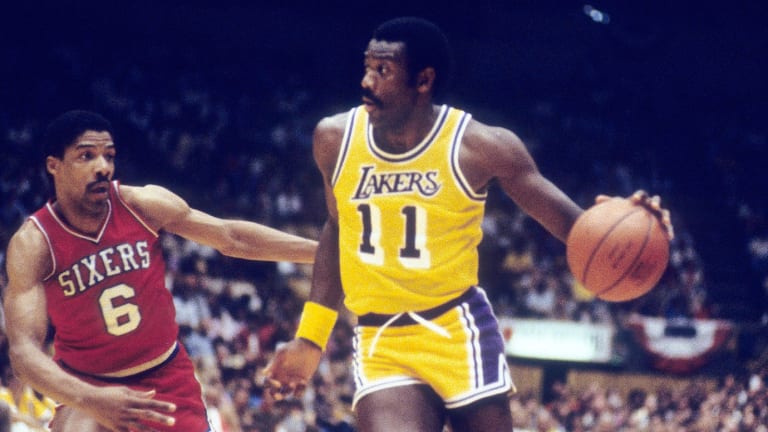 The Toast Of Both Coasts
The newly resurgent Lakers delivered a playoff message by beating Boston in L.A. and the champion Sixers in Philly
Having played desultorily for most of the year, the Los Angeles Lakers last week appeared to have suddenly found themselves a backcourt that was unstoppable, found themselves a small forward who could be for the ages, and found themselves with the second-best record in the NBA. On Friday night the Lakers beat the Boston Celtics, who have the league's best record, 116-108, and on Sunday they beat the defending champion Philadelphia 76ers, 101-99, to raise their record to 37-19, 3½ games ahead of the second-place Portland Trail Blazers in the Pacific Division. More impressive, however, was the fact that they beat Boston and Philly without starting forward Jamaal Wilkes and Bob McAdoo, their high-scoring substitute. The suspicion is growing that the Lakers might be the best team in the NBA.
Despite their formidable record, this hasn't been a smooth season for Los Angeles. Before they had even played a game, the Lakers had to adjust to the trade of one of their best players. Then, for about a month, their aging center looked as if his game needed a jump start. The fast break was a slow break. And nobody was playing any defense to speak of. Fortunately, nobody spoke of it. The best player on the team was momentarily distracted when a close personal friend's hair caught on fire, which in turn made the whole team nervous because the coach's gelled lid is always a threat to go up in flames. The coach, ordinarily as laid back as his hair, started yelling at the players in practice, which messed up his karma or something and caused him to lose 10 pounds—none of it from the top of his head—in about a week. The low point of this dolorous period occurred after a dispiriting loss in Phoenix, when the entire Laker coaching staff was forced to order from a hamburger stand's drive-thru window while on foot because the counterman didn't like their looks and wouldn't let them in the door.
Though last week was a successful one for the team—three victories, including a 128-112 defeat of the Seattle SuperSonics, against one loss, to the same Sonics—it was a typically stressful period for coach Pat Riley. "When I get to the arena for the Boston game I've got McAdoo in the hospital [with an upper-respiratory infection] and Wilkes at home with the flu," Riley said. "Both my assistant coaches want me to start Calvin Garrett, who's sitting over in the corner of the locker room shaking with the flu and because he thinks he might have to guard Larry Bird. Then I go out on the floor and look up in the stands, and there's my wife dressed all in black. I figured it was an omen."
Oh, man. Without Wilkes and McAdoo, L.A.'s running game figured to suffer. But the fast break produced the first 12 Laker points, and 48 in all. Michael Cooper, who started instead of Garrett, responded with 20 points and three blocked shots, and stuck so doggedly to Bird on defense that the Boston forward got only 12 shots and scored just 14 points. "Over the last five games our defense has been superb," Cooper said later, "and when we're playing defense our running game is awesome. It's like a snowball rolling along, getting bigger and bigger as it goes."
When the Lakers don't run, they get the ball in to Kareem Abdul-Jabbar, the peerless 36-year-old pivotman who's hot on the trail of Wilt Chamberlain's record of 31,419 career points. He eclipsed Chamberlain's record for most field goals on Feb. 8 when the Lakers beat the Celtics in Boston, 111-109. After his 12 points Sunday against the 76ers, the Lakers' first regular-season victory in Philadelphia since 1975, Abdul-Jabbar had 30,925 points. At his current scoring pace, Abdul-Jabbar will break Chamberlain's record on April 8 at Portland. On the same day last week that Abdul-Jabbar accumulated 31 points, seven rebounds and five assists against the Celtics, someone in New York stole his jersey from the Power Memorial Academy trophy case. The thing was so old that instead of notifying the police, they called the Historic Preservation Society. "I haven't seen any deterioration of his skills yet," says Riley of Abdul-Jabbar, "but you've got to rest him more. What he does, he does by rote, so practice doesn't help him, it just breaks down his fibers. I think Kareem gives the best he has every game. Some nights he has it all together; on others he's not there."
Lately he's been there most of the time, averaging 22.9 points since the Jan. 29 All-Star Game while the Lakers have put together an 11-3 record, the best in the NBA in that period. In all, February was the best of times for the Lakers, who couldn't possibly have gotten off to a rockier start psychologically than they did this season. After being swept by the 76ers in last season's championship series, L.A. was desperate to find a backup center who could spell Abdul-Jabbar occasionally. Of the team's nucleus of regulars—once known as The Great Eight—guard Norm Nixon was deemed the most expendable, and when the San Diego Clippers offered 6'11" Swen Nater and guard Byron Scott, the fourth pick in the '83 draft, Nixon was sent packing.
Trouble was, Nixon was one of the Lakers' precious few jump shooters who could take pressure off the big men defensively and allow All-NBA guard Magic Johnson to roam the entire floor. Nixon was also one of the players best liked by his teammates. When the deal was made on Oct. 10, 17 days before the start of the regular season, Nixon's former teammates were stunned. "It was a touchy situation," Magic says. "It was a sad thing for both of us. We played together, ate together and discoed together. When it finally happened, it was like a party you had left."
By trading Nixon, the Laker management not only surrendered a valuable player, but it also upset the team's chemistry. Cooper—who for five Laker seasons has been one of the NBA's best sixth men—suddenly wanted to start. Most distressing to Riley was the fact that Johnson had to fill so many gaps, it began to hurt his game. After Nixon saw Johnson play in San Diego's first game against the Lakers this season, which San Diego won 110-106, he said that if his old running mate had to shoulder the same work load all season, "he's going to be an old man by next year."
Johnson, who's only 24 yet in his fifth NBA season, believes Nixon may have known what he was talking about. "I had to take up his slack and do all my things, too," he says. "It was tough at first, and it took us a lot of time to get it together."
Scott, who didn't help his own cause with the Lakers by saying he was comparable to Johnson, "except I'm quicker and can shoot better," started slowly. "The players didn't talk to me much the first couple of weeks," Scott says. "It was a natural reaction. They had just lost somebody they'd been with for six years. I still don't know what they think of me, but I guess they've accepted me."
When Johnson dislocated his right index finger on Dec. 2, Scott was given his first chance to start at point guard. In eight games Scott hardly proved to be like Johnson, but he did prove that he couldn't shoot. After 11 games, Scott was shooting a wretched 32.8% and turning the ball over a lot. "The trouble in the beginning was that we tried to make Byron more of a ball handler than he really was," Riley says. "He was confused, and that hurt him." Scott's tenure as the starting point guard was considerably foreshortened after the Lakers suffered a disastrous 30-turnover performance under his guidance at Phoenix on Dec. 15.
Riley buried Scott on the bench for almost five full games in mid-January, a period that, coincidentally or not, came during the Lakers' strangest streak—four wins in a row on the road and four straight losses at home. After a 102-91 loss to Seattle on Jan. 15 that gave the Lakers their most consecutive home defeats (four) in six years, Riley decided to try Scott again, this time as the off guard. Since then, Scott has been in double figures in 16 of the 19 games he has started, and is now shooting 46.1%. The Lakers have gone 14-5 with Scott as a regular. Last week Riley referred to what had always been called "the Norm Nixon trade" as "the Byron Scott deal."
How the Lakers do in the playoffs this year will, of course, have less to do with Scott than with Johnson, who's having his finest season. L.A. was 7-6 in the games Magic missed with his finger injury and is 30-13 in games he has played. He leads the NBA in assists with 14.3 a game and, remarkably, has yet to be held below double-figures in assists. In last week's victory over Seattle at the Forum, Johnson tied the NBA record of Bob Cousy and John Lucas by accumulating 12 assists in the first quarter, and finished the first half with 18. He wound up with 23, his career high, tying Jerry West for the franchise record. "They had guys fighting each other to get the layups," said Seattle's David Thompson. "Magic? Well, he was awesome."
One of the most noticeable changes in Johnson's game this year is his shooting, which he has always considered secondary to passing. Now more inclined to limber up and fire at the very outset of a game, as he did against Philadelphia Sunday—he had 23 points, eight rebounds and 11 assists—Johnson has become the Lakers' best outside threat; he's making 59% of his shots from outside 18 feet, compared with 54.7% overall. "Teams started to sag and leave me alone out there," he says. "I always laughed when people said I couldn't shoot. But when I'm thinking 'shot,' most of the time it goes in."
If there was ever any doubt about who is the better passer—Magic or Bird—Johnson has put an end to that debate this year with his spectacular repertoire of spin and angle passes. "The angle is what it's all about," Magic says. "I read the angles so that if I can hit that seam and find the angle, somebody can take the pass and shoot without breaking stride. It's just like shooting pool: You have to anticipate what's going to happen, read the angle, then pow! It just happens...pow!"
"You never know what he's going to do with it," says 6'9" small forward James Worthy, who seems completely recovered from the broken leg he suffered at the end of last season and who was majestic on the run against the Celtics, scoring 27 points off the bench. "There's something amazing about the way Magic can get it to you in traffic."
Johnson has had his moments off the court, too. He received a nasty scare when his friend, pop singer Michael Jackson, got his hair singed while filming a commercial on Jan. 27, then got some good news when he learned that the championship series this year won't conflict with the reunion tour of the Jackson Brothers. Magic intends to be there for both. "When it's winning time, I'll always be there," Magic says, hearkening back to the Jacksons' 1970 hit, I'll Be There.
And, as the song goes, just call his name.