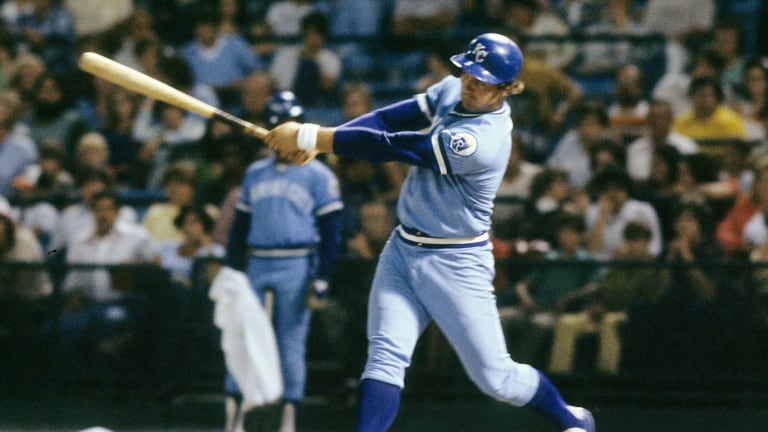 A Sudden Slide Into Uncertainty
After a year of disappointments and cocaine busts, Kansas City puts on its new face
Having survived the nuking of The Day After, Kansas City now turns its attention to a real-life crisis: The Season After. The American League West champions 4½ times since 1976 (the Royals, remember, beat the A's in Part 2 of the strike-torn split season of 1981), the winners of 90 or more games in six of the last nine years, a World Series team in 1980, the club that George Brett's bat made a household name—Kansas City suffered an all-too-true catastrophe in 1983. Favored to win the West, the Royals slumped to a miserable 79-83 record and finished 20 full games behind the champion Chicago White Sox.
Except for the now infamous Pine-Tar Victory over the New York Yankees, nothing went right for the '83 Royals. Ace starter Dennis Leonard was 6-3 when he was lost for the season with a knee injury on May 28. Brett was hitting .369 and had 39 RBIs in 43 games when he broke a toe on June 7 and went on the disabled list for three weeks. With the team going nowhere in late summer, two one-time stars, pitcher Vida Blue and outfielder Amos Otis, 14 years a Royal, were dropped from the roster. The Royals dropped out of contention on Aug. 19 when peerless reliever Dan Quisenberry blew a ninth-inning lead against Baltimore and leftfielder Willie Wilson broke a knuckle.
Unfortunately for Kansas City, what happened to the Royals during the off-season made all that travail look trivial. Last August reports had surfaced that a federal drug probe had zeroed in on up to 10 Royals. In October four members of the '83 Royals—Blue, Wilson, first baseman Willie Aikens and outfielder Jerry Martin—pleaded guilty to misdemeanor cocaine charges and were later sentenced to 90-day terms in a federal penitentiary. Baseball commissioner Bowie Kuhn suspended Wilson, Aikens and Martin for the entire 1984 season, but agreed to review those suspensions on May 15. The Royals have released Martin and traded Aikens to Toronto, but last Sunday they welcomed Wilson to their training camp at Fort Myers, Fla.; according to Kuhn's suspension terms, against which the Players Association has filed a grievance that will be heard on March 12, Wilson can practice and travel with the Royals but not appear in any games.
With his team in disarray—13 of 25 players on last year's opening-day roster are gone—general manager John Schuerholz pushed the rebuilding button. Manager Dick Howser talked of starting a whole new outfield of youngsters Butch Davis, Pat Sheridan and John Morris. And the word "trade" hung over the veterans. "I heard they were going to trade someone, and I wouldn't have minded being the one," said second baseman Frank White, the Royals' 1983 Player of the Year. "Why stick around if it would take two or three years to rebuild?" Pitcher Joe Beckwith was acquired from the Dodgers, and minor league slugging sensation Steve (Bye-Bye) Balboni was obtained from the Yankees to replace Aikens at first base.
Quisenberry, the self-appointed fool on the hill, tried to find some humor in the otherwise grim situation confronting the Royals. "I'm surprised we didn't make more trades with the Yankees," he said. "Half our players are already in stripes."
Wilson, who, of course, never wore prison stripes, was back in K.C.'s powder-blue-and-white stretch togs Sunday, and seemed none the worse for wear. "Prison was like a college dorm," said Wilson, who never attended college, earlier in the week. "We didn't have to wear uniforms, there was a cafeteria and store and we had $10 spending money a week. I had a janitorial job that took about two hours a day. After that I was free to watch TV, play pool or train. I ran six miles a day. The punishment was more mental than physical. I spent a lot of time thinking. First, I couldn't believe I was there when I was in for something that usually gets probation. Second, I'd never do it again. Third, I couldn't believe the commissioner had suspended me for a year."
Wilson blames his recent troubles on his inability to adjust to life as a public figure. He says he has always been exceptionally sensitive to slights and embarrassments, and during his eight-year career with the Royals he has had them in abundance. In 1980 he struck out a record 12 times in the World Series, and in 1982 he was criticized for winning the batting title by sitting on the bench the last day of the season.
"Everything I did was spotlighted," Wilson says. "No one remembered the regular season I'd had in 1980. And in 1982 they should have been writing that I gave Robin Yount a chance to win the batting title—not that I chickened out.
"I took cocaine after that '82 season, but I was involved only during the winter. Before I played baseball I never smoked or drank or took drugs. People think the game is glamorous, but I never wanted the attention—good or bad. I felt a lot of pressure trying to satisfy the club, the public, my parents. People wanted me to be a role model; even the judge said so when he sentenced me. I always felt your parents should be your role models.
"But I never blamed anyone else for what I did. The Royals have done a lot for me, and I don't want them to think about me now. I just want them to have a good season. I'll be staying by myself more when I return. I'm not going to yell or scream anymore, just do my job. I wish that's all there was to baseball."
Clearly, what the Royals need most right now, at this very moment, is a leader, someone to lift them en masse out of the muck and mud of 1983 and back into dignity, prominence, success. Hi there, George Brett.
"I don't see myself as the team leader." Brett protests. "Frank White's been here as long as I have, and Hal McRae's the loud guy in the clubhouse." Maybe so, but Brett has the loudest bat and is surely capable of carrying the Royals all season. The good news for Kansas City is that Brett, now 30 years old, has been romping around training camp like an 18-year-old rookie.
"I've never felt more like playing than I do now," Brett says. "I used to hurry in real quick after practice, shower and head to the golf course. Now I get here at 8:30 a.m. and stay late. I've got a place with [catcher/utility man] John Wathan on the Caloosahatchee River, and he keeps me honest. My weight is up a bit [200 pounds to 204], but my body fat is down [10.1% to 9.6%]. I'm eating chicken, fish and salad and drinking water and iced tea. I just want to have a good year."
Brett says that last season's series of calamities, including his injury and subsequent poor average, hit him hard. "I thought about it all winter," he says. "I'd been off to my best start, and then I fell apart. My big thing had always been not to try hard, to try easy. The day after I hit the pine-tar homer on July 24, I struck out three times. Then I was trying to hit homers every time up because the team was slipping. I was lucky to bat .300 for the year."
For a time during the winter Brett thought he'd have to learn a new position in spring training; when Aikens became persona non grata to the K.C. management, Brett was mentioned as the obvious new first baseman, but the job now belongs to Balboni. Still, Brett was practicing at both first and third last week, taking grounder after grounder after grounder and working on his fancy footwork. That done one afternoon, Brett walked briskly to his home away from home: the batting machines.
"I take a lot of batting practice—about 200 swings a day," he said. "You have to. In March the pitchers are so far ahead of the batters they can try stuff on you. It's not batting practice but pitching practice. So I use the machines. We've got two new cages, and two of the best machines I've ever hit off."
With that, Brett walked into the cage. Whurrrp! The first pitch was in the dirt. Whurrrp! Same thing with the second pitch. And the third. And the fourth. Brett shook his head. "Give the machine a compliment," he said, "and see what it does to you."
Later, his cage time finished, Brett headed back to the clubhouse for an hour of physical therapy. First, he put an ice pack on his left shoulder, which has ached sporadically since he separated it in 1978. Then he underwent his daily schedule of heat, massage and exercise for the lower back. Brett has spondylolisthesis, a congenital back condition that affects the last lumbar vertebra. In addition to his broken left little toe and separated shoulder, he also has had bone chips in his right thumb, torn ligaments in his right ankle, tendinitis in his right wrist and a badly cut left knee, the result of a 1982 slide into second. But at least his famous hemorrhoids are a thing of the past. Last week Brett, who in 1980 hit .390, the highest average in baseball in 39 years, was saying, "I feel great, and I'd like to play another 10 years. The longer you're in the game, the more you'll miss it. My brother Ken got out of baseball two years ago after playing 12 years for nine teams...and he's still looking for work."
Says Wathan, whom Brett credits with keeping him on the straight and narrow this spring, "George is one of the most competitive people I've ever known." But how competitive can Brett and the Royals be with their new look?
The '84 outfield is an untested partnership of Davis, Morris and Sheridan, not Otis, Wilson and Martin. Beckwith, with a total of four major league starts in his five seasons with the Dodgers, has been asked to switch from middle relief to the starting rotation. Beckwith does arrive in K.C. with one number that leaps out of his stat sheet: 151 strikeouts in his 208 innings for the Dodgers. He feels that the Dodgers wasted his talent. "In 1980 I was supposed to go to Boston in a deal, but Fred Lynn and the Dodgers never came to terms," he says. "In 1981 Mickey Hatcher and I were going to the Cubs for Bill Buckner, but I had eye trouble and missed the whole season. My four years with the Dodgers were basically an apprenticeship. I was like a jockey doing his time before getting a good mount. Now it's time for me to prove I can ride."
For his part, Balboni has never had any problem riding baseballs out of minor league ball parks—he averaged 30 home runs and 96 RBIs a season at Fort Lauderdale, Nashville and Columbus, all of which, Howser says, have "legitimate parks"—but has just seven home runs and a .210 average for his 200 major league at bats with the Yankees. For three seasons, Balboni shuttled between New York and Columbus until the Yankees ran out of options and had to keep him or trade him. "You never knew where you stood in New York," says Balboni, 28, a hulking 6'3" 225-pounder. "I know my role here: Play first base and hit for power."
To obtain Balboni, the Royals gave up Mike Armstrong, their top middle reliever. Armstrong, who set up many of Quisenberry's record 45 saves in 1983, will be replaced this season by rookie righthander Mike Huismann. "I hear Huismann's got a good sinker," says Quisenberry, "but after that it's dot, dot, dot. Armstrong pitched 100-plus innings the last two years and won 10 games in 1983. There are no dot, dot, dots after a player like that."
Complicating the Royals' pitching problems, Leonard, who ripped the patellar tendon of his left knee while delivering a pitch to Cal Ripken, won't be available until at least the All-Star Game—and may not pitch at all in '84. "I don't know which got rigor mortis first—my glove or my body," Leonard said one day last week as he prepared to throw a baseball for the first time in eight months. Besides gentle throwing, Leonard's daily workouts will consist of three hours of therapy and leg-strengthening exercises. "The physical part isn't so bad," he said. "The mental part is awful."
Pitcher Paul Splittorff, a holdover from K.C.'s glory days and the winner of 13 games last season, surveyed the new order at the Royals camp and said, "It's always a gamble when you're using guys who haven't played regularly." Others, however, see a bright side to all the change. "It's more fun coming to spring training when you have something to prove," said McRae. He may have lots of fun in '84.
While the K.C. management stubbornly refused to provide the team with a quick fix via the free-agent route, it didn't twiddle its thumbs all winter. At the front office's urging, four Royal veterans—Wathan, pitchers Larry Gura and Leonard and shortstop U.L. Washington—underwent winter sessions in "Positive Imagery," conducted by psychologist Sid Salzberg. Also, in January the team launched RAP (Royals Accelerated Program), a $3 million venture in Sarasota, Fla., in which 40 top Royal prospects, 13 instructors and numerous specialists will work for two months each year on baseball fundamentals, public speaking, motivation, drug abuse prevention and finances. The first RAP session concluded recently, and Morris, the rookie rightfielder, who was a participant, says, "The best part was that they brought in some major-leaguers to speak to us. I was especially impressed with McRae, who said that minor-leaguers spend too much time thinking and too little time reacting and being aggressive. That really hit home."
Perhaps the most positive news for the Royals is that the people of Kansas City haven't abandoned them. Through last weekend the Royals had sold more season tickets than their 1983 total of 12,468. What the fans seem to be saying is this: "We don't care if you give us a winning team, just give us an interesting one."
That it will be, particularly in the outfield. Leftfielder Davis, 25, who wasn't even invited to spring camp last year, had 624 at bats for Jacksonville and Omaha, but saved his best for last. Called up to Kansas City on Aug. 23, he hit .344 and had six triples in 33 games with the Royals. "I guess the adrenaline took over," says Davis.
Morris, 23, a political science major at Seton Hall, hit .287 and had 23 home runs for Jacksonville in '83. "I think I'm good at internalizing things," he says. "If I make an offensive or defensive adjustment, I can put it in my memory bank."
As for Sheridan, 26, he played 109 games for K.C. last season and hit .270. A rightfielder in '83, he starts the '84 season in Wilson's centerfield position. "Now I have to get used to taking charge instead of letting Otis or Wilson make the catches," he said. "It's a big change, but I can handle it."
If Sheridan can't handle it, and if Brett, McRae, Balboni and all the others can't handle it either, well, there's always next season. Make that The Season After The Season After The Season After.
PHOTO
RONALD C.
MODRA
Brett was without shoes in a sliding drill but not without hope for the upcoming season.
PHOTO
RONALD C.
MODRA
Davis, Sheridan and Morris (left to right) will be taking over for Wilson, Otis and Martin.
PHOTO
RONALD C.
MODRA
Ex-Dodger Beckwith is set to ride in K.C.
PHOTO
RONALD C.
MODRA
Ex-Yank Balboni is ready to play Bye-Bye.
PHOTO
RONALD C.
MODRA
Wathan helps Brett watch his cholesterol count.
PHOTO
RONALD C.
MODRA
The 1983 season turned into a Royal pain for Howser.