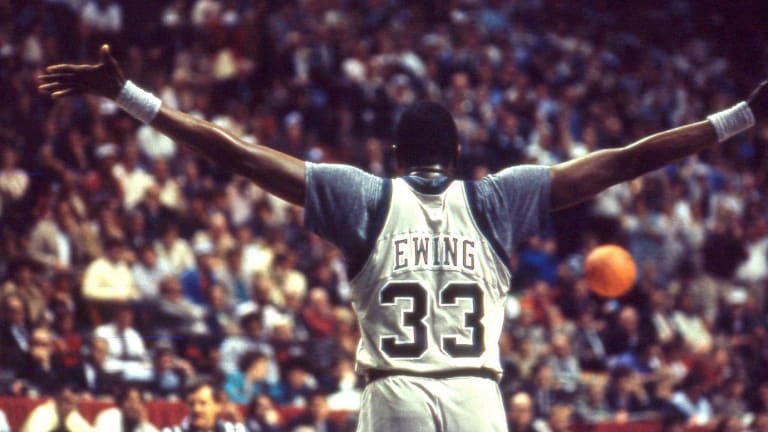 Hang On To Your Hats...And Heads
With Patrick Ewing at his formidable best, Georgetown won the Big East tournament and sallied forth into the NCAAs
Can there still be critics out there carping that Patrick Ewing and his pals on the Georgetown basketball team aren't learned in the humanities? Why, Georgetown will take its humanity along with its depth, speed, versatility, crash-dunks and NCAA record-breaking defense and shove it right down your windpipe, as it has so many times this season and as it did last week while mopping up in the Big East tournament.
Indeed, there was a minor skirmish in the Hoyas' 82-71 overtime defeat of Syracuse in Saturday night's championship game in Madison Square Garden, when one of the school's future diplomats tried to punch the lights out of an already falling Orangeman. But such tactics are old hat with Georgetown—hit 'em while they're down, hard-er, hard-er—and, anyway, picky-picky. By the time the dust had settled, coach John Thompson's plundering legions—Grandmaster Flash and The Furious Twelve is one of their milder aliases—had concluded a fairly thorough rap number on their conference brethren.
Not that the hammerin' Hoyas surprised anybody by becoming the first top-seeded regular-season champions in the Big East's five-year history to sweep to the tournament championship as well. They reached the final by beating Providence 70-50 and St. John's 79-68, while shooting a remarkable 73% from the field over three of the four halfs of those games and hardly breaking a sweat through those snappy gray undershirts.
On Saturday night, however, the sport's newest magician, Syracuse guard Dwayne (Pearl) Washington, lit up the Garden with 27 points and six assists, shaked and baked and made the Hoyas quake before Ewing and Michael Jackson (no, not the guy with the Grammys and the silver glove) combined for 47 points (15 in the overtime) to, ho ho, put out the flames. For the tournament, the 7-foot Ewing made 25 of 32 shots from the floor and scored 69 points to go with 28 rebounds and 13 blocks. In view of his consistently notable numbers and the persistent foul trouble experienced in big games by Houston's Akeem Abdul Olajuwon, it's now clear that Ewing is much more than Face Job East. He's the most dominating player in college, and the Hoyas may be the club to beat as the 53-team NCAA championship tournament begins this week.
Certainly Georgetown gives every appearance of being ready. In New York the Hoyas' MO was that familiar mix of public non-relations, suspicion and silly security precautions—now known as Hoya Paranoia—and intense play. When the Hoyas filed into the pretournament luncheon, last to arrive as usual, one Big East player remarked, "I think big John blindfolds them all on the airplane so they never know what's going on. I always wonder whether the Hoyas know where they really are."
Truth be told, however, the 6'10", 300-plus-pound Thompson in effect really let out his belt for this one.
Item 1. According to Zachary Smith, the school's sports information director for basketball, the Georgetown coach lodged his team "in Harlem," a long cab drive uptown from the Garden but closer than, say, Montreal. Smith laughed when he said "Harlem," but he's a rookie on the job. He'll learn this is serious business. Was Smith perjuring himself? What did he know and when did he know it? Where was the smoking gun? Where is John Sirica when we need him? The investigation is proceeding.
Item 2. Ewing didn't draw or quarter or even elbow a single poor soul into the emergency ward at Bellevue. (O.K., maybe there was a tiny forearm shiver here and there and the obligatory bad-dude woofing and staring, but children will be children.) Rather, Ewing was observed actually kibitzing with an opponent during pregame warmups.
Item 3. After Georgetown's assistant coach, academic coordinator and bodyguard queen Mary Fenlon, all velvet and lace and everything in place, got through sweeping the Hoya locker room for listening devices and cluster bombs planted by the wretches of the Fourth Estate, the Hoya staff felt secure enough to allow its minions to communicate some thoughts to the outside world. On...pick a subject, anything that comes to mind. O.K., how about intimidation?
Jackson: "We prefer to call it playing hard. Sure, it makes you feel proud if somebody says they're scared of you. But we only take that so far. The rest is press talk."
Guard Fred Brown: "The games are all a testing process. Some teams will go toe to toe with you, others will back off. You ever see anybody go to war smiling? In World War I did they go over the hill [sic] smiling? In Vietnam did anybody smile? This is major league ball, man."
Ewing: "Overaggressive? I'm over-aggressive? I'm usually the one that had the concussion or got hit in the eye. I'm all scarred up.... Intimidation is part of life. The strong get stronger and the weak get weaker."
Actually, Georgetown is often so imposing that potential questioners—not to mention opponents—are rendered speechless. As Thompson, no stranger to intimidation himself, so eloquently put it after a midseason 83-61 devastation of St. John's in New York, "I bring Patrick in here [to meet the press] and don't nobody ask him any questions."
That happened to be Thompson at his gruff, meanspirited, iconoclastic and odd-humored best. And though his methods may be questionable, his intentions seem laudable. He's a surpassingly bright, deep, discerning and articulate fellow who genuinely cares about his players' academic attainments—their graduation rate is very high. Nonetheless, on occasion Thompson plays the tough-guy role to the hilt, complete with such witty repartee as "get outta my face." More often than not, his team, along with its leather-jackets-and-chains image, appears to slip into precisely the same character. But, of course, that's the point.
"Georgetown has the panzer divisions and the swift tanks and the Luftwaffe and the long bombs," says St. John's coach Lou Carnesecca, one of last week's defeated generals. "They just completely destroy people, and, yeah, they scare the hell out of you."
Among several revelations in Georgetown's march through the Big East were Ewing's vastly improved scoring—his hands, once a liability, are now sure and powerful—and the team's overall defense and rebounding. The Hoyas out-rebounded their three opponents 120-70 last week; on average they beat their foes 40.7-30.9 off the glass, a differential second in the NCAA only to that of Northeastern, which may or may not count its hockey team's caroms. Earlier in the season Thompson was said to be consumed by a desire to prove he had the best sixth through 10th men in the land, and to prove it, he was sacrificing continuity for depth. The team lost a couple of games in the confusion, but the strategy seems to have paid off. It's no longer a contest: no team has a bench approaching that of Georgetown, which has gotten 38% of its scoring off the pines.
Freshman Reggie (the Wraith) Williams, sometimes the ninth man, filled in for the injured Jackson in a key midseason road game at Syracuse and scored 22 points. In retrospect, Thompson's shuffling of Bill Martin, Michael Graham and Ralph Dalton (formerly Ewing's caddie) at the big forward slot has seemed a stroke of genius. When Martin slumped, Graham got the starting call until he, too, was benched because of deficiencies in his "academic calendar" (Fenlon's favorite phrase). But Martin's rejuvenation as a sub was so invigorating for the team that Thompson has kept him in a reserve role. Now, just as opponents get used to the hulking 230-pound Dalton or the shaved-headed Graham accosting them at the point of the Hoyas' full-court zone press, the swift, angular Martin enters to change the rhythm and pace.
That defensive pressure, with everything backed up by Ewing, is keyed outside by 6'2" senior Gene Smith, a sub who usually replaces his classmate, Brown, and competes with a churning ferocity. Smith may have been knocked to the deck this winter more than anybody except John Glenn, but "my defensive hog," as Thompson calls him, keeps climbing out of the muck and snorting back into the fray.
One forlorn figure in all of this seems to be Brown, the man whose career has been plagued by the pass, that fatal miscue that handed the '82 NCAA championship game to North Carolina. Brown has retained a rep around the league as the team's leading cheap-shot artist (a stiff competition, indeed). "I don't recollect two years ago," Brown snapped last week to a reporter who thought his question was sympathetic. "I don't recollect last year. I've got more important responsibilities. I don't have time to recollect last night."
Mr. T and sympathy. What a combo.
In the Big East championship game Syracuse became only the fourth conference team all season to shoot better than 50% against Georgetown, punctuating the fact that the '83-84 Hoyas have held their opponents to a collective .3966 shooting percentage, which will break an NCAA record in that category if they can sustain it. Field-goal defense, rather than points allowed, is the most accurate gauge of a team's fortifications. Of course, it would require a Gatling gun to stop St. John's brilliant guard, Chris Mullin, which is just about the only weapon the Hoyas eschewed in the semifinals.
Every time the smooth lefthander drifted through the Georgetown zone, a Hoya defender would nudge and/or smack him; heaven help Mullin when he actually had the ball. On one sequence four different Georgetown bouncers nailed Mullin hard in a pinball routine, only forward Ralph Dalton failing to get in his licks. "That's called impeding progress; it messes up my timing," Mullin said after somehow connecting on 10 of 14 shots and 9 of 9 from the line for the most painful 29 points on record. "But it was nothing dirty, just aggressive. I've been in rougher games...like, for instance, against Georgetown every time."
The championship game appeared to be Pearl time as the beguiling Syracuse freshman kept scoring from outside, penetrating, falling on the floor, dribbling through his legs and, it seemed, everyone else's, too. And then laughing at the wonder of it all—just as he had the night before while getting 30 points and nine assists in the Orange's 66-65 semifinal victory over Villanova.
Georgetown had buried Syracuse twice during the regular season, but this time Pearl simply grabbed the game by the throat early, shook it a few times and proceeded to embarrass the Hoyas. Georgetown's Smith was a particular foil; once, Pearl beat him easily to the basket, jawed some verbal trash his way, then grinned over to press row as if to say, "I own this chump." In the second half Washington even ripped a long defensive rebound away from Ewing, roared the other way and uncorked a magical hook pass through three defenders for the easy layup by Sean Kerins that gave Syracuse a 45-44 lead. Then it happened—3:52 left. Syracuse leading 57-54. A little Darth Vader music, maestro.
Bench-clearing squabbles happen routinely in the Big East. Georgetown-St. John's last year. Georgetown-Boston College last month. Georgetown-Anyone, anytime. This time the Hoyas' glowering hatchet man, Graham, responded to a hard-fought rebound by Syracuse's Andre Hawkins by shoving Hawkins to the floor, then taking a wild swing at him with an angry left hand. The punch missed, but referee Dick Paparo didn't. He rushed into the fray shouting "Out! Out!" apparently motioning Graham out of the game with repeated thrusts of an upraised thumb. A "flagrant foul" call added to the personal already called on Graham would have given Syracuse four free throws plus possession of the ball and possibly a nine- or 10-point lead—if Paparo had held his ground. However, after protracted huddles with the two other refs and the coaches, Paparo said he hadn't ejected Graham at all. Was he thumbing a ride on the Zamboni machine? Such a puzzlement.
Ultimately the Orangemen had to settle for only two free throws, and though they twice held five-point leads, they soon lost both Hawkins and Rafael Addison on fouls during the late Georgetown rally. With the game tied at 63, Syracuse set up for a final shot in regulation, but Smith exacted his revenge on Pearl by locking him in a defensive shell. Washington never got his hands on the ball, the wrong man (Kerins) took a wayward shot, and Georgetown romped away in the overtime, 19-8.
After it was over, Syracuse coach Jim Boeheim was livid, hurling a chair and calling the officials "gutless." Most embarrassing for the Big East was the fact that still another Georgetown game had been spoiled by an ugly incident, the inevitable result of the preposterous paramilitary atmosphere surrounding the team—Gene Smith used the term "war games" Saturday night—and fostered by the insecurities and philosophies of Thompson.
The clipboard jockeys who pass for Thompson's assistant coaches have physically restrained female journalists from the team's locker room and have refused to divulge the location of the team's road hotels to arena officials. Fenlon answers a request for a player interview by saying, "I will not permit it." Then there is Thompson himself, who preaches honesty and discipline and "professionalism" yet once sat still while Dalton played in a summer league under an assumed name; who seems to tolerate, if not promote, fisticuff explosions as a matter of course; who warns his players to "trust no one"; and who interrupts his players to reprimand reporters for asking them questions "in extremely poor taste."
Thompson is much praised for his "sensitive" nurturing of Ewing. "Patrick doesn't complain," the coach once said in one of his sensitive moments, "he retaliates." But a Washington newspaperman who knew Ewing as a fresh, open, good-natured high-schooler says Thompson has turned his star pivotman into "a surly punk."
Moreover, Thompson has long wielded his race like a baseball bat. When The Boston Globe's Michael Madden wrote that Georgetown basketball was "sick, paranoid and petty, pompous and arrogant," Thompson replied that "Black people have spent their entire lives trying to justify their actions to biased minds. I won't spend one more second."
Would that Georgetown abandon its foxhole mentality, the chips on the shoulders and all those flying fists and elbows so that the team can get on with playing pure basketball. The Hoyas owe it to themselves.
PHOTO
Mullin (20) got 29 points and a painful pounding in the semis from Ewing (left) and Dalton (52).
PHOTO
Ewing started getting his stuff together early with 18 points against Providence.
PHOTO
The Pearl singlehandedly kept Syracuse in the final and made a believer out of Ewing.
PHOTO
Martin (24) and Ewing squeeze a Redman.
PHOTO
After warming up his act against St. John's, Jackson (30) was a thriller in the finale.
PHOTO
Thompson got his team ready. Where? Who knows?
PHOTO
Assistant coach Fenlon made sure the players' "academic calendars" were in sync.