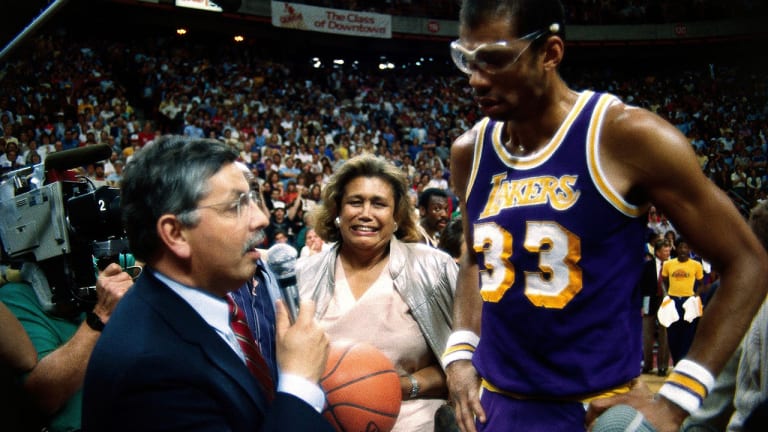 A Sky Hook That Was For The Book
As Mark Eaton swatted air, Kareem Abdul-Jabbar got his 31,421st point and the NBA scoring record
The shot had actually begun at the moment his body rocked from right to left, but it didn't really start to look like a shot until the basketball was suspended over Kareem Abdul-Jabbar's balding head like a full moon. The ball hung there for an instant as his body uncoiled; then, with a flick of his right wrist, the Los Angeles Lakers' center sent it arcing toward its target. Utah Jazz center Mark Eaton, who at 7'4" is one of the few men in the NBA who can peer down at the 7'2" Abdul-Jabbar, tried to block the shot, but by then it was too late. Abdul-Jabbar's sky hook, which Laker coach Pat Riley had described the day before as "the ultimate shot, the greatest offensive weapon in sports," dropped through the basket. Riley began to cry when he saw the ball go in, and the Laker players converged on Abdul-Jabbar and hugged him, just as they had done after he had sunk a basket at a shoot-around earlier in the day. "We weren't really practicing," giggled Magic Johnson. "Just getting ready."
With that 12-footer, which came with 8:53 remaining in the game and put L.A. up 112-93, Abdul-Jabbar had scored 31,421 points, two more than Wilt Chamberlain's 31,419, an NBA record that had stood for 11 seasons. Oh, yes. The crowd of 18,359 in Las Vegas' Thomas and Mack Center—the Jazz' home away from home—was very appreciative. Las Vegas loves winners, and the Lakers won 129-115.
Abdul-Jabbar's pursuit of the record had officially begun on Oct. 18, 1969, when he scored 29 points for the Milwaukee Bucks in his first NBA game. But it didn't begin in earnest until last Dec. 22, after Abdul-Jabbar had scored 10 points at Golden State and his season scoring average had dropped to 17.7, nearly 10 below his career mark. At that rate he wouldn't have broken the record until next November.
"Early in the season everybody was asking me if something was wrong," he says. Something had been wrong, of course. Abdul-Jabbar had contracted viral hepatitis during training camp and been flat on his back for 2½ weeks. Even after he returned, he had remained weak for another month. Just after Christmas, however, his scoring pace increased, and he broke Chamberlain's field-goal record (12,681) on Feb. 8 in the Boston Garden. At that point Chamberlain's mark was 659 points away, and the only questions left were when and where the milestone would be reached.
When Chamberlain last played a regular-season game on March 28, 1973, ironically scoring his final point from the free-throw line—he was an atrocious foul shooter, making only 51% during his career—he had no notion he had established a record that would last so long. "I didn't even know how many points I had when I quit," he said last week.
Kareem knew. When he signed a new contract last October, he made sure it was for two years—more than enough time to surpass the record before he retired. He spoke about the record only when asked, and he seemed determined that his pursuit of it not be turned into one of those media-hyped crusades that Pete Rose periodically conducts.
Abdul-Jabbar wanted to do it right. "I remember waiting for Hank Aaron," he said. "Everybody was waiting. I hoped he would do it in style. And he did." Aaron eclipsed Babe Ruth's lifetime total of 714 home runs on April 8, 1974, 10 years minus three days before Abdul-Jabbar surpassed Chamberlain. "They're both marks of consistency," Kareem says. "You'd have to hit more than 35 home runs for 20 years to catch Aaron, or average 25 points a game for 16 years to equal this record; well, that's doing something."
Keeping everything that was happening to him in some sort of context must not have been easy last week. For several weeks, in fact, in every arena where the Lakers had played, crowds that had once booed him routinely now gave him thunderous ovations. Even on the freeways in Los Angeles, people were rolling down their windows to wave at him and yell words of encouragement.
This was a new experience for Abdul-Jabbar, who for many years hadn't been one of his team's most popular players, even when the Lakers played at home in the Forum. "For a long time Kareem shut the door emotionally on a lot of people," says Riley. "I think some of the unkind things that were written and said about him were a result of the fact that a lot of people just didn't like him. When he got hurt a few years ago, and we won six games in a row, people were kind of happy he was out of the lineup. Kareem was different, the antihero, and anybody who's different in America is going to be scrutinized. It's like he's been in an oven all these years, and he's had to withstand all the heat with people constantly looking in that little window at him. Now the heat has been turned down, and there's a nice warm feeling about Kareem. He's like a beautiful soufflé that's rising."
To a certain extent, the fact that Abdul-Jabbar was never able to stir a crowd until recently could be laid to the numbing efficiency of his game. "Every shot, every pivot, every step he takes when he's on the floor, he's taken before," says L.A. backup center Mitch Kupchak. "Sometimes he'll do something in a game that amazes you, but he doesn't do it with any spectacular physical feat, he does it with a move he could make every day if he wanted to."
In a game of epiphanies and sudden bursts of improvisation, Abdul-Jabbar has been methodical. "Kareem scored 15,000 of his points with sky hooks, dunks and finger rolls," says Kansas City coach Cotton Fitzsimmons. "The other 16,000 he got by using his head. He's predictable, but that doesn't mean you can stop him. You can't."
Chamberlain wasn't in Las Vegas on Thursday night, but when the Lakers held a ceremony in Kareem's honor before their game with Kansas City the next night at the Forum, Wilt showed up. He spoke briefly and shook hands with Abdul-Jabbar, who then scored 22 points—all of them in the first half—before being cracked across the face by the Kings' Mark Olberding in the third quarter. The blow knocked Abdul-Jabbar out of the game, which L.A. won 112-97, and forced him to miss a game for the first time this season—a 119-113 victory at Portland on Sunday.
An hour after he broke the record, Abdul-Jabbar sat looking out the window of a van on the Las Vegas Strip, a hundred neon flamingos blazing before his eyes. No one had spoken in the van for a long time when Kareem finally broke the silence. "I faked the pass to Coop [Laker guard Michael Cooper]," he said, answering a question about the record-breaking sky hook that no one had asked, "and that froze my man so I could get the shot." Then he laughed.
PHOTO
MALEK ABDUL-MANSOUR