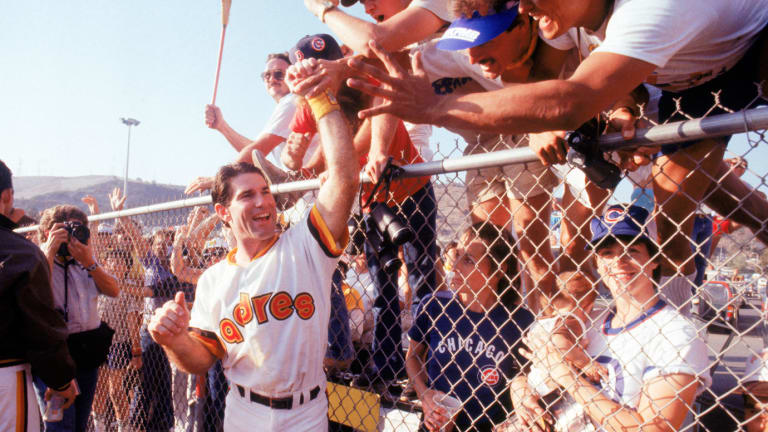 Welcome to the San Diego Zoo. As utilityman Kurt Bevacqua says, "We're all animals on this team." Over there is the graytufted thirdsacker recently acquired from the Bronx Zoo in New York. See him leap headlong into the dust to nab his prey. To your left is a baby bull from Puerto Rico—note the powerful hindquarters. Next to him is a razorback. He was shy when he first came here, but now he's becoming accustomed to the attention. The gazelle you see scampering among them used to graze on outfield grass, but the keepers feel he can thrive in just about any habitat. And there, yes, you can see him emerging from the pen, is the....
"GOOOOOSE!"
Jack Murphy Stadium in San Diego was wild with excitement last Tuesday evening because it was Opening Night for the Padres. There was more in the air than just the swallows flitting about the upper decks. The ushers and parking-lot attendants, hundreds of them, were dressed in tuxedos, resembling so many penguins. The Chicken, attired in tails and accompanied by several foxes, arrived on the field in a stretch limo. Bombs were bursting in air.
When the new thirdsacker, Graig Nettles, was introduced, he was greeted with a long, standing ovation and, obviously moved, Nettles tipped his cap. The last player introduction was reserved for Nettles' Bronx Zoo-mate, Rich Gossage, and calls of "GOOOOOSE!" probably woke up the pygmy hippos in the real San Diego Zoo, which is four miles away.
Then the Padres went out and beat the Pirates. In the second, Kevin McReynolds, the highly touted centerfielder, pulverized a Rick Rhoden fastball, sending it into the leftfield seats. The other half of the "M & M Boys," leftfielder Carmelo Martinez, matched him with a two-run homer in the sixth that landed just to the right of McReynolds' shot. The Goose made his appearance with the score 5-1 in the seventh. Manifestly pumped up, Gossage threw three straight pitches past Pirate rookie Doug Frobel. The next five Pirates also went down easily, and long into the night the Padre fans chanted "GOOOOOSE!" as if they had been practicing for about 10 years.
In fact, it was precisely 10 years ago that the new owner of the Padres, Ray Kroc, may he rest in peace, grabbed the microphone at the home opener and said, "I've never seen such stupid ballplaying in my life."
Kroc died on Jan. 14, eight days after his team signed Gossage, and the Padres are wearing the monogram R A K on their sleeves this season. "My father-in-law would have liked what he saw Opening Night," says Padre president Ballard Smith. "He was such a perfectionist that he used to say, 'Well, we won, but I didn't like the way we won.' He might have taken the microphone in the opener and said, 'I've never seen such beautiful ballplaying.' "
The Padres continued to perform beautifully the rest of the week, winning three more games to give them their best start ever. With a 4-1 record following Sunday's 8-5 10-inning loss to the Cubs they led the National League West by two games.
"I'm the only one who's been here since 1980," says utility infielder Tim Flannery, "so I've seen a lot of players come and go. But this year, the atmosphere is different. It's time to start winning." The Padres are the only team in the division never to have won the title, and, in fact, they've never finished higher than fourth in their 15-year history. They've made some progress in recent years, but it's strictly been rags to middle class—they are coming off two straight .500 seasons.
But only three players who were in last year's Opening Day lineup for San Diego, first baseman Steve Garvey, catcher Terry Kennedy and shortstop Garry Templeton, were in the Opening Day lineup this year. The '84 team is a strange mix of young and old, with players in odd positions. However, offensively the Padres are well balanced with speed and power, lefties and righties, and Nettles, who has more homers than any third baseman in American League history, will platoon with Luis Salazar. As the line in every science-fiction movie ever made goes, "It sounds crazy, but it just might work."
The mad scientist here is general manager Jack McKeon, a throwback to the days when front office men smoked cigars and dealt players like trading cards. "Believe me," he says, "there aren't many players out there I haven't discussed in a trade." McKeon, who became G.M. in 1980, may be the only one with a cult following; the Padres even sell TRADER JACK T shirts in their souvenir shops. McKeon is also known as "The Sultan of Swap," and no wonder, because only six Padres came up through the farm system, and only two of them, rightfielder Tony Gwynn and McReynolds, are regulars.
Trader Jack may have pulled a fast one this past December when he dealt one of the many lefthanded relievers he has collected, Gary Lucas, to the Expos for starter Scott Sanderson, then sent Sanderson to the Cubs for Martinez, Pitcher Craig Lefferts and third baseman Fritzie Connally. "Actually, I very nearly had four teams involved in that deal, and possibly five," says McKeon.
Martinez reminds a lot of people of the Baby Bull himself, Orlando Cepeda. Charlie Fox, who managed the Cubs at the end of last season, also managed Cepeda when he was with the Giants, and he took to calling Martinez Plo-plo, Spanish slang for "fat boy," because that's what he called Cepeda. Martinez is hardly fat, although he does have a sizable rear, and he's a power hitter of great potential. He hit 37 homers for Triple-A Iowa and the Cubs last year, tore up the Puerto Rico Winter League and drove in 21 runs in spring training. A natural first baseman, he may struggle in left, but then the Padres have a long and rich history of bad leftfielders, going back to Al Ferrara and continuing with Dave Kingman, Jerry Turner and Gene Richards.
McReynolds was McKeon's initial draft pick in 1981. Trader Jack decided to take McReynolds while other clubs ducked because of a knee injury he suffered at the University of Arkansas. The Padres put him through a year of rehabilitation, and in his first two minor league seasons he was named Class A Player of the Year and minor league Player of the Year. McReynolds felt he embarrassed himself when he was called up to the Padres last season, but he's over that. He set a Padre record with seven spring-training homers. "I think the fans will get a lot more excitement out of Carmelo and me this year," he said after the Opening Night victory.
It didn't take long for him to make good on that promise, either. On Saturday he had three hits and four RBIs, and Martinez had three more hits and one RBI as the Padres beat the Cubs 7-5.
Neither Martinez nor McReynolds had ever heard of the M & M Boys, as in Mantle and Maris, before, but the label appears to have stuck. During the Welcome Padres luncheon at the Scottish Rite Center on April 3, Kennedy told everyone, "I read in the paper this morning about them being the M & M kids, and I just want to say that it's rather obvious which one is plain and which one is peanut."
M & M isn't the only thing the Padres have taken from the Yankees. On Jan. 6, they signed Gossage to a five-year, $6.25 million contract, despite whispers that he had lost something off his fastball. "Those rumors were started by the people who couldn't sign him," says Nettles. "I don't think he's lost a thing."
"All I know is that he scared the hell out of me on Opening Night," says Bevacqua. "And if he scares his teammates, imagine what he does to the opposition." So far, he's done plenty, pitching the last two innings of the team's first victory, getting the save in Thursday's 8-6 win and another on Saturday. In the Saturday game he also flied to right in his first regular-season at bat since he left Pittsburgh for New York in 1977. "I think having to bat helps a pitcher better understand hitters," he said. "It's helped me."
Gossage is overjoyed at having escaped the Bronx Zoo. "I would have left years ago, but I had a contract to keep," he says. "The game was no longer fun, it was a job. It tells you something when Graig Nettles, who was as tough mentally as anyone I've played with, couldn't take it any more."
After his debut as a Padre, Gossage said, "Hallelujah! Now I'm having fun again...it's like being reborn...a new lease on life...I feel like a kid...I haven't felt like this in a long time...it's great to be part of this team, just one of 25, and I don't care if I'm just a lug nut that holds the tire on."
On March 31, the Padres traded pitcher Dennis Rasmussen, whom they had originally gotten from the Yankees, for Nettles. Nettles was unhappy at being platooned in New York, and New York was unhappy at Nettles being unhappy, so he was dealt. Nettles claims the real reason for the trade was his comments about Yankee owner George Steinbrenner in Nettles' recently published book Balls, though Steinbrenner denies it. In any case, the Padres were only too glad to take his lefthanded power, his glove and his leadership. And Nettles was only too glad to go home to San Diego; he and his family live in Del Mar, his folks in El Cajon.
"I was happy to get away from New York," Nettles says. "The owner said things about me being a destructive force on the club, so why play for a guy who keeps sniping at you? I finally had enough of him. I'll always be a Yankee. I love those guys, I love the team, and I'll always root for them. In fact, I have to get home now to watch the Yankees. They're on at 5:30."
It may be only a coincidence, but the Padres will be changing uniforms next year, getting rid of their Halloween colors and going to pinstripes: thin brown and gold stripes on white (home) and gray (away), with an all-brown cap.
The other major change the Padres are attempting this year is making Alan Wiggins the starting second baseman. Wiggins, who has stolen 101 bases in a season and a half, shuttled between the outfield and first base last year. But he began his professional career as a second baseman, and made himself into one of the best outfielders in baseball. The Padres think he can be successful there as well. "I'm still not as comfortable at second as I was in the minors," says Wiggins, "and I know I'll have days when I embarrass myself. But I think I'm going to be a pretty good second baseman someday."
The Padres do have some known quantities. Kennedy, the clubhouse wit whose face resembles Pinocchio's before he told a lie, had more RBIs (98) than any fulltime catcher in baseball last year, and that was despite being constantly pitched around. Garvey, who missed 62 games in '83 after suffering a thumb injury, homered and drove in four runs Thursday. Templeton's chronically bad knees are better, and he's only 28, so it's possible that he could still be the best fielding shortstop in baseball, even better than Ozzie Smith. He was the star in Friday's 3-2 victory, getting three hits and sliding home with the winning run in the bottom of the ninth. Gwynn has a chunky build, a funny voice and a stinging bat—he batted .309 last year and was hitting .461 through Sunday.
"We still have some ifs and buts," says Kennedy, and one of the ifs is starting pitching. The starters were lit up in spring training, but, Manager Dick Williams says, "That was true of the staff I had in Oakland the years we won the Series." If Eric Show, who is publishing a book of his guitar solos, can remain consistent, and Dave Dravecky and Tim Lollar, another former Yankee, can return to form, the Padres' pitching will be fine, especially with Gossage there to save them.
"GOOOOSE!"
PHOTO
Garvey is one of three holdovers from San Diego's 1983 Opening Day lineup.
THREE PHOTOS
Taking candy from a baby is a whole lot easier than taking on Martinez and McReynolds.
PHOTO
Jack would trade you the shirt off his back.
PHOTO
Despite his bad knees, Templeton is still one of the finest shortstops in the game.
TWO
PHOTOS
After Templeton successfully dived for the dish, the Cubs dished it out to the ump.
THREE PHOTOS
Gossage, who says he likes "to take my hacks," can learn a few lessons from Gwynn (left), who always seems to get his bat on the ball, and Nettles, the American League's career homer leader among third basemen.