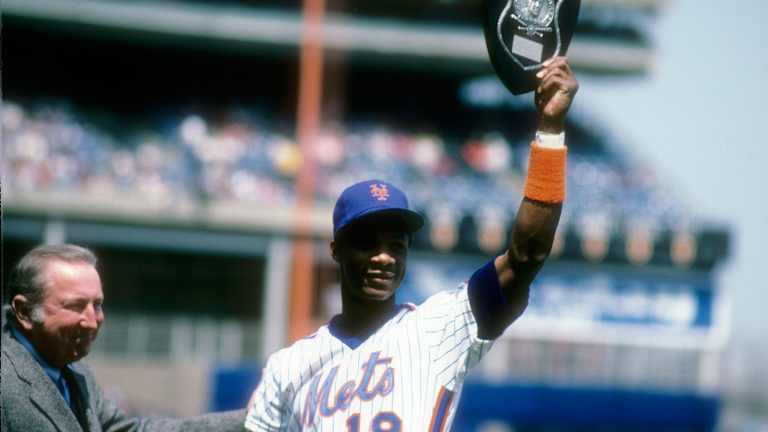 Publish date:
The Perils Of Darryl
A rugged apprenticeship behind him, Darryl Strawberry could be swinging into an amazin' future
Standing in the on-deck circle, Darryl Strawberry looked at the man on the mound, Cincinnati righthander Mario Soto, and then started for the batter's box. "I was a little excited," Strawberry would say. And with reason. It was April 2, a sunny Opening Day in Riverfront Stadium, the start of a new baseball season and the first at bat of the year for the Mets' 22-year-old rightfielder. In fact, Strawberry had been waiting all winter for this moment, knowing that the Mets would be opening in Cincinnati and figuring that Soto, the star of the staff, would be the opposing pitcher. Now there was Soto, sure enough, with that hopping fastball and the nastiest change-up in the National League. Walking to the plate that day, Strawberry thought: This is it. This is the challenge all over again, me and Mario Soto.
Strawberry didn't particularly cherish the memory. The only other time he had faced Soto was in Shea Stadium last May 6—in his first big league game after the Mets called him up from Tidewater. Soto fanned him three straight times, then popped him up, keeping him off-balance and tentative with an array of heat and changeups that bedazzled the young rookie and left him muttering to himself in the clubhouse. "I remember thinking after that game, 'Whew! I never saw that kind of stuff in the minor leagues,' " Strawberry recalls.
That performance, not incidentally, launched the rookie on an excruciating slump that lasted weeks and that found him, on June 5, batting .161. The Met front office wondered whether he should be dispatched back to the Class AAA Tides. Strawberry eventually got on track, of course, hitting .313—with 14 home runs and 34 RBIs—over the last 54 games of the season. Indeed, despite the depressing start, he ended up hitting .257, with 26 dingers and 74 RBIs, and was voted the National League Rookie of the Year.
But that was then and this was now. Strawberry says he wanted to prove to himself that "I can hit anybody." Anybody in this case was Mario Soto.
On the first pitch Soto offered a changeup down and inside, and Strawberry swung mightily but missed. "I was too excited," he says. So he stepped out of the box and told himself: Just relax. Be patient. Wait for your pitch. Soto's second pitch was a carbon copy of the first, and Strawberry kept the bat on his shoulder. Ball. On the third pitch, he took Mario Soto downtown.
It was another change inside, only slightly higher, and Strawberry crushed it. Uncoiling his 6'6", 195-pound body, his unusually quick hands whipping the 32-ounce bat into the pitch, he drove it in a long arc into the second deck in right-field, the ball caroming about the seats some 450 feet away. He felt a rush. "It felt good getting ahold of it," Strawberry says. "As I rounded the bases, I thought, 'I did it!' It was an important at bat for me. I had something to prove, and it tickled me."
For Darryl Strawberry, acting out a seemingly fanciful script that was even better in reality, the 1984 baseball season had begun. By Sunday he had hit three home runs in nine games, helping the Mets to a division-leading 6-3 record, and was batting .294, with three runs batted in. He has just turned 22 but already there are signs that he might fulfill the promise seen by Brooks Hurst, his baseball coach at Crenshaw High in Los Angeles. "You could be a black Ted Williams," Hurst had told him. To which Straw replied, "Who's Ted Williams?"
"Ted Williams is an awful large order," says former Met manager George Bamberger, "but if someone asked me, 'Who coming up will be another Ted Williams?', well, I'd have to say Darryl Strawberry. I've compared ballplayers to other ballplayers but never to Ted Williams. Fifteen years from now this kid will turn out to be one of the greatest ever to play the game."
"If he continues to try to improve and he takes the game seriously, both offensively and defensively and as a base runner, within three years Darryl Strawberry can probably be as valuable a ballplayer as anybody in the game," says Chicago Cubs manager Jim Frey, who, as the Mets' batting coach in '83, was Strawberry's guru. "The whole question is his continued motivation and ambition and willingness to work."
"If we miss on this young man, we all better look for a career change," says Frank Howard, Strawberry's manager last year after Bamberger resigned on June 3. "He can go as far in baseball as any man living."
Strawberry sighs and rolls his eyes. He has heard it all—the Ted Williams talk and the sky's-the-limit stuff—and he wants it to go away. "I don't believe that," he says. "I don't want to get my mind confused with all that crap. That's what I call it: crap. I just want to be myself. I just want to be me. To have fun and play baseball."
Strawberry has been playing ball since he was growing up in the parks and playgrounds of the black ghettos of south Los Angeles, the third of five kids raised in a three-bedroom stucco ranch by his mother, Ruby. Today she is an engagingly bright, charming and youthful woman of 43, who works as a circuit designer for the phone company. The Strawberry children—Michael, 24, Ronnie, 23, Darryl, Regina, 21, and Michelle, 19—never went hungry, but it wasn't an easy childhood. Their father, Henry, a postal worker and frequenter of racetracks, moved out when Darryl was 13. Ruby objected to his gambling their money away and finally filed for divorce.
"I couldn't live like that," she says. "We had the house to take care of, the children to take care of, and everything that goes along with it. He played the horses. He wasn't responsible."
"If you don't take gambling, you don't take me," Henry says now. "It's a part of my life.... I loved her, but she says that I didn't show it. I hated to leave."
Darryl felt the split more deeply than the other four children, and today he still is angry at his father, though his mother says, "Be forgiving." Darryl is trying. "I'm getting better about it," he says. "It's kind of out of my mind now. It was very tough to handle, being young." His father's leaving home was, to be sure, the central trauma of his youth, and he's still searching for a guiding male hand to lead him. That he has repeatedly found it, from Little League to high school to minor and major league ball, makes him say, "Hey, I've been blessed."
First there was John Moseley, a 66-year-old retired truck driver who's an assistant baseball coach at Compton College and a neighbor of the Strawberrys. In his spare time Moseley gave baseball tips to Michael and Ronnie Strawberry. "When I talked to Mike and Ronnie, Darryl listened and absorbed," Moseley says. "Darryl was never a guy to mess around with girls. Baseball is all Darryl talked about. He was a baseball fanatic."
Moseley took the boys to the park every day, drilling them in fundamentals, and treating them as if they were his own kids. "He'd hit a hundred fly balls a day to each of us," says Ronnie. "Then we'd sit at his house and talk about ball—'Anybody can pull the ball,' he'd say. 'Can you go the other way with it? Or up the middle?'—and he'd take us to the Jack-in-the-Box to eat." And he'd preach—in favor of studying in school and against fighting in the streets. "Your hands are too important to be punching a guy around," Moseley would tell them. "How you gonna play ball with a broken hand?"
"Mister Moseley taught me everything I know about the game," Strawberry says. "I heard it first from him."
In sandlot ball Darryl was renowned for his towering home runs. "When my brother gets to high school, you're going to see something," Michael, already a star centerfielder, told Hurst. When Darryl finally got to Crenshaw, Hurst found he was a moody, troubled youth, still bitter about his father's leaving home. "I think that had a lot to do with it," Straw says. "We had to go through a lot of rough times. I carried a bad attitude around with me. I believed I didn't have to listen to anyone, didn't have to do anything."
One day, coming in from the outfield between innings, he jogged partway, then walked the rest. Hurst tapped the "C" on Darryl's Crenshaw baseball cap and said, "You want to wear this C, you've got to hustle." Darryl turned to him and snapped, "Nobody touches me!" Then he took off his uniform shirt, handed it to Hurst and quit the team. "I just can't play anymore," he said. Strawberry later appealed to Hurst for reinstatement, but the coach refused to take him back, in the belief that this might straighten out his head. It did, at least for a time. "It was the best thing that happened to me," Strawberry says.
In his junior and senior years, Darryl became the Straw that stirred Crenshaw's drink, a selfless player on both the basketball and baseball teams, and what struck both Hurst and assistant basketball coach Joe Weakley were qualities that Moseley had seen years before: an inordinate sense of pride—a real distaste for losing—and a willingness to learn, a receptiveness to teaching. "He hated to look bad; he hated to lose," says Hurst.
Playing rightfield and pitching occasionally, Strawberry hit .400 his senior year, with five home runs and 18 RBIs; he was the high school sensation of the country. He had it all: power, speed and an arm to boot. In June 1980 the Mets made him the No. 1 choice in the free-agent draft. Brother Michael joined the Dodgers' farm system that same year, but by now it was Darryl, heading for Kings-port, Tenn., in the Rookie League, who was the Strawberry picked to make it.
"That little town of Kingsport had a press conference," says Chuck Hiller, the team's manager at the time. "I never saw that in the Rookie League before. I just broke him in slow, a big old gangly guy, like he is now." And more lonesome than he thought it possible to be. Ruby had woven a tight family ("I'm close with all my kids," she says. "We're just like brothers and sisters") and it was the first time Darryl was away from home. He called every day, collect, his voice mournful and subdued. "He was so pitiful," Ruby says. "He was just lost. I'd get the phone bill and almost faint. I told him, 'The money you got is going to be gone if you keep calling.' "
Strawberry had arrived in Kingsport about a month late, after successfully holding out for a signing bonus of $200,000, and what Hiller recalls most vividly is Darryl hovering outside his office door, standing there before and after games, wanting to talk about anything. "Well, come on in," Hiller would say. The whole season was painful. "It was very lonely," Strawberry says. "Gee, they were very kind people, but I didn't think I'd ever get out of there." When he finally did, hitting .268, with five home runs and 20 RBIs, there were murmurings among Met officials that perhaps they had made a mistake in drafting him.
So, too, in 1981, when he went to Lynchburg, Va. and again struggled during the first part of the season. But then he got himself together and wound up hitting 13 homers and knocking in 78 runs. "His work habits on the field weren't real good the first third of the season," says his Lynchburg manager, Gene Dusan. "Then he started pushing himself and concentrating." At one point, Strawberry thought of checking out and going home. "I was confused," he said.
"There was a lot of pressure on him, and he didn't know how to handle it," says catcher Lloyd McClendon, his roommate and confidant in Lynchburg for a spell. "He went into a shell and tried to deal with his problems on his own. He was troubled. There were times when he talked about going home. I told him, 'Hang in there. Keep your head on right.' He was young, he didn't have good work habits. In this game, it's easy to stay in bed all day, especially on the road. What Darryl didn't understand is that you have to get your body regulated. You've got to get up early, walk around and do things—go to the mall, take in a movie. It's very easy to lie around and grab a bite and go play. But you're not getting yourself ready either physically or mentally to play the game."
Whatever it was that hounded him in Kingsport and Lynchburg and raised doubts about his future in the game, vanished in 1982. Playing for the Jackson (Miss.) Mets, he tore up the Texas League, hitting 34 home runs with 97 RBIs and becoming the league's Most Valuable Player. "In Jackson, he just put it all together," says Dusan, his manager there, too. There were days Strawberry astonished his coaches. In Shreveport that year, after dropping a fly ball that cost a run, he came to the plate with two men on to a standing chorus of hoots and jeers. "With one swing of the bat, he silenced that crowd like I'd never heard a crowd silenced in my life," says Bobby Valentine, Jackson's first-base coach at the time. "The ball went so high and so far, I was in awe."
Strawberry went to spring training with the Mets in 1983 and played extremely well—but the team cautiously decided to send him back to Tidewater. However, when the parent club floundered, he was called up with predictable hype and hoopla. It's no wonder, then, that Soto fanned him three times, that he froze and grew tentative at the plate, and that the savior of the franchise collapsed so totally into that slump that he seemed about to disappear altogether.
"It was the most difficult time of my life," Strawberry says. "I was nervous, scared. Being in the majors, going to play in all those big parks in front of all those people. And you hear your name announced. It kind of gives you the jitters. That's what it did to me, especially when I tried to pressure myself to do well, to try to hit home runs, to show people what I could do. I got off wrong, thinking that way. I wasn't staying within myself. I was overswinging, uppercutting, giving the pitchers too much credit. I came in cold, trying to save the ball club. I was trying to do things I couldn't do. I had to find myself again, to really believe in what I could do at this level of ball."
In the midst of these agonies, during a three-day road trip to Montreal in mid-June, Howard and Frey decided to bench Strawberry in hopes of getting him to relax and regroove. And also to make him work harder. "They felt I wasn't putting out enough, and they were right," Strawberry says. "But I didn't know it. I wasn't aware of it. It wasn't attitude. I was struggling, confused. I was thinking of so many things: girl friend, family, being in the big leagues, going from city to city, new pitchers. I was suddenly in the majors with all these guys I'd been watching for years. Wow! I didn't know where I fit in. It hit me all at one time."
Strawberry had always had pillars to lean on—Moseley when he was a young boy, Dusan when he was a young man—and he suddenly had another in Frey. Says Strawberry, "I didn't know which way to turn, who to turn to, and Frey steps in like a father and says, 'I'm going to help you, but you got to help yourself, too.' I'm still green, but then I was really green. Frey's a great guy. He really helped me."
The two spent hours walking ball parks together in the quiet mornings and afternoons before games. They sometimes spent 40 minutes before a game just walking together. Some passages from the gospel according to Frey:
"A lot of good things are going to happen over the next 15 years if you put in the work.... Study pitchers and get a feel for what each one is trying to do. Baseball can be so much fun if you think of playing in the majors as a gift. Fans and writers are dying to appreciate you and respect you if you just give them a chance.... Work on your defense.... A big salary is a player's reward for what he has already done. Most of the players you hold in awe aren't the players they once were.... Think, 'I'm the best player on the field tonight,' and you will be. Lock that in your head and nobody can take it away."
Only once during that first week did Strawberry fail to show up early. Frey upbraided him: "I'm not going to chase you around the clubhouse, and I'm not going to call you and I'm not going to beg you to do what you should be doing."
Over the next 10 weeks, Strawberry never again missed a session with Frey, and gradually he came out of the slump. He grew more aggressive at the plate, and he shed his reluctance to hit balls to the opposite field. "I started turning things around," he says, "and all of a sudden I was back to myself."
Strawberry began 1984, his first full year in the big leagues, after an outstanding spring training in which he worked to level off his stroke, cut down on strikeouts—he fanned 128 times in 420 at bats last season—and hit to the opposite field. With Frey gone, Strawberry's guru now is the well-traveled Bill Robinson, the new Met batting coach, who preaches from his own text: "The money lies in the RBIs. You don't have to hit a home run to drive in a run.... Think left-field, up the middle. Wait longer on the pitch. If a man can drive a ball to the opposite field like you can, doesn't it behoove you to use two-thirds of the field instead of just one-third?"
During the winter in L.A., Strawberry practiced batting in a park near his mother's home, where he was living. He's not a partygoer or a carouser. "I wanted to stay close to the family," he says. "I wanted to share my moments with them." He broke up with his fiancée, USC basketball star Paula McGee, last fall, but this winter he found another in Lisa Andrews, a former model who is now a loan coordinator in a Pasadena bank. They plan to marry in January.
"I'm going to take care of my whole family," Strawberry says. "I'm battling for all of them." Except for Henry Strawberry, of course, who has remarried and deeply feels the estrangement from his youngest son. "I've never been a part of his success," he says. "Sometimes I feel down about it, but what can I do? As long as he's happy, I'm happy."
At the moment, Straw is. He took some mild heat for statements he made this spring that he planned to take over as team leader, but he doesn't care. The Mets have needed a leader for years. "Leadership is going to be another challenge to me," he says. "I'm tired of getting ripped about how terrible the ball club is. How can this club get out of the cellar if it doesn't have any leadership?"
The question answers itself. For Strawberry, leadership began the only way it can begin, on the third pitch of the new season, when he took Mario Soto downtown.
PHOTO
Strawberry creamed a Soto pitch to get revenge—and to get off to a rousing start.
PHOTO
Darryl's dad, Henry, gambled and lost his son's affection when he left the family.
PHOTO
"We're just like brothers and sisters," says Ruby of her bond with her five children.
PHOTO
Darryl and Lisa, a former model who now works in a bank, plan to marry in January.
PHOTO
Moseley was Strawberry's first mentor.
PHOTO
The speedy Darryl is the berries on the bases, too.