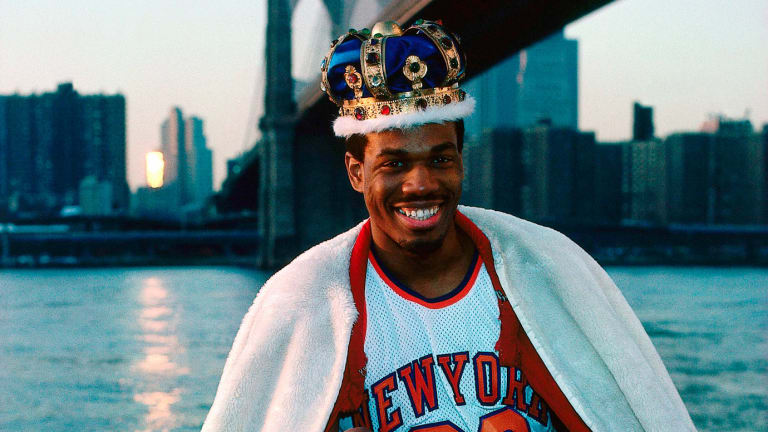 Hero Of A Showdown In Motown
The magnificence of Bernard King was a real revelation as the Knicks popped the Pistons in the playoffs
About the shot. Bernard King shoots it on the way up. You're not supposed to shoot it on the way up, of course. But he does. When he first started doing it, when he came into the league, people used to say, "Hey, Bernard, cut it out." But did he cut it out? No. King still shoots a basketball on the rise, rather than at the top of his jump, and lately his rise has been so swift that there have been times when it has seemed he might simply float away.
Last week King pulled himself up to a level that few players ever reach, leading the New York Knicks to a 3-2 victory over the Detroit Pistons in their opening-round playoff series. Despite playing with dislocated middle fingers on each hand, splinted to hold them in place, and a case of the flu that overtook him midway through the series, the 6'7" forward averaged 42.6 points a game in one of the NBA's most extraordinary playoff performances ever. His 213 points against Detroit, on 84-of-139 shooting (60%) from the floor, broke the five-game record of 197 set by the Lakers' Elgin Baylor against Detroit in 1961. "Elgin had it long enough," King said with a certain finality after scoring 44 points in the Knicks' series-clinching 127-123 overtime victory last Friday night.
Whether he was thundering down the left sideline on a fast break—his back arched so extravagantly he sometimes looked swaybacked—or twisted like a pretzel around some hapless defender trying to establish position in the low post, King was always magnificent. When he was asked whether his performance against Detroit had been nothing more than a hot streak, King responded by scoring 26 points in 32 minutes as the Knicks lost Game 1 of the Eastern Conference semifinals 110-92 to the Celtics at Boston Garden. "At what point is it no longer considered just a roll?" King asked. "Why can't a person improve? Why can't a person simply take his level of play up another notch?" King sounded as if what he accomplished required nothing more than a slight adjustment. "Right now he's just one tier above everybody else," said Knicks guard Rory Sparrow.
If King's performances occasionally seemed to transcend the games themselves, nothing he might have done—and he did plenty—could have overshadowed the events of the heart-stopping fifth game last Friday in Detroit. Because King and Pistons guard Isiah Thomas brought all the heat of their genius to the game, Bernard nearly passed out at half-time from loss of fluids and Thomas nearly knocked out the Knicks at the end of regulation play.
The showdown in Motown wouldn't have been necessary if the Pistons hadn't botched things so badly at the end of the first game, on April 17 in the Pontiac Silverdome. Detroit had led that game 93-87 with only 1:16 to go but wound up losing the ball on three straight possessions, on steals by guards Darrell Walker and Sparrow, and the game 94-93. King scored 36 in the opener, which seemed like a tidy bundle at the time, although, as subsequent events proved, he was about as close to mortal as he ever came during the series. In Game 2 he scored 46 despite the dislocated fingers, strained ligaments in his left knee and severe leg cramps. In a breathtaking 5:29 in the first quarter, King ran off 23 consecutive points, breaking by eight the NBA record held by Wilt Chamberlain and Walt Hazzard.
By then the Pistons had begun sending fresh defenders at him in waves. "From that game on they were basically trying to bang me out of my spots," King says. So instead of wearing himself down trying to fight his way to his favorite shooting positions, King decided to adjust his game to every new defender. "I learned each player's deficiency on defense and I tried to attack it," he says. King simply jumped over 6'6" forward Kelly Tripucka, used his quickness to go around 6'10" forward Kent Benson, used trickery on 6'9" center Earl Cureton ("He went for fakes a great deal," says King) and always shot jumping into rather than away from 6'8" forward Cliff Levingston, a great leaper. "It's very hard to block a shot at close range," reasons King.
It's also hard to block a shot that's released as quickly as King's. "We tried fronting him, backing him, everything," said Pistons coach Chuck Daly. "He was utterly magnificent. He shoots the ball on the way up and gets the shot off so fast he leaves you flat-footed. With the great ones, the ball barely passes through their hands on the way to the basket."
The problem for the Knicks in Game 2 was that the ball was barely passing through anybody else's hands. King took 35 of his team's 88 shots (the most he's attempted all season), while center Bill Cartwright got off but five as the Knicks lost 113-105. Tripucka, who might have had reasons of his own for saying so after King had reduced him to rubble, suggested New York's offense was geared too much to King. "If you're just relying on one player while the other four guys stand around," Tripucka said, "when the end of the game comes and they finally do get the ball, they may say, 'Well, what do I do with it now?' You've got to be able to have five guys to go to at the end of the game." Those words were to haunt Tripucka later, when it was the Pistons who were reduced to a one-note offense in the critical final moments of the series.
If the Pistons were less predictable than the Knicks, they were also more erratic. That was never more apparent than in the third game as the series moved to New York's Madison Square Garden. Detroit opened with its lowest-scoring half of the entire season (36 points, two fewer than the Pistons had scored in the first quarter of Game 2), and then finished with its highest total for a half (77 points) in a 120-113 defeat. Thomas, who was plagued by streakiness early in the series, was at his most bewildering. He was scoreless and Had one assist in the first half, then came back with 29 points in the second half. Sometimes Isiah was Dr. Jekyll, sometimes Mr. Hide.
King routined it again in the third game—46 points, 10 rebounds, four assists—but in Game 4, even his 41 points weren't enough to hold off the Pistons, who rallied for a 119-112 victory. Detroit's win was assured when Knicks coach Hubie Brown stayed too long with his second unit, which Thomas picked apart in an 8-2 Piston minisurge that New York was unable to overcome. Thomas electrified the Garden crowd with a basket at 10:00 that put Detroit up 97-90, first speed-dribbling the ball between his legs as several Knick defenders swarmed him, then, as they fell away in awe and disbelief, slithering down the lane for a double-pump layup.
"When he dribbled the ball between his legs like that," said New York guard Ernie Grunfeld, King's teammate at Tennessee, who was on the sideline at the time, "everything seemed to happen so fast that all you could do was say, 'Did he really do that?' You can tell a play is great when all the guys on the other team's bench look down to make sure the coach isn't watching, then start giving each other high fives." Thomas later scored on another drive after passing the ball behind his back to himself, which looked even more confusing than it sounds. "If a guy jumps over here, you go left," Isiah explained, sort of. "If he jumps there, you go right. If he doesn't jump nowhere, you've got to make him jump."
Jumping is a subject about which the Pistons should know a little something, having three of the game's leading levitators in Levingston, Cureton and 6'7" forward Terry Tyler. "We didn't have the athletes they did," said King, acknowledging what had become evident to everyone. The Pistons' flyboys had simply jumped over New York's front line, scoring 24 points on second shots in Game 4 and outrebounding the Knicks in each of the first four games. "You can't just get in front of them," New York forward Truck Robinson said. "You've got to put your body on them. Those guys can rise."
The question was, could Detroit—making its first playoff appearance in seven years—rise to the challenge of a fifth game against the more experienced Knicks? If they were going to do it, the Pistons would have to get along without their home court, which had been rented out for a motocross. The game was moved to Joe Louis Arena, a five-year-old building in downtown Detroit so unfamiliar to most of the suburbanite Piston players that trainer Mike Abdenour had to give them written directions so they could find it.
The Pistons found the arena, but they couldn't find the range, sinking only 44% of their shots in the first half and 41% in the second. The arena was hot and smoky, and Brown stripped down to his shirtsleeves only minutes into the game. "It was so hot in there," said King, "I thought I was about to pass out at half-time. I was just totally zapped." King picked up his fourth foul early in the third quarter and sat out for nearly nine minutes, during which time the Knicks actually widened their lead to six points. New York was still clinging to a 106-98 advantage with 1:57 left in the game when Thomas suddenly broke loose. During the next 94 seconds he scored 16 consecutive points on successive 14- and 16-foot jumpers, four free throws, a driving three-point play, another speed-dribble drive for a 14-foot jumper and finally a three-point shot from about 26 feet to knot the score at 114. Thomas was so mesmerizingly elusive that he drew Sparrow into three fouls in the space of only 30 seconds. "God placed his hand on Isiah and said, 'You shall play basketball, and you shall play it great,' " said Sparrow later.
But in the overtime that followed, Thomas missed three shots and fouled out, center Bill Laimbeer also went out on fouls, and Tripucka—who hit just 8 of 23 shots for the night—continued to misfire. King scored four of his 44 points in the extra period, including a decisive rebound slam. "It was like he was playing on an eight-foot basket on that play," said Grunfeld.
After the game King trundled off to his sickbed. "I haven't comprehended yet what I've done," he said. "Could anyone in his right mind have said before this series that I would have to score 40 points a night for us to win? I don't think so. Fortunately, I don't think I'll be expected to do this for the rest of my career."
PHOTO
Benson was one of many Pistons who failed to muffle King's 44-point Game 5 eruption.
PHOTO
Whether shooting three-pointers or driving the lane, Thomas drove the Knicks bananas.
PHOTO
Walker, up and at 'em here in Game 5, had sealed Game 1 with his defensive heroics.
PHOTO
Tripucka, who knocked the Knicks' one-man attack, came up empty (8 for 23) in Game 5.