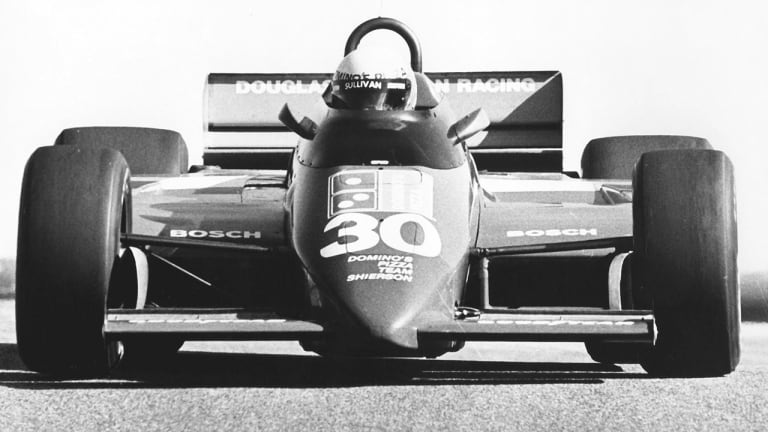 A Hunk Hits The Road
If you don't think life as a front man for a pizza chain can be beautiful, take a careful look at Indy-Car driver Danny Sullivan
Think of it as a movie scene: the crowded lobby of an elegant Southern California hotel a few Sunday mornings ago. Dozens of lean, tanned people lounge around the lobby bar, Bloody Marys in hand, wearing racing togs—crisply pressed designer jeans and polo shirts with collars upturned, sailing sweaters draped across their backs, the sleeves knotted loosely in front. Now comes a closeup shot of two men standing slightly apart. One is Paul Newman, his Mediterranean-blue eyes concealed behind wide Porsche Design sunglasses. The other is turned out in a trim black sweat suit—correct, a black sweat suit. He's 5'11" and slender, a sweep of hair spilling across his forehead like a raven's wing. When he laughs, which is often, his teeth flash brilliantly. Everybody else in the room is aware of the two, but they are left undisturbed because, as we all know, beautiful people never bug other beautiful people.
Ah, but along comes a clutch of merely average racegoers, both the men and women wearing mesh-top TEXACO caps. They now circle the two men at a respectful distance, too timid to approach and ask for autographs, but one of the women can clearly be heard as she seizes her companion's arm and hisses, "It's him! Look at him there. Oh, god, I could just die." Then, as they finally leave after one more circle, she becomes courageous enough to shout, "Danny! We all love ya, Danny."
Danny? Not Paul? Absolutely right; that's a true story, a documentary, race fans.' Even Newman grins broadly at the irony of it.
The object of the lady's admiration at the Long Beach opening of the 1984 Indy-Car season was Daniel John Sullivan III, rakishly charming at 34, a guy who just can't escape his role in life, and heaven knows why he'd even try. We must face up to this right away. It's Sullivan's burden to be a phenomenon—a boulevardier in Indy-Car racing. What's more, Sullivan may well be the leading representative of a new breed that has infiltrated the sport—a band of drivers who are bringing a touch of the Continent to what has always been a greasy-handed U.S. property.
Suddenly, they're here, stirred right in with the good old Foyts and Unsers and Johncocks, a group of world-traveling, sleekly groomed men, articulate in a variety of accents that speak of Monaco as well as Malibu. Don't be upset; that's just the way it is. The new breed includes Teo Fabi of Milan, formerly of the Italian national ski team, holder of a degree in aeronautical engineering—and holder of the one-lap Indy qualifying record (208.049 mph); Geoff Brabham of Australia, son of Sir Jack, the three-time world champion in the '50s and '60s; Emerson Fittipaldi, himself a two-time Formula One champion and something of a national treasure in his home country of Brazil; plus such former F/1 regulars as Roberto Guerrero from Colombia; Bruno Giacomelli, an Italian who rests between races in Monte Carlo; and the French-Canadian Jacques Villeneuve. Not to mention Michael Chandler, the son of Otis Chandler of the Los Angeles Times publishing empire. Even Mario Andretti, three-time Indy-Car champion and 1978 F/1 world champion, now punctuates his speech with such throw-away lines as "if you will." Small wonder that Parnelli Jones, a Brickyard hero of the '60s, shakes his head and sighs, "Racin' ain't what it used to be."
Needless to say, Sullivan can tell an omelette aux rouelles de courgettes from an Egg McMuffin; he understands good wines and off the track drives a Mercedes 500 SEC. And while that's typical of the New Breed, Sullivan is in a class by himself when it comes to transfixing a gorgeous lady with an appraising glance across a crowded room.
"Well, it's a dirty job, but somebody's got to do it," says Alan Nierob, a p.r. man who works for Sullivan. Nierob hands out a press packet that includes a release from something called Man Watchers, Inc., in which Sullivan is identified as one of the ten Most Watchable Men in the World, along with such as Richard Gere, Steve Garvey and Stacy Reach. Sullivan, therein described as "tall, dark and handsome," is the only race driver in the bunch. "And," says Nierob, "he has also appeared in Vogue Hommes in Paris."
"Look, you guys," says Sullivan, now up to his thorax in a crowd of lovely man-watchers, "none of this stuff is important. Can we just maybe talk about racing instead?"
And high time, too. Lest anybody get the wrong idea, Danny Sullivan is as gritty as anybody in the game, a driver of accomplishment and developing talent who has paid his dues through 12 lean years of sports car, Can-Am and F/1 competition. Last year on the Grand Prix circuit, he qualified for all 17 races in one of the few non-turbo race cars in the field—which is akin to driving your grandma's Nash Metropolitan in a pack of Shelby Cobras—and finished 17th in the world standings and highest of all rookie drivers. He has twice won the Las Vegas Caesars Palace race in three years on the Can-Am trail, was Rookie of the Year on that circuit in 1980, second in '81 and finished third in the final standings in '82. In his first time around in Indy Cars, in '82, he finished third in the Atlanta 200, highest ever for a newcomer. And in the Indianapolis 500, he qualified 13th at 196.292 mph and was sailing along in fifth place when he crashed into the wall on the 149th lap. Sullivan walked away from that one; as the late stock car driver and noted hell-raiser Curtis Turner once said of racing, "It is possible to crash out there, ya know."
Which brings us to the 1984 PPG Indy-Car circus, two events down, 14 to go, which is in-your-face racing of the meanest kind. Next Saturday, Sullivan will try to make the 33-car lineup for the 68th running of the Indianapolis 500 in a striking new 750-hp red, white and blue machine. His credentials are established, and yet he says, "Sometimes I get the impression that nobody takes me seriously. I don't know, maybe I seem too laid-back. But I promise you, I'm here to race. What is it? Perhaps it's just that I can do other things besides sit around all night talking about sway bars and slip angles."
Well, we know what it is. But maybe the best way to understand one member of this prototype of the New Breed is to back up a few years.
By the time Danny Sullivan was a teenager in Louisville, the family was pretty much resigned to the fact that a wild one had somehow sprung up in their conservative circle. Not a black sheep, exactly; more a charcoal-gray model. Big Dan, Danny's father, is a well-to-do contractor whose large-scale construction projects sprawl across Kentucky and North Carolina, a no-nonsense man who expected his oldest son to take over the business one day. "But by the time I was 18 or so," Sullivan says, "he was growing more and more desperate with me—and he finally called me in and laid down one final rule if I was to continue living under his roof. He told me, 'If you're not home from your dates by the time I get up to go to work in the mornings, that's it.' And you know, I still couldn't seem to make the deadline."
But happily there's an explanation. It wasn't mere rebellion; Sullivan is one of those fortunates whose libido walked up and whammed him over the head at an early age to get his attention, and he has been listening ever since. Says his current car owner, Doug Shierson, "It doesn't hurt one bit that he's also good-looking."
Big Dan and Peggy Sullivan raised four children—Danny's older sister, Susan, younger sister, Tracy, and brother, Tommy, now 27, who's being groomed to take over the business. All but Danny have married. Not the best student in the world, Danny was at one point hustled off to the Kentucky Military Institute, where he majored mostly in sports and trying to be, as he recalls, "the baddest guy around." By his senior year, he had lettered in swimming, track and football and had made allstate in soccer, "mostly because there weren't hardly any soccer teams in those days." Still, it was the little adventures in between that foretold the future.
For a time as a kid Sullivan had terrorized his quiet neighorhood in a homemade go-kart—and then advanced to his mom's Oldsmobile wagon. "When I was real young I used to wash the car for her," he says, "and in the process of, you know, backing it out of the garage and straightening it out in the driveway, I'd drive it around the block four or five times." And then came nocturnal trips in the Olds when the folks were away, occasionally with the cops in pursuit. They didn't often catch him, and now, this many years removed, perhaps it's safe to mention the Great Escape. "I'd jump the curb," Sullivan says, "go up and over the sidewalk, and then turn out the lights and ghost quietly through everybody's backyard on the way home, across lawns, under clotheslines and around patios, until I got to our place." Once the car was missing and reported stolen, and guess who was behind the wheel when the police caught up with it, Sullivan was 14 at the time.
Perhaps the best way to discipline a kid like this is to put him to work as a laborer in the family business, which was fine until Danny discovered the forklift in the construction shed. "Ever hear of anybody spinning the wheels on a forklift?" he says. "It can be done if you really put your mind to it. Or get a forklift into a four-wheel drift with a load of lumber. They have a tendency to get tippy."
(The senior Sullivan is now, this very minute, learning about this for the first time. Well, at least that explains the trouble with the old forklift, Dad.)
After two semesters at the University of Kentucky where he was carrying a 1.7 grade point out of a possible 4.0, Sullivan, then 19, surrendered to his instincts and left home for New York. This was in 1969. In the next couple of years he worked as a janitor, as a lumberjack in the Adirondacks, as a sod-cutter on a farm, as a hand on a chicken ranch in New Jersey and as a cabdriver in Manhattan—including the one night when, wheeling through midtown at a nice clip, he spun out the cab with a fare in the back. So much for that. Each one of these transitory brushes with employment is punctuated with the explanation, "Well, I met this girl...." And each episode, Sullivan figures, enriched his life. By 1972 he was working as a waiter at Maxwell's Plum, a fixture in New York's First Avenue swinging singles scene, knocking down $300 to $500 a week and absolutely up to here in stunning women—which is precisely what makes Maxwell's such a plum. But then, unexpectedly, Sullivan's life changed direction.
Enter Dr. Frank Falkner, now a professor of pediatrics at the University of California, an old family friend and a respected official in international road racing. Asked by the senior Sullivans to check on their wandering boy, the good doctor elbowed his way through the crowd in Maxwell's Plum and asked his key questions: What in the world is going on here? And what, if anything, do you plan to do with the rest of your life?
"Dr. Falkner is like a surrogate father to me," says Sullivan. "He knows absolutely everything. He taught me about good food, fine wines and manners. And on a whim, I told him there was only one thing in life I really wanted. I wanted to become the world driving champion."
Sullivan says this while sitting on the Long Beach pit wall, admiring the race car that he hopes will carry him to the next plateau in his career. As Indy Cars go, it's appropriately handsome, winged front and back, wedge-shaped to cleave the wind, just 31 inches high and powered by a raucous turbocharged Cosworth V-8 engine. If it had a hood ornament—or a hood—it would read DSR-1 (for Douglas Shierson Racing). It's an entirely new car created by British engineer Ian Reed, who back in 1980 was the design chief for the March organization and creator of its extremely successful March 81C Indy Car. And it's quick. For a few dizzying moments at the Long Beach Grand Prix, on April 1, the DSR-1 and Sullivan were the fastest combination on the course, hauling some 186 mph down the straightaways and gaining on pole sitter Andretti, who was somewhere far out in front winning the race from door to door (SI, April 9). But the brakes heated, then failed, and Sullivan spun out on his 22nd lap to be credited with a 24th-place finish. The next weekend on the one-mile Phoenix International Raceway oval, Sullivan qualified 19th and charged up to finish sixth. This is called "shaking the sucker down," and the DSR-1 is expected to be in fighting shape for Indy qualifying. Sullivan already is.
It isn't easy to reminisce with gorgeous girls breathing down the back of one's neck, so Sullivan retreats to the other side of the car and stands with one foot up on a tire. He's wearing his flameproof red driving suit, a color that particularly suits him, with his blood type, ORH+, stitched over one pocket. Between friendly little waves, winks and acknowledgments of random man-watchers, he contemplates the events that brought him here.
In their meeting at Maxwell's Plum, Falkner hadn't been put off by the fact that Sullivan's principal racing experience had been spinning the wheels on a loaded forklift and dicing with clapped-out Impalas on the way to LaGuardia Airport. "As my 21st birthday present," Sullivan says, "he sent me off to England to the Jim Russell Driving School." The school at Snetterton Circuit, 50 miles north of London, has a long history of producing race drivers who go on to become giants—Fittipaldi, for instance. It's a no-frills place where good looks count for nothing, and for maybe the first time in his life, Sullivan began to bear down. The faculty at Russell was impressed enough to pronounce him potentially one of the best, and, racing license in hand, he began to roll. First year out, in 1972, racing a just-off-the-drawing-board Elden Formula Ford, he ran 53 races and finished sixth in the championship standings. He gained a reputation for smoothness in cars that were little more than rolling junkyards, and he scrambled for sponsors along with the rest of them, slept in his van like a Gypsy and at times went hungry.
Which isn't to say he had lost any of his natural charm. For a time Sullivan boarded with F/1 team owner Ken Tyrrell, running errands and doing odd jobs for his keep—but eventually he went apartment hunting. "I saw this ad in the local paper," he says. "Three single girls were seeking a fourth girl to share the rent on their house. So I went up and knocked on their door. One of them came out and looked me over. And I said, 'Look, I'm not a girl, but....' And she said, 'You'll do just fine.' "
By 1975 Sullivan had advanced to Formula Three and better sponsors, and he wound up second in that European series. Whatever it was, rolling junkyards included, if it had wheels and a chance of making the field, Sullivan was available to drive it in Europe or North America. "Gimme a Volkswagen," he would say, "and we'll try and put it on the pole."
Then came the Can-Am campaigns, road racing in the biggest and fastest sports cars ever built. Indeed, when Fabi climbed out of a Can-Am car owned by Paul Newman, Sullivan was immediately signed for the next season. That ride, however, came in a new car, less than affectionately known as the U.S.S. Budweiser because of its carrier-class size and weight. Nonetheless, Sullivan stepped in and raced it successfully in 10 events—and he and Newman have been pals ever since.
The most colorful of Sullivan's sponsors—no contest—has been another Kentuckian, Garvin Brown, artfully disheveled and hugely wealthy. Brown is a scion of the Brown-Forman family, famous for various liquid products, notably Jack Daniel's. It was Brown who spotted Sullivan as a talent years ago and, over drinks in the Polo Lounge at the Beverly Hills Hotel—where else?—signed him to race the 1980 Can-Am season. And it was Brown who arranged and put up the money for Sullivan's Grand Prix campaign last season in Tyrrell's F/1 car.
"It's been said that good drivers are either born or made," Brown says, "but Danny's got both elements at once. Look into his eyes. That tells you a lot. Listen, I once had him checked by a sports physiologist. Reflexes terrific. Agility wonderful. But his vision is something else. 'Damn,' the physiologist told me, 'this guy's got better peripheral vision than any goalie I've ever seen.' Well, Danny wants to be world driving champion and I'm going to help him do it."
This season, between Indy-Car races, Sullivan will drive Brown's spanking new 800-hp, 2.65-liter Porsche 962 in the World Endurance Championship series while the two of them keep an eye on the Grand Prix scene, watching for the chance to make the move into a competitive car.
The Indy-Car push will stretch through next November at Las Vegas, and Sullivan and crew are poised to attack. Team captain Shierson will have three new DSR-1s ready for Indy, and there's a touch of irony, certainly poignancy, in the fact that Sullivan's teammate will be three-time Indy 500 winner Johnny Rutherford, who'll drive just the three 500-milers on the circuit. Thus does the New Breed move in. And here's why:
For a third season, Shierson's racing effort is being sponsored by an outfit called Domino's Pizza, which has some 1,300 outlets in 48 states, Canada and Australia. All specialize in over-the-phone orders and guarantee delivery to your door within 30 minutes, hence the No. 30 on Sullivan's race car, another little marketing nudge. But Domino's is getting more than exposure; it's also getting the top-of-the-line model New Breed driver, sophisticated and well-spoken, an international somebody who brings a breath of glamour to the world of half-pepperoni, half-anchovy. Oldtime Indy drivers aren't very good at that sort of thing. Bless 'em, they tend to mumble a bit and struggle with their grammar and—horrors—forget to mention the sponsor's name when a microphone is jammed into their helmets. But Domino's has Danny Sullivan. You want a 30-second spot in the pits? More? Sullivan can deliver it with perfect timing, ever gracious, never forgetting to mention the sponsor's name—several times. A company banquet or hospitality tent appearance? Of course. Sullivan will do 10 minutes on dough, anchovies, mozzarella and all, and send shivers through a crowd.
Rich sponsors make it all work, of course, buying the best cars and crews in the game. Many of the newer drivers have added "personal sponsors." They are akin to patrons of the arts, really—people who have nothing to sell but who want to be a visible part of racing's excitement. Garvin Brown is that to a degree, and another of Sullivan's big backers is his pal Jim Stout of Newport Beach, Calif., a real-estate investment tycoon whose support includes a private Learjet, limos and key contacts in the business world.
No matter that Sullivan got off to a late start and is now five years older than the average Grand Prix driver. He has arrived, and if this is what racing has come to, well, there's no going back. A couple of years ago Sullivan had a minor gap between his front teeth, and now even that has been taken care of. Ask yourself this question: Can you imagine a Lloyd Ruby or a Jimmy Bryan undergoing cosmetic dentistry?
Sullivan's steady girl friend of two years is stunning Julie Nini, whose ex, Bobby Lamm, is a composer-singer-keyboardist with Chicago. Danny and Julie divide their time between her place in fashionable Brentwood and his in ultra-fashionable Aspen, surrounded, of course, by elegant people in both cities. In this group, movie stars run second.
But let it be known that Sullivan has earned the respect of his fellow drivers, who couldn't care less about his profile. Their only concern is the quality of his driving and the threat it provides, both to their personal safety and to their chances of reaching Victory Lane. As to the first, Sullivan is known as a charger but not a reckless one. As to the second, he's regarded as a threat indeed.
But sometimes one wonders if the old-line drivers aren't overlooking one factor that today's sponsors assuredly haven't. Sullivan and the other Continentals are always on television and radio. The press seeks them out; in Sullivan's case, dogging his every footstep, and therein lies a message. It might not really matter if Sullivan wins at all. He'll surely win enough; he'll continue to finish well, and he and the others are the best representatives their products have ever had. Hang the results, it's the exposure that counts.
And here, at last, is Sullivan strolling to his race car, helmet under his arm, the graceful sweep of hair spilling over his smoothly tanned forehead, elegant in body and face, amid a crush of tender ladies. Viewing all this, one can't help but feel ugly.
Standing off to one side is Bill Brodrick, a public relations man for Union 76, red of hair, florid of face in the glaring sunlight, as lumpy as you and me, who takes in the scene with the wistfulness of every man jack in sight. He turns and sighs, "Look at him. You know, with all that, it's a damn shame that he has to go out and drive that car."
TWO
PHOTOSPHOTOBetween spells of racing and spiels on sausage pies, Sullivan relaxes with Julie at her home.PHOTOAspen neighbors Jill St. John and Danny have the world at their feet.PHOTOSullivan often travels to the races in "personal sponsor" Stout's private jet plane.PHOTOBrown's goal for Sullivan is F/1 fame.