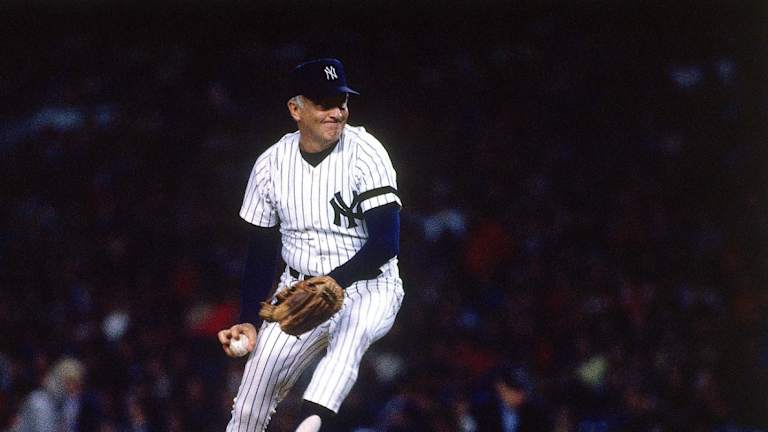 KNUCKSIE HASN'T LOST HIS GRIP
Unceremoniously booted out of Atlanta, 45-year-old Phil Niekro is starring for the Yankees. Indeed, his knuckleball is dancing with the sprightliness of a polka step
There is a guy that we all know. He's Polish and proud from the state of Ohio.
He is the nicest guy you'd ever want to meet. Both on the field and off the field, he sure is hard to beat. There are very few pitchers that throw as great as he. His name is Phil Niekro, and he's on the Yankees. When you meet him, we know you'll want to say. Thank you, Atlanta, for bringing him our way.
At about 7 a.m. on Feb. 19, Phil Niekro Jr. was driving south on I-95, just north of West Palm Beach. He had left Atlanta at 11 p.m. the night before in his Dodge Ramcharger, and he was heading for his 25th spring training. "I've done it so many times," he said recently, "I could've put the truck on automatic pilot and it would've ended up in the parking lot of Municipal Stadium in West Palm."
But this time his destination lay farther south, in Fort Lauderdale. "I was driving along, thinking maybe I'd stop by the Braves' clubhouse anyway, have a cup of coffee, say hello to some of the guys. Then I told myself, 'Hey, you don't work there anymore.' " So, to blow away his maudlin thoughts as he approached the Palm Beach Gardens exit, Niekro rolled down the windows, popped in a cassette of his favorite polka group, the Jimmy Sturr Band, and turned the Ramcharger's stereo up to nearly full volume.
Niekro was the first player in the Yankee clubhouse that morning. He sat there, watched the other players come in, exchanged greetings with them. "At first, I kept thinking, 'Look at all these guys who got traded over to the Braves over the winter.' Then I thought that maybe I'm on some kind of All-Star team with these guys. I just sat in my locker—it must have been for three hours—looking at the Yankee uniform. Every once in a while I'd go and get a grapefruit juice, half expecting that when I came back the shirt would have turned [Braves'] light blue. I didn't put the uniform on until the last minute. I was afraid it wouldn't look good, I was afraid it wouldn't feel right."
Pinstripes look just fine on Phil Niekro. After spending 25 of his 45 years in the Braves organization, Niekro is indeed a New York Yankee. Through Sunday he was 7-2, with an American League-leading ERA of 1.20. He's the toast of two towns, New York and—ha-ha—Atlanta, and he has even been dubbed St. Knucksie. His good friend Jimmy Sturr has written Hey Niekro!, the first verse of which we've already danced to, one and a two and, one and a two and....
It isn't quite fair that Niekro should be getting almost as much acclaim for winning seven games in New York as he did for winning 268 games in Milwaukee and Atlanta—no, he didn't pitch for the Boston Bees. But he's one man who has it coming to him. "He's a lovely guy," says his new manager, Yogi Berra. "He's also been a lifesaver."
Without Niekro, the Yankees, in sixth place through Sunday with a 19-25 record, would be in even direr straits. That's why the Yankees have talked to Sturr about appearing at a possible Polka Night later this season. And, on Aug. 6, the Braves will honor Niekro with his own night, unveiling a model of a sculpture done by artist Ed Dwight, who wrought the figure of Hank Aaron that now stands outside Atlanta-Fulton County Stadium. Niekro's statue will cost an estimated $150,000, and the Braves are taking donations from fans. Aaron may be baseball's home-run king, but Niekro is the most popular athlete in the city's history. Dwight hasn't started work on the piece yet, but the classic pose would be Niekro, hands on knees, looking in for the knuckleball sign.
It almost goes without saying that Niekro and his younger brother, Joe, of the Astros, throw a knuckleball, the mysterious pitch with no spin that does polka hops as it wends its way toward the plate. The knuckleball's effect is to make hitters look foolish. It can also make some of baseball's non-playing personnel look foolish. Niekro spent more than six years in the minors before he stuck with the Braves, and there were times when the organization wanted to release the kid who was signed out of a tryout camp for $500 in 1958. Twenty-five years later the Braves did grant him his release, telling him they didn't need him anymore. They saw his 11-10 '83 record (3.97 ERA) as the beginning of the end.
On Oct. 6 of last year, Ted Turner had to tell Niekro that manager Joe Torre and his coaching staff wanted him to retire. It was a painful task for Turner, who's very close to Niekro. But Torre had said, "When I was a catcher, I couldn't catch him; when I was an opposing player, I couldn't hit him; and the last two years, I've found out I can't manage him." The Braves never did make a formal announcement of Niekro's release, and on Oct. 7 Niekro ended up holding an impromptu farewell press conference in the Braves' clubhouse. The Braves later stated that their reason for asking Niekro to retire was that they wanted to make room for Ken Dayley in the starting rotation.
Suffice it to say none of this has worked out the way the Braves had planned. The 25-year-old Dayley was sent down to Richmond on May 1 after getting off to an 0-3 start with an ERA of 5.30, but not before The Atlanta Journal started running a chart comparing Day-ley's stats to Niekro's. Niekro, well aware of the pressure on Dayley, has phoned him twice to offer his encouragement. Niekro told him that he, too, was sent down to Richmond, when he was 27.
Four teams expressed serious interest in Niekro—the Cardinals, the Pirates, the A's and the Yankees. The money offered by all four clubs was equitable, but the Yankees seemed most sincere to Niekro. "The Pirates would've been nice, because they're close to my hometown [Lansing, Ohio], but they wouldn't give me a no-trade contract," Niekro says. "The A's were on the other coast, which meant I couldn't fly home to Atlanta on off-days. The Cards wouldn't give me a no-trade, either, and they also wouldn't give me a single room on the road—I haven't roomed with anybody since Ron Reed in 1969. But the Yankees really seemed to want me—they offered me a two-year contract [at $700,000 a year] and told me they wanted me to be the No. 2 man in the rotation, behind Ron Guidry."
The man who pushed hardest to bring Niekro to the Yankees was Clyde King, who managed him in 1974-75. King, the Yankees' General Manager of the Month, was a special assignment scout at the time, and he sold owner George Steinbrenner on Niekro at the winter meetings in Nashville in early December. "All these years I'd been telling George we had too many older players," says King, "so when I recommended Niekro, he naturally wondered what was going on, me wanting us to sign a 45-year-old pitcher. But I knew he could still pitch and win maybe 14 games, and there's a lot of Catfish Hunter in Phil, so even if he didn't win a game, he was going to be a great influence on our younger pitchers."
Niekro signed with the Yankees on Jan. 6, and on Feb. 18 said goodby to his wife, Nancy, and their three sons, ready to begin his new life. "The first few weeks were a little tough," says Niekro, "and I'd drive up to West Palm to go fishing or eat with friends, but after a while I came to the realization I had to let go." Niekro was all business in spring training. Says Jeff Torborg, one of the Yankees' two pitching coaches, "We do these boring, monotonous drills with the pitchers on covering the bases in certain situations, and Phil was so good, and so enthusiastic, even after all these years, that we used him as our example."
Niekro is a notoriously slow starter, partly because his knuckleball doesn't really start to dance until the warm weather. His April record for seven seasons before this one had been 5-18. So why did he get off to such a great start this year? One reason is that he acclimated Yankee catchers Butch Wynegar and Rick Cerone to the knuckleball by throwing more in spring training than ever before. He's also using his other pitches—a good slider, a modest 80-mph fastball and a screwball—more than he did in Atlanta because Gibson and Torre discouraged him from throwing them. "Here, I'm not going to get chewed out for giving up a homer on a slider," says Niekro. "The Yankees know that because I've played as long as I have, I should have enough intelligence to know what to throw."
In the American League, Niekro doesn't have to bat and run the bases, which can take its toll on a man his age. He's also free of the distractions he had in Atlanta. Niekro is very active in charities, and he has a hard time saying no. "When he was home, the phone never stopped ringing," says Nancy. His favorite charity benefits spina bifida, and for the fourth year in a row he has a golf tournament planned this summer to aid the fight against this birth defect. Unfortunately, the tournament is scheduled for the All-Star break, and Niekro may have to make a rare appearance—he has pitched only 1'Öì innings in four All-Star Games.
Niekro, typically, says he's been lucky. "It just happens that one pitcher on the staff usually gets all the breaks." (Actually, he hasn't gotten all the breaks. The Yankees didn't help him at all in 1-0 and and 4-0 defeats, and he pitched 10 innings of a 6-5 13-inning win over Milwaukee and didn't get the decision.) Niekro also gives a lot of credit to Wynegar, whom he says is a natural at catching the knuckleball. "Even with a runner on third who can score on a wild pitch or passed ball, he's not afraid to call it," says Niekro. Wynegar, for his part, says, "It's been fun catching him. He's crafty, he's competitive, and he's got that damn pitch—who the hell thought that up?"
The Yankees have had knuckleballers in the past. Berra remembers calling for a few from Bud Daley and Tom Sturdivant, and he says Mickey Mantle had a great one on the sidelines. When Niekro arrived, Pete Sheehy, the 73-year-old clubhouse man, dug up an oversized mitt last worn to catch Bob Tiefenauer in 1965. It was used during spring training, but now Wynegar is wearing a new glove that Torborg ordered from MacGregor.
The Yanks are so impressed with Niekro's success that they dispatched pitcher Matt Keough to Nashville to work with Hoyt Wilhelm, their minor league pitching coach, whose own knuckleball should have already earned him entry into the Hall of Fame. Keough says he prefers the three-fingered knuckler to the two-fingered butterfly that Wilhelm and Niekro favor, and King says the progress reports are good. Niekro, by the way, is the one who convinced Keough to go all the way down to Class AA.
The knuckler is such a bizarre pitch that even Niekro claims he doesn't understand it. "Nobody has ever given me a good, definite explanation as to why the ball does what it does," he says. "I've heard all about that aerodynamic stuff, and the Reynolds [Osborne, not Allie] number. [This states that a sphere with a three-inch diameter makes its maximum movement between 50 and 75 mph.] I've had people film it at 28,000 frames a second. I've had a guy do his college thesis on my knuckleball, but nobody's made me understand it.
"The thing that I feel sort of guilty about is that with every other pitch, you try to make the ball do something, spin it to make it curve or sink or sail. All I try to do is make the ball do nothing." Every once in a while, Niekro will throw the perfect knuckler, a ball with no rotation whatsoever, a ball so erratic that it "explodes," he says. "If every pitch I made was like that, every game would be a no-hitter."
Knuckleball pitchers are like snow-flakes: No two are exactly alike. Brother Joe uses a slightly different grip on his knuckleball, and he can throw it faster than Phil. Phil throws it at three different speeds from four different motions: over the top, three-quarters, sidearm and submarine. "I've hit off a lot of knuckleballers," says the Angels' Reggie Jackson. "Wilbur Wood, Eddie Fisher, Hoyt Wilhelm, Charlie Hough. But Phil Niekro, more than any of them, pitches rather than throws the knuckleball. He showed me three different kinds. And you can see the competitiveness on his face."
Some knuckleballers take meticulous care of their fingernails and eat lots of gelatin to strengthen them. Niekro, though, bites his nails, and the only extraordinary dietary measure he takes is to eat seafood on the afternoons of his starts. At 604 starts (11th on the alltime list), Niekro has had more fish than Arthur Treacher.
Hey Niekro, hey Niekro,
Throw that knuckleball.
Strike 'em out and we'll all go home,
But we'll stop at the Polish Hall.
We'll sit and talk and have a few
And dance around the floor.
We'll all come back tomorrow night
To drink and dance some more.
Phil Niekro Sr. worked the Lorain Coal and Dock mine in Blaine, Ohio. Every day he would go six or seven miles deep into the hills with his lunch pail, from 7 a.m. to four in the afternoon, for $2 a day. "He'd be totally black," says Phil Jr. "We'd be sitting in the driveway with our gloves, waiting for him to come home. He'd put his bucket down, and we'd play catch. Summer nights, we didn't eat till 9 p.m., and Mom and Phyllis and Joe, until he was old enough to play, would sit on the porch and watch us. Sometimes Dad was so tired he'd just fall asleep on the floor. But he always had time for us."
Phil Sr., 70, who still lives in Lansing with his wife of 47 years, Ivy, was quite a pitcher in his day. "He used to pitch in the Mine Workers League," says Phil Jr., "and I remember seeing and hearing accounts of him striking out 18, 19 guys in a game. He was a good first baseman, too." But one day Phil's dad threw his arm out. Another miner (and former minor league catcher), named Nick McKay, taught him the knuckleball so he could continue pitching. And Phil Sr. passed the pitch on to Phil Jr. and later, to Joe. "We had a game to try and see how many knucklers we could make each other miss," says Phil Jr.
McKay is alive and well at 73 and living just down the road in Shadyside, Ohio. "I taught it to Phil Sr. back in '39 when I was the catcher on his sandlot team," says McKay, who once played D ball in Bluefield, W. Va. "I picked it up when I was 12, just sort of learned it all by myself." In the summer of 1941 McKay also played baseball for the Army's 37th Division, while stationed at Camp Shelby in Hattiesburg, Miss. "We had a pitcher who could really throw heat. His name was George Fingers. Maybe you've heard of his son, Rollie."
To this day, McKay says, he can still throw the knuckleball. "Two fingers, just like always, no rotation. I show it to neighborhood kids every once in a while. I'm in pretty good shape."
Lansing was and still is a small town of 850—no stoplights, no police, no mayor, three beer joints, a post office and a grocery store that was owned, when Phil was growing up, by a Czechoslovak family named Havlicek. The Havliceks, who lived five houses down and across Route 40 from the Niekros, had a boy a year younger than Phil named John, and the two of them were inseparable. "If I wasn't sleeping at John's house," says Niekro, "he was sleeping at mine, and if I wasn't eating at his house, he was eating at mine."
Someone would do well to bottle the water in Lansing. From that town have come Havlicek, recently inducted into the Basketball Hall of Fame; Phil Niekro, who will surely end up in Cooperstown; Joe Niekro, who has 180 major league wins of his own; Bill Jobko, a linebacker who played nine years in the NFL; and Johnny Blatnik, an outfielder with the Phillies and Cardinals in the late '40s.
The bond between Havlicek and Phil remains strong. "We sort of fed off each other," says Phil. "My family was always talking sports, and because John's folks came from the old country, he didn't get much of that around his house. My benefit came from hanging around a fantastic athlete, and John was that."
They played all sports together, and Havlicek remembers that Phil was a pretty good shooter in basketball: "He wasn't the fastest guy in the world or the tallest, but he could shoot. In baseball, he loved to bat and pitch, but he didn't like to field, which seems funny now because he has all those Gold Gloves [five].
"In football he did have an unusual talent," Havlicek continues. "I remember one time in practice Phil suddenly collapsed in the middle of the huddle. The coaches all came running out, thinking it was a delayed reaction to a hit on the previous play. But Phil had just fallen asleep. Boy, could he sleep. When he slept over at our house, we had to shake up the smelling salts to wake him up." The Braves claim he has never seen a takeoff or a landing.
Havlicek and Niekro also share a love of fishing. When Phil left the Braves last fall, he bought bass boats for two of his friends, trainer Dave Pursley and traveling secretary Bill Acree. Years earlier, Havlicek's graduation gift to Phil had been a pair of waders. "The night I gave them to him," Havlicek says, "he went out to the pond at the country club and kept stuffing bass in the waders because he didn't have a stringer."
Phil used his knuckleball all through his years at Bridgeport High School, and the only game he ever lost was in the Eastern District championship game his freshman season. The opposing pitcher for Warren Consolidated High of Tiltonsville in that game was a senior named Bill Mazeroski. Occasionally, a bird dog would watch Niekro pitch, but none ever tried to sign him. "I didn't even know pitchers in the big leagues threw the knuckleball," he says.
In July of 1958, when he was 19, Niekro attended a Braves open tryout with about 150 other players on an island in the Ohio River, between Bridgeport and Wheeling, W Va., called simply The Island. Says Niekro, "The scout who ran it, Bill Maughn, signed two guys out of there, me and a first baseman from West Virginia named Pete Zeck. They gave me $500, but I had to fight for that."
Except for a disastrous start at Wellsville (7.46 ERA in 35 innings) in '59, Niekro was a fairly effective, albeit wild, minor league reliever. "But I knew J wasn't going anywhere," he says, "because, at the time, the Braves had all this money to burn from the years they were in the Series, and I was pitching with guys who signed $30,000, $40,000 bonuses. Why should they pay attention to someone they signed for $500? I later found out that the only guy in the organization who fought for me was Birdie Tebbetts. He kept telling the Braves, 'Stay with the kid, stay with the kid.' "
Niekro pitched in 10 games for Milwaukee in '64, but it wasn't until '65 that he won his first major league game, at the age of 26. That day, May 13, Niekro pitched five innings of scoreless relief against the Pirates at Forbes Field. That was also the date of birth of Jose Rijo, Niekro's next-door neighbor in the Yankee clubhouse and the savior of two of Niekro's first three victories.
That same year Niekro also met Nancy, a stewardess on the Braves' charter flights. After a long-distance, long-letter courtship, they married in '66. "The airlines were on strike at the time," she says kiddingly, "so I didn't have anything else to do."
General manager Paul Richards, who helped to design the oversized catcher's mitt while managing Wilhelm in Baltimore, made Niekro a starter in June of 1967, and except for the strike year, 1981, he has pitched at least 200 innings and won at least 11 games every season. And for many years the Braves weren't very good. He's won 20 games three times, most recently in 1979, when he was 21-20. He pitched a no-hitter against the Padres in '73, and he has tied or established nearly every record for wild pitches.
In addition, Phil helped save Joe's career by convincing him that he had to throw the knuckleball as his primary pitch. Joe, who has much the better arm, was a journeyman fastball-curveball pitcher with the Cubs, Padres and Tigers before the Braves picked him up on waivers in '73. He was a full-time knuckleballer by then, but when the Braves asked him to go down to Richmond in '75 and Joe refused, he was sold to the Astros and became one of their most consistent winners.
"The knuckleball is a great pitch," says Joe. "I don't care if you're 65, if you've got a good knuckler, you can still pitch in the major leagues because it's so tough to hit. I thought Phil got a raw deal in Atlanta, but that's past already. His pitching is doing all the talking that's necessary."
One measure of Phil Niekro's longevity is that he's now second on the list of games won after age 40 (78), tied with Cy Young and just 11 behind Jack Quinn, who pitched for nine major league teams during a 23-year career. Wilhelm pitched until he was almost 49, so it's possible that Niekro can reach 300 victories—he's 25 short. The only real worry relates to the fact that his reactions have slowed. Knuckleballs may go in soft, but they can come back hard.
Perhaps the Braves had come to expect too much of Niekro. Certainly he wasn't the type of pitcher favored by Gibson, who tends to like those who throw as hard as he did. But knuckleballers serve as a counterbalance to the other pitchers on a staff. And given the state of the Atlanta pitching rotation, one wonders why the Braves would discard him so precipitously.
Some people suggested that Torre saw Niekro as a threat to his own managerial status. After Dave Bristol was fired in 1977, a reporter asked Niekro who he thought would make a good manager, and Niekro said, "Me." He discussed the job with Turner again when Bobby Cox was canned after the '81 season. "When I was growing up, Lou Boudreau was the player-manager at Cleveland," says Niekro. "I felt I could do both." Which brings to mind the scenario of a manager pulling himself from a game.
But Torre wasn't that insecure. Closer to the point, he and Niekro did have differences over when to pull him. Says Torre, "Knucksie was the type of guy who never wanted to come out, and I think the media made more of it than it should have because in all the years when the team wasn't good, they just left him out there. I really think the media in Atlanta was motivated by their personal feeling for Phil, which I understand, but we never really had any problem."
About the decision to discard Niekro, Torre says, "When we had an organization meeting at the end of the year, everybody agreed that we didn't feel he could get his knuckleball over on a regular basis. To think the decision was made for any other reason is asinine. I'd rather be saddled with a wrong decision than keep a guy I like who can't help us. Plus, the fact is, I don't dislike Phil. I like and respect him."
Even so, the "retiring" of Niekro was badly handled. "There's something wrong with the game when they take all the feelings out of it," says Braves utility man Jerry Royster. "Getting rid of Phil was like the Red Sox trading Yaz."
He played on the Braves for nearly 20 years.
King George made the deal with Atlanta's Teddy Bear.
There is no doubt that the South has really lost.
Thank you, Atlanta, for sending him to us.
On a Wednesday night not long ago in Yankee Stadium, Niekro started against the Cleveland Indians and eventually won 11-4, giving up one earned run in seven innings. Nancy, who was visiting for the week, was in the stands behind home plate, sitting with Jimmy Sturr and his date.
"It's funny," said Nancy, "but I watched hundreds of players get traded and released by the Braves...get 'em Phil!...and I always felt badly. But I never had any real empathy for what they and their families went through...I don't like all the room behind home plate for wild pitches...Now I know how they felt, and I feel a little guilty for not having experienced it before...damn, well, at least the run is unearned...The toughest part was not knowing where, if anywhere, he was going to pitch. Actually, Phil talked about retiring even before the Braves told him to. When you're told to quit, though, it's a great incentive...I don't think their heads are in the game with that much of a lead."
Neither Nancy nor Phil holds any grudge at all against Niekro's former boss, and Turner has said, "I'm so happy for him, I could bust my buttons. He's one of my best friends. He'll be back here one of these days. I don't know in what capacity. Maybe fishing with me. I enjoyed fishing with him more than watching him play, because I could talk to him."
Says Niekro, "One of the reasons I loved being a Brave was that I enjoyed playing for Ted Turner. I even thought it was a good idea when he came down to manage that one game a few years ago—if you owned a business, wouldn't you want to go to the office to see why things are so screwed up? I know baseball is a business, and I could understand it if the club would've been strengthened with me out of the way.
"But I didn't agree with them. Nobody knows you any better than you know yourself, and I know I was one of the 10 best pitchers in the organization. Ted told me, 'Phil, I'll take you to spring training if you think you can win.' But I told Ted, 'You can't take my hand and say, give my friend here a chance.' You can imagine the bad vibes that would've caused. The people Ted hired made it clear they didn't want me."
But his leaving has become a blessing in disguise. Had Niekro retired with full honors, he might have faded away, beloved but sooner or later forgotten. Now he gets to be appreciated all over again, not just for his enduring talents as a pitcher, but also for his considerable qualities as a man.
Take, for example, the way he conducts himself after a game. In the Yankees' 11-4 win over the Indians, third baseman Toby Harrah looked awful afield and cost the Yankees and Niekro a couple of runs. So the first thing that Niekro mentioned in the postgame interview was how impressed he was that Harrah tried to go to rightfield in the first inning to move the runner up. In the dark and stormy Yankee clubhouse, Niekro's locker is bathed in a radiant shower of light.
Besides his work for spina bifida, Niekro has been involved in the Big Brothers program, the March of Dimes and the Empty Stocking Fund. Says Havlicek, "Growing up where we did, we both felt we had to help other people. We were blessed with people who helped us, so we're just returning the favor." Says Joe, "My brother isn't a good person. He's a great person. I know this sounds corny, but he and my father are my idols."
Niekro also writes an occasional poem, although he's very private about his work. Nancy's favorite is a narrative poem he did about growing up in the Ohio Valley.
Niekro isn't a New York kind of guy, and he's living in a suburban New Jersey hotel. He misses his home and his kids. Two of his boys, John, who's 14, and Michael, who's 11, are both experimenting with the knuckleball. Phillip, 16, may not throw it, but he does understand it. "He's quite a mathematician, really into his books," says his father. "And that's fine with me."
Thanks to Sturr, Niekro has a counterpart to Lansing in the Catskills. Sturr, whom Niekro met a year ago at a polka concert at the Palm Beach Kennel Club, lives in Florida, N.Y., a town in the Catskills with a population of about 2,000. The following is an account of Niekro's visit as published in The Warwick Valley Dispatch (please excuse the spelling of his name): 
NEIKRO VISITS FLORIDA
Phil Niekro, the N.Y. Yankees' 45-year-old knuckleball pitcher, was in the Village of Florida Monday (April 23) visiting his friend Jimmy Sturr, the well-known polka band leader. Sturr reportedly accompanied Neikro to the Black Meadow Club for some trout fishing. Also along were Gus Kosior and Jim Sturr, Sr.
The New York Yankee pitcher was also treated to some "good old-fashioned" Florida hospitality at Harter's Hotel on Main Street by hostess Marcy Bilvin. Bilvin presented Neikro with some homemade horseradish, called the hottest in town. The ' horseradish was made by Leo Bilvin.
The afternoon's score, according to "reliable" sources, was Neikro—2, Sturr and Kosior—0. Sturr Sr. "just isn't saying."
"That was a great day," says Niekro. "Just like Lansing. Old Polish guys sitting around, smoking pipes, drinking shots and beer. Only difference was they were farmers, not miners. Good fishing, good talking."
According to Sturr, Niekro is creating a cult. "The Polish people in the whole New York area are becoming Yankee fans because of what Phil has done," he says. "I know one man who lives in Florida who wasn't much of a baseball fan until he met Phil. Now he goes upstairs 15 minutes before every game that Phil starts to say a prayer for him."
(Chorus)
Hey Niekro, hey Niekro
Throw that knuckleball
Strike 'em out and we'll all go home
But we'll stop at the Polish Hall.
If he thinks he can keep up
And if he wants to go,
Tomorrow night when we return
We'll bring your brother Joe.
On a bright Thursday afternoon at Shea Stadium, a man and his wife sat in Box K-6F, seats 6 and 7, behind home plate, watching the Mets play the Braves. They drank beer and ate hot dogs just like the rest of the fans. Nobody around them knew that the man in the light blue wind-breaker with the burgundy Jimmy Sturr baseball cap tilted over his eyes was none other than Phil Niekro.
It just so happened that the day after Niekro's fifth victory, his old team was playing an afternoon game, and Niekro wouldn't have to report to Yankee Stadium until 5 p.m. So he and Nancy decided to pay a visit. They got to the Braves' clubhouse just before the game. While Nancy said hello to some of the players out in the corridor, Phil slipped into the locker room.
The place lit up with happy faces and cries of "Knucksie!" Catcher Bruce Benedict and pitcher Gene Garber, two of Niekro's Closer friends, made as if to dust off a stool and had him sit down. "What's the action, man, what's the action?" said Niekro, and the three of them laughed at what must have been his familiar words. He couldn't stay long, but he wished everybody well, accepted their congratulations on his great start and went upstairs.
The knuckleball pitcher and his catcher, thrown together by the mysteries of the pitch, tend to form a relationship as close as, say, two kids growing up across the street from each other in Lansing, Ohio. When the Braves' game was over that day, Benedict talked about Niekro for a while.
"I kind of miss him. No, I really miss him," Benedict said. "He represented a lot of good things for us. He was such a competitor, and I always felt we were going to win when he was out there.
"Catching that knuckleball set me apart, made me feel kind of special, and I think I became a better player because of it, and him. I would miss a couple, and he would tell me that I was just making him look good, or he'd kid me that I was getting so good at catching it that he felt he was losing his stuff.
"I'll tell you what he meant to me. I was in Omaha with my folks the day he announced he was leaving. I got on the next plane to Atlanta, went to the ball park and picked up the big glove we used. We put a lot of work in that mitt, and I wasn't about to let someone take it. I feel like carrying it around with me in a Brinks truck.
"I miss him in the pinochle games. He'd screw up the deal nine out of 10 times, Polish deals we'd call them. One time I went back with him to Lansing. He showed me the fields where he used to play ball. His mother is the best cook in the world—we had stuffed pork chops and cabbage roll. We went over to the Polish Club, and those guys put down a shot with every beer. Before I knew it, I got floppy-legged. We had a great time.
"What hurt him the most was people saying they didn't want him here any more. I saw a tape of his press conference, and I got all choked up. I mean tears were rolling down my cheeks.
"I broke my fingers three times with his knuckleballs, and I've got all sorts of aches and pains because of that pitch. But the relationship I had with him will never be touched in my baseball career."
One day in 1949 a coal miner taught his 10-year-old son how to throw a ball with no spin on it. And the ball's been dancing ever since.