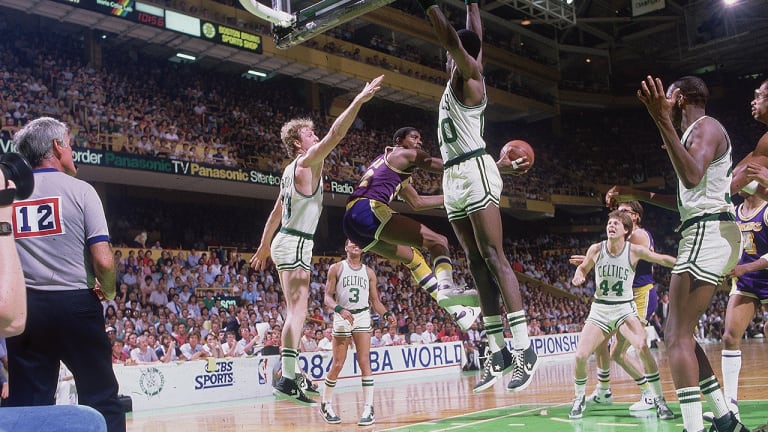 Together at Center Stage
Score '1' for Magic Johnson in his duel with Larry Bird as L.A. stunned Boston in the opener of the Finals
They are as unalike in almost every way as two basketball players can be, and yet Larry Bird of the Boston Celtics and Earvin (Magic) Johnson of the Los Angeles Lakers have in common one very distinctive quality. "Me and Larry's just different from everybody else," Magic says.
Different and better. Last Sunday in Game 1 of the NBA championship series between the Celtics and the Lakers, Bird and Magic finally convened what had become the sport's most eagerly anticipated confrontation. From the moment the two of them walked onto the parquet floor in the Boston Garden—Bird solemnly pausing to grasp the bottom of each shoe with his hands to dry his palms, a ritual that makes him appear to be trying to remove chewing gum, Johnson flashing his ever-present grin—every move they made was studied, judged and compared on artistic impression and technical merit. When the game was over and the Lakers had won 115-109, with Magic scoring 18 points, taking down six rebounds and passing off for 10 assists compared with Bird's 24 (on 7-of-I7 shooting), 14 and five, conclusions were quickly drawn and then hotly debated into the small hours from the corner bars of Brookline to the bo√Ætes of Beverly Hills.
For the time being, both Bird and Magic have diplomatically kept out of the debate, but there's no doubt they've been paying attention. "Oh, they'll say it's not a one-on-one game, and they'll point out that they're not even guarding each other, and you can't blame them for doing that," said Pete Newell, a more than casual observer who coached the University of California to the NCAA title in 1959 and is now a consultant for the Golden State Warriors. "These are two of the greatest players we've ever had, and even though Magic's a guard and Bird's a forward, they sure as heck realize there are going to be comparisons made. Naturally, they want to be at their best. If you were Raquel Welch and you lived across the street from Marilyn Monroe, you'd make damn sure you looked good every time you went out the front door."
The Lakers came barreling through the front door in Game 1 Jumping out to a 24-9 lead in the first seven minutes while running their fast break to perfection. L.A. got 11 points on the break in the first period alone, and Magic, who sank his first four shots, drilled holes in Boston's defense. Celtic coach K.C. Jones decided that whoever the 6'9" Johnson guarded would, in turn, cover Johnson. That Celtic turned out to be 6'2" Gerald Henderson. In effect, Jones's decision allowed the Lakers to dictate the terms of the game.
Bird fared less well against the pressure applied from beginning to end by Michael Cooper. He scored only 10 points in the first half, and although he led a comeback that brought Boston to within 105-101 with 5:05 remaining, Jones described it as "one of his awful days."
L.A.'s Kareem Abdul-Jabbar woke up Sunday morning with a migraine headache, and then gave the Celtics one of their own. The 37-year-old center made his first six shots and was 12 for 17 for the afternoon, finishing with 32 points. Robert Parish, his Boston counterpart, fouled out with 7:23 remaining in the game, having scored only 13 points.
No one was more eager for the showdown than Johnson, whose basket with 1:05 left was the margin in the Lakers' 99-97 victory that disposed of the Phoenix Suns Friday night in Game 6 of the Western finals. "Everybody wants it," he said. "The world wants it. What makes it really interesting is that it's not like we're just two great scorers, because you can shut scorers down. We do so many other things. Even if one of us isn't scoring, we make our presence felt."
Away from the game, Johnson and Bird go about their lives in dramatically different fashions. Magic is the king of the L.A. discos—E.J. the Deejay—with a brand-new mansion in Bel Air. Bird is the quintessential "hick from French Lick"—Indiana (He's Got A Basketball) Jones—who is more comfortable in places where a lot of people wear caps that say INTERNATIONAL HARVESTER on the front. On the court, each has a distinctive style, and that's where their personalities begin to converge.
"We both do the same things," Bird says, "but we're not the same type player. When you think of the impact we have on a game, with me it's usually scoring, but with him it's always his passing. He's got his hands on the ball more than I do, so he. has more control of the situation. You really can't compare us. He's more flashy and can make more things happen than me, make them happen quicker. Magic is just beyond description. I think of him as one of the three top players in the game today, maybe the best. He's a perfect player."
The rivalry between Magic and Bird, who is also 6'9", began in college, coming to a head in each player's last college game—the 1979 NCAA finals in which Johnson's Michigan State beat Bird's Indiana State 75-64—and for a long time it wasn't a particularly friendly one. During their rookie season in the NBA—1979-80—they even squared off once after Bird leveled Magic with a hard foul, but that was at a time when each of them was trying to prove himself. "We let the media sort of keep us apart for a while," Johnson says. "But now we respect each other's talent. It's a comfortable feeling, like you don't mind being in the same room with him. It wasn't always that way. In the beginning there definitely was a rivalry, no question about it. That's always going to be there. But you can have a rivalry that's a good thing."
It certainly promises to be a good thing for the game's aficionados, who have long awaited such a matchup. "It's inevitable that this whole series will be viewed as a confrontation between the two of them," says Bob Ryan, who for 11 years has covered pro basketball for The Boston Globe. "That's an insult to Kareem and Kevin McHale and Parish, of course, but it's unavoidable. The rivalry between Bird and Magic is definitely the subplot of this series." Johnson has been talking eagerly about the confrontation since February, when it became clear that the Lakers and the Celtics were the two best teams in the league. "Me and Larry at last," Magic said after the Lakers had beaten the Celtics twice within a span of 17 days. "Oh, boy!"
That this final series has been more eagerly anticipated than most is due in no small part to the fact that for the first time in 15 years two players who are arguably the best in the game have squared off in a championship series. The last great summit meeting occurred in 1969, which was also the last time Boston and L.A. met in a title series, when centers Wilt Chamberlain of the Lakers and Bill Russell of the Celtics renewed their historic rivalry. The Lakers and Celtics had met five times in the '60s for the championship—Boston winning every time—and then-Lakers owner Jack Kent Cooke was so positive his team would win in '69 that, before the decisive seventh game, he had hundreds of balloons hoisted up to the rafters of the Los Angeles Forum, to be released when the Lakers had taken the title. But the only thing that dropped from on high that night was Celtic Don Nelson's shot in the last 77 seconds that hit the rim and bounced nearly over the backboard before falling cleanly through the basket, clinching Boston's 108-106 victory. That was also the game that caused Russell—who would retire before the next season—to lose his respect for Chamberlain as an opponent. With 5:19 to play and his team down by seven points, Wilt took himself out of the game with an injury to his right knee. Wilt never returned, though he wanted to. Russell later said that nothing short of a broken leg could have kept him out of the game.
The Russell-Chamberlain rivalry was a storied one, with Russell's teams almost always beating Chamberlain's—he played half of his 14 years for the Philadelphia Warriors and 76ers—and Wilt almost always scoring more points. But few individual rivalries have been sustained for as long at such a high level as the one between Jerry West and Oscar Robertson. Both guards came into the NBA in 1960 after playing for the U.S. Olympic team, and, like Bird and Magic, their careers were bound together by the debate over who was better. "They were the last two players before Magic and Bird who came into the league the same year and had the same innate ability to understand the total game," says Newell, who coached them to the gold medal in Rome. Robertson, who averaged 30.5 points a game, won Rookie of the Year honors over West, who averaged only 17.6. "We sort of followed each other around after that," says West, now the general manager of the Lakers. "It probably wasn't fair to either one of us." West and Robertson never met in a championship series, their playoff matchups being confined to the 1970-71 and 1971-72 Western Conference finals.
Because Eastern Conference teams now meet Western Conference opponents only twice each season, Bird and Magic have played only seven regular-season games against each other as pros (Magic was hurt and missed the other three regular-season games), which means that if this championship series goes the distance, we can see in two glorious weeks what it has taken five years to accomplish. "It's like the opening of a great play," West says. "Everybody's waiting to see it." What people won't see, however, is a great head-to-head matchup, like Russell and Chamberlain. "If Bird and Magic played against each other, then it would be real special," West says. "But they don't. As much as people want to talk about who's the best, you'd get a better idea who plays the greater total game if they matched up against each other."
"Johnson and Bird play the game differently than anybody has ever played it," Ryan says, "which means they can only be compared to each other. I love Julius Erving, but he was never the player Bird or Magic is. He's a conventional forward with extraordinary physical abilities, the next phase in the evolutionary cycle after Elgin Baylor. If you're talking about the greatest all-around player in the game, you're talking about Bird or Magic."
As well-rounded as Bird and Magic are, it's a happy coincidence that they should have come along at the same time, bringing with them the return of an all-but-forgotten art. "The unifying thread is passing," Ryan says. "Bird and Magic have completely restored the virtues of passing. They go about it differently—Magic has a way of making a spectacular pass that calls attention to itself; Bird has a knack for making an efficient pass that calls attention to the cutter—and they are contemporaries, so they couldn't have influenced each other."
Though they grew up and played for colleges only a few hundred miles apart, Bird and Magic didn't really become aware of each other until they were about to meet in that '79 NCAA championship game at Salt Lake City. "I thought it was amazing he could be so big and do the things he did," says Magic, recalling his first sighting of Bird. "We created the same kind of problems for a defense. Both of us did whatever it took to win. I'd never played against anybody like that." Johnson had gone 9 for 10 from the field as Michigan State routed Penn in the semifinals, and Bird had been equally spectacular with 35 points as Indiana State eliminated DePaul.
The 48-hour wait for the final game was almost unbearable. "Oh, it was hot all right," Magic says. "The two best passers in one game. You knew we were going to put on a show. And it turned out to be all it was built up to be." Particularly for Johnson, who had 24 points, 10 assists and seven rebounds. Bird never got anything going, shooting 7 for 21, with two assists and 13 rebounds.
For one night, Bird and Magic actually were teammates. It happened in 1978 at a postseason All-Star game in Atlanta, where they were members of a U.S. team that played Cuba. Kentucky's Joe B. Hall was the coach, and, curiously enough, the starting lineup for the American team included Rick Robey, Kyle Macy and Jack Givens—all Kentucky players—while Joe Barry Carroll, Darrell Griffith, Sidney Moncrief, Bird and Magic were relegated to the bench. But Bird and Magic did get some time together on the court, and despite the obvious temptation to overpass, they clicked instantly. "We read each other perfectly from the very start," Johnson says. "On one breakaway, I had the ball and threw it over my shoulder to him. Larry caught it and threw a behind-the-back pass straight back to me for an easy layup."
Bird has been getting his teammates easy layups since he came to the Celtics five seasons ago. Boston drafted Bird, who is now 27 years old, as a junior-eligible in 1978, the year before he actually turned pro. Thus, some poor general manager was spared the delicious ordeal of choosing between Bird and Magic, who is only 24, having turned pro after his sophomore year at Michigan State. Bird's uniqueness lies in his ability to make brilliant passes in the heavy traffic that swarms around the basket, passes that move through his large hands so quickly at times that he seems to be merely adjusting the course of the ball. One NBA head coach who has worked in both conferences believes that if Bird and Magic were to exchange teams, the Celtics would be giving up more. "If Bird played for the Lakers," he says, "they would be 75-7 [every year]."
With the exception of Rick Barry, no forward has been able to both pass and score the way Bird has, and Bird is a better rebounder than Barry was. Those who believe Bird is now the best player in the game (he's expected to be named the league's MVP when the award is announced on June 25, only the second non-center chosen for that honor in the past 20 years, the other being Erving in 1980-81) usually cite the weight of his responsibilities as the determining factor. "They're both great players, but it's harder to find a Larry Bird than a Magic Johnson," says Houston's Bill Fitch, who coached Bird for four seasons in Boston. "It's tougher to do the things Larry does at forward than it is to do what Magic does at guard. I still say West and Robertson were better than Magic, but there aren't many players better than Bird."
There is also little doubt about which one of the two you would want to take the last shot for you in a close game. When the Lakers need a big basket, the ball almost always goes in to the 7'2" Abdul-Jabbar. In the same situation, the Celtics go to Bird. "If the game is on the line and my life depended on it," Fitch says, "I'd say give it to Bird."
Even West seems more enamored of Bird's game than Magic's. "Bird whets your appetite for the game," West says. "He's such a great passer and he doesn't make mistakes. Magic handles the ball more, and he makes more mistakes because he has it more. We're all fond of different kinds of books, different types of movies. The one that best approaches the kind of game I would recommend a young player model himself after is Bird. He's a genius on the basketball floor."
West is quick to add that he would say almost all the same things about Magic, but his is the fairly typical hedge of the purists who prefer Bird's efficiency to Magic's flair for the dramatic. And even some of them have been won over. "A lot of guys might turn you off with a hot-dog pass, but Magic never has done that to me," Newell says. "He's got the rare ability to transmit to the fan that basketball is fun. The day the game is no longer fun for Magic is the day he'll become just another player."
The fact that that day is still a long way away probably says a lot about the formidable challenge Bird presents to Magic, night after night, even when they're playing in arenas thousands of miles apart. "He's definitely the best player at this time," Johnson says of Bird. "But it's no personal battle—me against him. We never let it be personal, trying to outdo each other. Because that's going to be hard to do. He's the best, so you've got to bring your best. The boy is bad."
Bad. But not the baddest.
Because the best all-around player in basketball today is Magic Johnson. And here are the reasons why:
HE CAN DO MORE. The first important thing to realize is that statistically Bird and Magic are about as even as you can get (see box, page 38). Bird has a higher career scoring average (22.6 to 18.2), but he should because he takes far more shots. Magic has a higher assist average (9.8 to 5.6), but he should because he's a point guard. Bird averages about two rebounds more a game because he plays closer to the basket, but Magic, who doesn't take nearly as many perimeter shots as Bird, has a better shooting percentage (.542 to .490). However, Magic's ability to control a game almost defies quantification. "He's the only player who can take only three shots and still dominate a game," says Erving, whose 76ers lost to Johnson's Lakers twice—1980 and 1982—in the NBA finals before finally beating them last year.
Bird is one of the league's best team defenders—sagging off his man to give help in the middle—but he isn't particularly good guarding his man one-on-one because he can't jump. When the Celtics played New York in the Eastern Conference semifinals, the Knicks' Bernard King had to wear himself out chasing Bird all over the floor, while Bird guarded Truck Robinson. Magic was a weak defender when he came into the league but has improved to the point where he now often guards the other team's best scorer. In last year's championship series Magic guarded Erving most of the time, and against Phoenix last week he was usually guarding Larry Nance, who, like Erving, is a forward. "Besides being a leader and an offensive catalyst," says Phoenix coach John MacLeod, who believes Johnson is the NBA's best player, "Magic is a guard who can defend both the point guard and the center. He can take the big forward and the small forward, too. And there ain't many of those. You talk about range."
HE PLAYS A MORE DEMANDING POSITION. No question, Bird is the best forward now, maybe ever. But after the center, the most important player on the floor is the point guard. "Under most circumstances," says Newell, "the point guard can get the ball to the right people at the right time, penetrate and dish off. Magic can kill you on the offensive boards, and he'll kill you on the post up, and his ability to take it to the basket creates tremendous pressure on the defense." His detractors say that Johnson is a freak at point guard, padding his assist totals by passing over players who are as much as six or seven inches shorter. But Johnson also runs the best fast break in the NBA, which, for most 6'9" players would be like trying to control the ball while dribbling at top speed into a ditch.
"Magic is at his very best in the open court," Newell says. "He's so big and so knowledgeable that if you don't pick him up, he'll take it right to the hoop and dunk it on you. A lot of guys in the middle of a three-on-one break make spectacular passes, but they're to the wrong man." Magic is also probably the best there's ever been going from end to end. He can rebound it, dribble it and dunk it on you without any help at all.
HE'S A MONEY PLAYER. There isn't much of an edge here because Bird has almost always come through with big plays in important games. But consider this: Johnson was the MVP when his team won the NCAA championship, the MVP in the championship series when the Lakers won the '80 and '82 titles, and in Game 6 of the 1980 finals, he played what may have been the single greatest all-around game ever. With Abdul-Jabbar out with a twisted ankle, Magic played center and scored 42 points, grabbed 15 rebounds and dished out seven assists. This is Magic's fourth championship series, so he's had more opportunities to play in big games than Bird, who's making only his second appearance in the NBA finals. When the Celtics beat Houston for the title in 1981, Boston forward Cedric Maxwell was the playoff MVP.
Both Bird and Magic will try to ignore the comparisons during the championship series, but that won't make what is special between them any less apparent. "Comparisons don't mean nothing to me," Bird said before the finals began. But West hasn't forgotten how he and Robertson each sought some slight edge in the inevitable comparisons between them. "If somebody were to tell you they weren't aware of that," West says,, "they'd be lying. In every big ball game, playing against someone you're being compared to, you're going to be more keyed up. When that happens, the chance for someone truly great to do something phenomenal is always there."
[originallink:10630771:43420]
PHOTO
With his size and quickness, Johnson can penetrate and dish off for an easy hoop.
PHOTO
Bird—that's quick as in French Lick—has an explosive first step to the basket.
PHOTO
Bird: best-passing forward since Barry.
PHOTO
Johnson, a guard, battles the big guys for a board.
PHOTO
Johnson, a lifetime 54.2% marksman, takes most of his shots close to the basket.
PHOTO
Triple-teaming doesn't faze Bird, who hits 49% of his shots.