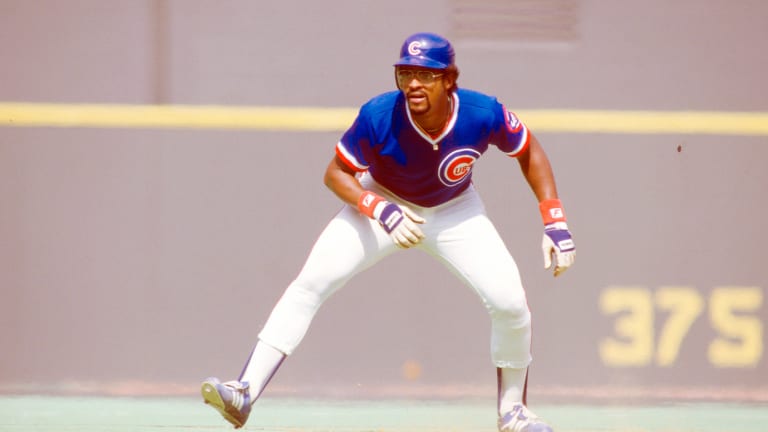 A Family Feud in Philadelphia
Hugging on the sideline and slugging in the batter's box, Phillies West (Chicago) confronted Phillies East for first place
Was this baseball or musical comedy? Before the game at Philadelphia's Veterans Stadium last Friday night, Phillie reliever Larry Andersen approached Cub outfielder Gary (Sarge) Matthews wearing Matthews' old No. 34 Phillie jersey with an I'M THE SARGE button pinned to it. Andersen's face was blackened with burnt cork and he was sporting a woman's wig. "Phillies West, Phillies East," Andersen said, embracing his ex-teammate like a drunken sailor in South Pacific. "We got a Sarge, too."
Phillies East is the Philadelphia Phillies. Phillies West is the Chicago Cubs, who have utilized no fewer than 11 ex-Phillies this season. When the twain met Thursday night in Game 1 of a four-game series, the Cubs and Phillies were 1-2 in batting average and runs scored, and Chicago had a half-game lead over Philadelphia in the National League East.
"We respect what the former Phillies have done since they left town," said Gary Rice, a 28-year-old electronics technician. "Especially centerfielder Bob Dernier, who's having a great year with the Cubs after sitting on the bench here. We always root for the individual."
The family reunion began when Matthews, who was traded to the Cubs on March 27, entered the Philadelphia clubhouse wearing his new number, 36, and new uniform. "What's that, your age?" said Andersen. Phillie reliever Bill Campbell, who came over from Chicago in the Matthews deal, got the raspberry when he peeked into the Cub clubhouse. "Hey, Soup," said Dernier, pointing Campbell in the direction of his replacement, big, bearded Tim Stoddard. "This bleeper came right in and took your place." Baseball's archaic no-fraternization rule was under all-out attack. "I suffered with a lot of these guys, and Gary Matthews is one of my alltime favorites," said Philadelphia first baseman Len Matuszek. "I just hope," said Matthews, "that I don't get too emotional."
Once the old friends got around to playing baseball, though, the camaraderie gave way to rock-'em, sock-'em action. The Phillies and Cubs traded first place and knockout blows like two staggering fighters. On Thursday the Phillies took the lead by pounding the Cubs 10-2. On Friday the Cubs won it back by humiliating the Phillies 12-3. On Saturday Philadelphia third baseman Mike Schmidt ended a snappy pitching duel with a dramatic two-run homer, giving the game—and first place—to the Phillies 3-2. On Sunday the division lead changed hands for the fourth time as Leon (Bull) Durham got three hits and two RBIs and the Cubs romped 11-2. "People will think we're for real now," said Warren Brusstar, another ex-Phil, who threw four shutout innings.
But the real winners weren't the guys on the field. "Look at how many Phillies we have on our team," said Dernier. "This whole thing is a tribute to the Phillie organization." And the Phillie philosophy. It's impossible, baseball men keep saying, to make trades anymore: too many free agents, too many no-cut contracts, too much red tape with agents.
Bosh, say Phillies manager and former G.M. Paul Owens and his player-personnel adviser, Hugh Alexander. Together they have wheeled and dealed Philadelphia to one half-season, five divisional and two National League titles and one World Series championship since 1976. The Phillies have one of the majors' most productive farm systems—43 of its graduates are playing for 18 major league clubs—but Owens and Alexander have acquired 17 players on the current roster.
Bosh, also says Chicago's executive vice-president/general manager Dallas Green, the Phillie manager in 1979-81. Green has imported 21 of his 25 players from other organizations. "The guys that sit back in this league aren't going to make it," he says.
"The reentry draft is only so good, and you can't get every player out of your farm system," says Alexander. "For one thing, your own players are often overrated. Everyone's always telling you how good Joe Doakes is. And you either lack players at one position or you're overloaded. If you're overloaded, you can trade good prospects and get what you need from another club. Some people are afraid to make trades because of the repercussions they get from the fans and media. You can't be that way."
On Dec. 8, 1981, two months after he joined the Cubs, Green sent pitcher Mike Krukow, with a player to be named later, to Philadelphia for outfielder Keith Moreland, pitcher Dickie Noles and minor league pitcher Dan Larson. After Krukow won 13 games in 1982 the Phils traded him and two minor-leaguers to San Francisco for ace reliever Al Holland and second baseman Joe Morgan. "We consider Holland a Cub trade," says Alexander. On Jan. 27, 1982, the Phillies sent shortstop Larry Bowa and infielder Ryne Sandberg to Chicago for shortstop Ivan DeJesus. All three have started for their new teams ever since, and Sandberg, now ensconced at second base, has become the Cubs' best all-around player.
On May 22, 1983, the Phillies and Cubs did some more body swapping, reliever Willie Hernandez going to Philly for starter Dick Ruthven. Ruthven anchored the Cub rotation, and Hernandez helped the Phils win a pennant. Then, in that March 27 trade, Philadelphia sent Dernier, Matthews and reliever Porfi Altamirano to Chicago for Campbell and a minor league catcher. "Every trade we've made with Dallas has helped both teams," says Alexander.
That last Phillies-Cubs deal was interconnected with intricate team needs and another trade. The Phils needed righthanded hitting, and on March 24 they had sent Hernandez and lefthanded hitter Dave Bergman to Detroit for two righthanded hitters, catcher-first baseman John Wockenfuss and outfielder Glenn Wilson. That deal, in turn, made Matthews and Dernier expendable to the Phils and desirable to the Cubs; Dernier, in particular, has satisfied Cub needs for defense and speed.
The inevitable result is that the Phillies and Cubs are remarkably similar. If there's a better one-two punch than Philadelphia second baseman Juan Samuel (.307, eight triples, 27 stolen bases, 35 runs through Sunday) and centerfielder Von Hayes (.312,14 steals), it can only be Chicago's Dernier (.315,23 steals, .415 on-base percentage, 32 runs) and Sandberg (.324,32 runs, 14 doubles, .522 slugging percentage, 33 runs batted in). Campbell (3-0, 3.90 ERA) and Stoddard (3-0, 2.28) are both quite effective as middle relievers. The 1983 Fireman of the Year, Holland is off to a faster 1984 start with 10 saves; Chicago's Lee Smith, who has nine, has converted 53 of his last 61 save opportunities.
Is there any real difference between these clubs? "Yes," said the Cubs' Bowa. "We're getting our players by trades, and the Phillies are still getting some of theirs out of their farm system."
Indeed, Philadelphia's Thursday starter was Charles Hudson, a 1983 graduate of the farm system. Hudson, 25, had a 5-3 record, but his 5.26 ERA loomed larger still in the absence of league ERA leader John Denny (4-3, 1.55), who had been put on the disabled list that very afternoon because of an aching elbow. "When a young pitcher has some success, it's only natural for him to try to throw like a guy who's been there 10 years," said Phillie pitching coach Claude Osteen. "He was getting too careful."
Suddenly, Hudson was young and reckless again. After throwing strikes on his first 10 pitches, he discarded most of his curves for fastballs and hard sliders. And suddenly the Cubs, who had four ex-Phillies in the starting lineup, looked old. With the score tied 1-1, one out and Ozzie Virgil on base in the second inning, DeJesus hit a double-play ball to Bowa. Bowa fumbled it for one error and threw it into rightfield for another, allowing Virgil to score and DeJesus to reach third. Then Samuel was hit by a pitch. Five Phillies—Hayes, Schmidt, Joe Lefebvre, Sixto Lezcano and Matuszek—then hit safely, the bottom line being six unearned runs. Adding injury to insult, Bowa jammed a finger diving for Schmidt's hit and was lost for the remainder of the series. The Phils coasted to a 10-2 win.
"As far as I'm concerned, we were just playing the Phillies at the Vet on May 31," Cub manager Jim Frey said. "Unfortunately, some of our players got caught up in old home week. I hope we go back to the business of playing baseball."
Sensing a kill, Alexander predicted that the Phillies also knew how to stop Durham, a contender for the Triple Crown with a .337 average, 11 homers and 44 RBIs. "Hard breaking balls on his hands," said Alexander.
But is there anyway to pitch Durham? Acquired from St. Louis in exchange for reliever Bruce Sutter in a 1980 pre-Green deal, Durham had hit .290 in 1981 and .312 with 22 homers and 90 RBIs in 1982, but plummeted to .258 with 12 homers and 55 RBIs in 1983. The reason: He was injured three times. Frey returned Durham to his natural position at first base after he had spent three years in the outfield, and Durham has been stinging the ball to all fields with his long, vicious swing. Since switching from contacts to glasses after a 1-for-11 start, Durham hasn't gone more than a game without a hit. "He reminds me of a young Boog Powell," says Frey.
Stop Bull Durham? Well, Durham sent Alexander back to the drawing board. He reached base six times with two doubles, a single, two walks and an error as the Cubs won the Friday night fight 12-3.
The Phillies committed five errors, increasing their league lead to 62. Lefebvre twice struck out with the bases loaded, once taking a called third strike down the pipe. The Phillies blew at least four double-play opportunities, and the three hapless pitchers they used kept the ball so high that Matuszek made no putouts at first—a feat of derring-don't accomplished only seven other times in baseball history. "Hell, we played worse tonight than they did last night," said Owens.
Maybe so, but the Cubs had played better in their victory than the Phillies had in theirs. In the second inning Richie Hebner replaced third baseman Ron Cey, who had pulled a groin muscle, and he got three hits to raise his average for the season to .500—16 for 32. Dernier and Sandberg—Cub announcer Harry Caray calls them "the daily double"—accounted for five hits, five runs, five RBIs and two stolen bases, with the 180-pound Sandberg hitting tremendous homers to left-center and center.
Talk about vindication. The winning pitcher was Rick Reuschel (3-1), who in 1977 had been the Cubs' last 20-game winner. Reuschel was traded to the Yankees in 1981, but he missed the 1982 season because of shoulder surgery and was discarded by George Steinbrenner on June 9. "It was a family in New York," he says, "but I didn't enjoy Papa." His shoulder healthy again, Reuschel took the advice of his agents and asked the Cubs for a second chance. Green sent him to Class A Quad Cities, where he went 3-4 with a 2.42 ERA in 13 starts, and then brought him back to Chicago in September, and he was 1-1 with a 3.92 ERA in four starts. During the winter Reuschel, once a blimp, lost at least 25 pounds, and now he is relatively fit and trim.
"We have a good blend of experience, power, speed and depth—more than we had in the old days," says Reuschel, who first joined the Cubs in 1972. "Look at what Hebner did tonight. And we haven't even had a chance to use Keith Moreland."
They got the chance Saturday. A .302 hitter in '83 but reduced this season to playing rightfield against lefthanded starters, Moreland broke up a 1-1 game with an eighth-inning homer off Holland.
Frey brought in Smith to start the bottom of the eighth, but the reliever yielded a broken-bat single to Hayes, setting the stage for Schmidt. The way both men talked before the game, Schmidt was hopelessly mismatched. "I strike out guys like Murphy and Horner in key situations," said Smith. "There's no tougher pitcher on righthanded hitters than Smith," said Schmidt. But Mike's wheels are always turning. Smith grooved a fastball, and Schmidt—"I used a lighter bat and for once took a nice, easy swing"—hit it into the Cub bullpen.
With one out in the ninth, Dernier walked and stole second and third, but Sandberg struck out and Matthews grounded out. "This," said winning pitcher Holland, "was a real ball game."
Sunday's was, too—for a while. Starting with three days' rest and coming off a 6-2 win at Atlanta in which he pitched 7'Öî innings before giving up a hit, Steve (Rainbow) Trout lasted five innings and left with a 3-2 lead, thanks to Dernier's broken-bat single. "If you can keep it close," said Trout, now 7-3, "this team will score some runs." Sure enough, everyone in the lineup except Trout reached base as the Cubs scored four times in both the eighth and ninth innings. Durham ended the week first in the league in RBIs, tied for third in homers and fourth in batting average.
So, the Cubs, picked for last place before the season began, continued to confound baseball. This year the Phillies West may be best.
PHOTO
Andersen (left) had fun with Sarge, though Matthews and Chicago had the last laugh.
PHOTO
Schmidt's hits keyed the two Philly wins.
PHOTO
The Cubs have hooked a winner in Trout, who beat Philadelphia Sunday to go 7-3.
PHOTO
A bench rider with Philly, Dernier is riding high with Chicago.
PHOTO
"I suffered with these guys," said Matuszek of his former teammates now in Chicago.
PHOTO
Alexander (left) and Green could be working out a new trade or just reflecting on old times.