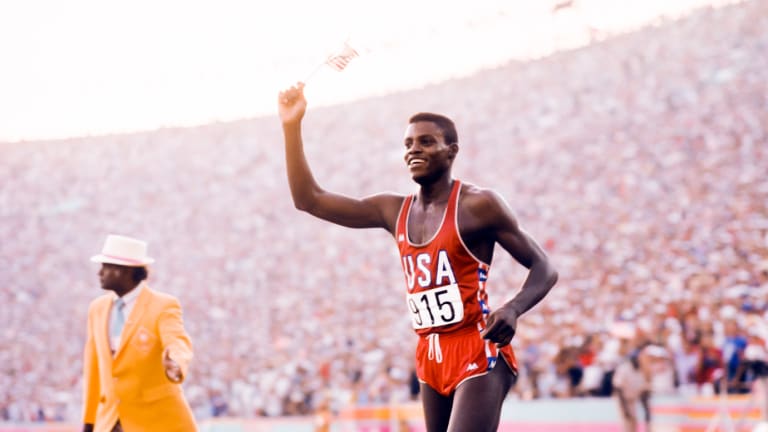 Off To A Fast Start
Carl Lewis burst to the fore again as the Olympic track and field trials got under way in Los Angeles
Carl Lewis backed with precise movements into his blocks in the second lane of the Los Angeles Memorial Coliseum track as he prepared for the start of the Olympic track and field trials 100-meter final. His coach, Tom Tellez, watched from high in the stands. Tellez is tanned and laconic, the latter in contrast to the loquaciousness of his sprinter. But he knows Lewis so well that at moments such as this he's party to Lewis's tiniest neural patterns. "When the starter calls them to the set position," Tellez said, "Carl will rise until he feels a 90-degree angle in his front knee, and he'll put pressure on the back block. At the gun, all he thinks about is getting full extension off the front block. From there, it is just smooth acceleration. Fast, sure, but smooth. In sprinting you must run your own race. Get to maximum velocity and then stay relaxed and maintain it. If you can learn to trust your speed and not press, and let the faster starters come back to you, you're there, you're a sprinter. If you don't learn that...." He shrugged, the gesture eloquently saying there would be no hope. Then he leaned forward to see if any of Lewis's opponents could execute this cruelly simple maxim.
Those rivals composed the strongest sprint final since the days of Jim Hines and Charlie Greene in 1968. Beside Lewis, in Lane 1 was world-record holder (9.93 at altitude last summer) Calvin Smith, who had recovered just in time from a hamstring injury. On Lewis's other flank was Emmit King, the 1983 NCAA champion. In Lane 4 was Ron Brown, who had forsaken a year of pro football to be right where he crouched now. He will soon be playing for the Rams, whose coach, John Robinson, was watching. "He told me, 'Just think track. Football is next,' " said Brown. "I thought, this can be your last race, or this can be the start of something." He wore his Gucci watch—"because they say if you look good, you feel good." That theory hadn't worked. He still felt weak from two days of a stomach virus.
Beside Brown was Mel Lattany, who earlier this year had run the fastest 100 meters ever at sea level, 9.96, in Athens, Ga. In Lane 6 was Harvey Glance. He felt isolated out there. "I would have liked to have been a little nearer Lewis," he would say. He had run the fastest qualifying time, matching his personal best of 10.11. If he made the top four, he would be on his third Olympic team.
Kirk Baptiste, the reigning NCAA 200 champion, was in Lane 7. As a member of the University of Houston team, Baptiste is also coached by Tellez, and he's all business. In the preliminaries, Lewis kept popping out of the tunnel, where the athletes were shooed right after each race, to see how friends and others were doing. "I don't have time for that," said Baptiste. "I concentrate on my start."
And marooned out in Lane 8 was Sam Graddy, the Tennessee sophomore who won both the NCAA and TAC 100s. "Hey, Lane 8 is the best place I can think of to run your own race," Graddy said. "The whole thing is a straightaway. But, hoo, I felt the electricity in the air."
This was Sunday evening, and as the starter gave the command and the sprinters rose and waited, the spectators—20,552 of them at this session—who for two days had seemed sun-silly and oddly out of touch with the emotional business of selecting the Olympic team, became hushed and expectant.
At the gun, Lewis pressed a fraction too much. "But he caught himself on his first stride," Tellez said. Nonetheless, King was ahead. And Graddy was away beautifully in that outside lane. For an instant Lewis seemed vulnerable. One thought of the heats when he had seemed distracted. He even had forgotten his shorts for his first-round heat. "I went to the bathroom and looked down there and didn't see anything but underwear," he said. His manager, Santa Monica Track Club coach Joe Douglas, rushed a pair to him behind the blocks, and Lewis stepped into a room in the tunnel to slip them on.
But this was the final. Lewis, with a studied unconcern that has always been with him but seems ever more pronounced, accelerated with a clean burst that by 50 meters was irresistible. He was running his own race. Complete with trademarks. With 15 meters to go, he looked to his right. It seemed a look for the sake of a look, because he had two yards on Graddy. With 10 to go he lifted his arms in celebration, adding a few hundredths to his time of 10.06, a stunning mark because it was achieved into a 2.2-meter-per-second headwind.
"This was the hard one, the 100," said Tellez. "This, not the long jump or the 200 [the other individual events Lewis will enter in pursuit of Jesse Owens's accomplishment of winning four track and field gold medals in the '36 Games], is the one that I die on."
Lewis, bubbly and bouncy, seemed nowhere near death. "That felt like a short 100," he said later, still wearing the running suit in which he had accepted his medal, a blinding blue number with a lot of zippers and tucks and gloss. "It went by so fast it only seemed about 99."
The Olympic 100 team was completed by Graddy in second with a 10.21 and Brown in third with a 10.23. Smith recovered from one of his traditionally poor starts to nip Baptiste for the fourth spot on the 4 X 100 relay, 10.29 to 10.30. "Thank God. I'm glad it's over" said Brown.
When it was officially announced that he was an Olympian, Graddy collapsed to his knees and pitched forward, his forehead pressed to the track's Rekortan surface. Then he clenched both fists and started hammering the track in exhilaration. "The happiest day of my life," he said. "I thought a tear was going to roll out of my eye, and I didn't want the crowd to see it."
This crowd seemed to find such emotion curious. The last two Olympic trials for both men and women have been held in that center for track and field cognoscenti, Eugene, Ore., and among the L.A. fans the brute harshness of the selection system, which produces three Olympians and a host of failures in each event, didn't seem to sink in right away. But the inescapable fact is that here, as in no other meet, joy is won at the cost of causing sorrow to others. Thus the sensitive athlete finds far more pressure in the trials than in the Olympics. "If I hadn't qualified today," said Lorna Griffin, who won the women's shotput with a throw of 56'1¼", "it would have been such a letdown I think I'd have had to leave the country."
There's always ebullience in the triple jump, thanks to Willie Banks, who leads the crowd in rousing cheers as he rocks in preparation for his run, turbocharging himself with the fans' enthusiasm. Opposing him was Mike Conley, the NCAA triple and long jump champion from Arkansas, who believes, as he puts it, "I get people to look at me and cheer me by jumping far, not the other way around."
A third happy player in this contest was Al Joyner, inspired because his sister Jackie was well along toward winning the heptathlon. Al led his competition early at 54'8".
Then Banks, looking limber but not remarkably swift, reached 56'2¾" and flopped down childlike in the infield. Whereupon Conley, though he chopped his steps near the board, bounded 56'10". The crowd showered affection but not much passion on Banks on his next jumps, and he could not improve. In the fifth round, Joyner exploded out to 56'4¾", which ensured him a spot on the team with Banks and Conley. Yet Conley, even though he'd won, took the last jump allotted to him. "On the hop [the first of the three jumps] my leg almost buckled," he said, "and I didn't feel like I had the necessary height, but I kept after it and got a great last jump." He reached 57'5", only 2½" shy of Banks's American record.
Banks was his usual expansive self. "Yeah, I'm simply relieved to be on the team. The gold will come in the Olympics." He was imagining a day in August when 90,000 would chant him down the runway in this same arena. So was Conley. "If we took the Olympics to Fayetteville, Arkansas, and Willie got on the runway, you'd be able to hear the wind in the grass," he said. "But the Olympics will be in his hometown." Conley's expression seemed to indicate that he was just the man to deal with that. "We've got a great chance to go one-two-three," he added.
And Al Joyner will have all his inspiration intact in August, because Jackie will be on the team, too. And favored to win a medal of her own. She dominated a magnificent heptathlon, a cathartic two days that brought out the fundamental character of five Olympic aspirants in ways that were moving to behold.
Joyner sat out this year at UCLA, where she has diluted her track training by playing forward on the Bruin basketball team. This has been her first year of specialized heptathlon work, and it has paid off. She won her heat of the 100 hurdles going away in 13.61. Even more impressive was Jodi Anderson, the 1980 pentathlon trials winner, who ripped a 13.52 in the next heat.
In the high jump, before the bar reached heights that yield many points, the shock of the opening day occurred. Jane Frederick, the American record holder at 6,458 points, who a month ago had cleared 6'2"—a lifetime best at the age of 32—missed three times at 5'7¼" and was out of the competition.
A pall descended. It seems that Frederick is doomed to forever prove how this multievent can poison one's dreams. It makes you learn seven times as many skills (besides the hurdles and the high jump, on the first day there are the shot-put and 200; on the second day, the long jump, javelin and 800), and then gives you seven times as many chances to go wrong. These pressures have always seemed to haunt her. "I did the same thing in 1980," she said. "I hurt a hamstring a week before the trials. That's my weakness. I get worried. I'm not good at keeping myself from overtraining."
She loves it, not wisely but too well. "After that six-two and a good hurdle race at the Pepsi meet [May 13], I was tight, but I didn't rest enough," she said. A week later, she suffered a partial tear of her right Achilles tendon while training. Before the trials she had not put on spikes for a month. She was ragged in the hurdles. She jumped well warming up for the high jump. "But all that timing went away," she said. Three times she was six inches higher than the bar but came down on it, brushing it off with her calves. "Suddenly," she said, "I had to rearrange my priorities in a hurry." That doesn't mean she will retire. There's a big heptathlon in France in September.
Joyner gave Frederick an awkward pat on the shoulder. "There's not much you can say," Joyner said later. Then she collected herself and cleared six feet. Now she had a 15-point lead on Anderson, who had made 5'10¾".
They went to the shot, which was won by Patsy Walker at 46'¾". Walker has had an experience somewhat similar to Frederick's. She has devoted the last eight years to multievents, but in 1979 broke a bone in her foot that kept her from the 1980 trials. She attended UCLA and then followed Tellez, who had been an assistant there, to Houston, where she pursued a double major in construction engineering and drama. Since December she has lived in Eugene, training with Cindy Greiner of Athletics West. "We're good friends," said Greiner. "We see each other six hours a day. Two weeks ago we were even hurt together, she with an Achilles problem and me with a hamstring."
All this took on some poignancy when Walker burned the turn in her heat of the 200 and Greiner passed her in the stretch. They finished in 24.46 and 24.68 to put themselves in third and fourth after the first day. Would it come down to a battle for the third place between two friends?
Joyner increased her lead with a 23.77 200 meters. Anderson, not yet at full speed after having been out 12 weeks with a strained adductor muscle, leaned at the line, finished in 24.49 and went down with a cramp in her left hamstring that required her to be iced, wrapped and assisted off the field.
Walker and Greiner considered all this. "Jodi will be able to go on," said Greiner. If so, and if Joyner were unbeatable and Anderson could hold second, that meant that Greiner could get the final spot only by defeating her training mate.
Both women are sweet and cheerful off the track. Both evince a depth of feeling for their sport that transcends simple winning. "You know, when they called us through that tunnel to the field for the start, I had tears welling up in my eyes," said Walker, as if astonished at herself. "Imagine trying to run the hurdles when you're crying. I guess it was because I knew that Babe Didrikson had been down that same tunnel."
She cast a fond look over at Greiner. "It is hard to think about the situation that's developing," said Walker. "But when you get out there..."—here she showed flaring nostrils, green eyes and white incisors—"...you're an animal."
She was a cat the next morning, leaping to a personal best of 20'4¼" in the long jump. Greiner did 19'9¾", not her best. She was now only 21 points in front of Walker.
Ahead of them, Joyner was supreme. On her first jump she dropped into the sand two feet farther than Walker. But the judge was looking hard at the board. Joyner looked hard at the judge. Finally he raised the white flag. She hadn't fouled. It was a 22'4¼", a personal record and the best ever by an American in a heptathlon. She was now on a U.S. record pace.
Anderson's first jump seemed a crucial test. Would her hamstring hold up? The answer was yes. She did 20'3". The cautious thing to do would have been to pass her other two tries, but she decided to go on, sweeping the trackside press row—which was muttering, "Why risk it?"—with an icy stare. After a foul, she jumped 20'10½". She was building a cushion, because the next event, the javelin, is the most unpredictable of all.
Frederick talked with Joyner during the lunch break and urged her to go for her record. "She'll get it, sure," Frederick said later. "Of course, the key to the javelin is timing. If you're nervous or off, you're down 20 feet from what you can throw."
Joyner was on. Her first try sailed 148'11", another personal best. Then Anderson did one of her own, 159'2", which sealed second for her. Greiner had two PBs in three throws, hitting a max of 138'8" on her final attempt. So it was up to Walker to at least equal that. She has thrown 150. "But I reverted to how I used to throw," she said. "I threw it wrong." She only reached 130'9". With the 800 remaining, she needed to make up 59 points to take the Olympic berth from Greiner. She would have to beat her by four seconds.
All Greiner had to do was follow Walker and not let her get those four seconds. But Greiner crossed her rival up and led. Anderson took over after 400 meters. With 300 left, Walker, seeing that Greiner was boxed in, kicked, but Greiner escaped and came after her. All the way around the turn and down the stretch Walker sprinted furiously to build her lead. And all that way Greiner stayed just four yards back, making the team, knowing she was making the team, yet wearing a grimace composed of layer after layer of anguish. "It was a horrible experience," she would say.
Walker won in 2:12.57. Greiner was just behind in 2:13.03. They embraced, both in tears. "I'm sorry," said the new Olympian. "I hate this."
Not too far away, the Joyners were hugging too, celebrating Jackie's 2:13.41 and American record of 6,520 points. Surely she is a good bet for gold six weeks from now. And if Anderson, who was only 107 points behind with 6,413, gets her 200 and long jump back to her usual level, the Olympics will see a titanic struggle. But none as bittersweet as this one.
PHOTO
As the field in the 100-meter final blasted from the blocks, Lewis (orange shorts) was headed to victory.
ILLUSTRATION
PHOTO
As Lewis celebrated his 10.06 win, Graddy (309) and Brown (647) gained their own places in the Olympic 100, while Smith (711) grabbed a spot in the 4 X 100 relay.
PHOTO
Banks made like Rocky after a 56'2¾" triple jump that got him the third Olympic berth.
PHOTO
Al Joyner's 56'4¾" triple jump got him a second...
PHOTO
...while his sister Jackie won the heptathlon with an American-record 6,520 points.
PHOTO
Frederick, the former U.S. record holder in the heptathlon, dropped out after she no-heighted.
PHOTO
Anderson was able to nail second in the heptathlon.
TWO
PHOTOS
Walker won her heat of the 800 over Joyner, Anderson and Greiner (above) but not the spot she dreamed of, for which Greiner consoled her.