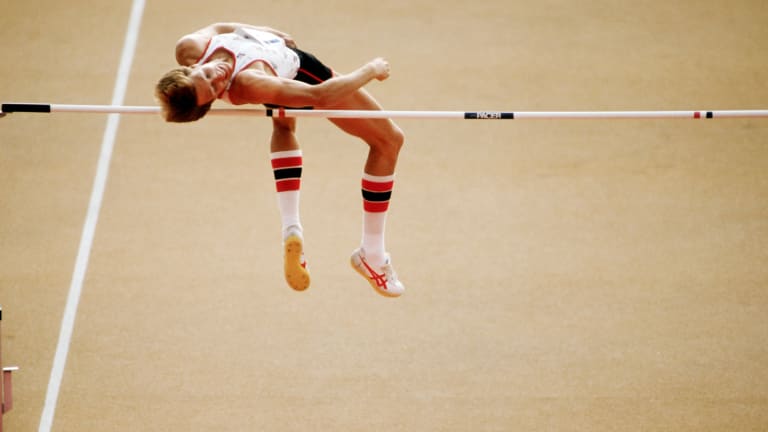 Trials and Jubilation
Out of nine days, in which by harsh necessity exultation combined with despair, came the U.S. Olympic track team
Dwight Stones had gone clean. The high jump bar in the Olympic track and field trials in the Los Angeles Memorial Coliseum had been raised four times, from 7'1½" to 7'7", and he had cleared each height on his first try. If more than one jumper makes the same height, the one with fewer misses wins. "So it was my duty to go clean, to put pressure on the rest," Stones said. "I wanted to have the look on my face that said, 'You guys are competing for the last two spots on the team.' Don't tell me about killer instinct." It wasn't the look on his face that proved that. It was the air under his butt.
Stones had been talking to himself all day. "I said, 'Dwight, four straight clearances probably makes the team. Five straight definitely makes the team.' " Again,he was right. After his fifth, when the bar went to 7'8", a quarter inch above Tyke Peacock's American record, the only man left besides Stones was Doug Nordquist of Brea, Calif. Peacock himself had departed earlier, after missing at 7'4½".
Nordquist, 25, is,improbably, wonderfully, Dwight Stones's distant cousin. He was first moved to try the event in the eighth grade when he watched Stones jumping to the bronze medal in the 1972 Olympics. This isn't widely known because Nordquist is shy.Stones isn't. Both missed their first attempt at 7'8".
Stones had coached Nordquist a little at 7'7". When Nordquist cleared that height, raising his personal best from 7'4¼", Stones stopped coaching him. "He does what I tell him to do," said Stones. "Which is dangerous."
Now Stones readied himself for his second try. "I was on the team, but I said, 'Dwight, don't let down. You haven't set the American record yet.' " It had been eight years since he had achieved his personal best of 7'7¼", two Olympiads since he had promised to win in Montreal and suffered the indignity of a rain-slick approach, being forced to settle, if that's the word, for a second bronze medal. Four days later in Philadelphia he had attained the 7'7¼" that had stood as the American record until Peacock broke it last summer.
Stones had prepared for this particular day, this particular jump. "I have to plan things at age 30," he said. "I jumped all of those out-of-my-body jumps back in the '70s."
All save one.Despite what he called "a poor technical jump" and despite the fact that he brushed the bar with his calf, Stones fell screaming into the pit, once again the American record holder. He has lived a full and varied 11 years since he first set the mark.
In Stones's unexpected, hard-earned victory and his obsessive Olympic drive ("I wouldn't be here if I'd won in Montreal"), he seemed the embodiment of the trials' nine-day run on the Olympic timetable. Six American records were broken, and ten times that many hearts. The enduring images were of tension, of prodigious talent almost crazed by Olympic fever. And of upsets.
The most astounding was in the women's 1,500 meters. It seemed likely that Mary Decker would get all she could handle because she would be running tired. In a laborious experiment, she was attempting the 1,500/3,000 double. The 1,500 final was her sixth race (two preliminary rounds in each, two finals) in five days. Being her usual excitable self, she had started at near world-record pace in the 3,000 final the night before and run an 8:34.91 to win by 50 yards."I got a lecture on pace after that," she said. "But I had to simulate the Olympics, I had to get as tired as I would in Olympic qualifying to know whether I could try it in the Games."
The runner thought best able to take advantage of a vulnerable Decker was Kim Gallagher, age 20,who had won the 800 going away in 1:58.50. With 400 meters to go in the 1,500,she was poised on Decker's shoulder. But then she faded. The runner who seized the lead in the last backstretch, getting a shocked glance and then an answering burst from Decker, was Ruth Wysocki, 27, who had already made the team by finishing second in the 800. Her best 1,500 was the 4:12.85 she had run in the semifinal. Decker's U.S. record is 3:57.12, so though Wysocki continued to sprint even with Decker as they hit the last turn, there seemed little chance this was going to last.
Even to Wysocki.Her move hadn't been meant to defeat Decker, just to put some distance between herself and Gallagher and the other fast finishers. But here she was, running elbow to elbow with the world champion through the turn and into the stretch.Not that she didn't have the instincts or experience for it. As Ruth Caldwell,she had run down Decker to win the 1978 AAU 800, but she had been away from intense racing for years, having returned to running only to pass the time while her husband of a year, distance runner Tom Wysocki, was traveling.
"Did I have any idea I might win?" she said later. "Absolutely none. I was halfway down the straight before I thought I could get her." She drove ahead with 50 meters left. Decker dug down, evoking memories of her stretch run at the world championships in Helsinki against Zamira Zaitseva of the Soviet Union last summer, but she could go no faster. Wysocki won by a yard in 4:00.18. She threw up her arms and thought, "What have I done?"
Decker did 4:00.40, and learned all she needed to know. She will run only one middle-distance race in the Olympics, but won't decide which event until later in the summer.
Rare was the even tthat didn't produce a new face, a Nordquist or Wysocki. In the pole vault, it was Doug Lytle, 21, of Kansas State, who had attended the 1980 trials as a photographer's assistant. Only Lytle and Mike Tully cleared 18'8¾", and Lytle was leading on fewer misses. Tully had struggled at the lower heights because the officials had switched the direction of the vault to gain a tailwind. "But now I have to look into the sun," said Tully. Twice he missed badly at 18'4¾" before collecting himself and clearing easily. By the time he faced an American-record 19'3¾", it was dark, and he made the height on his second attempt. He had a miss at a world-record 19'3¾" that showed him he ought to think about trying it again in August.
Such thoughts are out of order for Billy Olson, who has vaulted 19'¼," indoors. He fell out of the competition at 18'4¾". By the trials' end, a splendid team could have been made up of the also-rans.
The trials are special for how they infuse the new team members with the Olympic fire. Watch them as they walk back from the victory stand. They have accepted the praise of the crowd, of the television people. Now, as they enter the narrow, brightly lit tunnel that will take them outside the Coliseum to the waiting press, to the drug tests, to families and coaches, it begins to sink in.
Their grins may be fierce or dreamy, they may tremble or whoop or cry, but all share the understanding that things will unfold differently now. Great chances remain,opportunities that are now lost to all who were fourth or below. Until this moment, their plans have been contingencies. Now a dazzlingly clear sense of the future bursts in on them.
In no event is that future richer than the men's 400-meter hurdles, in which Edwin Moses attained his 89th consecutive victory with a 47.46 in the final. He did it regally, from the eighth lane, where because of the stagger he saw no opponent until he looked back after crossing the finish line.
Even Moses was subject to Olympic trials nerves, false starting once and calling the field out of the blocks a second time when he was distracted by a photographer shooting before the start. But once in action, emancipated, he displayed the familiar Moses form, his head nestled back between his high shoulders as if he needed to look at the hurdles not at all, as if he were more interested in the hue of the evening clouds over the rim of the stadium.
Moses's future is a second Olympic gold medal. His reaction was blessed relief. "The sun feels good again," he said. "Anything you've been told about the pressure of this meet is nothing like actually being there."
That wasn't a polite bow to his competitors. Moses won from the two best new talents in this event since Moses himself appeared in 1976. They are Danny Harris and Tranel Hawkins, the former 18, a football player and tireless, the latter 21, a string bean ex-basketball player and tireless.
Harris, 6 feet and 170, a defensive back for Iowa State whose home is Perris, Calif., ran his first 400-meter hurdle race on March 15 of this year. He did 51.7. In his third try, he set a world junior record of 49.55. He broke that record three more times during the spring, winning the NCAA title in 48.81. Then, chasing Moses's47.58 in the trials' semifinal, Harris did 48.02 and became the fifth-fastest intermediate hurdler ever. In a semifinal.
This despite hurdling form that occasionally seemed more appropriate for a steeplechaser.Several times Harris landed off balance and had to wrench his upper body back into position before he could regain his momentum. "I do know I'm not as good as I could be," he said with frightening accuracy.
Hawkins, unlike Harris, ran no track at all in high school, so though he is older he has even less experience. He's 6'5" and was a forward on the basketball team at Trotwood-Madison High, about a mile and a half from Moses's old high school outside Dayton. At South Plains J.C. in Levelland, Texas, Hawkins tried the long jump in two meets and quit because he never got off a legal jump. His sophomore year he considered the triple jump but got thrown onto the mile relay team and helped it to third place in the junior college nationals.
His track coach,Clint Ramsey, moved on to Angelo State in San Angelo, Texas, and Hawkins followed, to major in business management and to find an event that suited his talent. Finally, fittingly, he told Ramsey, "I know I've never hurdled, but Edwin Moses is from Dayton, too, and he's a well-known athlete. He runs the 400-meter hurdles. Why don't you let me try?" Ramsey did, and Hawkins won the Division II nationals in 50.44. "I began to wonder what I could do if I trained," he said.
This year he improved, losing only to Harris in the Texas Relays and again in the NCAAs, in which he ran 49.25. Still his season-best of 49.11 gave him only the sixth-fastest time of the hurdlers in L.A. last week. But his potential was clear to Steve Simmons, the coach of the Accusplit Club of San Jose, which brought Hawkins to the trials. "I'd never seen such untapped talent,"he said. "The things he does wrong, he does real wrong. But he's got those happy feet. Instead of going thud, thud, thud, he goes boop, boop,boop."
Those happy feet and a certain youthful insouciance carried him into the final. He ran PRs of48.90 and 48.52 in the first two rounds. "Of course I worry about him,"said Simmons. "He's an innocent, still. He gets into trouble crossing the street." Literally. "Yeah, I got a jaywalking ticket on my way to get a hamburger," said Hawkins. His smile is wide and infectious. "I told the officer I was an athlete. He didn't care. I told him I was from out of town.Didn't work. And now I'm stuck with this $15 ticket."
Before the final,Simmons sat Hawkins down. "You got two different races here," he said."Moses and Andre Phillips [the fourth-fastest in history with his 47.78 of last year] in the two outside lanes, and you and Harris in one and two. Don't worry about Lane 1. John Akii-Bua did a world record in it in Munich and he's your size."
Hawkins said he wouldn't worry.
"Nervous?"asked Simmons.
"A little."
"That's good.Now move aggressively at the sixth hurdle and you'll make the Olympic team."
"That's nice," said Hawkins.
"You got it?"
"Yeah, I got it."
Then he went out and did it. "Before the start, everything goes through your mind," he said, as if bemused. "I thought of what I ate that morning. Then I was crouched there, arms shaking, the crowd quiet."
Then he was running. Down the back-stretch he watched Harris in Lane 2 give the best chase to Moses. "He hit the sixth hurdle and I made up some distance there,"Hawkins said. "And more on the turn. We were even at the seventh hurdle. He pulled ahead again at eight." Indeed, Harris was so strong he seemed to be closing a little on Moses, four yards ahead.
Harris got second in 48.11. Hawkins ran his third personal best in three days to finish third in48.28.
Phillips, weakened by an interminable virus, was fourth in 48.62. His was the first of many cases in these trials of a great and seasoned runner not making the team. He slipped off his shoes and tossed them into the infield. Harris stood facing the TV replay on the scoreboard and simply, heartily cried. Hawkins walked in his new world, letting his gangly frame tremble and dance. Salt was crusted on his lips but that didn't stop his daybreak of a smile from spreading wide. "I didn't think," he said quietly, wonderingly, "that it was this easy."
Lord, none of the 800-meter competitors said that. After two rounds, James Robinson, a two-time Olympian and seven-time national champion, and Don Paige, like Robinson a consummate kicker, looked to have things under control. But in the final, Earl Jones, 19, a solemn, purposeful sophomore at Eastern Michigan, employed the classic counter to their speed: He burned it out of them.
Jones tore through the first 400 in 50.20, leading Stanley Redwine and Johnny Gray narrowly, with Paige sixth and Robinson last. Down the back-stretch, where injudicious pacesetters falter, Jones kept right on driving. He was for real. He repelled an attempt to pass by Redwine. Gray kept close, keying on Jones.
In fourth was John Marshall. He is coached in the middle distances at Villanova by Paige, who now ran a yard behind him, and wide, ready to kick. Robinson, too, was closing up.Into the stretch Jones led by two yards, his arms still pumping as smoothly as a quarter-miler's. Gray ran at him all the way to the line. Redwine faded and Paige, though thrashing low with his powerful arms, could go no faster. Thus the race for the last spot was between Marshall and the desperately charging Robinson, who had been seven yards back with 100 to go. "I kept expecting them to come back to me," he would say. "The new guys are the ones that will get you. You never know what they're going to do."
The toughest new guy, Jones, just won, his wire-to-wire resolve breaking Rick Wohlhuter's 10-year-old American record of 1:43.91 with a 1:43.74. Gray got so close by the end that he was given the same time. Marshall, knowing Robinson was beside him,wild to make it ("Whatever it would take, I was going to do"), dived at the line (he would have a bruised knee and elbow and chest) and created what almost all observers watching the replay thought was a dead heat for third, a spot where ties aren't allowed. Both their times were 1:43.92. "I thought I made it," said Robinson while they waited for the photo to be examined."He thought he made it. Actually it was more hopin'. You be hopin' you won."
Marshall stood beside Robinson as the results flashed up. It had been determined that there was about an inch between their chests at the finish. Marshall was an Olympian.Robinson was one no longer.
Marshall whooped.He and Robinson embraced. "Today," Marshall would say, "James Robinson underestimated me just a little bit, and it cost him a spot on the Olympic team."
The question asked about every shockingly young athlete who makes the team is: Will he be content with that—or will he be hungry in the Games? You can almost hear Jones's stomach growling. "Being unknown was to my advantage here," he said,looking ahead craftily almost before he had his breath back. "I believe I can break 1:43. I'd like to go in as the underdog again."
That is a luxury that is long past for Carl Lewis. For him, the pressure of these trials was of a different order. The Olympics are not some grand, vague dream for Lewis. They stand in splendid detail in his imagination, probably encompassing a pair or more of world records. But he's a practical man. The whole shining edifice would evaporate if he didn't produce superior performances in all his events here. During the trials he was brisk, terse and brilliant.
After winning the 100 in 10.06 against a wind, he qualified for the long-jump final, then began the first two rounds of the 200. In the quarterfinal, against the expectations of all who saw him throw away a world record by raising his arms in celebration in last year's TAC 200 (his 19.75 there is the American record, and the fastest ever run at low altitude, but by running the whole race he would have broken Pietro Mennea's world record of 19.72), Lewis ran the turn hard, relaxed,letting himself roll in the stretch, and celebrated only after crossing the line. He was clocked in 19.84, an astounding time for a preliminary, and the fourth-fastest ever.
He was shocked."He did not, repeat not, know he was running that fast," said a jolted Tom Tellez, who coaches the University of Houston as well as Lewis. It was clear that Lewis, despite all his high-visibility appearances in this official Olympic promotional season (he was on the cover of Gentlemen's Quarterly this month), despite a small wave of resentment from other athletes over his increasing insularity as he passes from athletic star to mass-market hero, has brought himself to a new level of readiness.
"I admire him for all he's taking here," said his father, Bill. "I couldn't have done it. Whenever someone says, 'You stink,' he says, 'I'll take a bath.' " That is, he lets his performances be his final rebuttal. And they were unanswerable.
Conditions were vexing in the long-jump final. A swirling wind made it a matter of luck whether a jumper's step pattern would result in his jumping foot coming anywhere near the takeoff board.
Larry Myricks got off a first jump of 27'¾". No one else was close to that. Until Lewis.Sprinting with his hands as flat as knives, his fingertips coming just to eye level, he took a little step of adjustment near the end, hit the board well and landed far out. He looked at the crater he had made in the sand with wide-eyed shock, as if this might have been the one, the jump to surpass Bob Beamon's 29'2½" of 16 years ago.
It wasn't, quite.It was 28'7", 3¼ inches short of the best Lewis has ever done. "But it was so easy," said Tellez. So easy that even though he had surely made the team, he took another jump, this one with grim purpose. If a record was in the air, he was going to give it a chance to materialize. But the wind threw him off, he missed his steps and ran through the pit. Thereafter, he passed all his jumps, pacing the infield in stocking feet, orange flight suit and black and orange Lycra tights that created a kind of voodoo-court jester effect.
Call it corporate punk. A variety of these suits had been created by Nike for its top athletes.
Lewis had take none look and said, "Wow, I want those, a different one every day."
"He's a sprinter," said Tom Dederian of Nike's clothing division. "He wants to look special. I call this dealing with the psycho-technical. The colors aren't functional. But athletes are frequently a lot more psycho than they are technical."
A fine example came on the last jump of the competition. Lewis had won. Myricks held second place; he would be a three-time Olympian. The man on the bubble for the third spot was Jason Grimes, who was the silver medalist in last year's world championships. He had reached 26'7¾".
Enter Mike McRae,28, a full-time production supervisor for a microfilm company in Emeryville,Calif. "I said to myself, 'What a perfect ending this would make,' " he would say later. Bearded, beatific, McRae speaks with a mildness that suggest she's attuned to what has been ordained. He was in fifth, at 26'3¾". "I heard the people clapping. I didn't want to wait four more years."
He ran and jumped,and those in the stands who hadn't gone into the chilly night roared. "I looked at their faces," said McRae. "I knew that I'd made it." He had, with 26'9".
In the 200-meter final, Lewis was in Lane 5, and after his 19.84 in the second round, the Coliseum was humming with the giddy certainty of seeing a world record. Missing was Calvin Smith, the Helsinki world champion (Lewis didn't run the 200 in Helsinki). He hadn't recovered enough from a hamstring strain to train for the furlong, and finished fifth in his semi, in 20.65. His Olympics will be the 400 relay.
But there were more new guys to watch. One, astonishingly, because he had been only 10th in the NCAA 200, was Thomas ("My friends call me T.J.") Jefferson of Kent State. Improving fast after a cold winter, he had "prayed all nightlong" before this final.
Another was Roy Martin Jr., 17, of Dallas's Roosevelt High School, cousin of Harvey Martin of the Cowboys and no stranger to talk. After he had run 20.28 in the quarterfinals to become the second-fastest high schooler ever, behind only Dwayne Evans's bronze medal dash of 20.22 in Montreal, he said, "Carl told me, 'Just run the curve and don't give out.' So I did. And I didn't. When will I get to be best in the world? It could be Thursday."
But come Thursday and there was Carl, stripping off his flight suit (translucent silver this time, as though he had been wrapped in cloudy aspic) and flying. Others started well, but by mid-curve Lewis was in front. He ran wide in his lane, outside the center, which cost him time, but he pulled away down the stretch, showing the effort for the first time in the trials, for he was bucking a 0.2meter-per-second wind. He reached the end in 19.86, the fastest ever run into a wind.
The only sprinter to stay near was Houston junior Kirk Baptiste, who was second in 20.05,vindicating Tellez's school of scientific sprinting. Well, psycho-scientific."Kirk and Carl both do what you ask them to do in the heat of battle,"said Tellez. Lewis and Baptiste hugged, and then Lewis strode back past the stands holding up four long, graceful fingers. In a month and a half, there could be as many gold medals dangling from them.
The third spot was a race between Martin, who didn't run a great turn, and Jefferson, who didn't either, but they both passed everybody else. Jefferson made it, in 20.37 to Martin's 20.43. "I heard the announcer say the leaders were Carl, Kirk and Larry Myricks," said Jefferson. "That told me I hadn't done my job." He got on with it and now has a warm summer to sharpen him for the Olympics.
Martin's words were soft and few. "I dreamed last night that I'd get fourth," he said.For long moments, as the top three were assailed with questions, he stood apart. Finally he whispered, "Only the strong survive."
Words for Evelyn Ashford to live by. She, of course, is the world-record holder in the women's 100 (10.79), and possessed of legs so fast that, in the words of her coach, Pat Connolly, "She's faster than the muscles can stand." She tore a section of hamstring in the world championship 100 last summer, and took all winter to heal and rehabilitate. Now she was back, the eternal Ashford, elegantly coiffed, brightly dressed, unbeatably swift.
And fragile.Warming up for the 100 semifinal, she rose into a full sprint. "I saw her slow down irregularly," said Connolly. "It wasn't a pull. Just a slight strain." It was in the same right hamstring that Ashford injured in Helsinki, but lower, just above the back of the knee. At once she was diagnosed, treated with electrical impulses, and then taped. She put tights over the tape "to keep it from unraveling," said Connolly, "but she felt humiliated with the tape. She had never raced with tape before."
She did so cautiously, finishing third in 11.43, to make the final. Then ensued more hours of ice and therapy. She was sore. Connolly was ready to scratch her from the race.
"No way,"said Ashford. "If I don't do this, I don't get to run in the Olympics."
"Then run it like you do 330s, with gradual acceleration," said Connolly. "You don't have to win it. Just get in there."
"I'll win it."
Alice Brown and Jeanette Bolden, both rocket starters, were off perfectly. Ashford came out gently. At 40 meters, when she had to turn it on, it was there, and she felt no pain. She sprinted into the lead just at the line, winning in 11.18. Brown did11.20 and Bolden 11.24.
A diagnostic ultrasound machine showed a dark spot at the point of injury, indicating hemorrhaging. Dr. Anthony Daly, vice president of health services for the LAOOC, told her, "It's up to you whether you want to run with that."
"I want three gold medals," she said, meaning the two sprints and the 4 x 100-meter relay. "They may have to put me in a sling, but I'll be there."
A day later Ashford started the first-round 200 heat, felt the injury tighten and walked in. Her future is in the Olympic 100.
In her absence,Valerie Brisco-Hooks won the 200 in 22.16, with Florence Griffith coming insecond at 22.40. The finish became a blur of pink (Brisco-Hooks) and applegreen (Griffith), punctuated by the crimson of Griffith's 3½-inch curved fingernails.
Brisco-Hooks had become the first U.S. woman to break 50 seconds in the 400 with her 49.83earlier this month at the TAC meet. But in the trials she had to reckon with Chandra Cheeseborough, who was the Pan Am 200 champion way back when she was 16, in 1975, but who had just recently forced herself to run the 400.Cheeseborough is an impressive figure, with hair in elaborate corn rows that take two hours to do, and her voice is steady, slow and sultry, with something of the tone of Billie Holiday. Startling, then, to hear it expressing such delicacies as "I don't like the 400 because I can't stand the cramping part, when afterwards your butt muscles lock."
She ran a modest first 200 in the final, while Brisco-Hooks was blazing to a seven-yard lead.Cheeseborough made a clear move then, as if she had been waiting until she got to the start of her old distance, and made up all but a yard by the stretch.Her torso perfectly erect, her arms driving high, she powered away to win by four yards in an American-record 49.28. Brisco-Hooks cut her best to 49.79.American female quarter-miling, so feeble for so long, is suddenly rich.
The women 400-meter hurdlers, too, could point to remarkable improvement. They produced a surging, shifting race that saw high schooler Leslie Maxie, who'd been second in a world junior-record 55.20 at the TAC meet, lead down the backstretch but be passed by Angela Wright, who was in turn collared by Judi Brown over the last hurdle. Brown's time was an American-record 54.93, but her first thought was to console Maxie, who had run 55.60 but had slipped to fifth. The pressure had drawn them together. "I haven't eaten right for four days because I was so nervous," said Brown. "I keep waking up in the early morning. If this race were run at 5 a.m., I'd set a new world record. I've run the thing 30,000 times in my mind."
Stephanie Hightower will replay her 100-meter hurdle final that many times and more. She and three others, Kim Turner, Benita Fitzgerald-Brown and Pam Page, all ran as one over the last three hurdles. All four chests seemed to reach the line in a perfect row. It was the closest finish in a hurdle race in history. The photo found Turner first in 13.12, then, all in 13.13, Fitzgerald-Brown, Page and, in fourth, Hightower.
"I thought I was fourth from the TV replay on the scoreboard," said winner Turner."During the wait I almost had three or four heart attacks."
"I hit the sixth hurdle," said Hightower. "I leaned too early...." Mamie Rallins, Hightower's coach, said that one reason Page edged out Hightower was that "Pam has big boobs."
The men's 110 highs exhibited a worthy winner and astonishing closeness, but no tears. Greg Foster muscled through a 13.21, despite a cramping calf. Close behind ran Tonie Campbell and Roger Kingdom. In the semifinal, these two had touched down after each hurdle in perfect, balletic unison. In the final they did it again, mirror images of each other, Kingdom leading with his left leg, Campbell, to his right, leading with his right. Campbell got second with a stronger—by four inches—last dive at the line, but both made the team. Then they finally broke the plane that had divided them and embraced, howling.
"I don't fear Foster anymore," said Campbell. "I fear God and the clock and myself. I fear the lessons that can be granted at any moment." There was no more powerful description of the trials.
Not that everyone learned humility. Antonio McKay, 20, is a Georgia Tech sophomore who says,"Once I start doubting myself, I'll stop running." He seems in for along career. He runs the 400, and set the indoor world record of 45.79 in only his third meet. "People call me cocky," he said. "I'm not cocky. I put pressure on myself. I make statements and then read them in the paper and say, 'Hey, I have to do that.' "
In the trials he pressured himself with remarks about Lee Evans's 1968 world mark of 43.86("I'm not going to just break it, I'm going to shatter it. That's a promise. If not this Olympics, then next year. I guarantee it") and quarter-miling ("When the pain starts, you've got to love it. You've got to strive for more").
Lieut. Alonzo Babers, USAF, gave him plenty to strive for in the final, coming into the stretch with a yard lead and refusing to buckle. But McKay was still driving himself with words. "I imagined a bomb," he said. "I said, 'If I don't get past him, it'll blow up on me.' " He just prevailed, his 44.71the fastest run by anyone this season, putting him four feet ahead of Babers's44.86.
Then McKay went to his knees. "I didn't want to move," he said. "I wanted to sit there and enjoy the moment, it was so precious." He rose as one entertaining a vision, a vision for all the survivors: "It's like a yellow brick road is spreading out in front of me."
\n\n\n\n\n\n\n\n\n\n\n\n\n\n\n\n\n\n\n\n\n\n\n\n\n\n\n\n\n\n\n\n\n\n\n\n\n\n
IN THIS MEET, NOTHING WAS THIRD-RATE ABOUT THIRD PLACE
At the U.S. Olympic Track and Field Trials, the top three finishers in each of 35 events were all winners, earning a shot at gold in the Los Angeles Games
MEN
100 METERS—Carl Lewis, Willingboro, N.J.; Sam Graddy,Atlanta; Ron Brown, Phoenix, Ariz.
200 METERS—Carl Lewis; Kirk Baptiste, Beaumont, Texas;Thomas Jefferson, Cleveland
400 METERS—Antonio McKay, Atlanta; Alonzo Babers,Montgomery, Ala.; Sunder Nix, Chicago
800 METERS—Earl Jones, Inkster, Mich.; Johnny Gray, Los Angeles; John Marshall, Plainfield, N.J.
1,500 METERS—Jim Spivey, Wooddale, Ill.; Steve Scott,Scottsdale, Ariz.; Sydney Maree, Rosemont, Pa.
STEEPLECHASE—Henry Marsh, Salt Lake City; Brian Diemer,Grand Rapids; John Gregorek, Northport, N.Y.
5,000 METERS—Doug Padilla, San Leandro, Calif.; Steve Lacy, Madison, Wis.; Don Clary, Anchorage, Alaska
10,000 METERS—Paul Cummings, Orem, Utah; Craig Virgin,Lebanon, Ill.; Pat Porter, Alamosa, Colo.
110-METER HURDLES—Greg Foster, Maywood, Ill.; Tonie Campbell, Carson, Calif.; Roger Kingdom, Pittsburgh
400-METER HURDLES—Edwin Moses, Laguna Hills, Calif.;Danny Harris, Perris, Calif.; Tranel Hawkins, Dayton
20-KM WALK—Marco Evoniuk, Longmont, Colo.; Jim Heiring,Kenosha, Wis.; Dan O'Connor, Wantagh, N.Y.
50-KM WALK—Marco Evoniuk; Vince O'Sullivan, New York City; Carl Schueler, Silver Spring, Md.
HIGH JUMP—Dwight Stones, Irvine, Calif.; Doug Nordquist, Brea, Calif.; Milt Goode, Oak, Calif.
POLE VAULT—Mike Tully, Encino, Calif.; Doug Lytle,Kansas City, Kans.; Earl Bell, Jonesboro, Ark.
LONG JUMP—Carl Lewis; Larry Myricks, Jackson, Miss.;Mike McRae, Fremont, Calif.
TRIPLE JUMP—Mike Conley, Chicago; Al Joyner, East St.Louis, Ill.; Willie Banks, Los Angeles
SHOTPUT—Dave Laut, Goleta, Calif.; August Wolf, St.Paul; Michael Carter, Dallas
DISCUS—John Powell, Sacramento; Mac Wilkins, San Jose,Calif.; Art Burns, San Jose, Calif.
HAMMER THROW—Bill Green, Sunnyvale, Calif.; Jud Logan,North Canton, Ohio; Ed Burke, Los Gatos, Calif.
JAVELIN—Duncan Atwood, Seattle; Tom Petranoff,Northridge, Calif.; Steve Roller, San Bruno, Calif.
DECATHLON—John Crist, Atlanta; Tim Bright, Santa Cruz,Calif.; Jim Wooding, Coatesville, Pa.
WOMEN
100 METERS—Evelyn Ashford, Roseville, Calif.; Alice Brown, Altadena, Calif.; Jeanette Bolden, Compton, Calif.
200 METERS—Valerie Brisco-Hooks, Los Angeles; Florence Griffith, Los Angeles; Randy Givens, Amityville, N.Y.
400 METERS—Chandra Cheeseborough, Jacksonville; Valerie Brisco-Hooks; Lillie Leatherwood, Ralph, Ala.
800 METERS—Kim Gallagher, Santa Monica, Calif.; Ruth Wysocki, El Toro, Calif.; Robin Campbell, Washington,D.C.
1,500 METERS—Ruth Wysocki; Mary Decker, Eugene, Ore.;Diana Richburg, Troy, N.Y.
3,000 METERS—Mary Decker; Cindy Bremser, Madison, Wis.;Joan Hansen, Dallas
100-METER HURDLES—Kim Turner, Detroit; Benita Fitzgerald-Brown, Dale City, Va.; Pam Page, Evanston, Ill.
400-METER HURDLES—Judi Brown, East Lansing, Mich.;Angela Wright, Ocala, Fla.; Sharrieffa Barksdale, Harriman, Tenn.
HIGH JUMP—Louise Ritter, Denton, Texas; Pam Spencer,Great Falls, Mont.; Joni Huntley, Portland, Ore.
LONG JUMP—Carol Lewis, Willingboro, N.J.; Jackie Joyner, East St. Louis, Ill.; Angela Thacker, St. Louis
SHOTPUT—Lorna Griffin, Corvallis, Mont.; Carol Cady,Los Alamos, N. Mex.; Ramona Pagel, Montebello, Calif.
DISCUS—Leslie Deniz, Gridley, Calif.; Laura DeSnoo,Fremont, Calif.; Lorna Griffin
JAVELIN—Karin Smith, San Luis Obispo, Calif.; Lynda Hughes-Sutfin, Corning, Calif.; Cathy Sulinski, South San Francisco, Calif.
HEPTATHLON—Jackie Joyner; Jodi Anderson, Chicago; Cindy Greiner, Eugene, Ore.
THREE
ILLUSTRATIONSPHOTOWysocki went wild when she upset world champ Decker in the 1,500.THREE PHOTOSFoster was in fine form in winning the high hurdles, while Campbell (390) outdueled Kingdom (588) for second. Afterward, the Olympians caught themselves on a replay.TWO PHOTOSBrown's exuberance at winning the 400 hurdles (Sharrieffa Barksdale, 239, was third) turned to sympathy for nonqualifier Maxie.TWO PHOTOSQualifiers Babers (right, in red) and Sunder Nix let 400 winner McKay (192) know he had it made in the shade.TWO PHOTOSAshford, uptight and in tights owing to a sore hamstring, offers prayerful thanks after her win in the 100-meter dash.PHOTOThe field in the 100, including Ashford, Brown (102) and Bolden (357), who finished 1-2-3, studies a replay of the race.PHOTOCarol Lewis's win kept long jumping a family affair.PHOTOIn the 200, Carl Lewis (387) made up the stagger on Evans (707), Elliot Quow (652) and Myricks before coming off the curve.PHOTOLewis locked up the second of his three victories with a single long jump of 28'7"PHOTOOut of this world even in the outside lane, Moses won his 89th straight hurdles final.PHOTOHarris (left, second) and Hawkins (third) are the newest challengers to Moses' streak.TWO PHOTOSTurner (below and Lane 6) won the 100 hurdles by .01 over (from top) Paige (third), Fitzgerald-Brown (second) and Hightower.PHOTODecker's 50-yard margin of victory in the 3,000 was by far the widest of the trials.PHOTOJones (248) took the men's 800, even though he and Gray shared an American record of 1:43.74PHOTOA 60.8-second last lap led to a steeple win for American record holder Henry Marsh.PHOTODuncan Atwood sailed his javelin 306'7" into the setting sun for his unexpected win.PHOTOU.S. record holder Louise Ritter left 'em gasping with her triumph in the high jump.PHOTOGriffith clawed her way to second place in the 200.TWO PHOTOSThe rest of the field in the 200 couldn't pass Brisco-Hooks (359), and no one could get enough of her son Alvin saluting her.PHOTOAfter some early struggles, Tully topped out at a U.S.-record 19'¾" in the vault.THREE PHOTOSEleven years after he set a world record of 7'6½" Stones went bananas over his U.S. mark of 7'8".