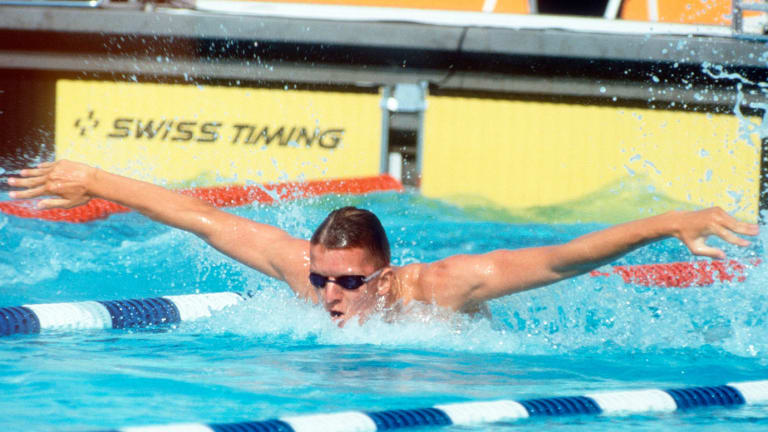 Publish date:
They've Stroked Their Way to L.A.
Three world and five American records tumbled as 43 swimmers gained Olympic berths at the U.S. trials
It was a poignant and compelling scene, the first sampling of the joys and shattered hopes that would mark last week's U.S. Olympic Swimming Trials in Indianapolis. Moments after the women's 100-meter freestyle final on Monday night, fourth-place finisher Dara Torres, 16, of the Mission Viejo (Calif.) Nadadores swim club, clung to the edge of a warmdown pool, alone, sobbing. A normally cheery high school junior, she had painted F-I-F-T-Y F-I-V-E! across her fingernails in sky blue and yellow as a public declaration of her time goal, 55 seconds. But Torres had missed that goal—and nearly a berth on the American team—by clocking a 56.36. Although she made the 4 X 100 free relay, she had dreamed of much more. And so she cried.
Nearby, third-place finisher Jenna Johnson, also 16, lay passed out on the pool deck. Johnson, a tall, slender, quiet girl with flaming red hair, had pushed herself relentlessly in the race, past the pain of burning muscles and into a state of light-headedness and nausea. Afterward, when a U.S. Olympic Committee doctor pricked her finger for a blood test, she fainted. "It was a combination of things," her Industry Hills (Calif.) club coach, Ed Spencer, would say. "The race, the confusion, the pressures." Yet for all her effort, Johnson, too, had qualified for only a relay spot. New Olympic swimming rules pushed through in 1980 by a Soviet-Third World bloc now limit each nation to just two entries per individual event instead of the traditional three; the U.S., the country deepest in swimming talent, suffers most. Johnson's time of 56.20 left her short of a qualifying spot by .02 seconds—the equivalent of one inch.
Meanwhile, winner Nancy Hogshead, 22, (56.03) and runner-up Carrie Steinseifer, 16, (56.18) met on the deck in a relieved embrace. "With only two going [to the Games] instead of three, this meet will be cutthroat," veteran Jesse Vassallo had warned. "It'll be outrageous." And indeed, in the course of the six-day meet, several big-name swimmers would struggle to qualify, three world and five American records would fall, and all 650 swimmers entered would feel pressures more intense than at any U.S. competition since the last true Olympic trials in 1976.
Competition was so fierce at Indianapolis that Ray Essick, executive director of U.S. Swimming, was correct in calling the trials "the toughest meet in the world." Fully 200 of the swimmers in Indy would be fast enough to reach an Olympic final this summer, but just 43 of them would make the U.S. team. Sue Walsh, the U.S.-record holder in the 100 backstroke, finished third in that event and failed to make the squad. American-record holder Craig Beardsley also missed out in his specialty, the 200 butterfly, placing a shocked third behind Stanford freshman Pablo Morales and Florida sophomore Patrick Kennedy. Jill Sterkel, 23, winner of a relay gold in '76, did become the first U.S. woman swimmer since Eleanor Holm (1928, '32 and '36) to make three Olympics, but just barely, placing sixth in the 100 free to claim the last slot as a 4 x 100 free-relay alternate. Said Sterkel, "There's a lot of electricity going on around here."
Such was the emotional intensity on Monday night that the eventual women's 100-back winner, Betsy Mitchell, grew hoarse from trying to scream for her Cincinnati Pepsi-Marlin teammates over the din of 3,000 spectators in the Indiana University Natatorium. What set the crowd abuzz following Hogshead's victory was the 100-breaststroke duel between world-record holder Steve Lundquist, 23, and his longtime challenger, Stanford sophomore John Moffet. Moffet, for one, had been ready for this for weeks. "He's been doing world-record swims in practice," said Cardinal coach Skip Kenney. "The problem has been holding him back."
Lundquist, on the other hand, had been slow to recover from a separation of the left shoulder he suffered while water-skiing last September. For a month after the accident his left arm was numb from elbow to fingertip, and not until December was he able to raise it over his head. As recently as the indoor nationals in late March, he swam miserably.
As if Lundquist didn't already have enough to be concerned about, the chlorine in the pool caused him to develop itchy, scaly blotches all over his arms. Further, he had to face up to his parents and both his grandmothers, aged 84 and 90, about a story in PEOPLE magazine that discussed his wild life-style and included a picture of him, posing for an ad, on a bed with an apparently naked young lady. "There are some things you just shouldn't have to explain to a 90-year-old woman," said a family friend.
Moffet had pulled Lundquist to a world record of 1:02.28 in the 100 breast at last summer's Pan Am Games in Caracas, fading to finish just inches behind him in 1:02.36. At Indy he decided to make Lundquist chase him again. Moffet blasted through the first 50 in 29.14, nearly a second under world-record pace. "I got a little excited," Moffet admitted later. "Coming home I bogged down in the last 10 meters." As Moffet was dying, Lundquist surged. At the touch it was impossible to tell who had won. Then the scoreboard flashed the official result: Moffet first in 1:02.13, Lundquist second in 1:02.16. Moffet was the new record holder. Lundquist didn't seem to mind. "Hey, I made the team," he said. "I'm a happy camper now."
The happiest camper of the night was University of Pittsburgh junior Sue Heon, 22, who leaped four feet straight up out of the water after overtaking her Germantown, Pa. swim club teammate, Polly Winde, for second place in the final 30 meters of the women's 400 individual medley. Though Heon finished nearly five seconds behind U.S.-record holder Tracy Caulkins in the race (4:41.72 to 4:46.37), she'd swum a PR by three seconds. Heon's uncontrollable giddiness contrasted with the crushed spirit of Winde, who had come in three seconds behind her. Winde's boyfriend, All-America catcher B.J. Surhoff of North Carolina, is a member of the U.S. Olympic baseball squad, and he and Polly had dreamed of going to L.A. as teammates. Said Caulkins, winner of three events (200 and 400 IM and 100 breaststroke), "You just try not to look."
Monday ended with an American record by 19-year-old Florida sophomore Mike Heath. Heath, a blocky 6 feet and 170 pounds, had a 1:48.58 in the morning preliminaries of the 200 freestyle to lop .35 off Rowdy Gaines's 1982 U.S. mark. In the final, Heath shot past Gaines and 1980 Olympian David Larson in the last lap to record a stunning 1:47.92, the No. 3 time in the world, behind the 1:47.55 and 1:47.87 of West Germany's Michael Gross.
Heath, a down-home Texan from Dallas who would as soon be out shooting skeet as shooting down records, had shown his potential by winning the NCAA 200-yard freestyle title in March. He had gone to Florida in 1982 as a good high-schooler, but hadn't fully blossomed until Coach Randy Reese put some broad shoulders on him with weight training and switched him from a two-beat to a six-beat-per-stroke kick. Yet when Heath touched out world-record holder Gaines 49.87 to 49.96 in Wednesday's 100 free, he confirmed himself as what Gaines called "the next great American sprinter."
Heath's performance underscored the tough, innovative coaching of Reese, who in disregard of standard rest-and-taper procedures had kept his athletes swimming twice a day right up to the trials. "The kids can lose their feel for the water," Reese said. "Even if you don't do anything hard, just bring 'em in to communicate with them." Reese qualified six swimmers in 11 events, most notably Heath and Caulkins, the 48-time national champ and Florida junior. As always, Caulkins, 21, dominated the women's competition in her low-key fashion.
These were trials crowded with veterans returning from retirement, mental burnouts and physical breakdowns: Hogshead, who qualified in the 200 IM and 200 fly as well as the 100 free, had sat out 16 months in 1981 and '82 before finding new inspiration; Vassallo, 22, a qualifier in both the 400 IM and 200 back, had returned from a total reconstruction of his left knee; 200-free winner Cynthia (Sippy) Woodhead, 20, of USC, who set a world record for the 200 freestyle in 1978, had bounced among clubs and colleges in California, Texas, Connecticut and New Jersey in recent years.
Yet Caulkins, setter of 61 world or U.S. records since 1977, has endured. As the trials' only triple winner, Caulkins became the likely star of women's swimming at Los Angeles. Having missed out on a possible six medals in 1980, she could take four golds this time.
Watching from front-row seats were Tom and Martha Caulkins, Tracy's parents. "We were the first ones in with our ticket request," said Tom, a large, bearded, expansive man who works as a public school administrator in Nashville. The Caulkinses have rarely missed a meet involving Tracy or their other swimming daughter, Amy. "We've driven to Austin, Texas and back—885 miles—for three-hour college dual meets," he said. "I'd gladly have driven 1,000 miles to see those meets—one way."
The Caulkinses had also seen the sense of loss in Tracy after 1980. "Tracy broke her last world record something like four days before the Moscow boycott was announced," said her father. "Then she had a couple of years that were, by her standards, poor. Draw your own conclusions." Conclusion: Tracy was down, but now she's back. In Friday's 200-IM final she chopped almost a second off her U.S. record with a 2:12.78.
One big-name swimmer who desperately needed inspiration at Indianapolis was University of Miami senior Matt Gribble, 22, world-record holder in the 100 butterfly. He had pulled shoulder and back muscles while bowling with his girl friend in March and had been in pain ever since. He had gone to two chiropractors, an orthopedist—who told him in mid-May that the only cure was complete rest for two months—an acupuncturist, a myotherapist and even a Japanese "Hoshino therapist" who massaged and pressed vital tendons.
What Gribble learned was that his body is a mess. His spinal vertebrae aren't properly spaced, and his leg and back tendons are both too stiff and too short. His workouts since March had been a joke: If he exerted himself at all in the water, his body would tighten up like rawhide. "The last five weeks he was doing 2,000 yards of nothing. The young kids were beating him," says Charlie Hodgson, Gribble's coach. A week before the trials, Gribble said he wanted to stay home. He was ready to quit.
Hodgson and Gribble's friend Vassallo persuaded Gribble to at least try to make the team. Hodgson had to give Gribble another pep talk before Tuesday morning's 100-fly prelims. "After the warmups Matt said he didn't want to swim. His back was all spastic," Hodgson says. "I told him, 'You always make the top eight. You'll feel better tonight.' " Gribble agreed to swim and qualified second behind Morales.
Tuesday night's final was brilliant. Morales scorched the first 50 in 24.95, with Gribble half a second behind in third. "The wave action at the far end of the pool was incredible," Mitch Ivey, Morales's coach at the Concord-Pleasant Hill (Calif.) swim club, would say later. "Off the turn it almost stopped Pablo dead in his tracks." Gribble was having his own problems. "Matt couldn't streamline on the turn," Hodgson would say, demonstrating with hands locked overhead and elbows tight to his temples. "He had to push off with his arms apart, like Superman."
Gribble flew past 6'8" David Cowell before the wall and touched in 54.07. Squinting, he looked up at the scoreboard. He'd taken second. Frozen next to Morales's name was a 53.38. While Gribble had made the team, Morales had stolen away his world record by .06. "That record was a very proud thing of mine," said Gribble, sounding, in more than one way, hurt. Moments after the race, pain was shooting down the backs of his legs.
Morales was gracious in victory. The son of Cuban immigrants, he's bright, congenial, poised beyond his 19 years. He grew up in Santa Clara, Calif., and set national age-group records almost every year. "I said when he was 14 that he was going to be better than Spitz," says Ivey. "I still believe that to be true."
"Are you talking about Mark Spitz?" asks Morales. "You can't really compare yourself to Mark Spitz."
Morales's 1:58.07 in Friday's 200 fly missed Beardsley's U.S. mark by only .06. And when Lundquist powered to a 2:03.64 victory in Saturday's 200 IM, Morales was right behind in 2:03.88, qualifying for his third individual event, more than any other male swimmer.
University of Texas junior Rick Carey, 21, has already lowered the world 100- and 200-meter backstroke marks to frightening levels. To see what he might be capable of in Wednesday's 200 back, he swam a moderate-effort time trial between morning and evening sessions on Tuesday. His 2:03.15 matched the time he'd swum in a similar trial the day before his 1:58.93 world record in Fresno, Calif. last summer. "He needs to keep pinching himself like that for reassurance," said John Collins, Carey's coach at the Larchmont, N.Y.-based Badger swim club. In Wednesday's final Carey closed with the fastest final 50 of his career (30.44) to break his own world mark by .07 in 1:58.86. Five of his seven opponents in the race couldn't even match his 2:03.15 warmup, and second-place finisher Vassallo barely did (2:02.15). To close out his week, Carey won Friday's 100-back final in 55.32, merely the second-fastest time ever.
Though Carey and 15 other 1980 Olympians made the team, younger swimmers were rarely out of the limelight. Susan Rapp, 18, a Stanford freshman, took nearly a second off Jeanne Child's U.S. record for the 200 breast with a 2:31.54 and also made the team in the 100 breast. Johnson, a 6'½", 135-pound high schooler, followed up her 100 free by upsetting world-record holder Mary T. Meagher 59.08 to 59.40 in the 100 fly—a swim that made Johnson the second-fastest 100 butterflyer in history.
The most impressive was George DiCarlo, 20, a free-spirited junior from the University of Arizona, who erased swimming's longest-standing world or U.S. records, the American 400- and 1,500-free marks set by Brian Goodell in 1977 and 1976. DiCarlo reduced the 400 by .53 to 3:51.03 and the 1,500 by .89 to 15:01.51.
"I think maybe distance freestyling is on its way back in the U.S.," said DiCarlo. "And it's about time." DiCarlo's own time has been slow to roll around. His high school clockings were mediocre, largely because he swam them at the 5,280-foot altitude of his native Denver. "He wasn't heavily recruited, but I wanted him," says Arizona coach Dick Jochums. DiCarlo might turn out to be his very best student: Already George is history's second-fastest 400 and 1,500 freestyler behind Vladimir Salnikov of the Soviet Union, with whom he shares a certain charisma and color. To be sure, DiCarlo was the only swimmer around the pool deck in Indianapolis with a pinch of Copenhagen under his lip.
And so the swimmers dispersed, the new and old stars heading off to Mission Viejo for a month-long training camp, the others going home. "When you're younger," said Bill Barrett, 24, another U.S.-record holder (200 IM) who failed to make the team, "you think if you lose, tomorrow will never come. But with time you learn that tomorrow always comes." For 43 U.S. Olympic swimmers, a bright tomorrow awaits in Los Angeles.
PHOTO
HEINZ
KLUETMEIER
Vassallo and his rebuilt knee made the team in the 200 back and 400 IM.
PHOTO
HEINZ KLUETMEIER
Morales set a world record in the 100 fly and just missed a U.S. mark in the 200 fly.
PHOTO
HEINZ KLUETMEIER
Caulkins and Carey were the stars of the trials.
THREE
PHOTOS
HEINZ
KLUETMEIER
A happy Heon made the team, but Beardsley (right, comforted by Morales) and a weeping Winde didn't.
PHOTO
HEINZ
KLUETMEIER
Mitchell really had something to shout about after she won the 100 backstroke.
PHOTO
HEINZ KLUETMEIER
Moffet (left) broke Lundquist's 100 breast record, but Lunk came back to win the 200 IM.
PHOTO
HEINZ KLUETMEIER
With his two American records, DiCarlo rose to the occasion.
THREE ILLUSTRATIONS
\n\n\n\n\n
MANY ARE CALLED, FEW CHOSEN
Only 43 of the 650 swimmers at Indy made the U.S. Olympic team—the top two in each event, plus the first six in the 100 and 200 frees for the relays
MEN
100 FREESTYLE—Mike Heath, Dallas; Rowdy Gaines, Winter Haven, Fla.
200 FREESTYLE—Mike Heath; Jeff Float, Sacramento
400 FREESTYLE—George DiCarlo, Denver; John Mykkanen, Placentia, Calif.
1,500 FREESTYLE—George DiCarlo; Mike O'Brien, Mission Viejo, Calif.
100 BACKSTROKE—Rick Carey, Mount Kisco, N.Y.; Dave Wilson, Cincinnati
200 BACKSTROKE—Rick Carey; Jesse Vassallo, Mission Viejo
100 BREASTSTROKE—John Moffet, Costa Mesa, Calif.; Steve Lundquist, Jonesboro, Ga.
200 BREASTSTROKE—Richard Schroeder, Santa Barbara, Calif.; John Moffet
100 BUTTERFLY—Pablo Morales, Santa Clara, Calif.; Matt Gribble, Miami
200 BUTTERFLY—Pablo Morales; Patrick Kennedy, Cockeysville, Md.
200 IM—Steve Lundquist; Pablo Morales
400 IM—Jeff Kostoff, Upland, Calif.; Jesse Vassallo
4 x 100 MEDLEY RELAY—To be determined by Olympic performance
4 x 100 FREESTYLE RELAY—Mike Heath; Rowdy Gaines; Chris Cavanaugh, Saratoga, Calif.; Matt Biondi, Moraga, Calif. Alternates: Tom Jager, Collinsville, Ill.; Robin Leamy, Rancho Palos Verdes, Calif.
4 X 200 FREESTYLE RELAY—Mike Heath; Jeff Float; Bruce Hayes, Dallas; David Larson, Jesup, Ga. Alternates: Geoff Gaberino, Chattanooga; Rich Saeger, Mission Viejo
WOMEN
100 FREESTYLE—Nancy Hogshead, Jacksonville, Fla.; Carrie Steinseifer, Saratoga, Calif.
200 FREESTYLE—Cynthia Woodhead, Riverside, Calif.; Mary Wayte, Mercer Island, Wash.
400 FREESTYLE—Tiffany Cohen, Mission Viejo; Kim Linehan, Sarasota, Fla.
800 FREESTYLE—Tiffany Cohen; Michele Richardson, Miami
100 BACKSTROKE—Betsy Mitchell, Marietta, Ohio; Theresa Andrews, Baltimore
200 BACKSTROKE—Amy White, Mission Viejo; Tori Trees, Louisville
100 BREASTSTROKE—Tracy Caulkins, Nashville; Susan Rapp, Eden Prairie, Minn.
200 BREASTSTROKE—Susan Rapp; Kim Rhodenbaugh, Cincinnati
100 BUTTERFLY—Jenna Johnson, Santa Rosa, Calif.; Mary T. Meagher, Louisville
200 BUTTERFLY—Mary T. Meagher; Nancy Hogshead
200 IM—Tracy Caulkins; Nancy Hogshead
400 IM—Tracy Caulkins; Sue Heon, Clarks Summit, Pa.
4 x 100 MEDLEY RELAY—To be determined by Olympic performance
4 x 100 FREESTYLE RELAY—Nancy Hogshead; Carrie Steinseifer; Jenna Johnson; Dara Torres, Beverly Hills, Calif. Alternates: Mary Wayte; Jill Sterkel, Hacienda Heights, Calif.