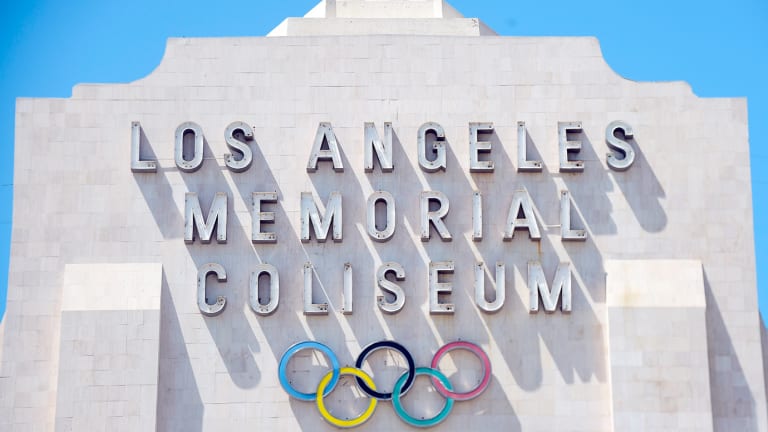 The 1984 Olympics
By being less than promised, the L.A. Games are just living up to Olympic tradition. Still, they should be a spectacle worthy even of their host city
Compared with the previous Olympics held in Los Angeles, the 1984 Games seem at first glance to be a study in deprivation. The earlier Olympics, in 1932, got under way as Brother, Can You Spare a Dime? was becoming the anthem of the day, yet those Depression-era Games are remembered for all the wondrous things they had. They boasted the first athletes' village and the Olympics' first victory stand, not to mention the Games' first photo-finish camera. Furthermore, there were a new stadium and a new pool. All that, and Babe Didrikson, too.
In pointed contrast, the '84 Olympics are famous, even before the torch is lighted, for the many things they don't have. These are the no-frill Games, the first to be staged by a nongovernmental organizing committee, and bottom-line pressures are apparent everywhere. To hold down construction costs, athletes, for example, are being housed not at a single new village but at existing sites at USC, UCLA and UC Santa Barbara, and even the few facilities that have been built strike some observers as distressingly modest. "Since it's the Olympics, I thought it would be a little more El Spectacular," backstroker Cam Henning of Canada said after trying out the new Olympic pool last year. Even Olympic bigwigs will suffer, with far fewer chauffeur-driven cars at their disposal than they're accustomed to. Brother, Can You Spare a Stretch Limo?
Something else the L.A. Games don't have, of course, is participation by the Soviet Union and most of its allies. The pullout by socialist bloc countries figures to lower the quality of competition in L.A. even more than the U.S.-led walkout did in Moscow in 1980. Among its other effects, the boycott will deprive unprecedentedly strong U.S. water polo and women's basketball teams, which were hoping for gold medals even had the U.S.S.R. been present, of a true test of how much they've improved. Fans will miss seeing such superb performers as Soviet distance swimmer Vladimir Salnikov and Czech runner Jarmila Kratochvilova. Worse, there are those who predict that the boycott, on top of other recent Olympic misfortunes, will hasten the demise of the Games.
But maybe one shouldn't be so quick to assume that the doings in L.A. will be hopelessly ruined. Cynics may sneer, but the Olympics continue to exert a remarkably strong hold on much of humankind. It's possible that they're not on their last legs. One could, in fact, view them as being on the rebound after hitting bottom with the bloodshed at the 1972 Games in Munich, next to which the lack of a few frills or a boycott by this or that superpower pales in importance.
The simple fact is that all the Olympics have been flawed, some quite seriously, yet each has produced elevating drama and moments that might unapologetically be described as magical. Viewed in that context, the calamities so widely foreseen for L.A.—freeway traffic jams, smog alerts, price gouging—don't seem so ominous. Indeed, except for a terrorist act, it's difficult to imagine anything that would hurt the Games any more than they already have been by the boycott.
And so, let the Games begin. If estimates hold, more than two billion people will at one time or another watch the Olympics on the tube, the largest TV audience in history. For casual fans and even nonfans, from whom television must draw the largest portion of that huge audience, the fact that the Games will feature a record number of countries (140) and competitors (7,800) will provide the requisite pageantry and sense of occasion. Only discerning fans are likely to notice the boycott's effects on the competition, and if they're truly discerning, they should find compensations. It isn't just that the Olympics will still showcase such splendid athletes as the home country's Carl Lewis (page 22) and Greg Louganis (page 480), swimmer Michael Gross of West Germany (page 74), and high jumper Zhu Jianhua of China (page 522), or that there will be a lot of events—most notably men's track—in which the no-shows would not have had that great an impact anyway. It's also that the allure of the Games has always owed far less than popularly believed to universal participation. Consider that this boycott is, in effect, the Soviets' seventh of a Summer Olympics; seeing the Games as being "bourgeois," they stayed away from 1920 until 1952. Beyond that, the muddle of eligibility rules for the Olympics, the fact that the Games are held four years apart and the exclusion of certain sports altogether have condemned many great athletes to the sidelines.
The cruel arbitrariness in all this actually serves to enhance the Games' mystique. To become an Olympic champion, one must traverse a minefield: It requires blind luck as well as talent to pass through it unscathed. Shotputter Brian Oldfield didn't make it; while he's banished from the L.A. Games for having received a few thousand dollars on the now-defunct pro track circuit, Mary Decker will compete despite having a six-figure income from running. Billy Olson didn't make it, either-had the Olympics been held a year ago, he might have won the pole vault, but in 1984, older and recently injured, he didn't qualify for the U.S. team.
The Soviets, of course, also didn't make it, but even athletes who stand to benefit from the U.S.S.R.'s absence know better than to gloat. The boycott means that Mike Storm, who aspires to become the first American modern pentathlete to win a medal since 1960, won't have to face strong Soviet, Hungarian and Polish rivals, but he's hardly exultant when he says, "Originally, there were about 14 guys, including me, who could've won a medal. Now, with the boycott, there are about nine. Tell me, do you think my chances have improved that much?"
If the Games succeed in spite of the pullout, it will be a personal triumph for Peter V. Ueberroth, the president of the Los Angeles Olympic Organizing Committee. Ueberroth repeatedly predicted that the Soviets would participate in the L.A. Games, just as he pledged that not a cent of public revenues would be spent on them; in fact, taxpayers will foot the bill for security costs that otherwise would have increased the LAOOC's budget of roughly $500 million by almost 20%. But under Ueberroth's guidance, the LAOOC may well come out of the Games showing a "profit," and he has admirably deflated Olympic rhetoric by pointedly referring to the Games as "just a major sporting event." He may also inadvertently have become something of an Olympic reformer, of the school that long has urged that the Games be broken up into smaller competitions. The LAOOC has, in effect, done just that by scheduling events in venues so widely dispersed that a British rower at Lake Casitas and a French equestrian at Fairbanks Ranch 195 miles to the south would have been closer to each other had they stayed home in, say, Southampton and Paris.
Despite this Olympian sprawl, it's appropriate that the Games, one of the world's great spectacles, are being held in and around a city where spectacles are big business. But whereas Angelenos export Smokey and the Bandit to the four corners of the globe and expect audiences to rise in wild acclaim, they themselves are restrained—witness the storied reserve of Laker fans—when the show is in their own backyard. If the atmosphere at the Olympics thus ends up being more like that of a church than of a sports arena, well, that, too, is appropriate. After all, Southern California has always been hospitable to cults, and there are many who consider Olympism a religion, the tenets of which—Aimee Semple McPherson, meet Juan Antonio Samaranch—are fair play, sportsmanship and the "amateur spirit." While a lot of the highfalutin talk about the Games is hooey, it's worth noting that in announcing their boycotts, Washington and Moscow both took pains to emphasize that they worshiped at the Olympic altar; if they don't always get to church, it's because something—Afghanistan, commercialization, harassment by émigré groups—keeps coming up. By pushing ahead in both 1980 and '84, the Olympics, for their part, showed that they can at least attempt to transcend politics, even if they can't escape them. And even nonbelievers may draw a measure of spiritual comfort from the knowledge that the Games so far have out-Roman-numeraled World Wars by a lopsided XXIII to II.
The athletes themselves generally have little trouble keeping the faith. "The Olympics are just a great way to have everybody get together from around the world in friendly competition," gushes Michelle Dusserre, a member of the U.S. gymnastics team. Dusserre is only 15, but American hammer thrower Ed Burke, who at 44 is on his third Olympic team, sounds equally fervent when, although he doesn't have much chance of getting a medal, he says, "I've already got what I came for. Walking into the Olympic stadium and hearing the crowd roar, that's what does it for me."
I covered both the Munich and Montreal Games and was impressed by how awestruck even the champions sometimes appeared to be. Mark Spitz's performance in '72 was consummate—seven events, seven gold medals, seven world records—yet he sounded oddly vulnerable when, after the swimming competition was over, he confessed, "I can't believe it. I thought something, somewhere, would go wrong." Something did go wrong for Mike Bantom, a member of the U.S. basketball team that lost to the Soviet Union in the final in Munich. When he made the U.S. team, Bantom said he was competing "just for what I can get out of it myself." But after Aleksandr Belov's disputed, gold-medal-winning basket at the buzzer, a sobbing Bantom worked his way through a crowd to reach coach Hank Iba. "Don't let them do this to us, Coach," he pleaded. "We worked too hard for it to end this way."
The Olympians who will be competing in Los Angeles have worked hard, too, and some have also dropped out of school, quit their jobs and, no doubt, taken steroids and other unapproved drugs in hopes of making it to the Games. Time was when these obsessed Olympians might have been dismissed as so many self-absorbed jocks, a bunch of overgrown children hopelessly out of touch with the real world. But back to back Olympic boycotts have turned the stereotype on its head. Now the world's leaders seem childish and petulant, while it's left to the likes of U.S. swimmer Tracy Caulkins, 21, to provide wisdom. "It will be more difficult now to get everyone together in the future," Caulkins lamented after the Soviets announced their boycott in May. "It will be easier for countries to say they won't come over some little misunderstanding that could be worked out."
The note of premonition in Caulkins' words makes the get-together in Los Angeles, however devalued it may be, seem especially precious and utterly worth savoring.
PHOTOPHOTOLike others kept from the Games by boycott or odd rules, Olson fell to time-honored obstacles, age and injury.PHOTOL.A. abides cults, like McPherson's and Olympism.PHOTOCaulkins now fears boycotts over negotiable issues.