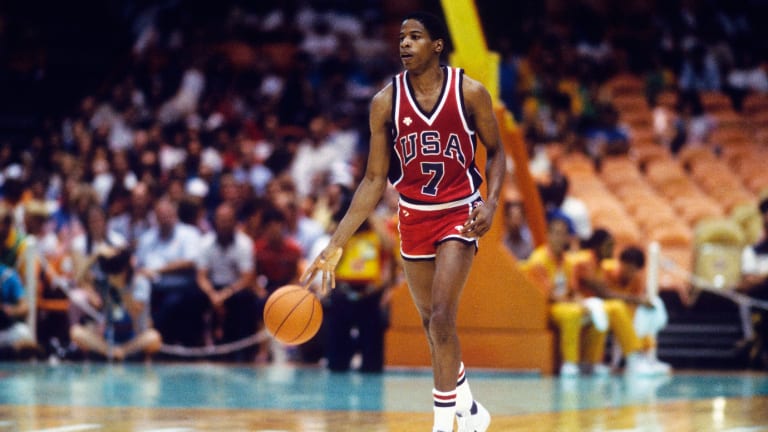 Hooray for the Red, White, Black and Blue!
Bobby Knight invited his Olympic basketball team's NBA opponents to get physical, and they gleefully obliged, but it was the kids who got the victories
Signs waved and a band played to mark their arrival at an airport near Iowa City. Girl Scouts handed out American flags to the throng of 67,596 who cheered them on in Indianapolis. The obligatory chant "U.S.A.! U.S.A.!" erupted at the end of the game in Greensboro, N.C.
Surely the red, white and blue receptions accorded the U.S. Olympic basketball team last week sent chills up and down the spines of the young men chosen to represent their country in Los Angeles. But more significant to their potential success in the Games have been the Olympians' reactions upon being hacked, mauled, whomped and unceremoniously dumped on by a ragtag collection of NBA "all-star" teams. (Danny Schayes an all-star?) What our boys have done, brave fighting men that they've turned into—War is hell. Remember the Maine! Remember Corregidor! Remember Aleksandr Belov!—is to jump up from the floor, laugh off the wounds and, employing the defensive strangleholds taught by their coach, Bobby Knight, climb back into the faces and jockstraps of the opposition. And win.
After the Olympians had beaten the NBA vacationers five straight times to the embarrassing tune of 65 points in toto, the series came to an ugly head in Milwaukee last Friday night. The pros pushed, elbowed, hand-checked and cheap-shot the daylights out of their younger rivals, with Mickey Johnson of the Golden State Warriors being the head mugger: He committed what is believed to be a North American record of 13 fouls. (The rules used on the tour permit unlimited fouling.)
Early on, Johnson banged into the Olympians' Wayman Tisdale, whose momentum undercut teammate Chris Mullin and sent them both sprawling to the floor in a scary heap. Later Alvin Robertson was slapped in the face, and both Patrick Ewing and Michael Jordan were provoked into near fights. Welcome to the NBA? This was more like the Temple of Doom. Physical testing of his team was exactly what Indiana Bobby had asked for, but the preposterously loose officiating by college refs Charley Vacca and John Dabrow caused the intensity to approach a dangerous level. So the Olympic coach unloaded a tirade at the officials. "Too much is at stake!" he screamed.
Knight had encouraged the pros to challenge his team. Keep pounding us, keep knocking us around, he told NBA guards Mike Dunleavy and Doc Rivers. But early in the second half, after Vern Fleming was called for an offensive foul, an infuriated Knight ordered Jordan to throw him the ball. When Knight refused to hand it over to the referees, Vacca hit him with a technical. Finally, Knight relented and gave him the ball, but he raged on, spewing profane invective that could be heard many rows up in the Mecca. Knight then swiped at the ball, which Dabrow was cradling in front of him, and he hit it. (In a formal press conference later the coach labeled Vacca "the most incompetent sonofabitch I've ever seen referee.")
A moment later, with Knight's bellowing unabated, assistant coach Don Donoher (of Dayton) grabbed Knight and pushed him away. Then the Olympic team manager, CM. Newton, who in civilian life is the Vanderbilt coach, shouted at Knight. The head coach cooled down.
"What do you want me to do, sit on my ass and let a million-dollar player's career be ruined by some a——-e with a whistle?" Knight roared following the Olympians' 94-78 victory. "Don't be ridiculous! We were tested tonight—by the poorest officiating in the world."
In the Olympians' seven-game winning streak—the team opened the exhibition schedule with a 124-89 rout of the Indiana alumni at Bloomington—they averaged 103.6 points a game. The team may be shooting 49.5% from the floor overall, but slumps by Jordan and Steve Alford have made that number a trifle deceiving. "We're a 55 percent shooting team," Knight says. On the other hand, the Olympians' quickness, offensive rebounding, versatility and especially their hounding, frenetic man-to-man defense make the gold medal a near lock. Antonio Diaz-Miguel, the coach of the Spanish team, fast-break aficionados who are training in Chapel Hill, N.C., says the U.S. will win easily. With the Soviet bloc boycott, only Italy and Yugoslavia are near America's class and here's one bet that neither—nor Spain, whose break Knight's defense will be delighted to break down—will come within single figures of the home team.
At the Olympics, Knight's biggest danger may be his own volatile temper. If the Milwaukee incident had occurred in L.A., Knight would have been thrown out of the game at least twice, and, depending on the largess of the foreign referees, Ewing and Jordan might have joined him. Knight's hyperbole aside, those notorious gentlemen make the lamentable Vacca and Dabrow look like veritable Kissingers, and some of them don't even speak or understand English, which, come to think of it, might be an advantage for Knight.
"I'm gonna argue like hell, just not as vehemently in L.A.," Knight said. "I wouldn't last too long if I did."
Whether Knight wanted to establish a starting lineup during the exhibition games is moot now, considering the myriad combinations he came up with. Mullin, the best shooter, had only three starts, but the lefthanded junior from St. John's can light up the scoreboard quickly—"instant offense," Jordan calls him—and it wouldn't be astonishing if he wound up as a Celtic-type sixth man. Knight loves the Celtics. "I'd be very comfortable with that role," Mullin says, as if he had a hand in the decision.
Not all of Knight's players are as much at home. Leon Wood, late of Cal State-Fullerton, who was expected to be the starting point guard, leads the team in assists (33) but his limited half-court offense has left him as ninth man in the rotation. Ewing, Georgetown's breathtaking 7-foot shot blocker, has started five games, but played only five minutes in Iowa City and is only ninth on the team in court time. Oklahoma's Tisdale is sometimes a Sooner in a swoon. The 6'9", 259-pound Tisdale should have relished the free-for-all atmosphere in Milwaukee, but he too often backed down from the physical stuff. Knight chewed out Tisdale constantly and played him only nine minutes.
Knight says he'll switch lineups in L.A., not only from game to game but also from situation to situation. He's aiming to get contributions from all 12 players: "One game A, B and C playing well, another game X, Y and Z."
That scenario meshed nicely with reality on July 9 before that huge crowd at Indy when Ewing bounced back from the Iowa City pine with 11 points and Mullin scored 18 in a 97-82 victory. And it worked again three nights later when ex-Tar Heel Jordan put on a 25-point, eight-rebound magic show of swooping and soaring for his home-state crowd in Greensboro, and Alford added 15 points and five assists in a 96-85 romp.
While Jordan and Mullin (as well as Alford, who, of course, ran it at Indiana) have found Knight's motion offense a lark, the system has mightily taxed Ewing and Tisdale. Over the short haul Ewing isn't so adaptable anyway, and Knight has never relied on his center at Indiana (excepting Kent Benson) to be offensive-minded. Tisdale's problem is that he's a root-down, post-up scoring machine who now in international ball is confronted with a wider lane. He is obliged not only to move farther away from the basket, but also, in the Knight system, to move, period. Tisdale confesses to having been "intimidated" by Knight at first and to having viewed the Olympic offense as being "for roadrunners. The hardest adjustment I've ever had to make is to go from standing around to the motion stuff," he says. "I have to think the game now, not just play it, but I'll be better off."
Moreover, Tisdale seems to have become Knight's pet whipping boy. Knight stopped practice in Greensboro and with a pen marked the exact spot on the floor—and the date—where and when Tisdale "hustled." Knight's most often heard non-profane wail from the bench is "Wayman! Get in the game!"
To compensate for his team's deficiencies, Knight has turned to the twin surprises. Fleming and Robertson are nearly mirror images of each other—in size (Fleming is 6'5", Robertson 6'4"), court presence, athleticism and versatility at point and shooting guard. Fleming is one of the niftiest garbagemen of recent times; he grabs every loose ball, tipped rebound or juggled pass and usually deposits all of the above in his own team's dumpster. His "T" in the boxscore should stand not so much for "totals" as "trash." Robertson is simply the Olympians' most consistent player; he's tied for the team lead in rebounds (34) and steals (13) and is second in assists (24) and minutes played (141) and fourth in scoring (11.7 points per game). "Who was that guy who dunked on me?" asked the Los Angeles Clippers' Bill Walton on national TV on July 8 during a break in the Iowa City game. "He came out of the roof." That guy was Robertson, whose exquisite defense, passing, leaping and aggressiveness from the high post has engendered comparisons with Jordan. "One on nobodies" is Knight's wonderfully descriptive tribute to Robertson's inspired thievery and resultant breakaways.
Meanwhile Knight is having his usual fine time harassing the media. He railed at a reporter who dared to question the legitimacy of the NBA competition: The pros are the best opponents available and have evinced a healthy patriotism. Healthy? Considering the past performance chart of these Mercedes-equipped mercenaries, their uncompensated time and effort probably rate the Congressional Medal of Honor. But most of them have showed up out of condition, unprepared and seemingly unable to put out for more than a half. Sort of like February in the NBA.
"I hope the Olympians don't get over-confident beating up on us," said Philadelphia 76er coach Billy Cunningham, who directed the pros in Greensboro. "It's not like we're in shape or that we've practiced." At one NBA "workout" called by Cunningham, not a single player showed up. Billy C. resorted to a game of H-O-R-S-E with a friend.
Even in Indianapolis, at the spectacular opening of a Hoosier Dome brimming with jingoistic fervor as the largest indoor basketball crowd in history gathered to watch the pros' strongest team—four members of the world champion Celtics, including a bearded Larry Bird, plus Isiah Thomas and Mark Aguirre—the hype and expectations far surpassed the drama. Somewhere amid Ronald Reagan's speaking via videotape, Up With People in person and the message board flashing TRULY A KNIGHT TO REMEMBER, Bird drew two quick fouls on Jordan and the NBA took a 16-10 lead. But soon the NBA MVP's off-season beer belly asserted itself—he and Thomas collaborated for nine turnovers (the Olympians had only 10 as a team)—and the pros' intensity fizzled like a damp firecracker.
In Milwaukee Dunleavy was on target, calling these games "almost giveaways" because of the pros' lack of cohesion and inability to sustain momentum through "money time." Also, NBAers just don't like being covered on defense so tough for so long; they're used to relaxing. "You relax against us," said Newton, "and you get run over."
Dunleavy, an account executive with Merrill Lynch on Wall Street, took time off to fly into Milwaukee the day of the game. Suddenly he found himself taking another midair flight, on the hurtful end of a frightening, slammo-jammo charge from Ewing. "He missed his dunk, didn't he?" said Dunleavy, who miraculously was still alive and got the number of the helicopter. Not long after, the little Milwaukee Buck had to ward off an enraged Jordan who wanted to fight after Dunleavy slap-tackled him to prevent Jordan from dunking. "I didn't come out here to not play hard," Dunleavy said.
By that time, obviously, the pros were unable to hide their frustration. In the second half of the Suds City slaughter the NBA team committed 30 fouls, including nine by Johnson. Ewing and Jordan seemed to bear the brunt of the NBA offerings. Ewing had been chopped up regularly in the series by the likes of Walton, Mark Olberding, Kevin McHale and Robert Parish, and he had handled it well. But on Friday, when Dave Corzine and Schayes belted him around, Ewing exploded and he exchanged murderous glares with Schayes.
Jordan was also rudely treated by his future peers. During the pregame warmups in Indy, Jordan had chased a ball to the NBA end, whereupon Bird controlled it. Did Bird hand it to Jordan? He did not. Without a smile, Bird kicked the ball over Jordan's head, back to the Olympians' end. Jordan didn't seem surprised; he just shook his head. Four nights later, when Jordan crashed to the floor in Milwaukee and Johnson paused to help him up, the NBA coach waved Johnson off. "Get away from him. He's been over our backs all night," shouted none other than Oscar Robertson.
Righto, Big O. Over your backs, across your fronts, on the sides and in your faces. Jordan and the rest of the gang have been taught and they're ready. You played on the U.S. team in 1960 in Rome and won the gold medal laughing. Now it's a different game and a lot tougher. Welcome, Oscar, and you too, world, to Bobby Knight's Olympic team.
ILLUSTRATIONPHOTOIn-your-face defense came into play as Dunleavy up and lowered the boom on Jordan.TWO PHOTOSOnce he finished chewing out Dabrow (below), Knight decided to give Vacca a piece of his mind.TWO PHOTOSMullin (above) is the best U.S. shooter, while Robertson has been the team's steadiest player.PHOTOPerkins (Sam) is ready to slam for Uncle Sam.PHOTOEwing, here defensed by the NBA's James Worthy, hasn't gotten a lot of floor time.