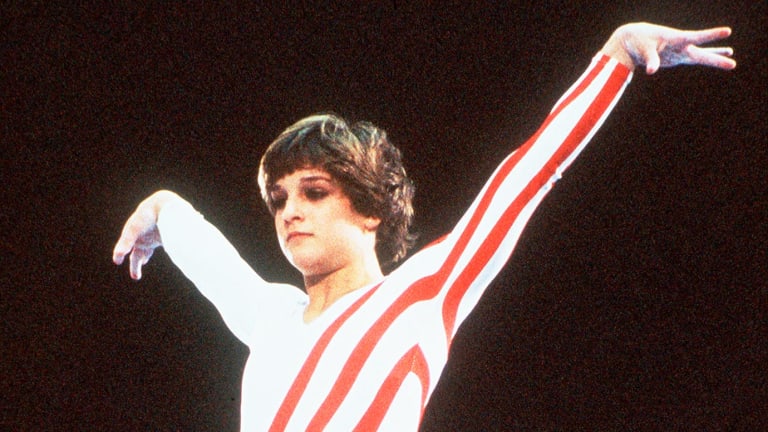 A Vault Without Fault
The U.S. gymnastic teams almost always stuck it to their opponents as they stunningly leapt to the fore
Wouldn't you know it: In the end, it came down to a level at which bravado counted as much as talent. It became a case in which the judges would say we give it a 10 for guts alone and in the process turned this into an Olympic gymnastics meet that trashed a lot of preconceptions about just who would do what to whom. From the luminous moment when Mary Lou Retton, America's pixie hot rod, pounded down the runway toward her climactic vault; to when Mitch Gaylord disappeared into the banners overhead; to when Bart Conner made up his floor exercise on the spot, editing it as he went from somersault to handstand, the show was a wonderful scramble. What the heck, give the entire production at Pauley Pavilion a 10.
The U.S. men won the team gold medal with as much brio as anybody could ask, snatching it from under the favored world-champion Chinese while they were still somewhere in midair. The U.S. women got the team silver, behind Romania and ahead of China. Both of these were historic occurrences. But then along came Retton to win the championship of everything in sight and now—at last!—the average-size people of America have a heroine they can look down to.
Everybody knows by now that Retton is the wonder girl of Fairmont, W. Va., 16 years old and bubbly beyond belief. And Friday night, grinning like an elf from behind her women's all-around gold medal, she said, "Well, nobody thought it could be done. But you know what? I went and did it."
Not one step of it had been easy. Good grief, the women's individual all-around championship might just as well have been conducted inside a bass drum. Going into the event, Retton had a mere .15 lead, 39.525-39.375, over Romania's Ecaterina Szabo. (Those totals were based on their compulsory and optional scores.) She also had what looked like no chance to win the gold medal. The silver? Possibly. As if to prove that, after the first of four rotations Retton's lead had dissolved into a tie; one more round and she was behind by. 15. And two more powerful Romanians, Laura Cutina and Simon a Pauca, were stalking her.
One had to think of the odds: No American woman had ever won an individual Olympic gymnastics medal of any kind—until last week, a 1948 team bronze had been the best U.S. accomplishment—and while Retton is the reigning American all-around champ and hadn't lost a meet in the past year and a half, she'd had little international experience. And Szabo, a deadpan blonde of 17 who sprinkles glittery makeup around her eyes, was implacable. She was the European junior champion of 1980 and '82; she's Romania's national champ, and she finished third behind two Soviets at the 1983 world meet in Budapest, where she had collected five 10s. Now, with the Soviets on the Olympic sidelines, Szabo was the boss.
"Well, at least she's about my size," said Retton on Friday before the all-around. "You know: We're both about 4'9". I've seen her work, and she's terrific." And then Retton grinned, the world's smallest conspirator. "But what she doesn't know about me is that I'm tougher than she is."
In they marched, before a crowd of some 9,000 that could best be described as pre-crazed, with Retton and the other two U.S. women, Julianne McNamara and Kathy Johnson, wearing American-flag leotards that flaunted stripes here and stars there, right down to their tiny bottoms. In the Vietnam days of student protests, kids were arrested for showing up in public like that. Off to one side, hoarsely shouting instructions from the photography pit, was one Bela Karolyi, the transplanted Transylvanian who coaches Retton and McNamara in Houston. He was there unofficially; Don Peters is the U.S. women's coach, but Karolyi had obtained a floor-level credential as an equipment adjuster for AMF, a job he ignored all week. Every time Karolyi yelled, Retton nodded at him grimly and punched at the air with both fists. Nobody fires up Retton like Karolyi.
And fire was definitely in order. Szabo took to the beam with, among other moves, a dazzling four back handsprings in a row, something no other elite woman gymnast even attempts. She came soaring off with a double-back somersault dismount for a 10. The best Retton could do on the uneven bars was an unsteady 9.85, and suddenly they were locked at 49.375 each. And while Szabo didn't look openly at Retton—and Retton didn't so much as glance at Szabo until that last grand moment—there was a distinct in-your-face posture about the Romanian. It's the way polite lady gymnasts communicate.
It got worse when Retton headed for the beam and Szabo for the floor exercise. It's one thing to do your routine to music, often classical, but it's quite another to kick it home with The Battle Hymn of the Republic, as Szabo did. There went the Daughters of the Confederacy vote. But no matter, she got a 9.95. While this was going on, Retton was hammering the beam with a stag-leap mount and a daring backward tuck somersault. But all she got was a 9.80 amid a crescendo of boos for the judges, while Karolyi, elbowing aside photographers, turned roughly the color of the cerise banners overhead. The score: 59.325-59.175 in Szabo's favor.
The odd thing was, Retton wasn't keeping score. What she was doing, head down, rolling her shoulders, shaking out her thighs, was getting ready to attack. "I knew she had me edged on points," Retton was to say later. "But I also knew that I had the floor exercise and the vault coming up. And they are my strong events." It was now a two-horse race, with Pauca a somewhat distant third and everybody else, including Retton's U.S. teammates, out of sight.
And, sure enough, Retton began her floor routine with a stunning high double-back somersault in the layout position, a stunt beyond the reach of all other women gymnasts, while judges and everybody on the floor tilted back to look upward at her. The effect was like watching a knife thrown at some faraway target. She followed that up with three different versions of double-backs to a dismount that shook the spring-loaded floor. A routine that strong could only have drawn a 10. It did, of course. Not far off, Szabo's two vaults earned her a 9.90. Szabo led Retton 69.225-69.175, and the stage was set for the showdown.
One is cautious about saying that the next few moments were transcendent lest one lose one's rating as a certified cynic; perhaps a look at the scores tells it better. Szabo was on the uneven bars, where she assuredly is no slouch, having won that event at last year's European championships. The crowd, sensing crisis, started applauding insanely about the time Retton took one last look at Karolyi, then squared her shoulders and put her head down. She quickly glanced sideways at Szabo on the uneven bars. "I could see she was doing well," Retton said. But coming up was Retton's own special version of the Tsukahara, the Sook, a layout back somersault with a double twist. No other woman can do it; most men won't try. And away she went.
"I knew I had it," she exulted later. "Listen: I knew by my run that I had it. I knew it when I was in the air!"
And also when she landed perfectly. She stood there for a moment, arms upraised, and then she jumped up and down, up and down, clenched fists overhead. Over the railing came Karolyi to sweep her up in a bear hug. Over came Peters to chase Karolyi away. "My God, he'd just violated some Olympic rule about unauthorized people on the floor," Peters would say, "and we didn't want to get her disqualified at a time like that." The noise swelled on all sides; it continued through the flashing of Szabo's 9.90. Finally there it was for all to cheer: a 10. The scores were 79.175 for Retton, 79.125 for Szabo—a .05 Retton victory—and 78.675 for Pauca. In the bedlam, Retton made her second vault, not that it mattered. Bang: another 10. The two Romanians were now disappointed bookends on either side of the new Olympic all-around champ.
They took it badly. "I thought her jump was pretty well done," Szabo said. "She did [long pause] well." Romanian coach Adrian Goreac said, "I can't say I'm happy with the judging. Mary Lou couldn't have won outside the United States. In fact, she couldn't have won in Los Angeles if Szabo hadn't been scored too low." Then he shrugged. "But Mary Lou's vault, I liked."
Peters was distressed to hear that; Karolyi was incredulous, as expected. "He doesn't know notting!" he shouted of Goreac. "She couldn't have won here? She hasn't lost in one-and-a-half years and she couldn't win here? I tell you, Mary Lou Retton is now the most powerful woman in all gymnastics. She is a bigger champion than anybody ever before." And this, he allowed, includes his own Nadia Comaneci, whom he had pounded and molded into a world and Olympic champion. "Nadia was developing that Retton kind of style when I left her in 1981," he said. "But she never lifted up her eyes. Mary Lou is much more liberal." Whatever that meant.
Then he unloaded two bombshells. One: Szabo, he said, wasn't 17 years old as listed. She was really just 15. He ought to know, he said. She was a student of his since she was five. The Romanians had advanced her age when she was 13. "In October 1981 she suddenly became 15 so she could compete as a senior," Karolyi claimed. Nobody, however, could check that charge out, the Romanians having left by the time he made it.
And two: As recently as a month ago, Retton's right knee had suddenly seized. "The reason she didn't cry at the medal ceremony tonight," Karolyi said, "was that she really cried back then, when the doctor told her she would never go to the Olympics."
All too true, Retton said. And then she grinned. "My knee wouldn't work right and I thought, 'Oh, my God, it's all over for me.' But I was flown to Richmond, Virginia for, what do you call that stuff? For arthroscopic surgery, where they snicked out some of the cartilages. And I was back in the gym the next day. And I've worked and worked since then. No way I was going to miss the Olympics."
And that included the Olympic frosting, otherwise known as the individual event championships, for still more medals. And Sunday evening, in what was really a postscript to the meet, she collected three more: silver on the vault and one bronze each for the uneven bars and floor exercise. Szabo had three golds, for the vault, beam and floor.
Performing such triumphs was hard on the nerves—of everybody but Retton. Between the compulsories and optionals, she and her pal McNamara had tooled around town in a limo with a friend, peeking out occasionally at the sights ("Big town, isn't it?"), but mostly doing their Karolyi imitations. These involved great glowerings, pulling at imaginary mustaches and throwing occasional punches. "You know what he tells us when we do something wrong?" Retton said. "He says, 'You shouldn't be doing gymnastics, you should be planting flowers.' " They collapsed into giggles over this dubious sequitur. Then they passed around candy-coated vitamin tablets and pondered the possibility of seeing Matt Dillon on the street somewhere. Retton is his biggest...no, his smallest fan.
Meanwhile, the men's events were creating tensions of their own.
At the beginning of the meet, somewhere way back, oh, a couple of Sundays ago, there had been a tendency to think of the UCLA campus as a pastel island in the Olympic stream. Lovely little place, draped in magenta, orange, green and violet bunting, its inhabitants all color-keyed right down to the judges and officials in their banana frappe blazers. Fill them up with light Bacardi and they'd become so many daiquiris. This was Gymnasticsland, home of the teeny people, and surely no athletic violence would occur here.
Oh, surely. But then, on the night of July 31, the U.S. men beat China 591.40-590.80 in the team finals, with 586.70 for Japan. Five out of the six U.S. men were in the top 10 scorers among the 81 competitors, and perhaps not until it was all over did anybody really stop to think that this was the first American gymnastics gold medal in 52 years, since the 1932 Games in Los Angeles, back when male gymnasts also climbed ropes and juggled Indian clubs.
It had started with the compulsory round, rigidly prescribed moves in the six disciplines—floor, pommel horse, rings, vault, parallel bars and horizontal bar. When they were over, there was the U.S. in the lead over China. Not much of a lead, true, 295.30-294.25. Indeed, a small-change margin like that could be eaten up in big bites during the optional, always a high-scoring circus. The Chinese weren't worried. "We're quite comfortable here," said their coach, Zhang Jian, whose impenetrable cool survived all translations. After all, this was the China that had upset the Soviets at the 1983 world championships in Budapest, where the U.S. had finished fourth behind Japan, and it was also the China of the fearsome Li Ning, the 1982 world all-around champ and now the No. 2 terror in the sport, behind Russia's Dimitri Bilozerchev. Well, ol' Dimitri wasn't around last week, and "I didn't come all this way," said Li Ning, "to fail."
The overlooked guy in this crowd was one Koji Gushiken of Japan, 27 years old and still, despite the greater esteem accorded Li, second-ranked in the world all-around. He's a professor of phys ed at Tokyo's Nippon College and owner of what has to be the alltime classic crew cut, a flat-out flattop out of the '50s.
As soon as the optionals began, the hysteria started building, as if it were being pumped in through Pauley's cooling system. Conner said later, "There we were, with the U.S. first up on the floor exercise, China on the horse—and we all looked at them and said, 'Shoot, these guys are good!' So there was nothing left to do but go after them."
About that time, Li was attacking the pommel horse so ferociously—soaring scissors kicks and one-handed flairs—you'd have thought he was trying to break its spirit, finally coming down with a 9.90, the high score for his team. A few yards away on the blue-carpeted floor, the best the U.S. could do was a pair of 9.8s from James Hartung and Peter Vidmar, with Conner about to come on as anchor man. And it was then, with everybody yowling, that he suddenly decided that his usual routine, which was merely terrific, wouldn't be good enough.
Conner at 26 is the grand old man of U.S. gymnastics, a three-time Olympic team member and world champ on the parallel bars in 1979, the owner of a prodigious collection of national titles that stretch back to the Oklahoma NCAA championship team of 1978. Plus one other distinction: He had petitioned his way into the '84 Olympic trials and had scrambled to make the team after having missed the nationals while recovering from surgery on his left shoulder. He had come away from the operation lighter by 40 bone chips plucked from his left elbow. That was last December. When he stepped up to face the world in L.A., the scars were still freshly purple.
"I don't know if you noticed," Conner said later, "but it wasn't the routine I usually do. I was making changes as I went along."
Noticed? Well, yes, Bart, now that you mention it. Conner opened with a full twisting double-back that blended somehow into a painfully perfect handstand, then stirred in soaring leaps and gainers and, somewhere in there, a high front somersault in which he landed cleanly balanced on one leg and one knee in a madcap sort of will-you-marry-me? pose. It had been a stunning show. And while the jiving and high-fiving was still going on among the U.S. gymnasts, the judges gave it a 9.90. The playbacks will show that it wasn't high enough by .10, but what do the judges know?
On the next rotation, Tong Fei and Li both banged out 10s on the rings, while the Americans posted mid-to-high nines on the pommel horse, and the U.S. lead over China had diminished to 1.3. The inexorable nibbling had begun. The Chinese remained cool and the Americans grew more hyper by the moment. But they hung in there: When Lou Yun served up a 10 on the vault, Gaylord volleyed with his own 10 on the rings, featuring a double full-twisting back somersault in which he landed with both feet drilled into the mat. On the parallel bars, Hartung, Tim Daggett and Vidmar scored 9.90s, and Conner hit a 10. And up came the final round, with the U.S. on the horizontal bar and China on the floor and the American lead now just .6. Oh, that's not scary enough for you? Then how about this: One of the judges on the bar was a Chinese, one Enchun Lu.
Enter the Gaylord II. This is an aerial maneuver that's Gaylord's alone. No other gymnast attempts it: a flyaway back flip with half-twist, recatching the bar with an impossible undergrip. All of this takes place in the air above the bar. It's so terrific it seems a shame there's only one tiny problem with it: Gaylord doesn't always hit it. Say about, oh, 60-40. And when you miss this one, you're in mucho trouble. Sometimes Gaylord plummets out of the heavens like a flaming Spad, as he did at the Olympic trials in June, when he lay half-stunned on the mat and came up with a 9.35.
Still, Gaylord knew his team needed points. The first man up, Scott Johnson, had scored a dismal 9.50 in what everybody figured was the start of the Great Chinese Judging Revenge. Abie Grossfeld, the U.S. men's coach, also knew; he'd asked an aide to run to the officials' table and peek at the point totals. This was the situation: "If Mitch plays it safe," Grossfeld said later, "he's good for maybe a 9.8, right? And we needed that. There's no way I should've let him go for the move." But now listen to Gaylord: "I sensed it was very close, and we needed a score. And then I looked at Abie. And Abie looked away. And I said aw-riiiiggght!"
Gaylord hit it; of course he did. For one flickering moment he was lost from view as he twisted in the lights. Then he came winging back down, and while everybody did an Oh, my God! he somehow stretched far beyond his 5'8½" to grab the bar in time. He drew a 9.95, and spurred by that success, the last three men poured it on: Conner a 9.90, Daggett a 10 and Vidmar a 9.95. And that, Olympic fans, was that.
That was also the night the U.S. women's team stayed up until all hours at USC's Olympic Village to congratulate the men, waiting like patient housewives for their carousing hubbies to come home from the smoker at the Elks. But the men didn't come home, naturally, at least not until long after the girls had been shooed off to bed. "I'm a Mormon," Vidmar had said earlier, "so I can't celebrate as hard as the rest of the guys."
"Well, yeah," said Conner, "but he's married."
By this time in the Games there was no reason to believe anybody would win anything in a runaway. Vidmar's various heroics in team play had put him in the lead for the men's individual all-around, but not by much: 59.275 to Li's 59.225, with Gushiken lurking in fifth spot, behind Conner and Tong. And, sure enough, after the second rotation, Li and Vidmar were tied at 79.05. One more round and they were still locked—but Gushiken, with a mighty 10 on the vault, had edged into third. And in the fifth round, after a helicopter-style full layout dismount from the high bar for a 9.95, Gushiken had the leaders in his sights. "I knew if I took each event very carefully," he said, "I would win." A thoughtful pause. "And if there is such a thing as a God in this world"—Gushiken shrugged doubtfully—"I must thank him."
It came down to Gushiken, Vidmar and Li, in that order, and a handful of statistics: Gushiken 108.8 points and Vidmar and Li tied for second with 108.775. Vidmar and Li led by .025. Vidmar needed a 9.95, nothing less, on the parallel bars. He also needed a 9.9 from Gushiken on the floor, nothing more. As it turned out, they each got a 9.90. And then the two of them met off to one side while waves of noise washed over them. Historic conversation: "Are you finished?" said Vidmar. "Finished," said Gushiken.
"Congratulations," said Vidmar. The final count was Gushiken 118.700, Vidmar 118.675, with 118.575 for Li.
Gold medal around his neck, crew cut still sharply at attention, Gushiken wept through the Japanese national anthem and later allowed, "I knew that eventually this medal would come to me." In a hopeful plug for any women in the crowd, he added, "I'm still single." And Vidmar, who had reached this height after finishing ninth in the 1983 world all-around, granted himself a heartfelt "Dang it," as close to swearing as he ever gets. "If I permit myself to think of that 25 thousandths of a point," he said, "it'll bother me for the rest of my life. You know: One less bad hop here, a half-twist there, and I'd have won."
But still, there was something unsettling in all of this, a mood that was to run through the gymnastics hoopla. With unabashed nationalism hanging thick in the air, it was obvious to some onlookers that a silver somehow wasn't good enough. Here Vidmar had won the first U.S all-around medal ever (the highest previous finish had been a sixth by Frank Haubold, in 1932), and there was a feeling he had somehow failed; the U.S. women exceeded all hopes as a team, and yet they reacted with a vaguely hangdog air. Perhaps the intense crowd pressure had done it, surely the shameless ABC hype hadn't helped, but as the weekend neared, it was evident that certain priorities were becoming twisted.
Saturday night's men's individual event finals did or did not help—pick one. Gymnastics purists will scream at this, but it seems clear that these meets are too long by one event—and the apparatus finish may be it. With the field cut to eight competitors per round, still more medals are passed around. A ton of medals. In some cases, obscure gymnasts spring up from anonymity for the occasion, which is good for the sport. But most often, early form holds. That doesn't seem to prove much.
When the rotations were over—each set punctuated by a medal ceremony and cheers and anthems and bouquets—Vidmar and Conner had each gotten another gold medal, on pommel horse and parallel bars, respectively. "And I still wouldn't trade the team medal," said Vidmar. Gaylord had a silver and two bronzes on the vault, rings and parallel bars, respectively, and Daggett a bronze on the horse. Li cleaned up: three more golds and one silver. And Gushiken got one of each kind to make a complete set to hang over the mantel.
But with all that, everybody went away with one truly favorite image firmly in mind: America's pixie twirling through the air and landing every time with an irrepressible grin for the world. It seemed that nobody in L.A. could talk of anything else. And indeed, Saturday morning's Los Angeles Times made an attempt to capture this spirit in words, describing in a sidebar how Karolyi had urged Retton on. According to the story, Karolyi had asked this Little Body to perform—and the Little Body did just that.
No, no, guys, that wasn't it. Maybe you've got to know Karolyi better to understand. Listen to him. He said, in that Transylvanian accent, "liddle biddy boddy." Boddy as in buddy, with a Romanian twist.
Which is what Retton now is to us: an entire nation's liddle biddy boddy.
PHOTO
The pressure to be perfect was on Retton in the all-around final, and she was that.
THREE PHOTOS
Retton's showy consistency got high marks in floor exercise, bars and beam.
TWO
PHOTOS
Karolyi kept pumping up his 4'9" charge, but there were quiet moments when she made sure she put her best face forward.
PHOTO
Cutina's balance-beam curls were vital in Romania's victory in the team competition.
PHOTO
First but hindmost on the victory stand, the conquering Romanians stooped to congratulate the third-place Chinese team.
PHOTO
Even Daggett was agape as the U.S. squad closed in on a win in the team competition.
PHOTO
Conner came off the rings with a grimace and 9.85 more points toward the winning total.
TWO PHOTOS
Vidmar's form on the high bar (left) and Gaylord's steadiness on the rings melded nicely to help forge the American triumph.
PHOTO
Spirits—along with Gaylord's gold medal—were sent soaring on the victory stand.
PHOTO
Gushiken was an all-around great guy.
PHOTO
Li Ning cannonballed his way to three gold medals in the individual apparatus events.
PHOTO
Szabo had every right to flip after doing four successive back handsprings on the beam.
PHOTO
Szabo was stoic when Retton nailed a 10.