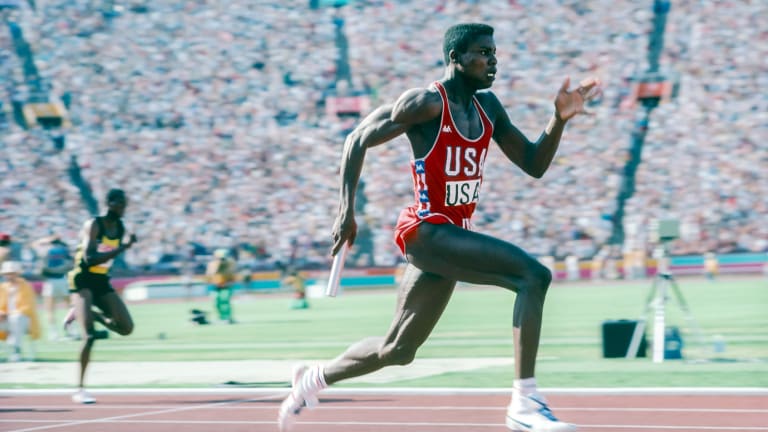 Triumph and Tragedy in Los Angeles
Epitomizing victory was Carl Lewis with four gold medals. In stark contrast was Mary Decker
After another half lap, Mary Decker would begin a long, ever quickening drive to the finish. She had led the women's Olympic 3,000-meter final from the gun, first at world-record pace, then slowing a second or so every lap. The last had taken her 71 seconds, bringing the field past 1,600 meters in 4:36.
She had shaken no one. Zola Budd of Great Britain and Maricica Puică of Romania, her most heralded opponent and her most dangerous one, respectively, ran second and third.
Decker felt fine. Her sore right Achilles tendon, which had required a cortisone injection in July, was operating smoothly. Her semifinal win in 8:44.38 had been, as she put it, "Effortless. Except for Lynn Williams [of Canada] stepping on my heel four times."
"She was looking for about an 8:29 pace in the final," said her coach, Dick Brown. (The world record is 8:26.78, by Syvetlana Ulmasova of the U.S.S.R., who, of course, wasn't in L.A.) "With a kilometer to go, she would begin picking it up." This was similar to the tactic Decker had used to win the world championship 3,000 last year in Helsinki, but there she had started her drive 600 meters out. In Los Angeles she planned to go the last 1,000 because she was stronger now, because Puică, the current world cross-country champion and mile-record holder (4:17.44), would produce a respectable kick if it weren't run out of her, and because these were the Olympics.
Decker had never run in an Olympic race. In 1972 she was too young, only 14. In 1976 she was injured. In 1980 the Carter boycott stymied her. But these Games were her own, in the city where she'd grown up. "Finally it all seems so perfect," she'd said.
That last brutal kilometer would begin in about 300 meters, on the backstretch. Now, as Decker relaxed, gathering herself, the slight, pale, barefoot, 92-pound form of Budd again came even with her. Budd had been outside Decker's right shoulder almost from the start, and Decker knew it. They had bumped elbows at 500 meters, a result of Budd's wide-swinging arm action, and Decker had shot her a sharp look.
Budd had sensed the slowing pace and didn't like it. Her training and temperament combine to make her natural race one of constantly increasing pressure. She and her coach, Pieter Labuschagne, knew that she couldn't kick with a fresh Decker or Puică. If she was to run her best in this Olympic final, the pace would have to go faster. So she passed Decker on the turn, just after 1,600 meters. Decker felt her uncomfortably close. "She was cutting in on the turn, without being near passing," Decker would say.
By the end of the turn, Budd appeared to have enough margin to cut in without interfering with Decker's stride, but instead she hung wide, on the outside of Lane 1, as they came into the stretch.
Decker was near the rail, a yard behind Budd. Budd's teammate, Wendy Sly, had come up to third, off Budd's shoulder, and Puică was fourth, tucked in tight behind Decker, waiting.
Decker sensed Budd drifting to the inside. "She tried to cut in without being, basically, ahead," Decker would say. But Decker didn't do what a seasoned middle-distance runner would have done. She didn't reach out to Budd's shoulder to let her know she was there, too close behind for Budd to move to the pole.
Instead, Decker shortened her stride for a couple of steps. There was contact. Decker's right thigh grazed Budd's left foot. Budd took five more strides, slightly off balance. Trying to regain control, she swayed in slightly to the left. Decker's right foot struck Budd's left calf, low, just above the Achilles tendon. Budd's left leg shot out, and she was near falling.
But Decker was falling, tripped by that leg all askew. "To keep from pushing her, I fell," she would say. She reached out after Budd, inadvertently tearing the number from her back and went headlong across the rail onto the infield.
Decker's competitiveness is without limit. "My first thought was, 'I have to get up,' " she said. But when she tried, "It felt like I was tied to the ground." She had a pulled gluteus, the hip stabilizer muscle. Only then, understanding that she couldn't go on, with the field past and the medical attendants and her fiancé, Richard Slaney, running across the track to her, did the anguish come. Hers was the horrible realization that once again, in the race she'd been denied by injury and boycott for eight years, she was being denied any chance of a conclusion of her own making.
She who had been hurt so often, for whom the sensation of raw exhaustion is a joy compared with the misery of not being able to run, was hurt again, three laps from the end of overcoming all of that hurt. And as that crashed in on her, she lay writhing and screaming on the infield, her face hideously expressive of the wild rage of her reaction.
Budd, who had kept her feet, maintained the lead and increased the pace. Boos rained on her. She had tears coursing down her face, this woman-child perfectionist who already had gone through so much trauma simply to be here. She had left friends and farm and studies in South Africa to claim the citizenship that was hers because her father is of British descent. And in so doing, she had become the center of a storm of debate over whether these two things could be reconciled: prohibiting South Africa any place in international sport until apartheid is no more, and letting a slender, shy girl test the extent of her talent.
Decker and Budd were seared into Olympic history in the minutes that followed, the woman in agony on the ground and the frightened little deer running on, desperately trying to squeeze away the thought that it was all ruined, this race that she had overturned her pleasantly sheltered life for, trying just to run, to go her hardest, because that was what always worked, that was what she knew, that was what she was made to do.
But she had so little left. With a lap to go, Sly and Puică were running away from her. Puică then bolted out alone over the last 250 meters, winning in 8:35.96. Sly was second in 8:39.47, and Williams third in 8:42.14. Budd faded badly, crossing the line seventh in 8:48.80.
Slaney walked the limping, sobbing Decker across the track and then lifted her into his arms as they entered the tunnel. Budd found her way there a few moments later, desperately wanting to somehow make clear that she had intended none of this horror. She admired Decker enormously. Above her bed, back in the Afrikaans town of Bloemfontein, she had kept a picture of her. In San Diego, before the Olympics, she had spoken of Decker, saying, "It would be wonderful to be so pretty."
Decker saw Budd coming. "Don't bother," she snarled, waving her off. Budd, mortified, was assisted by Britain's Mary Peters, the 1972 Olympic pentathlon champion, to the medical area, to have her bleeding ankle bandaged. On the way back to the UCLA Olympic Village, British team manager Nick Whitehead sought to cheer her. "I just said that it was her first Olympics and she ought to be proud," he said. "All she said was, 'How's Mary?' "
By then, of course, a great cacophony had arisen over whose fault this wreck of a race was. An umpire seated along the track had signaled a foul, and referee Andy Bakjian disqualified Budd for obstructing Decker. The British team manager protested the disqualification, so the matter went to the jury of appeals.
Fifth-placer Cornelia Bürki of Switzerland, who was also born in South Africa, said, "When you're behind, you're the one to have to watch out. It was Mary's fault."
This doesn't mean that a leader can swerve in with impunity, but that in the give and take of pack running, athletes learn to make allowances. "You're supposed to be one stride ahead before you can cut in," said Eamonn Coghlan of Ireland, the world indoor mile-record holder. "But this happens all the time. You have to protect yourself out there."
Neither Decker nor Budd has ever had much experience racing in the pack. Decker, though 26, can count on one hand the number of races in which she has had to maneuver in tight quarters. Her main concern with other runners on the track has been in lapping them. So she has never needed finely honed protective reflexes.
"Perhaps it was inexperience on Zola's part," said Coghlan. "Perhaps it was being too ladylike on Mary's part. You can't blame either one." The jury of appeals, after watching videotape from six angles, saw it that way, too. Budd was reinstated.
The last person Budd would ever want to hurt is Decker. The reverse may not be quite true, but the essential thing seemed not motive—"Mary doesn't feel that Zola did it intentionally," said Brown a day later—but the waste of all the preparation both had invested in this race.
At another level, both seemed to be getting punished for elements deep in their characters. Six years ago Decker said, "If it comes down to a choice between causing pain or taking it, I'll take it." That certainly seemed to be operating in the split second when she had to decide whether to push or fall.
And Budd, so shy, so much a symbol of the runner as one trying to flee, is now the one caught in yet another maelstrom.
But both picked themselves up. Rather than being dejected, Budd was said to be a little testy the next day. "She's not too happy with Mary's reaction," said British coach Frank Dick. "It wasn't her fault. She knows that."
Decker went back to her hotel after a tearful press conference and lifted a glass with some friends. "Here's to Zurich," she said, naming the locale where she plans to race next, on Aug. 22. "And here's to Cologne and Paris [Aug. 26 and Sept. 4]...and here's to Seoul in '88."
If Decker provided the most riveting image of Olympic disaster since Jim Ryun fell in a heat of the 1,500 meters in 1972, Carl Lewis forcibly—but gracefully—shifted the tone the other way. His four gold medals, duplicating the wins of Jesse Owens in 1936, were all pictures from an exhibition. Success never seemed so smooth.
He had won the 100 in 9.99 on the first weekend of track and field. On Aug. 6 he put that speed to use in the first two (of four) rounds of the 200, winning his heats in 21.02 and 20.48, and then presented himself at the long jump runway.
Somehow a common feeling had developed, partly out of wishful thinking, partly because Lewis's mastery at times can unhinge even the most skeptical observers, a feeling that he was going to break Bob Beamon's Olympic and world long jump record of 29'2½" in these Games. Beamon set that astounding mark in the thin air of 7,349 feet in the 1968 Mexico City Games. He hadn't run the 100 meters. He hadn't run a pair of 200 heats that morning. He'd had a following wind of exactly the maximum allowable, 2.00 meters per second.
Lewis didn't have any of that. Lewis had a rapidly cooling night in L.A.'s dense, sea-level air. He had a swirling, tricky wind. He had to wait for a lengthy hammer throw competition to end before the long jump could get going.
On his first jump, Lewis went 28'¼". That settled the competition. He would win by nearly a foot. His second leap was a foul. "I got a little sore after that," he said. "I decided I didn't want to take any chances." He passed his last four jumps.
This caused a sound that had never before been heard in the land, a smattering of boos for Carl Lewis.
"I was shocked at first," said Lewis, coming up with an answer worthy of a studio head. "But after I thought about it, I realized that they were booing because they wanted to see more of Carl Lewis. I guess that's flattering."
There was more to see. After a day off, Lewis returned to win his 200 semi in 20.27. Teammate and training partner Kirk Baptiste won the other in 20.29. They were joined in the final by Thomas Jefferson, and all three Americans knelt for a moment, asking a blessing that they might sweep the final 2½ hours later.
Jefferson had the best start. Lewis had the best curve, coming off with a clear lead. And Baptiste had the best finish, gaining on Lewis in the last half of the stretch. "I tried too hard early and paid a little price at the end," Lewis said, but he hung on to win in 19.80, clipping .03 from Tommie Smith's 1968 Olympic record. Baptiste broke 20 seconds for the first time with a 19.96 in second, and Jefferson held off Joao Batista Silva of Brazil to complete the sweep with 20.26. This was the fifth time the U.S. has swept an Olympic 200.
Lewis's last gold was to come for anchoring the U.S. 4 X 100-meter relay team. By now, the less faithful were imagining every screwy thing that could preserve Owens in his niche. "What if you drop the baton?" asked one.
"I pick it up and we win anyway," replied Lewis.
He actually could have, because Sam Graddy ran a 10.29 around the first turn to get the lead; Ron Brown, his sore leg healed, burned a 9.19 down the back-stretch; 100 world-record holder Calvin Smith, running in his only event of the Games, flew through the second turn in 9.41, and Lewis got the baton meters in front. He powered down the stretch and leaned at the line to shave off a last hundredth, and was glad he had, because the time was 37.83, a world record, .03 better than the one Lewis anchored in Helsinki last year and the only WR in the L.A. Olympic track and field competition. Lewis's split was 8.94 seconds.
"Hey," he said later, when grilled about his chances of replacing Owens in U.S. hearts. "My job is just to compete as an athlete and be a nice guy. Jesse Owens is still the same to me, a legend. I'm just a person with some God-given talent. I thought I'd feel relieved now, but that's not it. I'm excited. I'm really happy."
Hey, Carl, you want to see happy, look at Valerie Brisco-Hooks. This vibrant, tight-muscled long sprinter from Los Angeles put on her own equaling act. She won the 400 in an American and Olympic record 48.83. She won the 200 in an A and O record 21.81. She ran the third leg on the 4 X 400 relay team that set an A and O record of 3:18.29. And those three gold medals matched the most ever by a U.S. woman on the track, a feat achieved only by Wilma Rudolph, in 1960.
In the 400, she wasn't even favored. Chandra Cheeseborough had set an American record of 49.28 in beating Brisco-Hooks in the U.S. trials. "But now that I know how she runs, with a hard last 200," said Brisco-Hooks, "I can do something about it."
Could and did. She sprinted into the stretch with a five-yard lead, and Cheeseborough ran at her all the way to the finish, but Brisco-Hooks kept her form and won. After a few gulps of air (while Cheese-borough uttered a lovely Berra-like sentence: "Losing the American record is kind of bad, but I'm glad I lost it to an American"), Brisco-Hooks ran to her husband, erstwhile NFL wide receiver Alvin Hooks, and was hugging him sweetly when her coach, Bob Kersee of UCLA, landed on her with congratulatory moves that would have gotten him arrested in a less brightly lit arena. They ended up mauling each other at the base of the steps behind the victory podium.
"That's just the way he shows his emotion," B-H said later. There were other ways. When she won the 200 a few days later, Kersee tore open his hand going over a fence to get to her again.
Still later, as Brisco-Hooks and Cheeseborough were increasing the lead that Sherri Howard's 48.83 second leg had given the U.S. in the 4 X 400, one felt that by their excellence they had made the women's long sprints, for years the property of the Eastern Europeans, truly competitive. Theirs were victories well deserved, yet tinged with regret, for they can't be fully appreciated until validated against Marita Koch of East Germany and Jarmila Kratochvilova of Czechoslovakia.
The men's 400 field, though, had just about everybody of consequence in it, including Bert Cameron of Jamaica, the 1983 world champion. In one semi, Cameron started well and then in the back-stretch grabbed his left hamstring and slowed for a few steps, losing a great chunk of yardage. Then the cramp eased and Cameron took off, caught the field off the turn and drove himself to a qualifying fourth in 45.10. It had been one of the most amazing 400s in history. Without that little hop and rest in there, it seemed he would have threatened the world record.
But he had gone so hard on unwilling muscle that he couldn't take his place in the final. It was still loaded. It had Darren Clark, 18, of Australia, and Gabriel Tiacoh of the Ivory Coast and Washington State, who had run 44.64 in the semis. It had Antonio McKay of Georgia Tech, and Sunder Nix of Indiana University. And, as the burly Clark shot out to a quick lead, it could be seen that it had Alonzo Babers, a year out of the Air Force Academy, who was letting himself be pulled along in the lane next to Clark.
Babers came on with 150 left. Clark tied up—he would be fourth—and Babers simply ran away, finishing in 44.27, making him the fourth-fastest in history. Then he collected a second gold in the 4 X 400 relay, his split of 43.75 breaking the race open for the U.S. The time was 2:57.91, the second-fastest ever.
When their anthems stopped, winners like Babers held up the flowers. The Olympic track and field victors knew that if they tried to lift their new medals for the great crowd to see, they would appear as if they were hanging themselves from the ribbons. So in festive salute they raised the African daisies and orchids and bird-of-paradise they were given, and for an instant you misplaced their events or times or distances and thought how right this was, how natural a shift from the showing of flags, the talk of gold that can never be taken away.
Bird-of-paradise takes more than a day to wither, but the idea was there, the sense that such Olympian excellence as these men and women represent rises only for the briefest of moments, then will fall away and not be seen for four more years. The decathlon especially follows this four-year phoenix cycle. Few care about it in any other form than this Olympic test to see who's the world's best all-around athlete. And no event seems more wholly composed of evanescent moments. Its two days of competition can be understood with reference to a handful of seconds, a few situations.
The Los Angeles decathlon, it seemed, couldn't avoid turning into a struggle between titans: the world-record holder from West Germany, Jürgen Hingsen, who would be taking on his long-time nemesis, the 1980 Olympic champion, Daley Thompson of Great Britain.
Thompson was unbeaten over the last six years, sound and in superb condition, with unmatched speed in the sprints. Hingsen, the far larger man at 6'6¾" and 228 pounds to Thompson's 6'1" and 194, had an obvious leverage advantage in the throws. Indeed, in June, a 53'10½" shotput and a 161'11" discus throw (personal bests by 14" and 8'3", respectively) let him raise the world record to 8,798 points. His discus might let Hingsen take the decathlon to the final event, the 1,500, where he's clearly superior to Thompson.
Thompson set out not to let that happen. On the first day he was supreme. He sprinted the 100 in 10.44 to Hingsen's 10.91. Hingsen long-jumped 25'7¼", 1¾ inches farther than he had in his world record. Thompson answered with 26'3½", his best ever without the aid of wind and a mark that would have placed him fifth in the open Olympic long jump the evening before.
In the shotput, Thompson threw 51'7", his best ever in a decathlon. Hingsen reached only 52'¾", 21¾" less than his record. Though he had hoped to beat Thompson by a yard, he wasn't shaken. This decathlon was becoming a test of counterpunching. It wouldn't be decided early.
In the high jump, Hingsen loomed closer, going 6'11½" to Thompson's 6'8", yet Thompson was the more relieved. The high jump had been his most erratic event all year, but now he had a solid mark behind him. And Hingsen had attained his height in pain. He had strained the patellar tendon in his right knee, but once he no longer needed to execute the twisting motion required in the jump approach, and had been shot with a pain-killer, he would be able to continue.
This he proved in the 400, the final event of the first day. Thompson blasted out to an early lead and then drove himself with his powerful upper body to hang on, to not slow. He finished in 46.97, nearly his best, but it was Hingsen who had hung on, with a 47.69, keeping his man within reach. At day's end, Thompson's score of 4,633 was a "world record" for the first five events. Hingsen had 4,519. "Being 114 points back is no reason for me to let my wings drop," Hingsen said. "My second day is always my best. And there's the discus...."
John Crist of the U.S., Thompson's friend and training partner, said, "Daley doesn't care what Hingsen does, so long as Daley keeps hitting marks that add up to something in the 9,000-point range." But if ever he should leave a gap....
There was no such break in the 110 hurdles. "Good morning, Mr. Thompson," Hingsen had said, stepping into the blocks. "Hello," replied Thompson. Thompson got a good start but seemed to pause for adjustment at the fourth hurdle, and Hingsen swept past. Thompson charged back over the last meters and lost by only a foot and a half, 14.29 to 14.34, holding the damage to just six points.
Hingsen was right. If it was going to come for him, it was going to come now, in the discus. He entered the ring, pawed like a buffalo with the balls of his feet, turned, balanced, spun and released a long-armed throw that sailed out to 163'5", farther than in his record decathlon. Thompson, unable for the first time to come up with an instant rejoinder, lost his grip on the discus, sending it a paltry 124'4".
Inflamed, Hingsen went for even more. With a yell like that from a man falling off a cliff, he drove a throw high. It struck at 166'9", worth 886 points.
Thompson couldn't control his second throw either, reaching only 135'4". If the discus competition were to end here, his lead would turn to a 68-point deficit. This would be the first, crucial, indelible moment.
"I love the decathlon for the way it brings out your character," Thompson has said. And out it came. Before his last throw, Thompson spit on the discus, wedged himself into his starting position, hesitated not at all, spun and slung one low and long, to 152'9", the best he has ever thrown in a decathlon. He saluted the crowd before he left the ring, for he still led, by 32 points.
But Hingsen could see it all ahead of him. "I was sure that I would be equal with his pole vault, and in the javelin we are also the same. And in the 1,500 I would blow him away."
Both chose to begin to vault at 14'9". Thompson cleared by a foot and a half. Hingsen missed twice when his top hand slipped and both he and his pole crashed through the bar. He was decidedly unwell.
"I had warmed up fine," Hingsen said. "But within 20 minutes I got dizzy and sick. I threw up twice. I can't explain it."
So, suddenly he was staring at the decathlete's nightmare: not simply the loss of a few expected points but a no-height, the loss of all points in the vault and, with it, any chance of a medal.
He ran, not with impressive speed. He planted the pole and swung up, and got his calves over, and his hips and chest, all by about an inch. Then he was falling into the pit, still alive. "That's competition," he said to Thompson. "It happened to you in the discus and for me the same in the pole vault."
But Hingsen couldn't keep up the bravado. He missed three times at 15'5", his top hand always losing its grip.
Thompson cleared 15'5" and on his third try 16'½", after which he executed a wonderful back layout somersault, with grin. This was the moment he knew he was unstoppable. A clean clearance of 16'4¾" gave him 1,052 points for the vault, a 152-point lead on Hingsen, and enhanced the possibility of actually approaching 9,000 points.
In the javelin, Thompson's best throw seemed to go too high and stall but still reached 214 feet. He was home now. That was only six inches short of his best. Hingsen congratulated him on his now inevitable win.
Nine thousand points, however, was out of reach. It would take a 4:07.0 1,500, and Thompson's best was 4:20.3, and that was done eight years ago, when he was 18. But a 4:34.8 would let him exceed Hingsen's world record.
At the start his stride was long and lunging. Hingsen and several others drew well ahead, but Thompson passed 1,100 meters in 3:23. A final 400 in 71.8 would do it. But he lumbered into the last curve without surging, and suddenly it was clear that this was no sure record. He looked at the running digital clock at the finish: 4:29, 4:30, 4:31.... The crowd, imploring him, watched it, too. But he made no late dash. Instead, he relaxed further over the final five meters.
The time was 4:35 flat. He had won, but he had missed the world record by a fifth of a second.
And he clearly hadn't gone all out, for he at once ran a jaunty victory lap, putting on a T shirt that said on its front: THANKS AMERICA FOR A GOOD GAMES AND A GREAT TIME; and on the back: BUT WHAT ABOUT THE TV COVERAGE?
Thompson loves to consternate. Sometimes that love seems at the heart of his competitive and social method. Well, he sure did it this time. "When will he ever string nine great events like that together again?" asked Canadian heptathlete Jill Ross-Giffen, an old friend of Thompson's but furious at him now. "He could've put that record completely out of Hingsen's reach."
"Hey, all I wanted to do was win," said Thompson when it was over. "There are other times to break the record."
"What now?" he was asked.
"Oh, I don't know. Settling down, kids...."
"Daley, two questions: What did Princess Anne say to you after you'd won, and who's going to be the mother of your kids?"
"Well, you've just mentioned the lady," he was quick to reply. "And the answer to the first question is, she said, 'I hope they'll be white.' "
A shade more seriously, he said, "In the 1,500 I was just running as I felt, trying to enjoy it." He suggested that 9,000 points and Hingsen's competitive closeness were somehow linked. "Before the pole vault, I did think of 9,000," he said. "But when Jürgen went out low, I kind of lost interest in that." He left the vague suspicion that he had stage-managed it all, that he had left himself something more to do, and Hingsen to do as well.
The latter took up the challenge, about as firmly as he had hung on to his pole. "No, I don't have a Daley Thompson complex," Hingsen said. "Someday I'll beat him, I'm sure. Of course, I may be 80 by then."
Such patience may not be misplaced. Carlos Lopes of Portugal proved that when he surged away from favorites Rob de Castella and Toshihiko Seko with five miles to go in the marathon. Lopes is 37. Eight years ago in the Montreal 10,000 meters he set a pace that destroyed all but one of his pursuers. That one, however, was Lasse Viren of Finland, who out-sprinted him in the last lap.
Always the smoothest of the world's best runners, always able to race to great times on the track (his 27:17.48 last month is the second best 10,000 ever), but vulnerable to the kick of anyone who stayed with him, Lopes had almost resigned himself to ending his career without the one great victory.
He delivered himself to the marathon start at peace. "I was prepared to win," he said. "I was prepared also to lose."
Most of all, Lopes was prepared to run. His strength over the final miles carried him to the finish in 2:09:21, an Olympic best.
It's possible we'll never see a finer Olympic 1,500 than the one in Los Angeles. For a while it seemed as if there would be no one standing by the final. Sydney Maree of the U.S. injured a hamstring before the Games and withdrew. Eight-hundred-meter champion Joaquim Cruz of Brazil withdrew with a terrible cold. World-record holder Steve Ovett of Britain had been hospitalized with exercise-induced asthma after finishing last in the 800. But he was running. "He shouldn't be," said Dr. Tony Daly, medical director of the Los Angeles Olympic Organizing Committee, before the final.
The heats had been fast, but no one expected anything more than a tactical race in the final. Sure enough, after Omar Khalifa of Sudan had led a lap in 58.85, the pace began to fall. "I thought we'd hang around and sprint the last 300," said Steve Cram of Britain.
But here came Steve Scott of the U.S., not at his best, determined to make it a race over the whole distance. He led at 800 in 1:56.81. This suddenly was a very special Olympic 1,500. "In the past, people have been all too happy to lie down and let the kickers win," said Cram.
No more. Spain's José Abascal steamed to the front. Sebastian Coe of Britain, the defending champion, always held second. "It was the race I love to run," he said. "Plenty of pace, and stay at the front."
Cram moved with 250 meters to go, trying to gain the lead before the turn. The instant Cram came even with his shorter teammate, Coe exploded. He led through the curve and then kicked again in the stretch, showing, really for the first time after two years of illness, his beautifully sustained speed. He won by seven yards in an Olympic record 3:32.53, becoming the first man ever to win two Olympic 1,500s.
Coe's fierce expression of satisfaction, directed at a raucous group of Chelsea soccer fans, was misread by some observers as an angry gesture aimed at members of the British press.
Later, he put it in perspective. "This time last year, I'd been out of the hospital [with glandular fever] for four days," Coe said. "I didn't run from July to Christmas. It was really a question of returning to full health before I could even think about running."
Coe might have been speaking to Decker and Budd. There will be other races, other seasons. And other chances to run with plenty of pace and stay near the front.
PHOTO
Off the curve, as Budd (151) tried to hold her just-won lead in the 3,000, her left foot touched Decker's right thigh. To keep her balance, Budd threw out her left leg and Decker stumbled over it (1). Decker then tumbled onto the infield, clear of Puică (2), the eventual winner.
1
PHOTO
[See caption above.]

2PHOTO[See caption above.]
3PHOTO[See caption above.]
4PHOTOBudd, sensing that something awful was going on behind her, turned (3), then resumed racing as Puică and Sly (175) swung wide. Decker, unable to rise, realized her gold medal hopes were gone (7) and rolled over in agony as much mental as physical.
5PHOTO[See caption above.]
6PHOTO[See caption above.]
7PHOTO[See caption above.]
8ILLUSTRATIONFOUR PHOTOSAs the race went on, Decker writhed on the grass with a pulled left gluteus muscle. Finally, after the race was over, Slaney led her to sanctuary.TWO PHOTOSLewis's single fair long jump was good for 28'¼", his second gold medal and a surreal sand castle.PHOTOOn the following evening Lewis nailed down No. 3 by blazing to a 19.80 in the 200.PHOTOLewis led a U.S. sweep in the 200, with Baptiste (left) second and Jefferson third.PHOTORunning anchor in the 4 X 100, Lewis got a world record and his fourth gold medal.PHOTORelay teammates and rivals hoisted King Carl for a victory tour around the Coliseum.PHOTODoina Melinte (315) passed Gabriella Dorio (226) and Kim Gallagher (377) in the 800.PHOTOBenita Fitzgerald-Brown (376) gritted out a win in the 100 H, with Kim Turner (400) third.TWO PHOTOSAfter sailing over the bar at 6'7½", Ulrike Meyfarth gave a golden smile that was last seen at the Munich Games.TWO PHOTOSMoroccan flags waved after Said Aouita (622) won the 5,000, Nawal El Moutawakel the 400 H.THREE PHOTOSBabers (882) grins as he wins after running down Tiacoh (outside lane, inset) in the 400 meters. Later Nix offered a comforting hand to bronze medalist McKay.TWO PHOTOSHenry Marsh (919) made his typical late surge in the steeplechase until the heat and a recent illness combined to slow, then flatten him after the finish.PHOTOJulius Korir's steeple win kept alive Kenya's fame for rugged middle-distance runners.PHOTOThe race was still tight as Babers took the baton from U.S. teammate Ray Armstead for the third leg of the 4 X 400 relay.PHOTOHigh fives for a winning four who ran 2:57.91, the best sea-level 4 X 400.THREE PHOTOSGreg Foster saw Roger Kingdom coming (top), but Kingdom didn't know he'd won until he saw it on TV.PHOTOCruz was a tower of strength as he powered out of the turn on his way to an 800 win, but a cold laid him low before the 1,500.PHOTODorio, fourth in the 800, went slightly bananas when she won the 1,500 gold medal.TWO PHOTOSBrisco-Hooks got gold medal No. 2 in the 200 and was engulfed in the arms—and talons—of silver medalist Florence Griffith.PHOTOBrisco-Hooks, here getting the baton from Sherri Howard, won a third gold in the 4 X 400.THREE PHOTOSAfter gold medal No. 1 in the 400, B-H whooped it up on the track, and off, with her coach (center), husband Al and son Alvin.PHOTOMoved differently on the stand, B-H wept as silver medalist Cheeseborough looked on.SIX PHOTOSThompson really flipped out after clearing 16'¾" in the pole vault, which effectively clinched his second straight Olympic decathlon win.PHOTOHingsen (316) started off Day 2 with a win in the hurdles but could make up only six points on the tenacious Thompson.TWO PHOTOSThompson counterpunched in the long jump, and then made his point in the javelin.PHOTOOn the stand, Thompson jauntily whistled "God Save the Queen" for Hingsen and Siegfried Wentz.TWO PHOTOSCoe (left) won a second Olympic 1,500, but his ailing rival, Ovett, could not finish.PHOTOLopes's 2:09.21 marathon was an Olympic record.PHOTOThe U.S. 4 X 400 team of (from left) Li I lie Leatherwood, Howard, B-H and Cheeseborough hightailed it to a Games record 3:18.29.