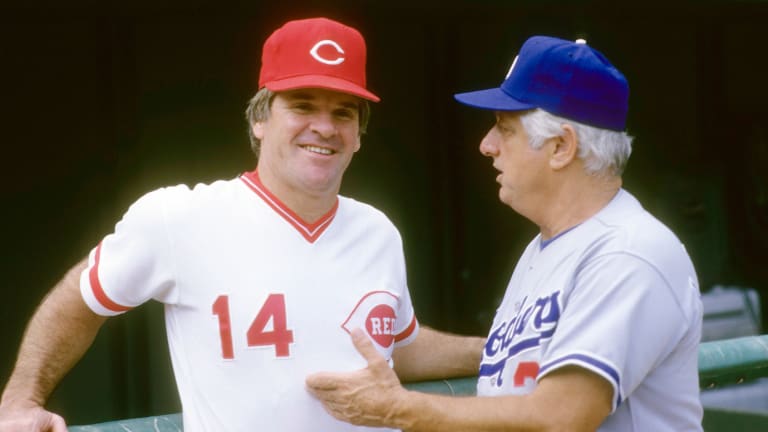 For Pete's Sake, Look Who's Back
Pete Rose's return as manager-player wowed the media, revved up the Reds and refreshed Pete's run at Ty Cobb
The manager lined a single to left center to score a run, and when the ball got by the centerfielder, he rounded first, raced around second and came sliding headfirst into their hearts, kicking up memories and raising hopes. When his catcher singled two outs later, Pete Rose came home.
Rose was traded last week for the first time in his 22-year career, from the Montreal Expos, who didn't have much use for a 43-year-old singles hitter, to his old hometown team, the Cincinnati Reds, who named him manager-player. So now Rose will attempt to lead the Reds back to where he left them in 1978 while playing enough to catch that other manager-player, Ty Cobb.
If his first three games are any sign, Rose may just bring off both feats. Cincinnati played a spirited series with the NL East-leading Cubs, and Rose got eight hits, bringing him to within 121 of Cobb's once seemingly insurmountable 4,191 hits. The Reds have any number of weaknesses, but Rose's biggest problem may be keeping himself out of the lineup.
Rose filled out his first lineup card at 2:55 last Friday afternoon: REDUS CF, ROSE 1B, PARKER RF...
"I don't think the fans are coming out to see me change pitchers," he said.
Rose had walked into the manager's office moments earlier. Dozens and dozens of roses awaited him. "Did they think I died, or what?" he said. There were also a stack of telegrams and a note left for him by another graduate of Western Hills High in Cincinnati, Cub coach Don Zimmer: "[Fie on] the roses. You better win, or it'll be your ass, just like the rest of us." Rose laughed.
At 3:05 he put on his Cincinnati red stockings and told equipment manager Bernie Stowe, "We got to do something about these wool socks. No wonder guys get sore arms around here, stretching these things on." At 3:22 he put on a uniform shirt with ROSE 14 on the back.
He talked to broadcaster Marty Brennaman ("What's inundated mean, Marty?") and shortstop Dave Concepcion ("Get your ass in here, Davey"). Then Rose went out and took extra batting practice.
The crush of media was extraordinary. Rose becoming a manager would be a big story, Rose becoming a player-manager even bigger, but Rose coming home to Cincinnati to play and manage.... Said Cubs manager Jim Frey, yet another Western Hills grad, "Player-manager would be too tough a job for most of us, but not him. He may not appear to be too educated, but forget about math and history. If he's not a genius in his line of work, who is?"
Before the game, Rose took a call from his old manager, Sparky Anderson, now the Detroit Tigers' skipper. "I told Sparky, give me some advice, and he told me, 'When you're managing, do what you feel. If you think you should hit-and-run, hit-and-run. If you think you should take out a pitcher, take him out. Don't worry about nothing.' I told him, 'I'm not worried. I'm 20 games behind. You're in first place. You're the one who should be worried.' "
Rose then introduced himself to the Reds and held a 10-minute clubhouse meeting, which ended in applause. "I just told them to play hard, have fun and do a good job," said Rose.
He received the first of his standing ovations from the fans at 7:15, when the Shriners gave him a red suitcase while fellow members of the Order of the Syrian Desert Raiders, dressed as clowns, cops and convicts, cavorted on the field. Although it wasn't a sellout, the crowd of 35,056 was about double normal size. The start of the game had to be delayed 10 minutes, until 7:45, to handle the last-minute walk-up sales. The fans stood again when Rose presented his lineup card to the umpires at 7:41. All the while, planes flew overhead trailing such banners as END OF THE WOES/WE'VE GOT ROSE/LOVE MARGE.
The Cubs scored a quick run in the top of the first. In the Reds' half, Gary Redus walked to lead off, and as Rose left the on-deck circle the cheers started anew. Someone in the first row threw out four long-stemmed roses. Rose tipped his cap. "I had tears in my eyes as I took the ring off the bat and walked to the plate," he said. "But the minute I walked into the batter's box, I was ready to hit."
On the first pitch from Dick Ruthven, Rose took a strike, bluffing a bunt to help Redus steal second. The second pitch was a ball. Then, at 7:54, Rose lined the third pitch over shortstop into left center, scoring Redus. The ball got by Bob Dernier, and Rose came tearing around the bases. "I haven't been playing much lately, so when I got to second, third looked like it was at Fifth and Vine. I thought they moved it since I was here last." His last appearance at Riverfront in a Reds uniform had been on Oct. 1, 1978.
Third-base coach Joe Sparks gave Rose the slide sign, even though there was no real play at third. "The outfielder made as if he might throw," said Sparks. "Besides, I knew Pete was going to slide anyway." And there he went, losing his helmet, flying through the air, plowing through the pit, grabbing third. As the manager dusted himself off, his players went wild in the dugout. "We were going crazy," said infielder Wayne Krenchicki. "I told Concepcion, 'Look at the tears in my eyes,' and he said, 'Look at this,' and he points to his arms covered with goose bumps." Rose scored on a single by catcher Brad Gulden, who came in on a double by Concepcion.
Rose didn't have to do much managing with Mario Soto on the mound, although Soto did give up a three-run homer that put the Cubs ahead 4-3. But Cesar Cedeño and Dave Parker hit solo homers to give the Reds a 5-4 lead. Throughout the game, Rose kept yelling encouragement and advice at Gulden and Soto from first base. Although the rules are still a little unclear, Rose will have to abide by the same rules other managers follow in visiting the mound.
In the seventh inning, after Gary Matthews walked, and with Keith Moreland up, Rose smelled a steal. He didn't know the sign for a pitchout, but he motioned to Gulden with his hand, and Gulden picked it up. Matthews was easily nailed attempting to steal second.
In the bottom of the seventh, Rose drove in an insurance run with a bloop opposite-field double. Naturally, and perhaps unnecessarily, he dived headfirst into second. "Actually," said Rose, "it's easier on my legs that way." In his debut as a skipper, Rose almost certainly became the dirtiest manager in the history of baseball. When the game ended, Pete Rose Sr. high-fived his 14-year-old son, Pete Rose II, the new batboy.
Soiled and rumpled, the new manager greeted the media with "I'm tired." But he was smiling and, as is his wont, he answered every question and then some. He said he would probably start Nick Esasky at first base the next night, although he did hedge a bit: "I'm seeing the ball pretty good right now. I wouldn't want to have a big crowd get on Nick if he struck out his first time up."
The one thing Rose said he wanted to accomplish was to make the game fun again for the Reds. "I just don't want the players on this team to put on the uniform on Sept. 30 and say, 'I'm glad I don't have to put this on tomorrow.' I want them to say, 'I can't wait to put this uniform on next spring.' "
At 11:45, Rose went home with his new wife, Carol, to watch the Royals-Rangers on cable.
How Rose came to be Cincinnati's manager-player—the Reds insist on that usage, rather than player-manager—is a case of serendipity. He injured his throwing elbow on May 18, so the Expos could no longer use him in leftfield. Montreal, struggling offensively, concluded it needed a first baseman with some power, and on July 26 it traded for the Reds' Dan Driessen. Rose speed-read the writing on the wall and asked his agent, Reuven Katz, to cast about for a contender that could use his bat, even if that should take him to the American League.
On Aug. 5, after a day game with the Dodgers, Katz and Bob Howsam, the president of the Reds, happened to meet at a wedding reception for Reds pitcher Jeff Russell and his bride, the former Melanie Pereira, and the trade winds began to blow. The next week John McHale, the president of the Expos, called Howsam and asked if he'd be interested in trading for Rose. Howsam said he might and called Katz to ask to have Rose call him. Rose did, and they talked for an hour and a half. "He told me he'd asked his friends if they honestly thought he could still hit, and they'd told him he could," Howsam says. "He asked me, and I said I thought he could. And he also convinced me he could do a better job of evaluating talent on the field." As Rose himself says, "Any scout with a gun can tell you a guy throws 92 miles an hour. I can tell you if his ball moves or not."
The deal was set in motion, and last Wednesday at baseball's annual summer meeting, in Philadelphia, McHale and Howsam reached an agreement: Rose to the Reds for minor league infielder Tom Lawless. Howsam set up an elaborate scheme to keep the news secret until he could inform departing manager Vera Rapp and introduce Rose at a surprise press conference on Thursday. But word had leaked out Wednesday afternoon, and the embarrassed Howsam had to call Rapp in St. Louis that night to tell him after the press had already let him know he was no longer the manager.
The Cincinnati Enquirer ran a page one headline, PETE COMES HOME, in type size normally reserved for presidential resignations. All of Cincinnati perked up in the summer heat, and PETE'S BACK! T shirts were hurried into stores. At a press conference held on the Riverfront infield, Rose gave a bravura performance, coolly answering questions while dressed in a Reds warmup jacket in the 105° heat. "This jacket says 'Cincinnati' on it, not 'Rose,' " he said. "I have to get it across to the players that they aren't playing for Rose, they're playing for this city."
What kind of manager will Rose be? "Aggressive. He'll manage the way he plays," says George Scherger, the coach who'll be Rose's right-hand man. In just three games under Pete, the Reds took on a new character, running with abandon.
"I think we're going to have some fun," says Parker, another Red who grew up in Cincinnati. One of the first things Rose did was put the television back in the players' lounge. "I plan to be in there with them, watching the Game of the Week," he says.
Rose will probably never have a doghouse. "I have a hard time staying mad at people," he says. "Baseball is no place to hold a grudge. We're with each other so often that to walk around and not talk to somebody is no good. Besides, I can't be me and be mad at the same time."
How much player is left in Rose? With the Expos, he was getting by: 65 hits in 66 starts, 7 for 24 as a pinch hitter. But of his 72 hits, only eight were for extra bases, and his average lefthanded, .280, was 75 points higher than his average righthanded. "I can do the same things I did 10 years ago," says Rose. "I just can't do them every day." But putting on a Reds uniform again could give him enough of a charge to overtake Cobb. "I think it'll be easier for Pete now," says Howsam. "He'll have no time limit."
Rose's toughest task won't be running the game—Scherger will help him do that. It will be separating the player from the manager. "I still consider myself a player," he says, much in the manner of Peter Pan singing, I Won't Grow Up.
Last weekend, Rose was finding it hard to do the separating. On Saturday, he penned himself into the lineup again, batting second, playing first. "I thought I'd wait until this hype thing is over," he said, by way of apologizing to Esasky.
The Reds looked awful in the first inning. Before the Cubs made one out, the Reds committed three errors and a balk, and as Rose strode around the infield, fist high to indicate no outs, Chicago scored four runs. After one inning it was 7-0.
But Cincinnati fought back. Rose drove in a run with a single to straightaway center in the fourth, bringing the fans to their feet. The Reds closed to within 8-5, then 9-7, before the Cubs took command again, 13-7. But wait. Cincinnati scores two in the eighth. In the ninth, Rose hits his third single up the middle to drive in his second run. Chicago wins 13-11, but the Reds go out sliding, headfirst.
After the game, Rose, who had used 17 players, allowed as how he might have to keep his first baseman in the lineup for another game. "What would you do?" he asked. "I'm batting .500."
Esasky, one of only two Reds non-pitchers not utilized, agreed with him. "He's getting hits and driving in runs," said Esasky. "Why take him out of the lineup? Besides, I'm just really excited to play for Pete."
On Sunday Rose got three more hits in five at-bats, giving him a batting average of .533 for the three games. His managing average, though, was only .500 in the series finale. In the fourth inning, with the bases loaded and two outs, he let Russell hit, even though the pitcher was trailing 4-1. So Russell lined a bases-clearing double into the leftfield corner to tie the score. Redus knocked in Russell, and with the crowd chanting, "Pete! Pete!" Rose singled to score Redus to give the Reds a 6-4 lead.
But in the top of the fifth, with two men on and the score tied, Rose let the righthanded Russell pitch to lefthanded pinch hitter Thad Bosley. Bosley hit a three-run homer, accounting for the final score of 9-6.
Several conclusions could be drawn from Rose's return to Cincinnati. He's a bust at developing young talent. He can't sit still as all good, dignified managers should. And he's having much too much fun for someone of his station.
But he brings life to the Reds, and they in turn have brought him a new life. Whether it's leaping over tarps after foul balls, spiking the ball defiantly after a third out, lining yet another single, or sliding headfirst, Pete Rose is making a lot of people feel young again.
PHOTOPHOTO"The fans aren't coming to see me change pitchers," said Pete, penciling himself in.PHOTOThe toughest part of the new job, he said, was pulling up his socks.PHOTOZimmer: Roses are great, but you'd better win.PHOTOAfter meeting the umps at home plate, Rose jogged the memories of the Riverfront fans.PHOTOWho's on first? Dirty Pete, of course.PHOTORose is back in fine Charlie Hustle fettle in an abortive pickoff attempt of Dernier.PHOTOChicago's Ryne Sandberg tagged Rose out after he attempted to take second base following his run-scoring single on Sunday.