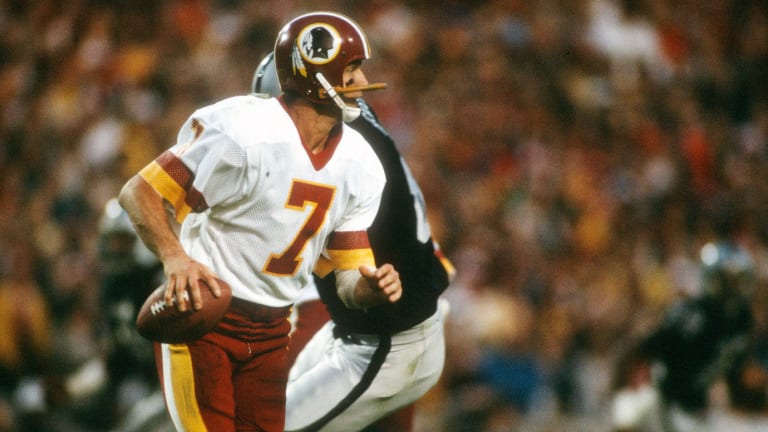 He's No Longer the Talk of the Town
With a new lady on his arm and a bigger contract in his hand, Washington's Joe Theismann, who was once known as King Quote, is now strangely silent
There's a wonderfully patronizing word used in sports to describe some paragon who speaks loudly and at such length that no matter how he mangles reason or disfigures the language, he is said to be "articulate." (In much the same sense, Regis Philbin or Charo are considered "articulate.") But Joe Theismann of the Washington Redskins was a refreshing exception. Never merely articulate, Theismann, who may be the best quarterback in the game, always had something to say. Theismann loved to talk, the world loved to listen and it looked as if this happy state of affairs would go on forever.
Last season Theismann was voted the NFL's Most Valuable Player, and he led the Redskins to their second consecutive Super Bowl. But he suddenly seemed to lose his golden touch. His troubles had already begun by the Super Bowl—he completed fewer than half his passes in the Los Angeles Raiders' 38-9 romp—and continued into the off-season. Besieged by reports of marital problems, Theismann was also rumored to be dating a Hollywood television personality, unhappy about his Redskin contract and, for all anybody knows, plagued by waxy yellow buildup on his kitchen floor.
In May, Theismann announced he was no longer talking to the press. Theismumm, he would be. The result is that the face that launched a thousand lips is now as the sound of one hand clapping. Which is to say, as he prepares to open the regular season this Sunday against the Miami Dolphins, Theismann has put a sock in it.
To appreciate the full impact of his decision, it's important to understand that what Theismann could do transcended merely talking. He spoke in quotations that leaped from his mouth full blown, complete with commas, periods and quotation marks. He was the prince of prolixity, and the press adored him. "I used to call him King Quote," says Gary Pomerantz of The Washington Post. "He was always good for paragraphs four through seven of my story. When I talked to Theismann, I had to be sure to bring along the 90-minute tapes. He did the rest."
George Solomon, the Post's sports editor, worries that Theismann will be leaving reporters with more tape gaps than Rose Mary Woods ever dreamed of. "It's stunning," says Solomon, who now refers to Theismann in the past tense, as if he were dead. "He was one of the most quotable athletes we've ever had in Washington—and win or lose he was always there to talk to you. He would give the AMs (papers with a morning circulation) one story and the PMs another. He was the epitome of the media superstar—always there when you needed him."
Until Super Bowl XVIII, Theismann had always been there when the Redskins needed him, too. He completed 60.1% of his passes and led the defending Super Bowl champions to a 14-2 record in '83. But against the fierce pass rush applied by the Raiders, Theismann completed only 16 of 35 passes, was sacked six times and intercepted twice. "That was probably one of Joe's worst games," says wide receiver Charlie Brown. "I thought there were times when I was open and didn't get the ball, or when I was open on third down and the ball was thrown low. I'm not blaming anybody. But all you have to do is look at the films of that game to see what happened. The eye in the sky does not lie."
Theismann seems to believe that the reason he didn't play well can be traced directly to his mouth. Typically, the only explanation Theismann has made of his silence came in May, when he talked to a reporter from the Post. "It was kind of funny that when Joe decided he wasn't going to talk to the press anymore," says free safety Mark Murphy, "the way he announced it was by telling The Washington Post." Theismann was actually on the phone with George Michael, a Washington sportscaster, when he was overheard by Neil H. (Holdthepresses!) Greenberger, a Post stringer. Greenberger heard Theismann trying to explain why he no longer wanted to do Joe Theismann's Redskins Report, the popular weekly TV show he and Michael had co-hosted last season on WRC. After the conversation, Greenberger got Theismann's permission to print some of what had been said on the phone.
When Theismann's statement appeared in the Post the next day under a headline rich with implication—THEISMANN WON'T TALK, TALKS OF WHY HE WON'T—it was studied as carefully by Washingtonians as the seating arrangement at one of Pamela Harriman's dinner parties. The message raised dozens of questions crypticwise, provoked a spate of theories punditwise, roused the rabble gossipwise and caused cynicism otherwise. So was it wise?
Theismann seemed to think so. "This year all I want to do is play football," he said. "I don't want to talk about it. In the past all I have done is talk, and I'm going to try it this way now because of one football game—the Super Bowl.
"There were two Super Bowls for me last year—the one I tried to talk my way through and the one I played. All I do is get myself in trouble with my big mouth, and now I think I have to do it this way. Whether it will work for me or not, I don't know, but I have to try it because I just want to play football."
Anyone who saw Theismann in Tampa—doing every morning talk show, personally seeing to it that no reporter went to bed with an empty notebook—might have wondered if running the Redskins' offense wasn't beginning to interfere with his running off at the mouth. "Every time he turned around he was doing another interview," Michael says. "He was constantly running, trying to do everything, to always be available. He just didn't get a chance to stop." When Michael interviewed him shortly after the Super Bowl, Theismann referred at one point to the media carnival he had just been through and then said, "Maybe I ought to quit."
Washington coach Joe Gibbs, who had always wanted Theismann to concentrate strictly on football, harshly rebuked the Redskins for their poor Super Bowl effort when they reported to mini-camp in May. Did Gibbs put pressure on his quarterback to talk less? "I wouldn't want to put words in Joe's mouth," Gibbs says (although, come to think of it, if he doesn't, who will?), "but Joe always felt obligated to stay forever and take all the questions. I think he probably just wore out. Joe's got an amazing ability to try to be part of everything, and when he's not doing a lot, I think he's bored. Maybe that's what makes him tick. But I would say it was too much."
Still, Theismann had handled such pressure before, had won a Super Bowl, had been named league MVP, and the one constant throughout had been his mouth. "Joe was always talking," says Brown. "He could talk for days, but he always has something to say. You just have to listen. If you don't listen, you must be sick, or dumb, or something." So was the press sick, or dumb, or something?
"My first impression when I heard he wasn't talking was to pull out my stopwatch," Pomerantz says.
Theismann's silence—which, he says, will be broken only in postgame interviews that relate to football—raised the tantalizing matter of just what question Theismann is trying to avoid answering. "A lot of questions would've been about his personal life," says Skins general manager Bobby Beathard. "I can't speak for Joe [hey, somebody better], but I think there are some things in his personal life he doesn't want to talk about."
Theismann's personal life became grist for the Washington rumor mill in March, when he and his wife split and he reportedly began seeing Cathy Lee Crosby, who's of the Hollywood blonde-bombshell persuasion. Theismann had started dating his wife, Shari, 15 years ago at Notre Dame because, as he himself said, "I got this weakness for blondes." Now that weakness seemed likely to make him a target for every gossip slinger on the Georgetown quiche-and-canapé circuit, and since there was nothing Theismann could do about Crosby's conspicuously cantilevered profile, it's possible he decided to lower his own. But was the Washington press corps really interested in the dirt on Theismann's love life? Would reporters have asked a lot of rude, embarrassing questions? Would they do that? Naaah. "Hey, you tell me, pal," says Michael. "What would it be like going out with a national star like Cathy Lee Crosby?" O.K., maybe they would've asked those questions, but they'd probably feel real bad about it later.
Crosby, who first became known nationally by flogging peppermints on the back of a horse in a TV commercial and then hosted That's Incredible! [a co-host was another quarterback, Fran Tarkenton], made a cameo appearance at the Redskins' Aug. 17 preseason game with New England at RFK Stadium. She remained in Washington owner Jack Kent Cooke's box throughout the game, though she did lose a tad of her privacy when Theismann waved to her from the field during warmups. They were spotted climbing into a limo together after the game.
Theismann rarely socializes with other Washington players—probably a carryover from the days when he joined the team in 1974 and was battling Sonny Jurgensen and Billy Kilmer, who were very popular, for the starting quarterback job—but he is well enough liked that his teammates have made an effort to respect his privacy. True, fullback John Riggins was the first silent Skin, but Theismann may have started a trend. Kick returner Mike Nelms and defensive end Dexter Manley have now dummied up, as has reserve quarterback Babe Laufenberg. "I'm not talking to the press either," says Laufenberg. "Of course, the press may not know it yet, but if somebody does try to ask me a question this season, I'm putting my foot down."
Theismann's closest friend on the Redskins, All-Pro placekicker Mark Moseley, thinks Theismann is just trying to avoid putting his foot down anywhere it might do some damage—like, for instance, in his mouth. "I think it has to do with the situation in his life right now," Moseley says, "that he doesn't want to be misquoted in any direction. And the best way to do that is not to be quoted at all. He seems to be in better spirits now than he's been in a long time. I think he and his wife have got things settled, in whatever way."
They appear to have settled things in what you could call the "whatever way," all right. After years of maintaining a dutiful First Ladylike silence, Shari Theismann is suddenly doing enough talking for everybody. As the cover girl for the September issue of The Washingtonian, a monthly magazine that hits the stands this week, Shari discusses the perils of being a celebrity. On the cover, she tears up a July 1978 Washingtonian cover, which features her husband. Inside, she does more tearing:
•"Success ruined our marriage. Or perhaps Joe's inability to handle that success. He lost his values."
•"Our marriage went up and down with his career.... It's the celebrity's prerogative whether to bring the family into his success. We shared the downside more than the success."
•"Joe's the eternal egotist.... After he won the Super Bowl in '83, he had all these speaking engagements and got a part in this new Burt Reynolds movie [Cannonball II]. If there was a place he could stick his name, he would do it.... He's been on a marathon for the last two years to see how fast he could go, how much he could do, how fast he could do it. Joe likes theater. Joe likes the limelight. He likes the accolades, loves the applause, needs the audience."
•"I know what I want," she concludes. "Not someone who gives me 100 percent. Just someone who loves me as much as they love themselves."
In most other cities, the marital miseries of even the most prominent local athlete probably wouldn't make headlines. But in Washington, where the quarterback for the Redskins exerts a peculiar hold on the local imagination, Theismann is the object of a fascination that is the equal of anybody in town above cabinet level, possibly including the Great Communicator himself. "It took Joe 10 years to earn the respect and adulation he has in Washington," says Michael. "You have to understand that he isn't the most loved of all Redskin quarterbacks. There are a lot of people who've never accepted him. And for the quarterback of the Redskins to split with his wife is definitely not cool."
Over the past season, Theismann had also been hot over his Smurf-sized contract, a deal that reportedly paid him a paltry $315,000 in '83. "Joe was always fighting last year to prove he was the best quarterback in the league and that he deserved a new contract," says Murphy. "I think the contract situation has had an impact [on his decision not to talk]. He knew that John Elway and Warren Moon—guys who were really unproven—were getting big contracts, and it bothered him." During the off-season, the Redskins and Theismann agreed to a two-year extension of his contract at a reported $600,000 a season.
No one knows exactly how long Theismann's silence will last, or whether, if he has another bad Super Bowl, he might hold his breath until his face turns blue. What's clear, however, is that people in Washington are getting a little restless waiting for their quarterback to talk to them. As one local columnist put it, "This town loves the Redskins, but nobody wants a cigar-store Indian calling signals."
Theismann with nothing to say? No comment? Not even one word? Say it ain't so, Joe.
TWO
PHOTOS
From the owner's box, Cathy Lee only had eyes for Joe, with his son Joey.
PHOTO
Shari cut up her estranged hubby on this magazine cover.
PHOTO
Joe used to wax eloquent and often, but now he'll make only postgame observations.
PHOTO
Theismann had his ups and downs in the Skins' NFC title-game victory over the 49ers last season.