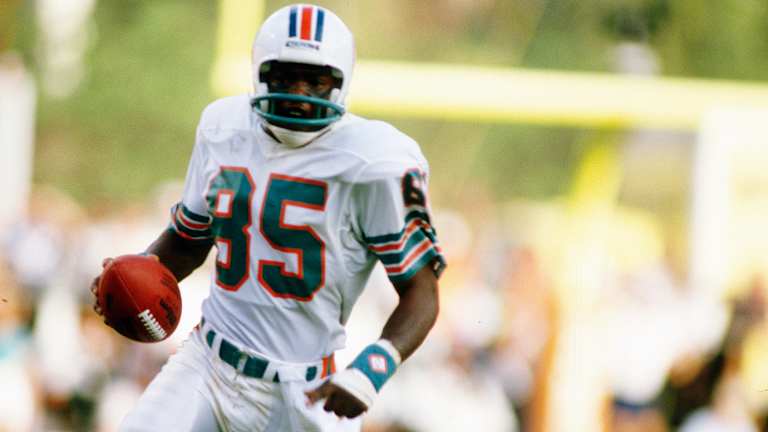 Did He Pass? Did He Ever. Give Him an 'A'
The Dolphins' Dan Marino nearly got the max in the NFL quarterback ratings during a 35-17 rout of the Redskins
On Sunday, in the opening game of his second NFL season, Dan Marino broke the bank at the Elias Sports Bureau, which handles all the league statistics. Send the croupiers home. Stack the chips. There will be no further play for the evening. The house is cleaned out.
The Miami Dolphins' 22-year-old quarterback went off the board in three of the four categories in the NFL rating system for his position when he led the Dolphins to a 35-17 win over the Washington Redskins. Marino threw five touchdown passes (in 28 attempts), had zero interceptions and completed 75% of his passes. Had he gone off the board in the other category (average gain per pass), Elias would have given him a ranking of 158.3. It's the ultimate. Marino got a 150.4, which is as close to perfection as we'll likely see this season—or any other, for that matter.
Oh, he'll come down to earth. They all do. But, lordy, wasn't the kid something, the way he was whipping the ball around RFK Stadium, sending the fans to the parking lot in the beginning of the fourth quarter, sending Redskin owner Jack Kent Cooke to the elevator just about the time the Skins started stopping the clock with time-outs.
There was something arrogant, even irreverent, about the way Marino bombed Washington. The Skins had prepared for a nasty kind of game, a slugfest, trench warfare, and indeed, if it had gone in that direction, the afternoon would have been theirs, because fullback John Riggins (15 carries, 98 yards) was just as unstoppable in his way as Marino was in his. The Dolphins had dedicated their preseason to stopping the run, and they'd done a good job of it. No team had rushed for 100 yards against them. Washington ran for 99 in the first half, 156 for the game. But Marino opened up the skies.
Modern football maxim: When you run the ball, four things can happen and three of them are bad—you can get stopped, you can fumble, the clock can run out on you. After two quarters and change, Marino's rainbows had taken the Skins off the ground and into the airways, and the game was over.
It was almost too easy, the way he did it. In the first half the Redskins earned their 10 points on two carefully constructed drives. The first featured Riggins at his thundering best and ended with the big fullback going over from the one. The second, which ended with a 32-yard Mark Moseley field goal, was a blend of Riggins' relief man, Joe Washington, and Joe Theismann's precise sideline passes. The Dolphins scored 14 points, though, on two flicks of Marino's wrist, 26 yards to wideout Mark Duper and then 74 to Duper. The latter was a crusher, because the Skins looked like they had Miami on the ropes.
The Dolphins' defense had been getting pounded. The heat, which hovered in the 80s all afternoon, was taking its toll. Don Shula had already replaced two of his defensive linemen, middle guard Bob Baumhower and right end Kim Bokamper, and the guys who were on the field wished they weren't.
Trailing 10-7 late in the second quarter, the Dolphins got the ball, and on second and two from their own 26, Shula went for the big banana. He sent four receivers downfield, with Duper, last year's long-ball sensation, and the other wideout, Mark Clayton, both on the left side. The Skins' coverage group, which had a terrible time trying to keep up with Shula's game plan, was overmatched.
"I went down the sideline," Duper said. "Clayton was slotted inside me, and he went deep, too. The cornerback [Anthony Washington] gave me a bump and ran with me for a while, but then the middle man [the other cornerback, Darrell Green] was supposed to come over for deep help. He never got there in time. They didn't expect Clayton to go deep, too, so the middle guy was hung up. He couldn't get there in time. It was one man trying to cover two."
The result: the 74-yard touchdown that turned the game around. The Skins had worked like hell and had beaten the Dolphins in every phase of the game except one, and they were 14-10 short-enders. Miami had caught them in one bad coverage.
A few of the Skins' defensive people said Anthony Washington had played it wrong: He should've run with Duper a little longer before he passed him off. Free safety Mark Murphy felt the problem was more basic. Blackboard stuff. "It seemed like it was one of those days where whatever we did, they were always one step ahead of us," he said.
But give Marino credit. He laid the ball in perfectly. The pass fluttered a little; it wasn't pretty. But it caught Duper at exactly the right time at the right spot. And give the Dolphins' offensive line credit, too. A quarterback doesn't wind up with the stats Marino had (his 21 completions produced 311 yards) unless he's getting time to throw. Marino wasn't sacked once by a unit that ranked sixth in the NFL in that department last year.
Anthony Washington got some heavy booing from Redskin fans after Duper's 74-yarder, but it was nothing compared to the noise they let out when he played it very loose—10 yards off—on his next coverage and Clayton caught a 20-yarder on him, and on the two after that, when Duper burned him for 46 on a post pattern and then, on a little turn-out and juke move, turned a short gain into a 17-yarder.
"They were covering Duper man-to-man. I couldn't believe it," said Miami backup quarterback Don Strock, who stands next to Shula on the sidelines. "After the season he had last year, I didn't think Mark would see any single coverage this year. Our people didn't, either. All week in practice they were preparing him for double coverage, jamming him this way, funneling him that way. Then we get in the game and they try to cover him with one guy. Hey, I wouldn't like to be that guy."
Whatever the Skins were doing, they gave Duper one of the big days in his career—six catches for 178 yards and two TDs. And the game saw the birth of another Dolphin star, Jim Jensen, nicknamed Crash. This was the unknown element, Shula's replacement for the injured Tommy Vigorito, the utility guy who lines up everywhere but hurts you most with his pass catching.
Crash began life as a quarterback. He set all sorts of school records at Boston University, and to show their appreciation the Dolphins drafted him in the 11th round three years ago and told him the third-string job was his if he could beat out New Mexico's Brad Wright, whom they had drafted as a fourth-rounder. Jensen made it. He was 6'4", 215 pounds, and he liked to hit people. He made the team by running downfield under kickoffs and...well, that's how he got to be called Crash.
In three years Jensen's tackle and assist totals outnumbered his passes thrown by 22 to 1. This year Shula decided he'd be a receiver, sometimes lined up wide, sometimes in tight, where the linebackers live. "Some people might call him a second tight end, or U-Back," Shula said Sunday. "We call him a double wing."
So Crash Jensen, playing a position named after a Pop Warner formation, started against the Redskins. He was Shula's surprise starter. Even Jensen didn't know beforehand that he'd be starting. Sometimes he stayed inside and blocked the linebackers ("I need work on that phase of the game"). Sometimes he split out wide—and that's where he did his damage.
Tony Peters, the safety who'd been in the Pro Bowl two years ago but sat out '83 because of a drug-related suspension imposed by Pete Rozelle, had man-to-man coverage on Jensen and got burned on quick slants, an almost impossible coverage without inside help. Jensen finished with five catches for 40 yards, four of them, including two second-half TDs, on quick-I's, or inside moves.
"We didn't expect those quick inside passes," said Peters. "We worked on stopping the outs. Miami had shown that all preseason. It messes you up from a psychological standpoint. In your subconscious you're thinking, 'This guy's going in, but he's got to go back out.' I'd bet the house they were going to do certain things. Well, I just lost the house."
On the Dolphins' last touchdown, the one that gave them a 35-10 lead and put the game away in the third quarter, Jensen lined up wide to the right (he'd caught his first TD, a six-yarder, from wide left), and no one picked him up.
"I jumped into the coverage at the last minute," Murphy said. "He was uncovered. I was afraid they'd just snap the ball, and he'd wave his hand that he was open."
Jensen got inside Murphy and the sixth defensive back, Brian Carpenter, who seemed dazed as he watched him go by, and the four-yarder gave him TD No. 2 and Marino TD pass No. 5.
"What shocked me," Strock said, "was that they never called a time-out to straighten themselves out. A guy moves outside and there's no coverage on him—well, you know a team's really screwed up when that happens. You've got to call a time-out."
Marino, choosing his words carefully in the postgame locker room, wouldn't put the knock on the Skins. The closest he came was to say that Jensen's lining up wide "surprised them a little. It helped our deep game by spreading 'em out."
A broken right index finger had limited Marino's preseason to one game, but he had no problems Sunday. He threw for touchdowns on a neat variety of patterns—a 26-yard comebacker to Duper down the right sideline, with Green in close coverage; the 74-yard timed route; a nine-yard fade to Clayton in the right corner, in which he outjumped Green, who was nursing a sore thigh; and the two quick-I's to Jensen. A lot of his completions came on quick throws, off a three-step drop, but on the longer developing patterns he wasn't afraid to stay in the pocket and take the hit after he threw.
"I can't say it's the best day I ever had," Marino said. "A guy like Duper catches a 15-yarder and goes 74, well, I'd say he's giving me some help. They like to blitz, we picked up the blitzes. I'd say I'm getting help there, too."
Ah, now those are the kind of quotes that make Shula happy. A team victory. The kid catches on fast.
And what about Redskin coach Joe Gibbs, whose game plan died in the third quarter when Joe Washington fumbled on the Skins' 43, setting up the fourth Miami touchdown? The funeral came one series later when Joe Theismann was intercepted by cornerback William Judson, who ran it down to the Miami seven to set up the Dolphins' fifth TD. What about Gibbs's pass defense, his secondary, his Redskins, a preseason Super Bowl pick?
"What this means for our team is that we have to take a long hard look at ourselves," Gibbs said. "We have to evaluate where we are and what changes we have to make."
Changes? Like Vernon Dean for Anthony Washington at the right corner?
"I never like to change people," Gibbs said. "I like to change the way we play. It's my general philosophy. They burned us deep. They took us out of our game plan. I really thought Riggins was going to have a big day, one of the biggest he ever had, but they got us in a situation we don't like. I wish we could've stayed with the run, but those deep shots of theirs changed all that. They kept going deep and making it work. They didn't turn the ball over. Give them credit."
At the end of the game Gibbs did an unusual thing. He went across the field and shook Shula's hand. Gibbs isn't a handshaking coach. He doesn't like to get caught up in sideline traffic. A wave will generally do it for him. But this was different. A payback maybe, because the Skins had beaten the Dolphins in the '83 Super Bowl? C'mon now, get serious. There's only one place to square that account. No, this was something else, a tribute to a superior coaching job.
"It was just something between Don and me," Gibbs said. "I felt he deserved it. If you win you're not worried so much about shaking hands."
For historians, the game followed a familiar pattern. The Redskins under Gibbs have always given up a lot of points in their opener—26 to Dallas in '81,31 to Dallas last year, even 34 to the Eagles in the Redskins' triumphant Super Bowl year of '82, the only opener in Gibbs's four seasons that Washington has won. Green, a breathtakingly fast cornerback, was slowed by the bad leg. The Redskins' right defensive tackle, Darryl Grant, who'd had a terrific preseason rushing the passer, was out with a bad knee, and the Skins' whole rush collapsed. Anthony Washington is sure to be a target for the 49ers on Monday night, but he'll be getting help.
Of course, it's unlikely Joe Montana will have the kind of day against Washington that Marino had. It's unlikely anybody will. How often does a young quarterback break the bank at Elias?
PHOTO
Five TD passes and no interceptions helped push Marino's rating to an astronomical 150.4.
PHOTO
Riggins was rambling until the Dolphins rigged it so the Redskins had to throw.
PHOTO
In the third quarter Theismann had to go to the air, but he went to the turf instead.
PHOTO
Washington's Joe Washington had a wall whenever he went wheeling with the ball.
PHOTO
The Super Duper (85) left Anthony Washington in his wake throughout the afternoon.
PHOTO
Duper took a short pass and turned it into a backbreaking 74-yard touchdown play that gave Miami an undeserved halftime lead.
PHOTO
Jensen crashed over Murphy to score his second, and the Dolphins' fifth, touchdown.
PHOTO
Glenn Blackwood's interception brought an end to the Redskins' last drive of the day.