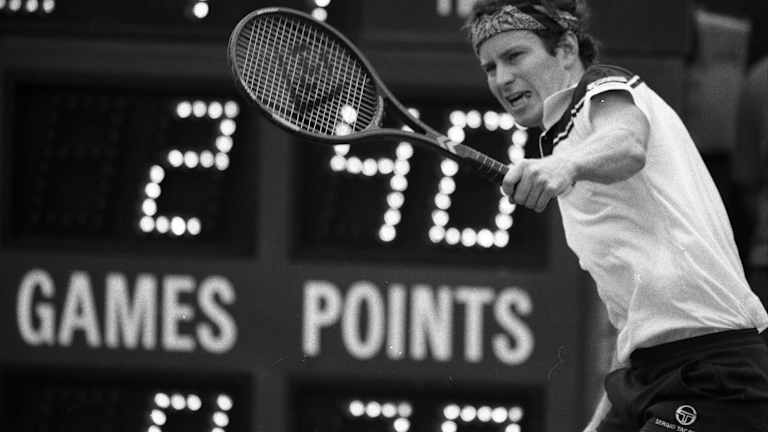 Publish date:
They Did Their Things
As expected, John McEnroe and Martina Navratilova put on clinics to win their U.S. Open championships
United States Open! The National Championships! Third Leg of the Grand Slam! New York, New York! Tennis! Live, it's Serious Tedium!
With apologies to Joe Piscopo—and, needless to say, to John McEnroe and Martina Navratilova, whose continuing brilliance in the face of the numbing mediocrity surrounding them absolves them of all blame—daily bulletins from Flushing Meadow proved more convincingly than ever that tennis is in a fairly monotonous way. Not that no one wants to see McEnroe whip Ivan Lendl and Jimmy Connors yet again. Junior beat both last weekend to win the Open for the fourth time. Or watch Navratilova whip Chris Evert Lloyd once more. Her 13th win in a row over Chris gave Martina her second consecutive Open title. The question concerns the supply side of tennis—where are the reserves?—and the answer is: nowhere. There ain't nobody on the bench to play this game.
The 103rd edition of the national championships consisted of one spectacular Saturday and 12 days of blah. Take the men's final on Sunday—please—when McEnroe chipped away at Lendl for 100 minutes like a guy sculpting in ice. Here was the second-ranked player in the world, possessor of the vaunted slingshot forehand as well as an arsenal of serves and passing shots that make most mortals quake, and he was utterly helpless in the 6-3, 6-4, 6-1 slaughter.
Lendl had had the effrontery to rally from two sets behind against an infuriated McEnroe to win the French Open in June. That's one of a pair of blemishes on McEnroe's 66-2 record in 1984. (Vijay Amritraj in Cincinnati is the answer to the future trivia question about his other defeat.) But on the hard stuff in New York, Lendl didn't have as much time to set up for his thunderbolt passes or to run down McEnroe's crisp, darting volleys.
It didn't seem that McEnroe could possibly play any better than he had in devastating Connors in the Wimbledon finals, but he was just as good at Flushing Meadow, in both behavior and shotmaking. The debacle in Paris taught him to knock off the browbeating of officials and to conserve energy in Grand Slam events. "I understand how people get turned off seeing a guy jumping around and screaming at the chair," Junior said. "Of course, they don't understand that's a result of pressure. But I'm finding out life isn't fun when you're banging your head against a wall."
McEnroe's head-banging of Lendl was overshadowed by the drama of the day before, or rather the everlasting strokes of the morning, afternoon and night before. Call it Sempiternity Saturday, Tennisathlon, whatever. The U.S. Open had never seen anything like it. The day began at 11, and by the time it was over at 11:14 p.m., the jaded/slash/manic New York tennis fans had been treated to 16 sets, 165 games and 979 points on the Stadium Court of the National Tennis Center. These hardy souls hardly could be expected to remember when John Newcombe's smile began and Connors's sneer ended—those being the parameters of the Saturday show—much less get hopped up in time for Sunday.
CBS was responsible for the exhausting scenario. Fearing a repeat of last year, when the women's final and men's semis resulted in quick blowouts and a huge chunk of dead air, the network requested that the men's 35s semi between Newcombe and Stan Smith lead off the program. Little did anyone know that not only would Smith, who defeated Marty Riessen for the title on Sunday, and Newcombe go the distance, but so would everyone else who followed on the bill; that the spike-haired young Aussie Pat Cash would carry Lendl to two tiebreak sets while turning into a star, albeit another ill-mannered, and maybe even dangerous, one; and that two beyond-their-prime legends would come surprisingly close to upsetting their long-time tormentors. About the scheduling, the result of which had McEnroe begin his semifinal against Connors at 7:28 p.m., Mac said, "Ridiculous." Almost in the same breath, however, he admitted, "It had to be [for the fans] the best day at the Open...ever."
Not to mention that it came just in time to rescue the tournament from the malaise afflicting the sport. If pro basketball is nothing but the final two minutes, Grand Slam tennis tournaments have been reduced to the final two rounds. Before Saturday, the surviving six players—McEnroe, Lendl, Connors and the new kid, Cash, among the men; Navratilova and Evert Lloyd on the women's side—had won a combined 84 sets and lost but two. This is the same sextet that wound up closing out Wimbledon. Raise the nets, allow zone defenses....
So. Just how boring was most of the U.S. Open? It was so boring that....
•An obscure husband named John Lloyd, ranked No. 49 in the world, got more headlines than his wife, who's ranked No. 2.
•An obscure journalist named Nora McCabe gave more interviews than she received.
•And an obscure South African named Derek Tarr became the odds-on favorite to succeed the great and not-too-late Bobby Riggs as the guardian of the sanctuary of macho tennis.
In truth, it has been a long road back to respectability for that prince of an Englishman, Lloyd. Recently reunited with Chris following a trial separation, now possessed of tranquility, confidence and a newly discovered intensity for the game, Lloyd eliminated four players ranked above him to reach the quarters. There Connors, the wife's old flame, sent him packing 7-5, 6-2, 6-0. Nonetheless, Lloyd wasn't dismayed. "I respect myself more now, knowing I'm working the hardest I can," he said after he had jumped 19 spots on the computer and had his sights set on cracking the Top 20.
Merely aiming to please was McCabe of Toronto's Globe and Mail, who patiently answered questions from her peers about a complaint she'd filed last month with the Men's International Professional Tennis Council. Following a press conference at the Canadian Open, McEnroe took exception to a rather innocuous story McCabe had written about him, in which she described him as being "petulant," "whiny" and "paranoid." The usual suspects. According to McCabe's official complaint, McEnroe shouted at her: "Lady, for what it's worth, you know you're a——." Then, again: "You're a——." And: "You probably haven't been——in three weeks. You should try getting——more often."
An unrepentant McEnroe used a press conference at Flushing Meadow to scold the media in general and to claim that McCabe had "lied" in her article and that "we're human beings and that's why I said it. I don't regret what I said at all." McEnroe said he was appealing the council's $2,000 fine.
Moving right along.... It happens to be Navratilova's supreme gift that she not only has raised women's tennis to another level, but she also has furnished a platform for over-the-hill male scoundrels to beat up on her name and regain some long-lost pub. Witness none other than Vitas Gerulaitis, old Disco Ex Officio himself, who last year slipped out of the Top 10 for the first time since 1977. In the opening week of the tournament, Disco sneaked back into the columns by saying he was tired of hearing Martina compared with McEnroe and that he would bet "my house" she couldn't beat the 100th-ranked male player and "two houses" she couldn't beat Harold Solomon. "Martina can't even beat her own coach [Mike Estep]," Gerulaitis said. "If Estep [who's 35] came back on tour, he'd be ranked two thousand."
Joining the fray, Navratilova said if she could pick the surface, she thought she'd "have a shot" at the No. 100 guy. Coincidentally, Solomon had planned to issue a press release at the Open announcing his retirement. When he heard about the man-vs.-Martina wagers, he decided to add an "anytime, anywhere" challenge to the release before being talked out of it by his insurance man.
Estep and his wife, Barbara, the chambermaid-housemistress at Kappa Delta Martina, checked their bank accounts to see if they had enough bread to stake Estep vs. Gerulaitis, a match that would rival Benitez-Duran II as a gate attraction. Ilie Nastase, of course, offered to play Navratilova, while wearing "a dress, my hair permed and a tiara." Mr. Ranked No. 100—yes, the annointed Tarr—disappeared from the face of the earth. "The poor guy called my mother last night," said Gerulaitis. "He's so nervous he can't sleep." Renee Richards did go to sleep. And Riggs surely turned over in his tavern.
Leave it to Evert Lloyd to put everything in perspective. "There are so many college players who aren't even ranked who could beat the top women," she said. "Even the men over 40 could beat us. My brother [John, 23, who used to play for Vanderbilt] still beats me, and he isn't ranked. Martina would lose to the top 1,000 men."
Navratilova and Evert Lloyd had cleared the decks by routing 31-year-old Wendy Turnbull and 16-year-old Carling Bassett, respectively. Turnbull had upset Pam Shriver to reach the semis, while Bassett had surprised Hana Mandlikova. After their matches the two losers vied for the tacky-talk chair opposite Joan Rivers. The haughty Shriver labeled her demise as "unfortunate" for women's tennis because "I don't think it [Turnbull-Navratilova] is going to be that good a match." Mandlikova blamed her defeat on the fact that all the pressure was on her. Bassett, she said, "had nothing to worry about. Her father [Tampa Bay Bandits owner John] is a millionaire. If she loses, so what?"
"That's hardly fair," sniffled Darling Carling, who'd be Carling Darling if she married Mets pitcher Ron Darling. Anyway, Bassett played the tournament with laryngitis and a cough, which, she explained, "only bothers me when I sleep because I can't sleep."
If ever there was a time and place Evert Lloyd was going to beat Navratilova, this U.S. Open was it. Chrissie had played a marvelous first set against her at Wimbledon, and Martina had been in a virtual slump (for her). She'd played a mediocre Open. Moreover, Evert Lloyd would be the underdog, own the crowd. And indeed, after Evert Lloyd played an exquisite first set, skidding fiat returns and passes as low as can be, the crowd was, to use her word, "deafening" for her. Martina later said it was "the hardest thing I've ever been through—all those people wanting me to lose."
In the second set, Navratilova was up a break at 4-3, but she played two loose points to fall behind 0-30 in the next game. Evert Lloyd now had her best chance to shake the champion's nerves, but she smacked a sitter of a backhand pass wide. In game 10, Evert Lloyd couldn't capitalize on double-breakpoint and the set was gone 6-4. As Chrissie's fans rudely applauded Navratilova's errors in the final set, she won the second and fourth games with aces, and in between got the key break at love. The 4-6, 6-4, 6-4 win gave Navratilova her sixth Grand Slam title in a row. Once again the difference was her big serve on the big points. "Sometimes I think it's me, that I can't finish out the match," said Evert Lloyd. "Then I realize most of it's Martina." Would she go to Australia for one last stand against the Slam?
"Yes," Evert Lloyd said with a sigh, as if being asked to rake the leaves, "probably." Then, no finer tribute from one champion to another: "It's just not enough to play a good match against her anymore."
The closest thing to a new champion on the horizon may be the rugged, 19-year-old Cash, who beat the other pretender, Mats Wilander, at both Wimbledon and Flushing Meadow. Cash has the shots, the guts and the musical tastes (Def Leppard, Iron Maiden) to mesh perfectly with his heavy-metal persona. He also has the attitude. At last year's Open he threw a (covered) moon at an umpire, and last month he blatantly tanked at the Olympics. Afterward he blithely announced he had shown up in Los Angeles mainly to "get free tickets to the Games."
Having beaten Cash twice on grass, Lendl knew that Cash sometimes goes hours without driving his backhand. He flicks it but with little topspin, so the result is, said Lendl, "very flat, very strange." Cash also needs to learn how to put away a volley. Though terrifically quick and acrobatic at net, his first volley, especially off the forehand wing, is more of a push than a decisive punch. This inability to sting volleys cost him many key points in Lendl's dramatic 3-6, 6-3, 6-4, 6-7, 7-6 semifinal victory.
After Cash won the first set, Lendl picked up his service percentage and rolled into the lead. At 6-5 in the fourth set, Cash had double set point, but he made four unforced errors, slugging out as always. In the tiebreaker he led 5-3, but was caught at 5-all. Cash then was presented a gift when Lendl practically whiffed on a setup forehand and then lofted a return 15 rows back in the stands. Suddenly, the match was even.
This back and forth, Czech-Cash transaction proceeded through the fifth set. Ever the gambler, Cash hit a huge hook on his second serve at 4-5, 30-all. It missed—match point for Lendl. However, Lendl netted a backhand. Cash held, broke for 6-5 and reached his own match point, but Lendl converted Cash's tentative short volley into a lunging lob to the baseline to save his neck. Lendl finally took control in the tiebreaker by winning the last four points. Immediately thereafter, Cash hurled his racket into the stands, earning a well-deserved $2,000 fine. If the racket had hit anyone Cash would have been out a lot more cash. Good thing he didn't try the javelin while loafing in L.A.
Among the consequences of the Saturday schedule was that the main-draw players never knew when they would go on, so they couldn't, as Navratilova put it, "gauge my stomach." Navratilova ate pasta late and then shared her bagels with Evert Lloyd. Just before the last match of the longest day, Kay McEnroe, the matriarch of the clan, was standing in the promenade aisle when actor David Keith (An Officer and a Gentleman, Lords of Discipline) approached. Keith is something of a jock groupie these days, shadowing Julius Erving, Mark Breland, McEnroe, et al.
"Gee, Mrs. McEnroe, I feel I know you," said Keith. "John's so great."
"Has Johnny had anything to eat all day?" she said.
"No, he's going to have Connors for dinner," said Keith.
Well, it was more like a midnight snack. McEnroe had embarrassed Connors at Wimbledon and had swept their last seven matches. But after 37 minutes at Flushing Meadow, Connors had equaled all the games (four) he won in England. After 90 minutes Connors had a set and had broken McEnroe's serve for the fourth time to go up 3-1 in the third. "New Yorkers love it when you spill your guts out there," Connors had said. "You spill your guts at Wimbledon, they make you stop and clean it up."
Perhaps it was the cool night air or oncoming cramps—McEnroe was rubbing his legs with salve on the changeovers—or his recently discovered placidity, but Mac never seemed at full throttle. He ripped off four games in a row to go up 5-3 in the third set, but stumbled before winning it 7-5. In the next set he fell behind two breaks, rallied to 4-5, breakpoint, but lost the point on a questionable call. Funny thing, Mac didn't question it with any passion.
By the time he was finished, Connors would nail 45 winners and break Mac seven times. McEnroe would end up with only 20 winners. Still, a subpar McEnroe won 6-4, 4-6, 7-5, 4-6, 6-3, because in the crunch he served 19 aces, and at the outset of Set Five he raised his game a notch, winning 12 of the first 13 points to take a 3-0 lead. After fighting off a breaker in game seven, McEnroe ran out what he called a "yoyo" of a match.
McEnroe's record in his last 16 matches against Lendl and Connors, the only players remotely close to being considered "challengers," is now 14-2. Remaining for McEnroe this year are probable Davis Cup matches against Cash and Wilander and a campaign for the Australian Open championship. Following that, McEnroe may well rue that warm Sunday afternoon in Paris when he blew up. Tear out that page, and Johnny Mac has had the entire sport for breakfast, lunch and dinner in 1984.
TWO
PHOTOSPHOTOConnors, the two-time defending champ, once again spilled his guts, but to no avail.PHOTOCash ran down most everything Lendl fired at him but had trouble putting the ball away.PHOTOLendl watched McEnroe repeatedly handle his powerful service with the greatest of ease.PHOTOFor a change, Lloyd got more ink than his wife.TWO PHOTOSAfter kissing off Chrissie, Martina had tied Evert Lloyd's record 55-match winning string.TWO PHOTOSDazzling passes made Evert Lloyd tough as nails in the opening set against Navratilova.PHOTODarling Carling gained the semis but couldn't sleep while sleeping.TWO PHOTOSMandlikova (left) was a sore loser; Turnbull (right) had Shriver making shrill remarks.