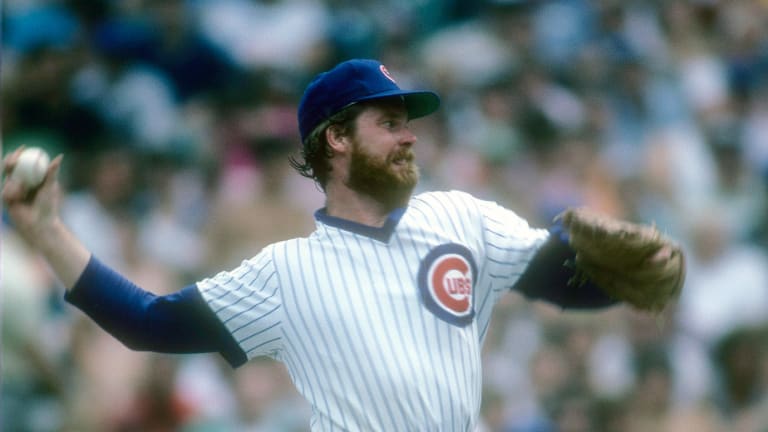 They're Making a Strong Pitch
Ten worthy contenders are vying for the two Cy Young Awards, which ol' Denton would've won four times
Cy Young would have won only four Cy Young Awards. Actually, he deserved five of them, but in all likelihood he would have been jobbed in 1895, the year he went 35-10 for the Cleveland Spiders. That was also the season rookie sensation Bill (Wizard) Hoffer burst onto the scene with a 30-7 record for the Baltimore Orioles.
Hoffer supporters would have pointed to his superior ERA, 3.21 to 3.24, his better winning percentage, .811 to .778, his league-high four shutouts, and the fact that he helped the Orioles win the National League pennant by three games over the Spiders. Those favoring Cy might have countered with these salient points: 35 wins is an extraordinary feat, Young pitched 55' Öî more innings than Hoffer, and the kid got all the publicity.
Similar arguments, and more, are being heard nowadays as fans, players, managers,coaches, writers and scouts debate who should win the 1984 Cy Young Awards.There are four or more bona fide, deserving candidates in each league. About the only sure thing is that when the Baseball Writers' Association of America announces the winners after the season, shouts of outrage will be heard throughout the land.
In the National League, Rick Sutcliffe has almost certainly pitched the Cubs to their first championship since 1945 with a 15-1 record through Sunday, after coming over from Cleveland, where he was 4-5. The Cardinals have two nominees, Joaquin Andujar, 19-12 and probably the only 20-game winner the league will have, and Bruce Sutter, who has already set the league record with 42 saves and needs just three more to tie Dan Quisenberry's major league mark. Last, but not least, is the latest in the long line of Bill Hoffers, Dwight Gooden. The 19-year-old Met has set the NL on its ear with a major league rookie record of 251 strikeouts in 202 innings, a 16-8 record and a 2.72 ERA.
"No question about it," says Cub catcher Jody Davis. "It has to be Sutcliffe."
"I've already won it," says Andujar. "But they're not going to give it to me. I've got to go to the moon and win 120 games. Then they'll give Cy Young on the moon."
"Bruce Sutter, no question," says San Francisco pitcher Mike Krukow."Forty-two saves is just a great achievement. The Cy Young Award goes to the best pitcher in the league, and that's what he's been."
"Gooden is the most powerful pitcher to come up in 10 years," says Pirate third baseman Bill Madlock. "He could win four or five Cy Young Awards."
The American League choice is even stickier. Through Sunday Mike Boddicker of the Orioles was 18-10 with an ERA of 2.72. Cleveland's Bert Blyl even was 17-6 with a 2.90ERA. Out in the bullpen are the Tigers' Willie Hernandez, who's 9-2 and hasn't blown any of his 29 save opportunities and has an ERA of 1.91, and the Royals' Dan Quisenberry, who's only five saves away from breaking his own record of 45.Then there's the sentimental favorite, 45-year-old Phil Niekro of New York,who's 16-8 with a 2.89 ERA. With any luck at all, or with a Hernandez in his bullpen, Dave Stieb of the Blue Jays, 14-7 and 2.50, could have already won 20 games. There's still some support for Jack Morris of the Tigers, who has 17 wins, but he's had a poor second half.
"Personally,I think it should be Niekro," says Boddicker. "He's awesome. I might be dead by the time I'm that old."
Says Sutcliffe,"If somebody had come up to me at the end of May and told me that Bert Blyl even and I would be contending for the Cy Young Award, I would have recommended a very good psychiatrist. But I think Bert deserves it in the American League. I know how hard it is to pitch in Cleveland, when you're out of the pennant race in May and nobody's there to cheer you on."
"Boddicker should win it because nobody's pitched better," says Ranger pitcher Frank Tanana. "He has the most wins, he's right up there in shutouts and innings pitched and has a good ERA. It doesn't matter that his team hasn't won. He's pitched the best."
"Hernandez," says California pitching coach Marcel Lachemann. "I like to think of the one guy his team wouldn't win without, that key guy. Eventhough the Tigers have a big lead in the standings, I don't think they'd be there without him."
"It's got to be Quisenberry," says Texas pitcher Charlie Hough. "What's he got, over 40 saves? He didn't win it last year because the other guy [Chicago's LaMarr Hoyt] won 24. But nobody's going to do that this year."
Besides the question, Who's going to win the Cy Young Award?, there is also the question,Who would want to win it? Recent Cy Young winners Randy Jones (San Diego,1976), Steve Stone (Baltimore, 1980) and Pete Vuckovich (Milwaukee, 1982) all had arm troubles after their glorious season, and last year's award winners,Hoyt and John Denny, who were 43-16 between them in '83, are a combined 19-22 this season. There seems to be a jinx, like the one associated with the Hope Diamond. "I'll take my chances," says the intrepid Gooden.
Actually, the Cy Young Award, the plaque itself, looks strange enough to contain a curse. A silver hand, holding a baseball, rises up out of a baseball diamond. The hand is about to throw a fastball, but it sometimes throws a curve (e.g., Vuckovich,Stone, Mike McCormick). It's also the heaviest of the major awards, even weightier than the MVP trophy. "Maybe in lifting it, pitchers strain little tiny joints, similar to rotator cuffs, in their hands," surmises Quisenberry.
The Cy Young Award was dreamed up by commissioner Ford Frick in 1955, the year Young died.Frick thought that pitchers were getting short shrift in the MVP voting, so he pushed for an award to honor the outstanding pitcher in the majors. As luck would have it, the first Cy Young recipient, Don Newcombe of the Dodgers, also won the NL MVP award in 1956. Also as luck would have it, Newcombe went from 27-7 in '56 to 11-12 in '57.
After the 1966 season, the BBWAA decided to give out a Cy Young in each league. Had this been done a year earlier, Jim Kaat, who was 25-13 with Minnesota, would have had a Cy Young. Instead, he lost out to Sandy Koufax (27-9). Just for the record,here are the five worst follow-up seasons by Cy Youngsters: Vuckovich, 18-6 to 0-2; Vera Law, 1960 Pirates, 20-9 to 3-4; Denny McLain, 1969 Tigers, 24-9 to 3-5; Stone, 25-7 to 4-7; and Jones, 22-14 to 6-12. And then there's Yankee reliever Sparky Lyle who had 26 saves in 1977, his Cy Young year, but only nine saves the next. In the immortal words of teammate Graig Nettles, Lyle had gone from Cy Young to sayonara.
The curse has had some other manifestations. McLain lost both of his Cy Young plaques in a house fire. And Stone tells this story: "The day the crate arrived was going to be the greatest day of my life. I mean, this was the Cy Young Award, the culmination of all the pain and blood and sweat and tears. But when I opened the box, I pulled out the plaque and saw that they had sent me Steve Carlton's Cy Young Award."
There are rational explanations why so many Cy Young Award winners are never quite the same after the big year. Hoyt says he did too many banquets and not enough work last winter. In the cases of Jones, Vuckovich and Stone, they simply asked their arms to do too much, and it showed the very next year. "I was willing to trade several mediocre years for one great one," says Stone. "So I went from throwing 30 curveballs a. game to 60 curveballs a game. I believe the surgeon general has issued a warning about too many curveballs."
The Cy Youngmeans more to some pitchers than others. Tom Seaver has three of them, but in 1971 he didn't win it even though he had a 20-10 record, a 1.76 ERA and 289 strikeouts. He and his wife, Nancy, named their house cat Ferguson Jenkins,after the Cubs pitcher who did win it with a 24-13 record and a 2.77 ERA.
On the other hand, there's Carlton, who has four, as many as Cy Young would have had. (They have something else in common: neither one was available for comment). Carlton kept his trophies in a club vault until last year when he decided to loan them to the Hall of Fame in Cooperstown.
"It's the highest honor for a pitcher," says Stieb. "And it's a lot of money." Stieb has a bonus clause calling for $100,000 if he wins the award,while Sutcliffe and Hernandez are both in line for $50,000 rewards. Niekro would get $100,000, and another 100 Gs on next year's contract if the Yankees pick up his option.
Given how much is at stake, Sutcliffe remains remarkably cool to the Cy Young. "I don't even think about it, I really don't. All I want to do is get a World Series ring, areal one, not the one I got in 1981 from the Dodgers, which is sitting in a safe deposit box in Kansas City, but a ring I feel I had something to do with."
Quisenberry has been teased for two years with the thought he might win the Cy Young Award."The last two Septembers writers would come up to me and tell me how they thought I should win it, as if to tell me they knew I wasn't going to win it. I didn't know if I should lobby for it, or hire a public relations firm, or what.Still, I was disappointed when Vuckovich and Hoyt won.
"Did you ever watch the Smurfs on TV? Well, they have this one Smurf, Grouchy, who's always going around saying, 'I hate this' and 'I hate that.' That's sort of the way I feel when somebody asks me about the Cy Young Award."
Every once in awhile, the BBWAA voters, two per city, breathe a Cy of Relief. But usually it's because no starting pitcher had outstanding numbers that season. There remains a very strong prejudice against giving the award to a reliever. "I think of relievers as everyday players," says Jack Lang, secretary-treasurer of the BBWAA, "so I'll vote for them for MVP before I will for the Cy Young. Plus,I think many of the saves are cheap."
Former Royal and current Cub manager Jim Frey begs to differ. "Quisenberry should've gotten it last year," he says, "and he should probably get it this year.Hernandez has been great, but he isn't the only guy out in that bullpen. [Aurelio Lopez is 10-0 with 13 saves.] Look at what Quiz has done the last two years. I mean, what he did to saves...well, it's like when the home run went from Home Run Baker to Babe Ruth."
Ray Miller, the pitching coach of the Orioles, suggests a separate award for relievers."The Rolaids Award is nice, but they should have something with more prestige," he says. "I think they should call it the Rollie Fingers Award, even though he still may be pitching, since he's the greatest relief pitcher of all. It's just not fair anymore, comparing starters to relievers."
Miller has coached three Cy Young Award winners, Jim Palmer, Mike Flanagan and Stone, and now he has Boddicker. The award is so much a part of the Oriole tradition that Cy nicknames, usually thought up by Flanagan, attach themselves to the pitchers. Palmer was Cy Old; Storm Davis, Palmer's prodigy, was Cy Clone; and now Boddicker is called Cy Lo, as in the silos that abound near his hometown of Norway, Iowa. It's appropriate that the original Denton True Young, a farmer himself, would have fit perfectly into the Oriole system. He changed speeds a lot, and he had great control.
Last Friday, on a rainy night in Milwaukee, Boddicker lost a tough 4-2 game to the Brewers,giving up only six hits. He made one mistake, a hanging curve in the seventh to Willie Lozado, and that cost him a two-run double. "I'd just as soon forget about the award," said Boddicker after the game. "I just want to get the job done and stay around for a while. But if I keep hanging curves like I did tonight, I won't be around much longer."
"To me the Cy Young Award means consistency," says Miller., "and nobody's been more consistent this year than Boddicker. He'd have had 20 wins easy by now with any kind of support, he fields his position better than any pitcher I've ever seen and he's as tough as they come. He pitched one game when his fingers were raw and another game with back spasms so bad he had to come in between innings to have the trainer pound on his back."
Sutcliffe beat the Mets 7-1 Friday and tossed the last game ball into the adoring throng at Wrigley Field. It was his 18th start for the Cubs and the 17th time the team had won behind him.
Even if he doesn't win the Cy Young, Sutcliffe should get some award for modesty. "The team must be averaging seven runs a game for me," he says. "I've just been lucky. To my way of thinking, Dennis Eckersley has pitched just as well as I have, and he only has eight wins. And when I joined this team, they were four games [actually 1½] in first place. So I didn't accomplish that much."
Modesty aside,Sutcliffe has pitched the Cubs to the division title. He stopped the Mets three times, and his ERA of 2.63 is hardly a fluke. Two weeks ago, when he was shutting out the Mets, home plate umpire Doug Harvey went over to the New York dugout for a drink of water and told manager Davey Johnson that Sutcliffe had the best stuff he'd seen all year. "He has great stuff," says Mets first baseman Keith Hernandez, "but his biggest asset is hiscompetitiveness. He won't ever give in to a hitter." Sutcliffe does share one trait with Cy Young—the beginnings of a belly.
Success is no guarantee of recognition, though. The other night in Milwaukee, broadcaster Bob Uecker was interviewing golfer Tom Watson, who was in town for a tournament.Watson is a diehard Royals fan, so Uecker asked him about Kansas City's chances. "Well, we still have to play Cleveland," Watson said, "and Sutcliffe gives us a lot of trouble."
The BBWAA voters will have some tough decisions, but the nice thing is that the leading candidates are all worthy, even the relievers. Cy Young did, after all, have 17 saves to go with his 511 wins. They should keep in mind that the plaque itself says MOST VALUABLE PITCHER, not MOST OUTSTANDING PITCHER, Or PITCHER WITH THE MOST WINS, Or PITCHER WITH THE LOWEST ERA.
PHOTO
Boddicker's 18 victories and 2.72 ERA could make him the seventh Baltimore winner.
PHOTO
Sutcliffe might become the first winner to pitch for two teams in the same season.
PHOTO
Blyleven, 17-6, is Sutcliffe's AL choice because "I know how hard it is to pitch in Cleveland when nobody's there to cheer you."
PHOTO
Strikeout specialist Dwight is Gooden ready to be the youngest Cy Young winner ever.
PHOTO
Hernandez is Detroit's big Cy of Relief with 29 saves.
PHOTO
Andujar leads the league in wins, while Sutter has set an NL record for saves.
PHOTO
Dan is the answer to the Quiz: What reliever came close twice?
PHOTO
Stieb leads the league in ERA, but a poor bullpen has damaged his Cy Young chances.