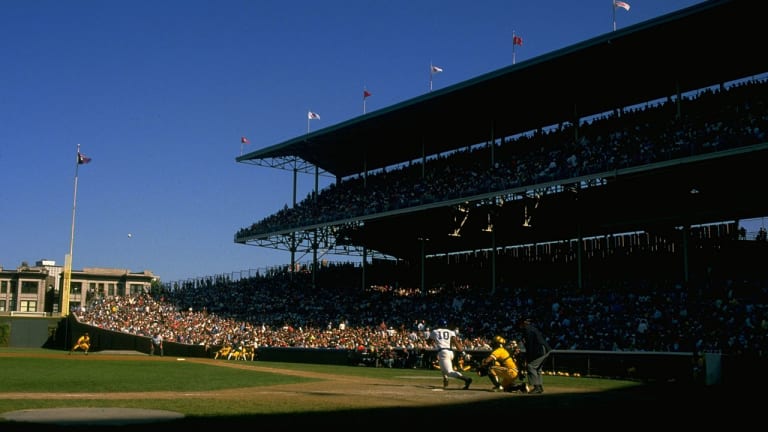 At Last, The Cubs Are First
Holy cow! After a drought of Biblical magnitude Chicago fans have a winner
Late in the spring of 1980, in the intensive care ward of St. Francis Hospital in Evanston, Ill., Henry Pritikin lay dying of congestive heart disease. Some three weeks earlier, Pritikin had fallen into a coma. Pritkin's beloved Chicago Cubs, led by the likes of Dave Kingman and Cliff Johnson, were quietly but earnestly embarked on their annual el foldo, by then well on their way to a 64-98 record and a sixth-place finish.
Born in 1898, Pritikin was 82 years old that spring, and he had been a Cub fan most of his life. He was 10 when the Cubs won their last World Series, in 1908, in baseball's Pleistocene age of Tinker to Evers to Chance. He had cheered them lustily through their seven subsequent drives to the National League pennant—in 1910, 1918, 1929, 1932, 1935, 1938 and 1945—through eras that embraced Rogers Hornsby and Hack Wilson, Charlie Grimm and Stan Hack, Gabby Hartnett and Charlie Root and Andy Pafko; and even through the pennantless years of Ernie Banks and Billy Williams.
The Cubs had won their last pennant barely two months after the dawn of the nuclear age, and each season thereafter brought another numbing form of pain to the Henry Pritikins of the world, die-hard Cub fans all, culminating with the great September Swoon of '69. That was when the Miracle Mets shot past them to win the pennant and then the World Series. Pritikin had been waiting almost 35 years for another pennant when he lapsed into that coma in Evanston. His son, Jerry, visited him in the hospital late one afternoon. His father hadn't spoken a word in three weeks, but at this moment Jerry Pritikin heard him mumbling something.
The son went to his father's bedside and leaned over, turning an ear to him. "I got as close as I could get," Jerry says. "It was the only thing he said the last 30 days he was alive. He was a Cubs fan all his life, but I couldn't believe it. It came out of nowhere."
Pritikin, in the last words he ever spoke, said softly, "We gotta get rid of Kingman."
Dave Kingman long ago departed the Friendly Confines, of course, another symbol of the Cubs' perennial futility, when the end of the world was another high pop-up with two out in the ninth and the bases filled with Cubs. Henry Pritikin is long gone, too, and very lamentably so, for it's happening right now in 1984, the year he'd been waiting for and dreaming of.
Something quite wonderful has been taking place in Chicago the past few weeks. The Cubs, the leading citizens of Haplessville, U.S.A., are heading for the playoffs. Some people are even whispering about the Cubs playing in the World Series! And this for a city that hasn't won a major sports title since the Bears were NFL champions 21 years ago!
The fact that the Cubs are playoff bound has blown through this aging city like a cool, gusting northeaster off the lake, and it has left Cubs fans dancing, singing and embracing their seats in Wrigley Field. It has got them sleeping all night in lines at the centerfield bleacher gate, then racing up the ramps to the choice leftfield seats. There, Cub left-fielder Gary (Sarge) Matthews orders them to be seated with a salute befitting a West Point cadet. Others prefer right-field, where they can wear the T shirts bought for them by several of the players.
The Cubs' success has got the fans packing the bars around the ball park. It has kids break dancing on the street beyond the leftfield fence. It has sent people flocking to the apartment rooftops that rise above the bleachers beyond Waveland and Sheffield avenues. It has them pouring out of the elevated trains that shake, rattle and roll to a stop at the Addison Street station, just two rooftops beyond the rightfield wall.
"It's been fun to watch the businessmen coming to the park after work for three o'clock Friday games," says Bill Veeck, the long-time baseball impresario who has become a sunburned Bleacher Bum. "Three-piece suits and an attaché case. The coat and vest go in the case and out comes the Cubs' cap."
The town's two newspapers, the Sun-Times and Tribune, have covered the phenomenon with understandable exuberance. "This is the biggest story in Chicago since Mayor Daley died," says Tribune sports columnist Steve Daley. The ebullient Harry Caray, the TV voice of the Cubs—"Can you believe it!" he cries at yet another miracle. "Holy cow!"—leans out of his booth, microphone in hand, and leads the seventh-inning stretch with his rendition of Take Me Out to the Ball Game, and 40,000 people stand and sing along.
One evening in mid-September, not far from his room at the Ambassador East, Caray strolled along the sidewalk wearing on his lapel a battery-operated Cubs pin that flashed five red lights. To Chicagoans, as well as to the millions who watch the team on cable across the country, Caray is the Cubs, the mirror and magnet for the emotions the team has evoked this year. Wherever he went, it was "Hi, Harry!" and "Harry! The Cubs are gonna do it!" and "Are you ready for the World Series, Harry?"
"Yeah!" he said, entering Butch McGuire's bar on Division Street. "But first we gotta get into it."
Caray cradled a Scotch and water and marveled at the audience he's reaching by broadcasting day baseball nationwide. The Cubs winning is less a local story than a national story, and daytime cable baseball is at the core of it. Caray has been getting mail from around the country. "I know we can reach 28 million homes with the cable," he says. "What a story the Chicago Cubs are! A little ball park where they play day baseball will draw two million people this year. That's like drawing four million in Yankee Stadium!"
As he left McGuire's, two men approached him. "What d'ya think of our chances, Harry?"
"They're gonna do it," Caray said. "I'll see you guys at the park."
The next morning, 45 miles northwest of Rush Street, the starter at the Mount Prospect Golf Club had been hearing the same inquiries. He'd been hearing them for the last few weeks from golfers as they waited for their tee times. Andy Pafko is 63 years old, and a palpable link to the Cubs' past, to the days before players wore tight pants and blow-dried their hair. Pafko played for the Brooklyn Dodgers in the 1952 World Series, which they lost to the Yankees in seven games, and in 1957 he played outfield for the world champion Milwaukee Braves, but he began his career as the star center-fielder for the Cubs. In 1945, when they won the last of their pennants and the Detroit Tigers beat them in the seventh game of the World Series at Wrigley Field, he was there.
"I'll never forget it," Pafko said. "We'd gotten Hank Borowy, a pitcher from the Yankees, in the middle of the summer, and he put us into the pennant race, like Rick Sutcliffe is doing for the Cubs this year. We got beat in the last game of the Series. The bases were loaded early in the game and Paul Richards—he was the catcher for Detroit in those days—hit a double down the leftfield line and drove in three runs. Right down the line at Wrigley! We never came back."
Pafko was directing golfers to the tee, bantering with them and fielding questions about the Cubs as deftly as he once fielded Duke Snider's booming shots to centerfield.
"It's almost unreal," Pafko said, "that they haven't won since 1945. If you had told me when we walked off the field that day that it would be 39 years before they won another pennant—and I think they'll win the pennant—I wouldn't have believed you. I root for the Cubbies now. Because I was a major-leaguer first with the Cubs, I still think of myself as one. I'm happy for the fans of Chicago. That's all they're talking about now."
"Are you going to get to the World Series?" a passing lady golfer asked.
"Series?" said Andy. "I hope so. If they get that far. First they gotta win those playoffs."
"They're close now," she said.
Pafko laughed. "We'll make it," he said. "No problem. We'll get there. I wouldn't bet against 'em. No way! They're gonna wrap it up. People have been waiting a long time for something like this to happen around here."
"A lifetime," another golfer said.
A lifetime is a long time for the sufferers who've embraced and cheered the Cubs. Veeck, who was a vendor in Wrigley Field in 1924, when his father was president of the club, was cheering them now almost every day from the bleachers. "The center of my world at the moment is ball games," said Veeck, his aluminum crutches at his feet, next to his battered straw hat. It was Friday, Sept. 14, an overcast day, and the second-place Mets, trailing the Cubs by 7½ games, were in town.
A sheet draped from the upper deck along the leftfield line was flapping in the wind. It said, HAIL MARY, FULL OF GRACE, KEEP THE METS IN SECOND PLACE. GO CUBS. A sign, harkening back to the horror of '69, swayed in the leftfield bleachers: REVENGE IS SWEET.
Veeck shifted in his seat. "Would you like a lamb chop?" he asked a visitor. Veeck had brought a container filled with spiced lamb chops, and a friend had a bag of sliced tomatoes. A tub of popcorn was handed down his row, and he passed it along without indulging. He was holding a beer.
"Why are you out here instead of the grandstand?" a spectator yelled from below.
"Here the beer is colder, the fans much smarter and you can see better," said Veeck. "This is for the people who come to enjoy, to relax!"
"How are the Cubs gonna do?"
"I think they'll win the pennant," Veeck said, to cheers. "They'll go on to win the world championship."
"What about lights in Wrigley Field?" came a third inquiry.
"Why would you want to put in lights and spoil this ball park?" Veeck asked, to even lustier cheers.
As Caray rules the grandstand below his booth, so Veeck presides over his small corner of the universe, an old baseball man obviously revered by the fans who pass and wave and beseech him for autographs. Most recently he owned the White Sox; he switched his allegiance back to the Cubs after selling the Sox in 1980. He's a thorn to the Sox now, so obvious has been his presence at Wrigley, but his ties to baseball trace to the Cubs. It was Veeck, as the Cubs' youthful treasurer in 1937, who decided to plant Boston ivy along the outfield wall, and it was Veeck who one night led a crew of groundkeepers in the setting of the plants.
"Playyyy ball!" thundered the voice over the loudspeaker. The Cubs trotted onto the field to a raucous standing O. Another sign fluttered in the right field bleachers: GOD is A CUBS' FAN. And, at that moment, the scene suggested that divine intervention was at hand. The sun finally peeped through, throwing hazy shadows on the ground, and a breeze rippled a flag with Banks's retired No. 14, on the leftfield foul pole, high above the white lines and bright green grass of this quaint, idyllic pasture set in the middle of a city. Veeck had his lamb chops and Sutcliffe had his fastball and, with God in his heaven, all seemed right with the world.
"To me, a ball park filled with people is a beautiful thing," said Veeck, relishing the scene. "It's an epitome, a work of art. This is the prettiest ball park in either league. Look at it. It's open. You're close to the players. You're a participant rather than a spectator. If you look out from the grandstands, you see the vines, you see grass. Ball parks should smell like freshly cut grass. That's why artificial turf is such a disaster. People come to the ball park to escape the asphalt and city streets. This park is light and airy and it means outdoors."
Veeck glanced up at the scoreboard that looms like an old ship, with team flags flying, over centerfield. The inning-by-inning scores are still posted manually by a crew of three that scurries around the Scoreboard's three tiers, each of them connected by steel ladders and interlaced by girders.
"You see the old bleachers and the old scoreboard, built in 1937," Veeck says. "There's not a discordant note in the appearance of this park."
There wasn't on this day. The scoreboard showed the Cubs leading 3-0 in their half of the sixth. The bases were loaded and Jody Davis, the Cub catcher, was at bat. "If the Cubs win this one, it's all over for the Mets," Veeck said. A chant went up in the bleachers, people screaming louder and louder as Davis came to the plate: "Jo-DEE! Jo-DEE!"
"A grand slam," said a fan sitting near Veeck. "Watch this."
Davis crushed the first pitch, driving it against the wind in a long, white line toward the left centerfield bleachers. The ball seemed to hesitate an instant, bucking the wind, before it settled in the seats. The crowd roared in one long roll of thunder, banners waving, and there was dancing along the apartment rooftops and in the aisles of the park. What Veeck once viewed as "the sleeping giant" was awake at Wrigley Field.
That was what he called the Cubs in the years he was running the White Sox. Ever since the Black Sox scandal of 1919, from which the White Sox were years recovering, the Cubs have owned the soul of Chicago as a baseball city. The scandal left them the only respectable team in town, and they grew stronger yet when they started winning again in the late 1920s and '30s.
"When the White Sox had bad years, they died, were stone-cold dead in the marketplace," said Veeck. "The Cubs didn't die. Day baseball is responsible for a good deal of it. Kids grew up here. Their parents would bring them to day games. You don't bring 6-year-old kids to night games. So they brought them here. Where else would those kids go when they got to be 40?"
All the Cubs needed to do was win to bestir the giant again. In most of the years since 1945, when Pafko trotted off the field, only rabid fans felt anything to stir about. Under the Wrigley family, which guarded pennies, the Cubs moved on gummed feet. "When you came to Chicago, you'd look in the Cubs' dugout and you just knew you had a shot at 'em every time," says Dallas Green, a Philadelphia pitcher in the early '60s and now the Cubs' general manager. "You knew they'd find some way to figure out how to lose it."
The litany of woe was long and consistent: bad trades (Lou Brock), the purging of high-priced ballplayers (Bill Madlock, Bruce Sutter), poor management and even no management at all. For five years, from 1961 to 1965, there was no Cub manager. The team was run by means of a system of revolving field leaders called the "College of Coaches."
Ron Santo, the Cub third baseman in that rudderless era, remembers the confusion well. "It was terrible," he says. "Every two weeks a different coach. One day you're stealing bases, the next day you're hitting home runs." It was only after Leo Durocher took over as manager, in 1966, that the Cubs began to show a pulse. The club played over .500 baseball five straight years for Durocher, and they looked as if they were going to win it all for him in 1969. Fifteen years later, that season still haunts those who played it out in the fields and witnessed it on television and from the stands.
"I remember the final game that year," says Barbara Sullivan, 41, who says she recently quit her job as a taxi dispatcher so she could more easily follow the Cubs. "Everyone on their feet crying. The Cubs walking dejectedly to the clubhouse. Nobody could believe this was it. When the Mets went ahead of the Cubs, it was like every drop of blood was drained out of you. It happened so fast, I don't think we realized what hit us until the middle of winter. It's hard to believe that 15 years have gone by. We were kids, and this place was Shangri-la."
Nor was this an easy legacy to bear for those who played the game. "I've got everything I want in life," says Santo, a partner in a firm that owns a string of Union 76 truck stops and Kentucky Fried Chicken franchises. "I'm a happy man. But I've got this guilt! I still carry the guilt. I don't think I could've done any more than I did, but it was a failure. I felt guilty for the fans. For Chicago. If they win the pennant this year—and they're going to win this—believe me, it's going to take all that guilt off me."
Durocher left in 1972 and after that the team never finished better than third. The Tribune Company bought the club from the Wrigleys in 1981. Two months later, in what turned out to be a masterstroke, it hired Green, who had managed the 1980 world champion Phillies. Mostly through savvy trading, he took but 2½ years to make the Cubs the contenders they are today. Still, he only half understands the roots of the fanaticism that marks the true Cub believer.
"I get thousands of letters that begin, 'I've been a die-hard Cub fan since 19-whatever, or 18-whatever,' " he says with a laugh. "It's mind-boggling that these people have hung onto the Cubs. They're special, they really are. I've come to understand that better. I don't totally understand it yet, but it's unique."
What is striking now, as the Cubs make a run for the pennant, is how so many people proclaim their joy in one breath and then lament in the next that a dead friend or relative won't be there to share the good times ahead. Jerry Pritikin, who has founded a "Dallas Green for President" club and who carries around a large voodoo doll dressed in the uniform of one opponent or another—he carries a supply of straight pins and invites you to stick one in the doll—fervently wishes his father were around to see this.
Moments after the Cubs beat the Mets for the second time in Chicago, a game in which Cub second baseman Ryne Sandberg made a nifty play to end the game, Joe Scriba was yelling a chant that has become familiar in Chicago every time Sandberg gets a key hit or makes a graceful play: "MVP! MVP!" The 38-year-old accountant savored it only to a point. He appeared strangely subdued as he lingered in the leftfield bleachers, scuffing a foot on the cement walkway, obviously lost in thought. "I have a lump in my throat right now," Scriba said. "The only real sad thing is that my dad didn't live to see this. He died last year."
One afternoon in Murphy's Bleacher, the neighborhood haunt favored by Veeck and other followers of green grass, good beer and the Cubs, Wayne Kowalski, 37, and fellow dockworker Lance Lucado, 25, talked mostly about Lance's late father, Robert, and how he would've basked in what is going on now. "I was watching a Cub game on television with him in 1969," Kowalski said, "and they'd just lost it. He picked up his shoe and threw it through the picture tube. What an explosion! Boom! I couldn't believe it. He was shaking so bad he couldn't talk."
Robert Lucado, a dockworker too, died on the job in 1972. Every spring his widow plants a Cub pennant at the head of his grave.
While the memories of the dead shadow the footsteps of the living at Wrigley Field these days, so also do the bitter remembrances of all the losing summers past. Today, even among some of the truest believers, there is a feeling that somehow, through some pernicious quirk of fate, this whole experience is a trick being played on them, that ultimately it is going to be denied them. They are like combat soldiers doing short time, fearful that they'll be killed in a Jeep wreck on the way to the airport to go home. Their feeling was all the more understandable considering the way the team played recently, with five straight losses that delayed for a time Chicago's first division-clinching celebration.
"It's a strange feeling," said Gary L. Raasch, 39, a Lancaster, Pa. cop and a longtime Cub fan. "I'm afraid to get too excited. I have a paranoia about not seeing it, the feeling that it can't happen. I've seen 'em lose too many times. Back in '69, you couldn't believe it. They kept losing, kept losing, kept losing."
A couple of weeks ago, Raasch drove to Chicago from Lancaster to see the Cubs play the Mets, a journey of 700 miles. "I drove slow," Raasch says. "I feared something was going to happen. I figured I'd have an accident and wouldn't see it happen. So I took my time."
None of them, not one fan among them, knows what he will think or do when the Cubs, Lord help them, get into the playoffs, bump off San Diego, and head for the World Series. "It's kind of scary," said Dennis Dyrby, 33, the village president of Cabery, pop. 300, south of Chicago. "I'm used to coming to games just hoping for a home run. Now if they do win, it's gonna be strange. They've never won in my lifetime. What are we all gonna do if they do win? Will I be happy or will I be sad? We can't sit around all winter like before and say, 'Wait till next year.' It's kind of frightening."
For sure, they've found a measure of security in losing, in knowing their place—usually somewhere in the second division—at the end of the season. Indeed, winning is terra incognita. "You get to the point now where you feel jealous of other fans," said longtime Bleacher Bum Jim O'Connor, 37, district manager for a financial consulting company. "You see a 19-year-old kid out here and you say to yourself, 'What have you done to deserve feeling the way I feel? I've suffered longer than you have. I deserve it more than you do.' We've been married to these Cubs for a long, long time. How very, very long we've suffered!"
That may be over soon. The old Chicago Cubs, fulfilling the spirit of Henry Pritikin's last words, have thrown off the old and have been born anew. They're winning, at last, and they're packing in the Friendly Confines as never before. Harry Caray is leading them in song, Bill Veeck is eating his lamb chops in center-field, and Handy Andy Pafko is picking them and pulling for them in Mount Prospect. And the fans are winging in from all points to watch the show.
Kevin Kellogg, 27, an engineer for a television station in Phoenix, had to laugh at himself. "I flew in from Phoenix on a $289 air fare and I'm staying in a hotel room for $85 a night," he said, "all so I could go watch a $3 baseball game. Isn't America great!"
ILLUSTRATION
FRANKLIN
McMAHON
Spectators have gotten behind Keith Moreland and his fellow heroes in record numbers this season.
ILLUSTRATION
FRANKLIN
McMAHON
The whole city followed the Cubs as they set the National League on fire.
ILLUSTRATION
FRANKLIN
McMAHON
Spectators hang on every word and deed of the players even before the game starts.
ILLUSTRATION
FRANKLIN
McMAHON
Once a Wrigley vendor, Veeck now presides as the elder statesman of the bleachers.
ILLUSTRATION
FRANKLIN
McMAHON
Chicago's just wild about Harry, who leads the seventh-inning sing-along.
ILLUSTRATION
FRANKLIN
McMAHON
Santo still feels guilty about the Cubs' collapse in '69.
ILLUSTRATION
FRANKLIN
McMAHON
Pafko works at a golf course today, but his favorite club is still the Cubs.
ILLUSTRATION
FRANKLIN
McMAHON
Scoreboard operators like Sam Bongiorno and Roger O'Connor have an insider's view.
ILLUSTRATION
FRANKLIN
McMAHON
There's always magic in the air for folks at Murphy's Bleacher.
ILLUSTRATION
FRANKLIN
McMAHON
Pritikin loves sticking it to the visitors.
ILLUSTRATION
FRANKLIN
McMAHON
Frank DeClercq and Pat Kelly enjoy all the action in their rooftop "sky box" across from the Friendly Confines.
ILLUSTRATION
FRANKLIN
McMAHON
Jimmy Lee, clutching Davis's grand slam ball, split with Jeanne but not his team.
ILLUSTRATION
FRANKLIN
McMAHON
Lucado, who gets a pennant every spring, may have another in the fall.
SIX ILLUSTRATIONS