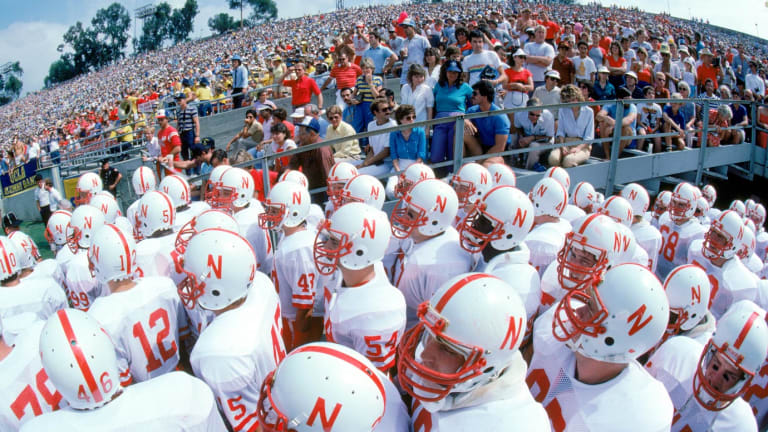 The Huskers May Be Shockers
In overwhelming UCLA, the Nebraska no-names showed that they may be even stronger than their famed predecessors
We will not get beat 42-10 by Nebraska like we did last year," vowed UCLA coach Terry Donahue last Friday. "I'll guarantee you that." As it turned out, he was correct. This time the Huskers, ranked second by SI going into the game, trashed the No. 1 Bruins 42-3.
Nebraska put on a display of power football that was as bruising as it was effective. The preliminary count showed two Bruins with separated shoulders, one with a concussion, one with a pinched nerve in his shoulder, three with severely sprained ankles and another 100 or so with badly hurt feelings. "It's difficult to get beat bad like this," said Donahue.
All the more so because this UCLA team is, in a word, good. Honest. At season's end, assuming the Bruins can muster enough survivors to get through the next few weeks, they may well find themselves in the Rose Bowl for a third straight year. Last season, you'll recall, UCLA was winless in its first four games but wound up routing fourth-ranked Illinois in Pasadena. Certainly, having to play on Saturday without first-string quarterback Steve Bono, who was out with a sprained ankle suffered the week before against Long Beach State, hurt the Bruins. With him, the score would have been, oh, about 42-10.
The point is, UCLA was simply outclassed by Nebraska. Indeed, believe it or not, the Huskers may be even more formidable than they were last season, when they ripped off a 12-0 regular season and evoked strong, albeit hardly unanimous, sentiment that they weren't only the top team of '83 but the best college team in history as well. Nebraska lit up scoreboards for an NCAA-record 624 points. Minnesota fell 84-13, Iowa State 72-29, Colorado 69-19. Then in the Orange Bowl, Miami played a near perfect game to upset the Huskers 31-30.
Besides losing the national championship, Nebraska lost its entire backfield: I-back Mike Rozier, the Heisman winner; quarterback Turner Gill; wingback Irving Fryar, the first pick in the NFL draft; and fullback Mark Schellen. Among them, the four signed pro contracts worth nearly $10 million. Another big loss was Outland and Lombardi trophy-winning guard Dean Steinkuhler, Houston's first selection in the draft.
Each of these standouts was replaced with someone not nearly as talented. Not even close. Too bad, Huskers. You had the national title in your grasp, and you blew it. Such opportunities don't come around that often. Tough.
So guess what? Nebraska just may go all the way this year. True, wins over Wyoming (42-7), Minnesota (38-7) and UCLA do not a season make, especially with first-rate teams like Oklahoma State and a revitalized Oklahoma on the schedule. But no less an authority than Cornhusker coach Tom Osborne says, "I don't think our offense has fallen off much, and our defense is a little better."
Nonetheless, how is it possible that Nebraska could be better this year than last? Around Lincoln, people don't like to talk about it, but late in the '83 season there was an alarming drift away from one-for-all, all-for-one to a weekly production of the Irving, Turner & Mike Show. It played to high ratings and rave reviews. However, it also began irking some of the supporting players who felt left out.
Charlie McBride, the Cornhuskers' defensive coordinator, likes to tell his players, "There's no 'I' in 'team.' " You'll notice a lot of "Is" in Irving Fryar, Turner Gill and Mike Rozier. The situation worsened when Rozier, having trouble handling the Heisman pressure, grew surly with the press. Gill and Fryar fell in step with Rozier. And at a school like Nebraska, where dealing with the media is considered a necessary—and educational—evil, this attitude wasn't considered good form.
But in more typical Husker style, the underclassmen who were on hand for the Orange Bowl defeat came back to Lincoln, kept their mouths shut and redoubled their efforts in strength coach Boyd Epley's gargantuan weight facility. Most of all, they set their jaws and kept in mind there is no "me" in "together," either. That was particulary true of those who replaced last season's stars:
•Sitting in his dorm room in Lincoln one evening last week, senior Jeff Smith, who took over for Rozier, eyed a poster on his wall. It's a composite of several NFL runners in action, and it reads, HOLD ON TO YOUR DREAM! Smith dreams of team success first and of being as good as Rozier second. "He's a better power runner up the middle," says Smith. "I'm more elusive." Osborne says Rozier was stronger and was a better blocker, could run inside and outside with more dispatch and was faster. "But Jeff is a competitor," says Osborne, charitably. Smith, however, says, "I know I'll get the job done." Last Saturday at the Rose Bowl, where UCLA plays all of its home games, Smith got the job done.
•Osborne says Gill was faster, had a stronger arm and was more of a threat as a runner than this year's quarterback, senior Craig Sundberg. "But Craig is a better touch passer," says Osborne, charitably. For his part, Sundberg says, "Turner is a more gifted athlete who molded himself into a winner on a winning team." But last Saturday in Pasadena, Sundberg got the job done.
•About junior Tom Rathman, who has taken over at fullback for Schellen, Osborne says, charitably, "Tom is a good player." Rathman says with traditional Nebraska modesty, "I'm just trying to pick up where Mark left off. He had more speed, but I might be a little better blocker. I don't know." Last Saturday in Pasadena, Rathman got the job done.
•"Speed," says Osborne, reflecting on what Fryar had that his replacement, senior Shane Swanson, doesn't have. "But Shane will block," says Osborne, charitably. And Swanson says, "Maybe I block a little better." Last Saturday in Pasadena, Swanson got the job done.
•Osborne says Steinkuhler was "bigger, faster and stronger" than senior Greg Orton. But Osborne adds, charitably, "Greg is a good player." Orton says, "I don't get compared with Steinkuhler because there is no comparison. I'm not as talented. But somebody has to fill in and do the best he can. So that's what I'm doing." Last Saturday in Pasadena, Orton got the job done.
Got the job done? Each, in fact, excelled. Smith carried 20 times for 123 yards before leaving the game in the second quarter with a sprained ankle. Sundberg completed 10 of 17 passes for 104 yards. With 11:20 to go in the second quarter, he ran a nifty option right from the UCLA four-yard line and scored, thanks to extraordinary line blocking and a deft cut up the middle. A two-point conversion made it 14-0. With 2:01 remaining in the first half, Rathman, running low, hard and plenty fast enough, drilled up the middle for three yards to put the Huskers ahead 21-0.
In the third quarter, after UCLA's John Lee kicked a 34-yard field goal that made him 10 for 10 for the season—the Bruins' very sick offense has gotten only two TDs in three games, the loss to Nebraska and wins over San Diego State (18-15) and Long Beach State (23-17)—it was Swanson's turn to shine. In his only carry of the day, he went 19 yards on a reverse to give the Cornhuskers a 28-3 lead. Orton threw the key block. Afterward, Milt Tenopir, the Huskers' offensive line coach, said, "I hate to brag on my guys, but...." A whole lot of bragging ensued.
Especially worthy of praise from Tenopir was senior center Mark Traynowicz, who has played so well this season he may challenge Pittsburgh's Bill Fralic for the nation's best-lineman award. "I don't know what it is about Nebraska players," says Traynowicz. "There's just more dedication than other places. And a lot of heart."
The Huskers' heart—and depth—was particularly apparent on their final two touchdowns. Second-team I-back Doug DuBose scored one, and third-team I-back Paul Miles got the other. DuBose raced 64 yards on a draw play early in the fourth quarter, despite slipping directly after he took the hand-off. Miles slammed—slammed!—off-tackle for four yards with 5:43 remaining.
On defense the Huskers may have been better than they were on offense. Because of the feeble UCLA attack, it was hard to tell if six pharmacology students and five flute players might not have contained the Bruins. Still, the Husker D seems much better than that of last season, when it gave up 16.7 points and 373 yards per game. UCLA ran for all of 41 yards—on 33 rushes—and passed for 165 yards, most of them after the issue was decided. Moreover, Nebraska was playing without its best defensive player, linebacker Mike Knox, who blew out a knee in the spring game and is sidelined for the season. Is Knox surprised the Huskers are so good again? "Naw," he says, "this is Nebraska."
Donahue tried surprising the Corn-huskers by using a Bruins oldie but goodie, the I formation, on a number of plays. The tactic failed. "I did some good things," said UCLA quarterback Matt Stevens, a sophomore making his first start. "It seems like I was an inch away all game." Maybe, but it looked more like a mile. Stevens ended up completing only 13 of 28 passes—overall, the Bruins threw the ball 43 times—and he was sacked seven times.
Bruin cornerback Ron Pitts could only shake his head. "It was the Nebraska we expected," he said. "Nothing they did shocked us. We prepared for their looks, but they just executed."
That, typically, is what Nebraska does. Just a bunch of farm boys—14 of the 22 starters are from Nebraska—who will crunch you. Says Swanson, a ranch kid from Hershey, Neb., "Every little boy in Nebraska dreams of playing for Nebraska." In no other state is the dream of playing for State U. so all-consuming.
The proposition that the Huskers may be a better team than they were last year, despite having less-talented players, takes some getting used to. But, as Smith says, "Around Nebraska, we always look at the people we lose and we say, 'Wow, what will we do next year?' Then we do something better."
PHOTO
After nearly slipping on the hand-off, DuBose took off on a 64-yard TD romp.
TWO
PHOTOS
New quarterback Sundberg wasn't upended until he reached the end zone on this four-yard keeper that put Nebraska ahead 12-0.
PHOTO
Rathman the blocker proved a blockbuster with 52 yards rushing, including this TD run.
PHOTO
Swanson isn't Fryar, but he sizzled on his only carry, a 19-yard reverse for a score.
PHOTO
Sacked seven times and hitting only 46% of his passes, Stevens was bloody but unbowed.
PHOTO
Proof of Nebraska's improvement on D: The Bruins ran for only 41 yards on 33 carries.
PHOTO
Cornerback Dennis Watkins (27) broke up three passes with his in-your-face defense.
PHOTO
Lee, who's 10 for 10 in field-goal tries, has scored 32 of UCLA's 44 points this year.