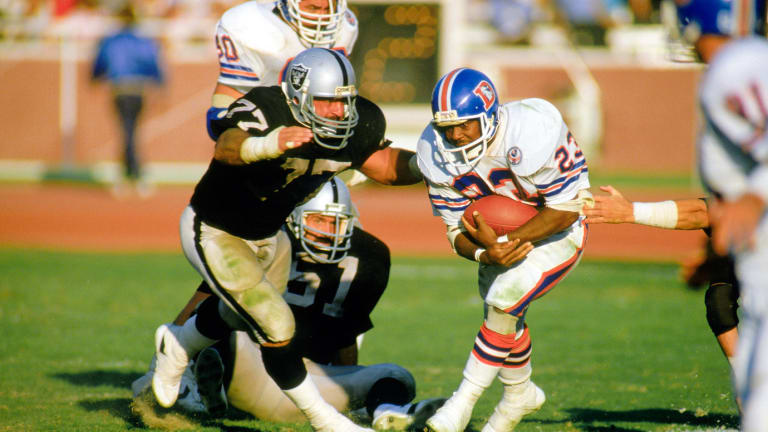 There Was No Bucking These Broncos
The previously perfect Raiders couldn't harness Denver, which won 16-13 to move into a tie for the AFC West lead
The clock in Denver's Mile High Stadium showed 4:34 to play Sunday, and the Broncos, holding a 16-13 lead over the Los Angeles Raiders, had the ball on their own 15-yardline. Still, on the sideline the guys on the Raider offense were clapping their hands and shooting glances at the clock. Heck, 4:34 and all our timeouts left.No sweat. We're the miracle Raiders, right? Defending Super Bowl champs. The last four minutes belong to us, or two minutes, or whatever it takes.
That has been the Raider trademark this year—diddle around until the end and then salvage the game with a neatly conceived drive while the opposition pulls an el foldo. They did it to Kansas City and to San Diego while they were building a 4-0 record.Even Houston led L.A. at the half.
So in that final 4:34 Sunday, the Raiders would back the Broncos up, make them punt, put 'em away, get on the bus and drive to the airport. Raider football.
Uh, uh, not this time. Denver still had the ball when the final whistle sounded—and a 4-1 record in the AFC West, same as the Raiders. Ten plays were all it took, nine of them runs by the nifty little tailback, Gerald Willhite. The Broncos pounded away,rocking the Los Angeles defenders back on their heels and leaving them gasping for lungfuls of that thin Colorado air. It had gone pretty much that way all afternoon. It was shock therapy. That just isn't done against the Raiders.Denver ran for 233 yards, the most a Raider team has given up since 1979 and a total that will make future L.A. opponents blink when they see the game films.
First the Broncos did it with pitchouts to 5'11", 203-pound Sammy Winder, their tailback in the one-back set. When Winder went out with a sprained ankle in the second quarter, Denver came back with the 5'10", 200-pound Willhite, running him first on pitches, then on traps.
"Their ends were getting outside-conscious," said Bronco right guard Paul Howard, one of the key trappers, "so at halftime we had to change-up, and we started trapping them."
In the third quarter Willhite got dinged by free safety Vann McElroy, so Denver rolled out 5'11", 200-pound Rick Parros, who also got his yards. Would this parade of little tailbacks never cease? Then Winder, his ankle tightly taped, returned for one play, picked up 14 yards and retired for good. Then Willhite ("I had a pretty bad headache") came on again. The march continued.
The best Bronco drive came in the third quarter, when they trailed 10-9. It covered 82 yards on 11 plays and lasted almost five minutes. John Elway threw only two passes and completed both, a four-yarder to the second tight end, John Sawyer, and a 16-yarder to flanker Steve Watson. The rest was crunch ball. John Madden would've loved it. Denver had only one third-down situation, near the goal line, and made it with plenty to spare. Willhite served up a four-yard touchdown burst, and the Broncos had all the points they'd need.
The Raiders got the ball back three more times. Their first possession produced a 50-yard fieldgoal by Chris Bahr, thanks to L.A.'s biggest play of the second half, a 48-yard Jim Plunkett-to-Malcolm Barnwell bomb. The second Raider possession ended with cornerback Mike Harden intercepting another Plunkett rainbow in the end zone,and the third was three downs and out. The final effort of that series was a forced pass to Barnwell, who stuck up a hand like a first baseman reaching for a high, wide peg. The fourth possession the Raider offense expected never came:By then the L.A. defense was worn out.
And when it was over, when the full realization of what the Broncos had done to them had sunk in, Matt Millen, the L.A. linebacker whose specialty is stuffing the run, said,"It was the worst, absolutely the worst game I've ever played in my life. I couldn't do a thing right. Every decision I made was wrong. I wasn't bad, I was terrible. I'll do better. Hell, I've got to."
Right defensive end Lyle Alzado, who received a tremendous booing from the Denver fans for whom he'd performed so ably for eight years, said, "Let's be honest. I got tired out there."
And All-Pro left defensive end Howie Long said, "In the second half we were pinching our ends down on every play and they were still trapping us. It was unbelievable. It was like they were taking us out of the game."
In the last Super Bowl the Redskins tried to run straight at the Raiders and got squashed. The Broncos did it differently, cracking down with two, even three tight ends,angle-blocking them, trapping them. San Diego had showed the world—not to mention Denver—that it could be done in the Monday-nighter earlier in the week.Of course, L.A. had made it easier for the Chargers by opening the game in a modified nickel defense, in which 235-pound inside linebacker Bob Nelson was replaced by the nickel back, 190-pound Odis McKinney. Fine, said the Chargers.You want to go nickel, we'll run the ball. And they did. McKinney found himself staring at a guard, and Earnest Jackson, the San Diego tailback, got a career-high 155 yards. But the odd thing was that the Raiders never got out of the nickel. It was arrogance: You're not going to beat us running the ball.
Even weirder was that on Denver's last 10-play drive on Sunday Los Angeles was in the same set.Even when the Broncos went with three tight ends and it was obvious that they were going to pound away, the Raiders kept their nickel back on the field. It was only when Denver had a second-and-two near midfield and the clock showed 1:48 that L.A. brought in the big goal-line people.
Give Bronco coach Dan Reeves credit for putting together the game plan. Reeves is unique among NFL coaches: He has never lost to a defending Super Bowl champ in his four years as a head coach. He's 4-0 against them; he's the man who shot Johnny Ringo. Denver beat the Raiders twice in '81 and the 49ers once in '82. The Broncos didn't play the Skins last season. Reeves's game plan this time called for a power approach—three tight ends on occasion, once in a while an unbalanced line with left tackle Dave Studdard, who did a magnificent job Sunday, switching over to the right side. He even went with three tackles,unbalancing the line with two of them on one side.
Unfortunately that scheme died in the third quarter, when one of the Denver tackles, Ken Lanier, got thrown out of the game. It happened on a third-and-goal play from the Raider two-yard line. Elway went back to pass and wound up scrambling to his right and falling short of the goal line. Meanwhile, on the left side of the field, a tremendous brawl had developed between Lanier and Los Angeles's goal-line monster, 6'7", 280-pound Sean Jones, a rookie. When the smoke had cleared, the play was nullified, Lanier was ejected and the Broncos got a 19-yard field goal from Rich Karlis.
Lanier is a holder, a strangler, a takedown artist. Long, his foe in Denver's regular alignment, bit the dirt many times in Lanier's grasp, but Jerry Markbreit's officiating crew doesn't like to call offensive holding penalties. Only one was assessed on Denver all day—on Lanier in the first quarter.
"As soon as the fight started," Bronco center Billy Bryan said, "No. 99 [Jones]yanked Kenny's helmet off. When they threw Ken out I couldn't believe it."
"I'm not saying nothing; it's all on the films," Lanier said, but Jones offered amore informative picture. "Yeah, I guess I pulled his helmet off. But I had him squared up, I was zeroed in on Elway before he sprinted out, and Lanier just twisted me and yanked me down. The fight is my fault—for losing my cool—but this stuff is just getting ridiculous. Guys are holding us, tugging onus, and the officials aren't calling the fouls. It gets into people's minds that the Raiders play this kind of football, so other teams think they can getaway with anything against us."
It was a nasty game. The L.A. defense has come to be known as the Three P's—for punching,pushing and pointing—but on Sunday the Broncos more than held their own in those departments.
"A typical Raider-Bronco game," said Denver linebacker Tommy Jackson, who's been playing in them for 12 years. "Usually the second and third quarters are when things get intense. By the fourth it settled down to just football."
Alzado and Bronco tight end Clarence Kay traded punches in the second quarter, then Kay and Raider linebacker Rod Martin had a go. Another time there was a near fight on a kickoff that was downed in the end zone, and there was even a fight on Plunkett's kneeldown that ran out the clock in the first half. This one was between Los Angeles center Dave Dalby and Denver rookie middle guard Scott Garnett.
"They came up to the line in fall down formation," Jackson said, "and I said to Jim,'You going to sit on it?' and he said, 'Yeah.' Next thing I knew they snapped the ball and Scott just ran over Dalby, and then they were punching. When we were walking off, Dalby said to me, 'What's with that guy?' and I said, 'He's just a rook.' Maybe it's partly my fault. We've got a young team, awfully young. Twenty-one guys are first-or second-year players, 19 of them are younger than Elway. During the week I kind of preached to them, 'Don't block down. It doesn't mean anything that they're the Raiders. If you have to fight, then fight. If they kick you, kick 'em back.' They're so young they took it to heart."
Jackson is one of five remaining starters from the 1977 Orange Crush Super Bowl defense that still has its same coordinator, Joe Collier, and line coach, Stan Jones. At 33,Jackson is enjoying a rebirth as one of the game's premier outside linebackers,the leader of a high-powered unit that at times plays in a kind of frenzy. The previous week it had shut out Kansas City 21-0. Sunday the tone was set in the first quarter on a thundering hit by Karl Mecklenburg, a 250-pound second-year linebacker. On first down Plunkett threw his worst pass of the day, a check-off under pressure to Marcus Allen that floated a bit too high and made Allen stretch, thereby exposing his rib cage to permanent displacement. Mecklenburg obliged. "That hit," Jackson said, "told everyone in the stands what the game would be like."
Remarkably, Allen survived, but on the next play Plunkett called Allen's number again—a sweep that ended six yards behind the line, after Allen made an impromptu lateral to fullback Kenny King. The tone was indeed set. It was going to be one of the Raiders' screw-up days offensively.
L.A.'s rushing game netted 70 yards, 30 of them on a single run by Allen. Two Bronco runners beat that by themselves, Winder (16-for-91) and Willhite (21-for-82). Parros(7-for-45) would've done it, too, if he'd been in longer. Plunkett, coming off a magnificent game against the Chargers, couldn't get much of anything going.Tight end Todd Christensen, one of the best possession receivers in the business, dropped two passes. One side of the field was completely denied to the Raiders—left cornerback Louie Wright's side. The pregame publicity was all about how L.A. cornerbacks Lester Hayes and Mike Haynes had shut out San Diego's James Lofton and Charlie Joiner and held Wes Chandler to two puny catches. But there was only one shutout pitched Sunday and that was by Wright—three passes to wideouts in his area, no completions.
The Denver offense, meanwhile, didn't back off from Haynes's and Hayes's coverage."Teams have been afraid to challenge them," said Watson, the game's top receiver with six catches for 79 yards. "Clubs seem to go into games figuring, 'Well, we're not going to get anything done over there.' It's a mistake. You've got to challenge them."
On the game's first play Elway challenged Haynes with a 19-yard sideline pass to Butch Johnson. Haynes was out of bump-and-run and playing back. It got tougher for the Broncos after that, although not impossible. Hayes and Haynes tightened up.Collectively they allowed eight completions to Denver wideouts, the most they've given up this season, but the Bronco receivers had to work for what they got. Haynes made the Raider defensive play of the day, swooping in on Johnson to pick off a pass and cut off a second-quarter threat. And Hayes made almost as significant a play in the third quarter when he cut Parros's legs out from under him on the one-yard line and held the Broncos to a field goal.
Afterward Hayes gave Elway very high marks. "The most fascinating thing is that the fear factor no longer exists in John Elway," he said. "Last year his poise quotient was negligible. But today he looked like the second coming of Goose Gossage with that 95-mile-an-hour fastball. I was all over Watson today, and logically, a young quarterback such as Elway shouldn't have the intestinal fortitude to try and throw some of the passes he completed to him. But based oh is arm he could throw them. He reminds me of a young Bert Jones."
With a gang of runners behind him and an offensive line to make the whole thing work.
PHOTO
ANDY
HAYT
 AfterElway rambled, others rumbled, but he kept his "poise quotient"high.
PHOTO
Of Willhite's 82 yards, 36 came on his nine carries in the last 10 plays of the game.
PHOTO
After Hayes (37) sent Parros flying, Keith Bishop ensured that he had a soft landing.
PHOTO
PETER READ
MILLER
The likes of Barney Chavous (top) and Jim Ryan held Allen to only 66 yards rushing.
PHOTO
PETER READ
MILLER
Jackson, one of five remaining Orange Crushers, put the squeeze on Plunkett.
PHOTO
ANDY HAYT
Christensen had five catches, one for L.A.'s only TD.