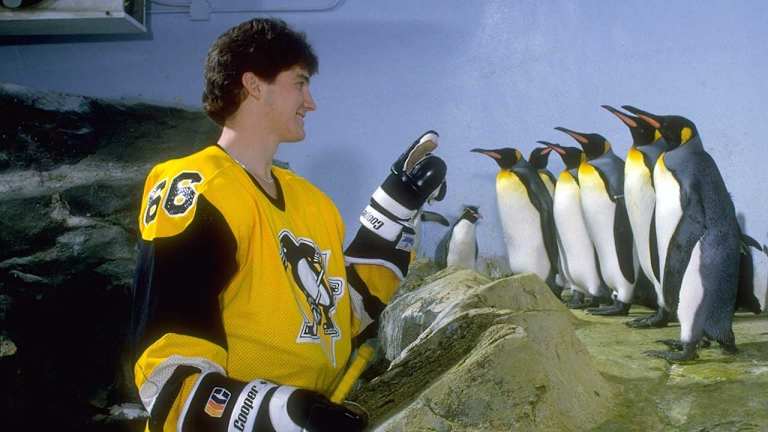 PITTSBURGH LANDS A RARE BIRD
The pitiful Penguins figure that they'll be a lot higher in the NHL pecking order now that their prize draft pick, Mario Lemieux, is in their nest
Let posterity note that the light at the end of the tunnel that is Pittsburgh Penguin hockey was first glimpsed at 2:29 p.m. (E.D.T.) on Sept. 20, 1984, which was when Mario Lemieux scored his first goal in a Penguin intrasquad scrimmage. True, Lemieux's goal came against the NHL's most inept defense—the Pens allowed a league-high 390 goals last season while sagging to the worst record, 16-58-6, in the NHL—but from the reaction of the 400 Pittsburgh diehards who came to see the NHL's top draft choice, the most highly touted rookie since Guy Lafleur, you would have thought Lemieux had just scored the game-winning goal in a Stanley Cup final.
Taking a pass in the slot, the 6'4", 200-pound Lemieux, who turned 19 on Oct. 5, tapped the puck through an on-rushing defenseman's skates, sidestepped deftly, then swept up the puck and shot it past the glove hand of startled goalie Michel Dion. The arena went bonkers—"Our savior has arrived!" screamed one fan—and for minutes the crowd buzzed as if witness to a miracle—a penguin taking flight, say. In the next hour Lemieux drew gasps from the crowd half a dozen more times, snaking the puck away from defensemen with his amazing reach, stickhandling in maddening circles while waiting for teammates to break into the open, slithering perfect passes that so discombobulated the pattern and flow of play that even his linemates were caught off guard.
"Mario did some great things out there today—scary things," gushed Bruce Haralson, the Penguins' Western scout, who operates out of Edmonton, the home of Wayne Gretzky. "He did things that only Gretzky can do. That's what's scary—to think that there might be another one."
It isn't scary to Penguin general manager Eddie Johnston, who wheeled and dealed his team into the league cellar last year (although he won't admit it was deliberate) to assure himself a shot at Lemieux, the highest-scoring junior hockey player of all time. Lemieux averaged better than four points a game last season for the Laval (Quebec) Voisins.
His performance in the scrimmage put a big grin on Johnston's face. It called to mind a pleasant memory from his own playing days. E.J. had been a goalie for the hapless Boston Bruins in 1966, the year Bobby Orr broke in. "We'd heard all about this 18-year-old kid, Orr, who was going to save the franchise," Johnston said, "but when the Bruins brought him up for a tryout, the veterans just said, 'Let's see what he can do now that he's up against NHL players.' After Orr's second practice, it was, 'Whoa! Look what we found!' That's a pretty good analogy to what I saw out there today."
Johnston had no reason to temper his enthusiasm in the exhibition season. In four games Lemieux had three goals and five assists for an average of two points per game.
"The first thing that struck us about him was his tremendous size," said Mark Johnson, a 5'9" center for the Hartford Whalers who played against Lemieux in his professional debut Sept. 28. "We'd heard about him, but until you see him in person, you can't believe it. He's big enough to take anything anybody dishes out. And he handles the puck like a small forward. That gives him the choice of holding his ground in the slot or moving around the offensive zone to make plays."
Says Hartford G.M. Emile Francis, "He reminds me of Phil Esposito. He can stand in front of the net and with those long arms can really go after rebounds, reaching over defensemen, around them, through them, whatever."
"No one who's come out of junior hockey has ever shown as much potential as Mario—ever," says Pittsburgh coach Bob Berry, who isn't given to exaggeration. Even the much-heralded Orr didn't get the kind of advance publicity that has preceded Lemieux. And Pittsburgh is making the most of it. At the bottom of the NHL in attendance last season, with an average of 6,839 and no sellouts, the Penguins expect a full house for their home opener Oct. 17 against the Vancouver Canucks, a night being billed as the Lemieux Debut. On Oct. 27, when the Penguins play the Montreal Canadiens—Lemieux grew up 10 minutes from the Montreal Forum—they will give away life-size posters on Mario to kids 16 and under, fans who presumably will live to see Pittsburgh win the Stanley Cup. It can only be a matter of time before the Civic Arena itself, a cute little domelike thing, is called the Lemieux Igloo. "I was there this summer, and Lemieux was all they were talking about," says New York Ranger forward Pierre Larouche, a onetime Penguin star whose wife is from the Steel City. "He's going in with a lot of pressure on him."
Seventeen years of frustration—that's pressure. It was appropriate that the original owners of the team selected station WEEP as the voice of the Penguins for the first three years of the franchise's history. Penguin fans did weep. They had to. Time and again, just when things appeared darkest, they'd go completely black. Take the team's best season, 1974-75, when it put together a 37-28-15 record. After eliminating St. Louis in the opening round of the playoffs, the Penguins became only the second NHL team (the 1942 Detroit Red Wings were the first) ever to blow a three-games-to-none lead in a series, losing four straight to the fledgling New York Islanders. Still reeling from that debacle, team officials arrived at work seven weeks later to find that the office doors had been padlocked by the feds. The Pens, awash in $6.5 million of red ink, were the first NHL team since World War II to go bankrupt.
A group of investors then bought the club and two years later sold the controlling interest to Edward J. DeBartolo Sr., who said prophetically, "As an investment, a hockey team stinks." In 1982, after losing in overtime to the Stanley Cup champion Islanders in the fifth game of their best-of-five playoff series, the Penguins went into a death spiral that culminated in last year's miserable record, the worst in team history.
Pittsburgh's hockey fortunes turned when coach Johnston became general manager Johnston after Baz Bastien, who'd been the team's G.M., was killed in an automobile accident March 15, 1983. Johnston, with DeBartolo's blessing, put an end to the Penguins' ruinous practice of trading away first-round draft choices—which they had done in 1971, '72, '77, '78, '79, '81 and '83. For years, scouts and G.M.s had been positioning themselves for the 1984 draft, when Lemieux would become eligible. Back in '81, when Lemieux was 16, Montreal had traded Larouche to the Hartford Whalers for the Whalers' first pick in 1984 in the hope that it would land them their hometown boy. In everyone's estimation Lemieux was a player around whom you could build a franchise—a natural scorer, big, strong and highly skilled. A general manager might get a crack at someone like that once in a lifetime. Since the last-place team in the NHL has first pick in the draft, much of Johnston's energies last season apparently went toward seeing that the Penguins finished below the New Jersey Devils in the standings. On March 5 he traded his best defenseman, former Norris Trophy winner Randy Carlyle, to the Winnipeg Jets for a first-round draft choice and a player to be named later. Much later. He got Moe Mantha after the season. Johnston also sent Roberto Romano, the Penguins' best goalie in the latter part of the season, down to Pittsburgh's minor league team in Baltimore and replaced him with Vincent Tremblay, who allowed 24 goals in four games for a heady 6-gpg average. Johnston's shuffling worked. The Pens ended the season three points behind the Devils.
Lemieux, meanwhile, was shattering the junior scoring records of Mike Bossy, Pat LaFontaine, Larouche, Lafleur, you name him. The season before Lemieux joined the Laval team, it finished 10th and last in its league. It was seventh his first year. Laval won the league championship in his final two seasons, and in 70 games in 1983-84 Lemieux had 133 goals and 149 assists for 282 points—31 more than Larouche's single-season league record for the Sorel Black Hawks. And that season, average attendance at Laval home games rose from 1,100 to 2,200.
Dropping to his knees and pumping his arms after scoring a goal, Lemieux was a natural showman, and at the behest of his agents his uniform number was, as it still is, 66—99 upside down. Ninety-nine is worn by guess who. Lemieux was beginning to look like a big Gretzky. "He passes the puck as well as anyone but Gretzky," says Lou Nanne, G.M. of the Minnesota North Stars, who offered Johnston all 12 of his 1984 draft choices for a chance at Lemieux.
Some 3,000 Pittsburghers showed up to watch the drafting of Lemieux on June 9, an event that was shown in the Igloo on closed-circuit TV. Lemieux didn't exactly get off on the right foot with the fans when, on the advice of his agent, Gus Badali (who also handles Gretzky), he refused to hold up, much less don, a Penguin jersey and pose for the traditional photo. Contract negotiations were at a standstill, and Lemieux told reporters he didn't want to shake the hand of Eddie Johnston if Johnston didn't want to pay him what he was worth. That went over like a lead penguin. "I'll sign when Lemieux signs," shouted one season-ticket holder during the screening. It took just a week longer for Lemieux and the Penguins to come to terms—a reported $600,000 for two years, including a $150,000 signing bonus, and an option year at $150,000.
"I don't regret doing that," Lemieux says now. "One week later I had my contract, and the fans seem to have forgotten it. At least I hope so." Lemieux, the first French Canadian since Lafleur (1971) to be drafted No. 1 overall, speaks English well, if carefully. Three summers ago, on the advice of Badali, he took a Berlitz crash course. "He tells me to behave off the ice like Gretzky," says Lemieux, whose polite, self-effacing style mimes that of The Great One to a tee. Gretzky sponsors a celebrity tennis tournament every summer. So Lemieux—a six-handicap golfer—staged the Mario Lemieux Annual Celebrity Golf Tournament in June to benefit the Normand Leveille Foundation, which helps support the young Boston Bruin forward who suffered a cerebral hemorrhage between periods of an NHL game two years ago and is still partially paralyzed. The entry fee was, you've got it, $66.99. The event raised $6,000 for the foundation. Gretzky participated and shot an 83.
While Lemieux can ape Gretzky off the ice, he'll have a hard time keeping up with him in the arena. Lemieux is an adept skater—fast, even, once he gets going. But he has little of Gretzky's marvelous quickness. "The best thing for a player like Lemieux is to be moving all the time," says Nanne. "And he needs to dial his consistency up to a higher level to be great."
The Great One gives more of himself night in, night out than any other player in the league. He's obsessed with being the best. Lemieux has never shown that sort of drive, perhaps because he has never needed to. "We all know he has the talent to be a dominating player," says Haralson, "but what no one can say yet is, does he want to dominate the game? One thing I've noticed already, though, is he's always talking to players in practice, tapping them on the pads and such, veterans and rookies alike. That's a Gretzky trait. A born leader's got to be able to lead players 10 years older than he is."
Lemieux, whose very name means "the best," has been trying to maintain his equilibrium in the face of such comparisons. "I'm the kind of guy who isn't very nervous, who takes life as it comes," he says. "It isn't very fair to compare me to Wayne Gretzky. He's the greatest. I'll try to be the best, but it'll take me more than a year to do that."
It will take the Penguins more than a year, too, to reach the playoffs again—never mind contend for the Cup. It's still a long, dark tunnel. But there's something up ahead. Call it the Lemieux Lumi√®re.
PHOTO
LANE STEWART
Pittsburgh is confident of the talented Lemieux's ability to attract a spiffy crowd.
PHOTO
ANTHONY NESTE
Lemieux's size enables him to dominate face-offs, as in this one against the Devils.
PHOTO
UNITED PRESS CANADA
Top picks: Devil Kirk Muller, Lemieux, Black Hawk Ed Olczyk.