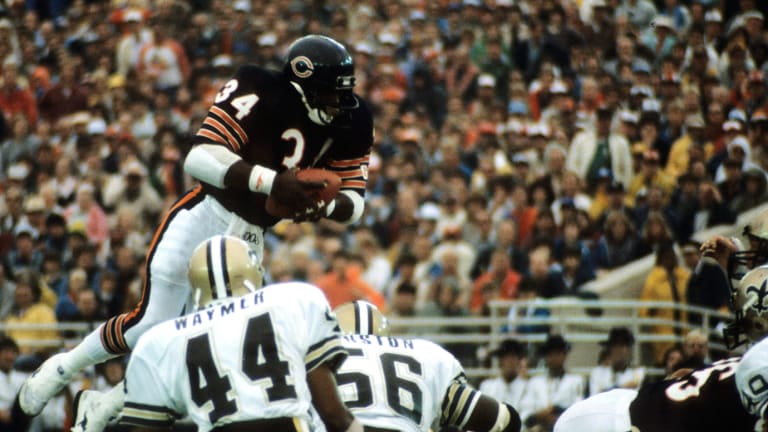 Up and Over, to the Record and Beyond
Needing 66 yards to catch Jim Brown, Walter Payton got 'em against the Saints with 88 to spare
With 14:11 to go in the third quarter of the Chicago Bears' game with the New Orleans Saints at Soldier Field Sunday, Walter Payton ran past Jim Brown and into a shimmering new realm. He gained six yards on a Toss-28-Weak—the 2-back, Payton, wide left through the 8-hole on the weak side—and thereby increased his career rushing total to 12,317 yards, five more than Brown gained in his nine seasons with the Cleveland Browns. At that instant Payton, in the sixth game of his 10th NFL season, officially became the top runner in the history of pro football.
The record fell on Payton's second carry of the second half, his 17th of the day. The ball was on the Bears' 21, second-and-nine. Chicago was leading 13-7—and would go on to win 20-7—and a gray sky was promising rain. There was nothing special about the call; the Bears have used the play dozens, perhaps hundreds, of times during Payton's career. Payton was the I-back in an I-Right formation, and flanker Dennis McKinnon went in motion from right to left, crossing in front of Payton and fullback Matt Suhey as quarterback Jim McMahon shouted the signals.
At the snap, left tackle Jim Covert and tight end Emery Moorehead blocked down. Left guard Mark Bortz pulled, and he, McKinnon and Suhey led into the hole. Payton skittered along in the backfield, holding the ball like a potato in his right hand, the way he likes to do it, surveying the scene before him. Then he tucked the ball away, squared his shoulders to the line and headed for history.
For weeks Payton had been trying to ignore the pressure building around him. Before the Dallas game the previous week, Payton had been so pumped up with anticipation he'd nearly passed out. "I've never felt like that before," he said. "It sort of scared me. I really couldn't see anybody unless they were two or three feet in front of me."
He'd needed 221 yards in that game to catch Brown, and in the Cowboys' 24-year history only one person had ever run more than 200 yards against them. That was Jim Brown. But there was no betting against Payton. He holds the NFL single-game rushing record of 275 yards, and when he takes off, as teammate Al Harris says, "he runs with a fever." He gained 130 yards on 20 carries in the first half against Dallas, but for some reason was called on to carry the ball only five times in the second half and finished with 155 yards, 67 short of what he needed to surpass Brown.
Gaining 67 yards "isn't like falling off a log," coach Mike Ditka pointed out to the swelling media contingent gathered at the Bears' training camp in Lake Forest on Thursday. "Multiply that times 16 games, and see what you get." What you get is 1,072 yards, a tidy sum. But not for Payton, who has gained more than that in all but two of his pro seasons—his rookie year and strike-shortened 1982.
"The pressure goes with the job," Payton said late in the week. "It's just when I'm driving home and there are two or three guys following me with cameras hanging out their windows, waiting to see if I'll signal when I make a right turn, that it gets tough."
One night during the week, Payton watched a TV highlight film of the NFL's greatest running backs, and for the first time in his life he studied the man he was about to pass. "Jim Brown was big and strong and quick," Payton observed. "And he even made a one-handed catch. Hey, that's what football's all about." That and staying healthy, which was one of Brown's attributes and certainly is one of Payton's. Sunday's game marked Payton's 126th consecutive start for the Bears.
When Payton's transcendent moment arrived, however, Brown was nowhere in sight. In the last few months, he had made so much fuss about the manner in which his record was being approached—about the overall worthiness of Payton, Franco Harris, Earl Campbell, Tony Dorsett, John Riggins—that the Bears' management felt it would be best if he didn't attend the game. "We want it to be Walter's day," said club president Michael McCaskey.
And it was. Payton finished the game with 154 yards rushing on 32 carries for a grand total of 12,400 yards. It was his fifth consecutive 100-yard-plus game and the 59th of his career, which broke another of Brown's records. Payton now holds 21 Bear records and four NFL records, and another five NFL career marks are within his reach, including most rushing attempts, most rushing touchdowns and most 1,000-yard rushing seasons. Moreover, he leads the NFL in rushing this season with 775 yards and is off to the best start of his career, averaging just over 129 yards per game. At his current pace he'll pass O.J. Simpson's record of 2,003 yards for a season in the second half of the Bears' last game, against the Detroit Lions.
"What he's going to do is put the career record so far out there, that yours truly won't have a chance," says the Cowboys' Dorsett, who's currently sixth on the alltime list with 8,769 yards and is the man generally considered to have the best chance of passing Payton someday. And Dorsett is correct. Payton is running wild. He says he's headed for 15,000 yards, and it's hard to believe he won't get there. "I had my 11,000-mile tune-up in the off-season [arthroscopic surgery on each knee], and I feel great," he says. "The way you think is the way you are. And I think I'm 23."
"He's running as well as he ever has," says Bears veteran Brian Baschnagel. "He ought to set his goal at 20,000 yards."
Typically, when Payton's moment of glory came, he wanted the game to continue. He rose from the pile of New Orleans tacklers—linebacker Jim Kovach had hit him first—ready to run again. "We had momentum," Payton would explain later. In the pregame warmup, Payton had told his teammates to forget about his impending record and just win the game. And some of his teammates listened. "It was just a regular sweep," said right guard Kurt Becker. "We weren't thinking anything special."
"I don't even remember what I did on the play," said Covert. "I didn't know it was the record until I saw all the people on the field."
The people, mostly photographers with cameras firing madly, charged Payton in a reckless wave. Seeing the onslaught, he dashed to the Saints' sideline, where he shook hands with coach Bum Phillips. "He's a perfect gentleman, and I respect him," Payton explained. Then Payton circled deftly away from the mob and cut to the Bears' sideline, where he handed the ball to offensive backfield coach Johnny Roland. Roland tucked it away and carried it to Pete Elliott, the executive director of the NFL Hall of Fame. The ball will go on display at the Hall in Canton, Ohio until the end of the season, at which time Payton will get it back in exchange, says Bears p.r. director Ken Valdiserri, "for Walter's uniform."
Up in a sky box, Payton's support people opened a bottle of champagne and toasted their man. Among them were Payton's wife, Connie, his mother, Alyne, former Bear teammates Roland Harper and Mike Adamle, his former high school coach Charles Boston and his agent Bud Holmes. They're the folks who keep Payton humble, who help him keep his achievements in perspective while so many others are losing theirs. "People say, 'You're married to him!' And all I can think is, it's no big deal," says Connie, a delightful woman of unfailing candor. "It's like my father said, 'He's lucky to be married to you.' "
Holmes, the Mississippi lawyer who helped negotiate the clause that specifies a $100,000 bonus for Payton from the Bears for breaking the rushing record—he'll get a $125,000 midnight-blue, 12-cylinder Lamborghini Countach-S from the Kangaroo Shoe Company, too—is equally low-key. "Hey," Holmes drawled after strolling into the Bears' locker room after the game and finding his client buried under microphones and notepads. "Whatcha been doing today?"
What Payton demonstrated most of all on Sunday is that he's an old-fashioned credit to the game, if that kind of morally atavistic notion still means anything. At a time when so many pro football players seem to be engaged in as many battles in court as they are on the field, here's a man whose chief vice is lighting firecrackers; whose favorite drug may be the cheeseburger; who says, when asked what political party he belongs to, "I'm an American"; who developed his awesome stiff-arm, he says, to keep kids from messing up his clothes while playing sandlot ball back in Columbia, Miss.
Against the Saints he bashed and crawled for every inch he could get, dealing some furious blows en route. On one seven-yard gain in the first quarter, he hit safety Frank Wattelet smack in the chest and knocked the poor man four yards downfield. Just before the half he launched himself into the air, tucked into a cannonball and landed hard in the end zone for the Bears' first touchdown. His style of running isn't glamorous, but it's so honest that even battered opponents come to appreciate it.
"So far, people have never tried to just hurt me, to put me out of the game," he says. "And I guess that's because of the way I play." Indeed, that explains why, when Payton broke the record, even the Saints applauded him.
Boston recalls that even back when he was coaching Payton in high school, Payton's attitude and his skill could have a powerful effect on those around him. "When we first integrated around 1970 and combined the black and white school systems in Columbia, I remember we played Prentiss High and beat them 14-6," says Boston. "Walter had the two touchdowns for us, one of 65 yards and the other, 95 yards. That did it for integration. Those people in the stands didn't see a black boy running with the ball. What they saw was a Columbia Wildcat."
"I really don't think people realize what a great person Walter is," says Suhey. "He's got a tremendous ego on the field, but he also has a great sense of humor, an ability to say something light at the right time. When I dropped a pass against the Colts, on the way back to the huddle he said to me, 'You can always get a paper route or join the Army.' And he's a good imitator. He does a great Ditka and a great Buckwheat."
After the game, when Payton was handed a telephone and told that President Reagan wanted to talk to him, he took the phone and, without batting an eyelash, said into the receiver, "The check's in the mail." And he was funny, and perhaps a bit truthful, at an earlier press conference when he said he didn't care who broke his record once he retired, "as long as it's my son."
In a way, of course, the humor is a mask. "It's a defense mechanism to relieve pressure on him and the whole team," says Baschnagel. In the past there has been a need for that. The Bears have fielded some pretty bad teams during Payton's career, and often the press has clamored for him to say something critical about his teammates. Sometimes he has, and has been hurt by it. But now the Bears are 4-2, and nothing can really detract from Payton's efforts.
"You cannot overemphasize what he's done," says Dorsett. "You can't make too big a flap about it."
The amazing thing is that athletes usually are in steep decline when they approach career records. That, of course, is the touching part of the chase: the getting used up. Just look at Pete Rose. But Payton is in his prime. Baschnagel even goes so far as to say, "He hasn't reached his peak."
In a way, Brown has clouded Payton's heroic effort somewhat. A remarkable runner, Brown nevertheless chose to stop playing football at a time when he could have continued on for years and possibly established a record so high that Payton would only be passing its midrange just now. Or Brown could have been injured and forced to retire. Who knows what might have happened? Yet somehow the myth has grown that Jim Brown was Superman, that every time he touched the ball he ran for 50 or more yards.
He didn't. In 1957 against Philadelphia he ran 19 times for 28 yards. In 1958 against Washington he ran 11 times for 12 yards. In 1960 against the Giants he carried the ball 11 times for 29 yards. In 1961 against Washington he ran 17 times for 24 yards. In 1962 against Baltimore he ran 14 times for 11 yards. And he had other bad days, too.
Jim Brown was fabulous, but human. He's a proud man, and he sometimes talks about making a comeback, even at age 48, to add to his rushing total. If he starts right now he'll only be 88 yards behind Walter Payton.
FIVE
PHOTOS
ANDY
HAYT
Payton soared for the go-ahead TD, but he was still two yards shy of the mark.
PHOTO
MANNY
MILLAN
The record carry: Payton picked up six tough yards before being brought down.
PHOTO
MANNY
MILLAN
Until Payton trades in his uniform, this ball will be in the NFL Hall of Fame.