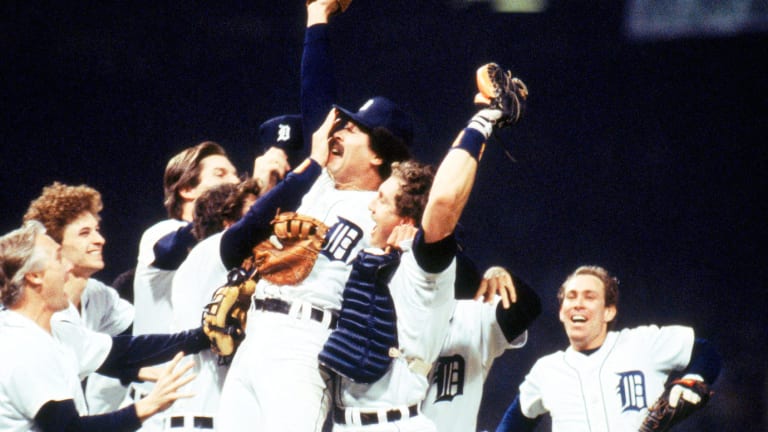 Detroit Jumped All Over 'Em
The Tigers leaped to the fore in every game as they bounded past the Padres to win the 81st Series
As the ball took off into the night, 25 blessed boys, their manager and an entire city hitched a ride. They landed way up there, high in the seats of the upper deck in rightfield, only a few rows from the top of baseball history.
The Detroit Tigers defrocked, with an eald Englisc D, the San Diego Padres 8-4 Sunday in ancient Tiger Stadium to win the 81st World Series, four games to one. The dramatic blow was struck by Kirk Gibson, whose second homer of the game, a three-run shot off Goose Gossage in the eighth inning, was a thing of beauty. The Tigers didn't need that to win their 111th game of 1984, but they needed it to convince people just how good they were.
Detroit thus became the only team other than—organ music, please—the 1927 Yankees to go wire to wire in the regular season and win the World Series. And Sparky Anderson became the first manager to win world championships in both leagues.
"This was a great year, but not necessarily a great team," said Anderson, after the champagne had tapped out. "Next year we'll see how great they are. And we'll see how good a manager I am."
Willie Hernandez, who had saved the division-clinching game and the final victory of the American League Championship Series sweep of Kansas City, got the final out of Detroit's fourth world championship, and when Larry Herndon made a running catch of Tony Gwynn's short fly ball to left with two out in the ninth, all heaven broke loose. Rain began to fall at precisely that moment, 7:41 p.m., as delirious fans—some of whom later turned nasty—stormed past the cluster of Tigers to stake their turf.
Earlier it was thought the stakes in this so-called Fast-Food Series, McDonald's vs. Domino's, would be the primacy of hamburgers over pizza pies. Or to put it another way, San Diego, a club with a few McNuggets, vs. Detroit, a team with everything but anchovies. If you preferred, there was the regional angle—Sun Belt against Fan Belt. In any case, the burning question of this Series was which crowd did the better wave? As it turned out, San Diego went to its right better, but Detroit won—hands up—on versatility.
One of the more interesting matchups was between managers: Anderson, the pipe puffer who blows plenty of smoke about his Tigers, despite his modest appraisal Sunday, and Dick Williams, the alternately charming and irascible skipper of the Padres. Anderson and Williams, teammates on the 1955 Fort Worth Cats, were opposing managers in the '72 Series, when Williams's A's beat Anderson's Reds. Anderson said he was outmanaged. Williams said not so.
The first game, in San Diego on Oct. 9, was played under a full moon rising in right center. The Padre fans' Cub-buster regalia of the previous week's National League playoffs was replaced with Cat-buster stuff and cute little T shirts that said WINNY-DA-POOH AND TIGERS TOO! Also, the crowd was as noisy as it had been for the games against Chicago. "It was so loud it was like silence," said Tiger starter Jack Morris.
Detroit scored a run in the top of the first in typical fashion: Lou Whitaker doubled off starter Mark Thurmond and Alan Trammell singled, IN PADS WE TRUST said one outfield sign, and just to show that trust wasn't misplaced, the Padres came back with two runs in the first on two-out singles by Steve Garvey and Graig Nettles and a double into the right-field corner by Terry Kennedy that sent the Tiger relievers scampering.
Thurmond, though, was throwing an awful lot of pitches, and in the fifth, Detroit's Lance Parrish doubled with two down. Then, on a 3-1 count, Herndon drove Thurmond's 110th pitch, a fastball, into the seats in rightfield: 3-2, end of scoring.
Not the end of excitement, though. Nettles and Kennedy led off with singles in the sixth, and Morris was one batter away from being hooked. But he struck out Bobby Brown, starting in centerfield because the formidable Kevin McReynolds had broken his hand in the playoffs, Carmelo Martinez and Garry Templeton. "Wow!" said Gwynn, the National League batting champion. "It was like he said, 'Hey, I'm going to throw my best stuff now!' "
One of Williams's trademarks is that he's not afraid to play a hunch. The hunch he played this night was Kurt Bevacqua, his DH despite a .200 average, one home run and nine RBIs during the season. Leading off the seventh, Bevacqua went with Morris's pitch and poked it into the rightfield corner. He smelled triple, and third-base coach Ozzie Virgil waved him on. But coming around second, Bevacqua stumbled. Whitaker, who took the relay from the Tigers' newly accomplished rightfielder, Gibson, said, "The fans gave a roar and let me know what was going on; the man was going to third. I thank the fans for helping me." Whitaker's perfect throw nailed Bevacqua.
"I don't know why I stumbled," said Bevacqua. "I wasn't pulling an Exorcist and checking the relay. I had a new pair of spikes. I guess I was running so damn fast. I was just about as helpless as the people on the Titanic."
Herndon, a quiet man, declined interviews after the win, saying, "This was Jack's game." One reason for Herndon's shell is that he misses his old teammate, Enos Cabell, now with the Astros. Herndon saw Cabell the day of the game, and Cabell gave him a scouting report on the Padre pitchers. He told him Thurmond's fastball was worth waiting for, and that's what Herndon got.
The Padres didn't seem taken aback by the loss. Said Garvey, "There's a little more longitude and latitude in a seven-game series." He really said that.
Sure enough, the Padres came back in Game 2 and created some new World Series lore in the process. Al Gionfriddo, Don Larsen, Moe Drabowsky, Al Weis, Brian Doyle.... To the list of unlikely Series heroes please add the name Kurt Bevacqua. You might recognize the name. He was the goat the night before.
"I think I hold the record for most games watched, career," says Bevacqua, the 37-year-old utility man for whom the word "journeyman" was invented. He has been in and out of the majors since 1971, but his at bats add up to only four seasons' work. He has no speed, not much power and a few nearly useless gloves. He does publish his own monthly fan tabloid, Baseball Gold, and after what he did in the game, he said, "Maybe now I'll put myself on the cover."
What Bevacqua did was hit a three-run homer off Dan Petry in the fifth inning, the telling blow in the Padres' come-from-behind 5-3 victory. Bevacqua was the obvious hero, but as Anderson pointed out, "Their relief pitchers won the game for them." Andy Hawkins came in for starter Ed Whitson with two out and two on in the first inning, with three runs already in, and pitched 5'Öì innings of one-hit, shutout ball. Craig Lefferts was next, and he handled the last three innings, allowing one hit while striking out five and earning the save. The Padre starters needed all the help they could get. In the playoffs only Whitson had gotten a victory. "I don't mind pitching," said Hawkins, "but I have some friends on the starting staff, and I'd like to see them do well."
Hawkins is an ingenuous 24-year-old from Bruceville, Texas (pop. 750). "I walked into that interview room tonight," he said, "and I got on the podium and shoot, man, I couldn't believe it! There was Sparky Anderson!"
Lefferts throws, and is, a screwball. "We call him Crazy Horse," says Kennedy. "We always talk about his eyes. He can look at a runner on first and at the plate for a signal at the same time."
The vociferous Padre fans lost their voices in the first inning, when Whitson gave up singles on his first three pitches and a stolen base on his fourth. A sacrifice fly and two singles later, he was gone.
Petry wasn't at his best, either. He gave up a sac fly in the first and another run in the fourth after Bevacqua singled, went to third on Templeton's single and scored on Brown's ground ball. Bevacqua slightly pulled a hamstring sliding into third, but when Virgil asked, "You sure you're all right?" Bevacqua told him, "Just don't say anything. If it bothers me, I'll tell you. Don't worry."
An inning later, Bevacqua came up with two men on. Nettles had walked, and Kennedy hit a bad-hop single right at Whitaker. "Bad-hop? Moi? said Kennedy. "It was a bullet. It was also a bad hop. I deserve a little luck, too." Said Whitaker, "It hit me right in the heart. It broke my heart."
Just as Petry delivered an 0-1 pitch to Bevacqua, Williams, who was wired by NBC, said, "Get a grounder, Kurt...the right man in the right spot." Petry threw a slider—"probably one of the worst sliders ever thrown," he later said. Bevacqua hit it into the leftfield seats for his second homer of the season and took a spirited trip around the bases.
At first base he pulled a Nureyev, pirouetting to the bedlam in San Diego Jack Murphy Stadium. Between first and second he poked his index finger in the air. Between third and home he blew a two-handed set kiss to his wife, Carrie, in the stands. He was mobbed by teammates at the on-deck circle. His act didn't go unnoticed by Anderson. "I don't believe in that stuff," said Anderson. "We'll see what Milt Wilcox [the Tigers' Game 3 starter] has to say about it."
"Kurt," said Garvey, "has got that Jack Nicholson look from One Flew Over The Cuckoo's Nest." Throughout his career, Bevacqua has lived up to that look. His biggest claims to fame before Game 2 were winning the 1975 big league bubble-gum-blowing contest and catching baseballs dropped from the 25-story Imperial Bank Tower in San Diego. "I'll do anything to get my name in the paper," he said.
He got his name into a lot of Thursday papers. After the game, he also got kissed by Mary Lou Retton. She knows a good pirouette when she sees one.
The Tigers won the third game in a 5-2 walkover you could call the Foul Classic. A Series record was set for most men left on base, both teams in a nine-inning game (24); and other marks were tied for most LOBs, one team (Detroit, 14) and most bases on balls surrendered, one team (San Diego, 11).
"One of the worst games I've ever seen," said Padre infielder Tim Flannery. "Why, if it had been up to me, I'd have walked somebody intentionally in the eighth inning to get the record. Don't just tie it. We've come this far. We might as well break it."
Gionfriddo, Larsen, Drabowsky, Weis, Doyle, Bevacqua...To the list of unlikely Series heroes, add the name Marty Castillo. With his wife, Julie, who's due to deliver their first child any day now, looking on, Castillo hit his fifth homer of the year off Tim Dollar with a man on in the second inning. Two other runs came in on a bases-loaded walk and a bases-loaded hit batsman. As someone said jokingly, "At least they're not afraid to walk in Detroit after dark."
"Geez, I hope they didn't film this one," said Anderson. "When they do that World Series movie, they're going to move past Game 3 real fast. Marty's homer, Chester's catch and that's it."
Castillo's homer came with Chet Lemon aboard on a 1-2 fastball, and it landed in the upper deck in left. "I wanted to do a couple of cartwheels, a backflip and a roundoff," said Castillo. He didn't, though, because Anderson hates to show up the other team. "We're a '50s team playing in the '80s," he says.
Once again, the Padres' starting pitching, to put it politely, stank. Lollar went out after an inning and two-thirds, but this time the middle relief didn't come to the rescue. Greg Booker, Padre general manager Jack McKeon's son-in-law, came in with the bases loaded and walked Herndon home. He walked the bases full in the third, and Greg Harris came in and hit Gibson in the foot. That ended the Tigers' scoring.
The Padres did some threatening against Wilcox, but all he gave them was a run on an infield force. The big scare came in the seventh, after San Diego scored off Bill Scherrer on a single by Gwynn, a double by Garvey and a sacrifice fly by Nettles. Hernandez, 33 of 35 in save situations, came on to face Kennedy, and on a 3-2 pitch, Kennedy sent center-fielder Lemon back, back, back. Lemon made a twisting, acrobatic catch. "I just plan to beat the ball to its destination," said Lemon. "When a lot of people compare you to Willie Mays, you tend to want to do something exciting in the World Series."
Castillo provided the other excitement. He's an outgoing practical joker, one of the more popular Tigers. He's so nice that Tom Monaghan, owner of the club and Domino's Pizza, doesn't object to Castillo's endorsing Little Caesars Pizza. When asked if the home run might open the door to more commercial opportunities, Castillo said, "I'm not going to worry about it. But my new phone number is...."
The crowd in Tiger Stadium came up with the super slo-mo wave, segueing into a riptide, then some rhythmic swaying and 51,970 people calling traveling all at once. There were also a lot of BLESS YOU, BOYS T shirts around, echoing the motto of the '84 Tigers and the title of Anderson's new book.
On Saturday the Tigers were twice blessed. Trammell, who grew up a Padre fan, hit two two-run homers, one in the first inning and one in the third, and Morris, who grew up this year, allowed only five hits as Detroit won 4-2 to take a 3-1 lead in the Series.
This game followed the pattern so evident in the Tigers' postseason play. As Detroit had in its previous six games, and would in the next one, it crossed the plate first this time. Through the playoffs and Series it scored six times in the first inning and twice in the second. But against San Diego the Tigers had yet to score a run after the fifth inning, and it was that lack of a knockout punch that worried Anderson this day. "I want the world to see how good this team can be," he said.
In fact, Game 4 was the Tigers' year in miniature. Detroit jumped off to a 35-5 start and played 16 games over .500 after that. "You could see bits and pieces of our season in today's game," said Parrish. "We got the early lead and coasted home."
Well, when a team has a Whitaker and a Trammell, it's almost bound to get an early lead. In the opening inning this day, Whitaker reached first on an error by Alan Wiggins, and Eric Show, the Padres' right-winger, fed Trammell a 2-0 fastball that landed in the lower deck in left. In the third, Whitaker singled, advanced to second on an error by Gwynn, and Show hung a slider that Trammell put into the upper deck.
Show, who was yanked after 2'Öî innings, has made more than his share of mistakes in the postseason, giving up seven homers in eight innings over three games. There was some talk of making him the permanent pitcher in the Gatorade Super Slam home-run hitting contest, the finals of which were played before the start of the game, the White Sox' Greg Luzinski beating the Giants' Jeff Leonard 4-3.
By now, the ineffectiveness of the Padre starters had become ludicrous. In nine postseason games they'd pitched 31'Öì innings, allowing 43 hits, 29 earned runs (for an 8.33 ERA) and 20 walks. But again, the relievers came through, with Dave Dravecky, Lefferts and Gossage shutting down the Tigers.
On the other side, Morris was masterful, allowing only a solo homer by Kennedy in the second and a giveaway run in the ninth. He's the only starter Anderson, the original Captain Hook, has ever allowed to finish any of the 28 Series games he has managed. Morris didn't throw the ball as hard as he did in Game 1, but he had better command of his pitches, especially the split-fingered fastball. The Padres didn't know what to make of him. Said Gwynn, "I hate to see the split-finger. I saw it better here than in San Diego, but it didn't help me. I hit it better when I couldn't see it."
Said Morris, "Deep down I wonder if Babe Ruth could have hit the split-finger. I've seen Ty Cobb swing on film, and I know he couldn't hit a forkball. But great athletes make adjustments...." Hey, if Ruth and Cobb couldn't have hit the split-finger, what chance did Martinez and Brown have?
"He's a great, great pitcher," said Tiger coach Roger Craig, who then compared him to Bob Gibson, Don Newcombe, Sandy Koufax and Don Drysdale.
This is the same pitcher whose petulance prompted Parrish to tell him once this season, "Nobody likes to play behind you when you act this way." Like the Tigers, Morris got off to a brilliant start, going 10-1, with a no-hitter. But then his temperament and a stiff shoulder slowed him to 3-6 for two months, and he fell a victory short of winning 20 games.
At the end of August, Anderson called Morris in for a heart-to-heart. "Jack," said Sparky, "you're an ass at times. But that's O.K. I'm an ass at times. One thing you have going for you is that you're a nice person. I know that. How many people buy their parents a house and their sister a car? You're a good person, but even good people can be asses at times." Anderson told Morris to just go out and have fun, and the pitcher responded with three excellent games at the end of the regular season.
After Game 4, Williams was asked if he was going to sleep on some lineup changes. "First, I'll drink on it," he said. "Then I'll sleep on it."
Said Darrell Evans, "I have a feeling we're going to bust out tomorrow."
Evans was right. But in the beginning the fifth game had the familiar feel of the first four. Another Padre starter, Thurmond, got the hook in the first after giving up three runs on Whitaker's single, Trammell's fielder's choice, Gibson's upper-deck shot to right center and singles by Parrish, Herndon and Lemon.
But the Padres began pecking away and Petry left with the score tied 3-3. In the meantime, Hawkins held the Tigers at bay. In the fifth, though, he got in trouble after a single by Gibson and a walk to Herndon. Lefferts came in with one out and walked Lemon. Anderson sent Rusty Kuntz to the plate for the second time in the Series. He hit a pop fly to right that shouldn't have been deep enough to score Gibson. But rightfielder Gwynn lost the ball in the gray sky, and second baseman Wiggins had to make the catch backing up. Thus, he was out of position to make a strong throw, and Gibson came home. That proved to be the game-winning RBI, which seemed only fitting at the time—a lackluster Series decided by a sac pop to the second baseman by somebody named Rusty Kuntz. Fortunately, there was more to come.
Gossage came in to face Parrish with one out in the seventh, and Tiger fans began a rhythmic chanting of "Goose-busters!" "I loved hearing that," said Parrish. Parrish, lucky 13, fouled Gossage's first fastball off, then turned on his second one and drove it into the seats in left.
Aurelio Lopez had come in for Detroit in the fifth and for 2'Öì innings he almost literally threw nothing but strikes—of his 25 pitches, only four were balls—and fanned four Padres. Hernandez followed in the eighth, and with two outs, Bevacqua moved the Padres to within one run with a homer to left. For the Series, Bevacqua had seven hits, four for extra bases, but his shoulders weren't the ones the Padres should have ridden.
Gibson came up in the eighth with two runners on and first base open. On the Tiger side of the field, Anderson held four fingers up to Gibson, telling him he was going to be walked. Gibson, who didn't think the Padres would, flashed 10 fingers from the plate, indicating a $10 bet that Gossage would pitch to him.
Williams also held up four fingers to tell Kennedy he wanted Gibson walked. But Gossage wanted to pitch to him, and Williams went out to the mound for a conference. Said Williams, "He said he'd had good success against him, and I said O.K. That's my responsibility. I still could've said, 'I want ball four.' "
Gossage gave Gibson what Kennedy called "one of those fake sliders." Said Gibson, "The ball was up, but it was yelling, 'Hit me!' " Circling the bases, Gibson punched the air, and when he touched home, he delivered some very hard high-fives.
When Herndon caught the final out, Parrish ran out to Hernandez and held him aloft until their teammates joined them. Hernandez described his feeling: "I go blind. My heart pumps so fast I think I'm having a heart attack. My dream comes true, and I went blind. I went blind. This is the third time this year Lance has hugged me, and he hurts. I don't want to see what he does to you when he's mad."
After shaking Lopez's hand, Anderson, who never went on the field, saw to it that his mother and wife left safely through the dugout. Then he went inside the clubhouse, and as the corks popped he stood up on a blue stool and told his players, "Don't forget this moment. You——did it all."
In the ensuing celebration, 3-year-old Nicky Evans, dressed in his Tiger uniform, went around pouring champagne down players' pants. When he ran into his father, Darrell, he said, "Dad, I got champagne in my hair." Said Darrell, "Yeah, isn't it fun?"
In the Padre clubhouse, Flannery said, "When we beat Chicago, it was a magical week for us. So when there were two outs in the game, I left the bench. I didn't want to see it; I wanted to remember what we did. Plus, it was their party."
The party on the streets, though, got out of hand. Tiger fans set some burning examples of delirium, like one police car and one taxicab. There were a few circles of hell surrounding the ball park.
But inside the Stadium, the oldest ever to host a World Series, it was merely wacky. Dave Rozema, one of the few Tigers not to play, went out to the mound and did some imaginary pitching to a girl behind the plate.
The island of sanity was Anderson, who said his one regret was that his father, who died this spring, couldn't see the Series. He also promised his Series ring to his grandson, Georgie. "I don't need no ring," Sparky said. "I don't need to gaud it up. It's what's in here [pointing to his heart] that counts."
And so the Tigers' extraordinary season ended as it began—they were 7-1 in the postseason, matching the winning percentage of their 35-5 start. Blessings on all of them.
TWO PHOTOS
RONALD C.
MODRA
Parrish, who hit a homer in Game 5, and Hernandez, who got the save, have got to stop meeting like this. "He hurts," said the reliever.
PHOTO
JOHN IACONO
[See caption above.]
PHOTO
ANDY
HAYT
A relay from Gibson (top) to Whitaker to Castillo nailed Bevacqua at third (left) and ended San Diego's final Game 1 threat.
PHOTO
RONALD C. MODRA
[See caption above.]
PHOTO
HEINZ
KLUETMEIER
Virgil and Kennedy were slaphappy over Kennedy's two-RBI smash in the opener.
PHOTO
RONALD C.
MODRA
The key Game 1 numbers: Herndon's two-run homer and Morris's nine-whiff pitching.
PHOTO
JOHN IACONO
[See caption above.]
TWO
PHOTOS
JOHN
IACONO
Bevacqua's decisive blast in Game 2 led to an exultant tour of the base paths and a big homecoming celebration with Nettles (above left), Kennedy and the bat boy.
PHOTO
HEINZ KLUETMEIER
[See caption above.]
PHOTO
ANDY
HAYT
[See caption above.]
PHOTO
RONALD
C. MODRA
[See caption above.]
PHOTO
JOHN
IACONO
Lefferts made his best points in Game 2.
PHOTO
RONALD C.
MODRA
Whitaker sent Kennedy sprawling in the second inning of the third game when he motored home from first base on Trammell's double to make the score 3-0.
PHOTO
RONALD C.
MODRA
Castillo's two-run home run was the Tigers' big blow in Game 3.
PHOTO
JOHN
IACONO
The fancy footwork that had helped Lemon make a key catch in Game 3 failed him when he attempted to avoid Nettles's tag in Game 4.
PHOTO
JOHN
IACONO
A Game 4 error led to one of Whitaker's three opening-inning runs in the Series.
PHOTO
JACQUELINE DUVOISIN
Facing Gossage in Game 5, Gibson won a $10 bet with Sparky and hit a home run.
PHOTO
JOE
KENNEDY
Though the President was calling, Anderson and Tiger exec Jim Campbell, flanked by Morris (left) and Gibson, got doused.