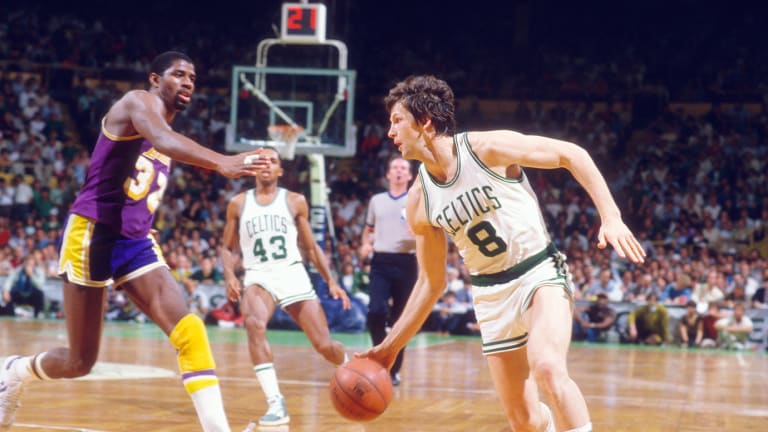 Will It Be Another Banner Year?
Odds are against Boston's repeating as the NBA champion. After all, nobody has done so since the Celtics in 1969—and with a lot of good reasons
As the NBA begins its 39th season this week, 22 of its 23 teams can take comfort in one certainty: When the 7½-month-long game of musical chairs ends on some muggy June evening in Philadelphia or Los Angeles or (why not?) Detroit, the team that will be left sitting on the throne will not be the Boston Celtics.
The Celtics, you see, won the league title last season, and champions don't repeat in the NBA. At least that's how it has been ever since 1969, when Boston last won back-to-back championships. Before that the Celts had won 10 times in 11 years, and 11 in 13, including a remarkable eight in a row. Their last successful defense came, not coincidentally, in Bill Russell's final season as a player. The next season, old age, manifested most notably by Russell's retirement at 35, ended the Celtics' run. Since then, only three of 15 defending champions have even reached the finals the next season (see box at right). And those 15 champs include such notable aggregations as the 1969-70 New York Knicks, '71-72 Los Angeles Lakers, '76-77 Portland Trail Blazers, '79-80 Lakers and the '82-83 Philadelphia 76ers.
Philly's failure to repeat—"I tried everything I could think of," says 76er coach Billy Cunningham—extended the long line of frustration that has exasperated coaches, flummoxed general managers, fascinated fans and in fact probably sustained interest in the NBA.
Some of the reasons—besides age—that today's champs don't repeat suggest why the old Celtics almost always did. The Celtics won titles when the NBA was small—just eight franchises existed in 1956-57, when Boston won its first crown, and 14 when Russell won his last—and because of Red Auerbach's deft management, Boston had cornered the top talent: Bob Cousy, Tom Heinsohn, Bill Sharman, Sam Jones, K.C. Jones, Frank Ramsey and John Havlicek, not to mention Russell, the 6'9" center who in 1980 was voted the best player of the NBA's first 35 years.
What's more, the Celtics had to win only seven games to win the title in 1957—compared with 15 in '84—and had a full six-month off-season to recycle themselves for the defense, not 14 weeks, as the 1983-84 team did. The old Celtics, too, could count on playoff money to substantially supplement their salaries. Nowadays, superstars actually take a pay cut once the regular season ends. "The term 'money player' is passé," says Detroit Pistons coach Chuck Daly. "They're all moneyed players now."
And Auerbach never had to deal with free agency. "If Sam Jones was dissatisfied sitting on the bench, there was no one around to offer him an extra $5,000 to go elsewhere," says Houston coach Bill Fitch. The new salary cap, too, is serving to hamstring many clubs. When injuries depleted the 76ers' front court late last season, Philly had to make do with cut-rate CBA refugees Bruce Kuczenski and Charles Jones.
And, increasingly, today's champs are standing pat while their top challengers improve. The Sixers, badly outrebounded in losing to L.A. in the 1982 finals, dealt for Moses Malone and then blew out the Lakers in '83. The Celtics, who were swept by the Bucks in the '83 Eastern semis because of a soft backcourt, acquired Dennis Johnson, who led them all the way in '84. "Most general managers know they won't get criticized for standing pat as much as for taking a chance," says Ray Patterson, the Houston G.M. "The owner creates a climate, and that's why Red always won. He only had to account to himself."
Standing pat is particularly perilous in light of the league's recent upper-echelon parity. Though L.A., Philly and Boston may be a step above the pack, the rest of the NBA is so evenly matched that, when Milwaukee plays Utah or Dallas plays Detroit or Portland plays Washington, bookmakers routinely favor the home team. As a result, the list of clubs capable of knocking off defending champs in a short series—last season's Nets, who beat the Sixers in a best-of-five series, and the '80-81 Rockets, who eliminated the defending champion Lakers in a miniseries, are prime examples—includes just about any team in the playoffs.
Seattle was just such a cocky arriviste, suddenly moving past L.A. and Portland and playing for the title twice in the late 1970s. But as soon as the Sonics had won their crown in '79, playoff MVP Dennis Johnson, his skin still sticky from champagne, was griping about his contract, and he continued brooding all the next season. "When someone's talking contract at that moment, you know a team has the ability to self-destruct," says Dallas general manager Norm Sonju. Sure enough, the Sonics lost in five games to L.A. in the '80 playoffs. Bob Ferry, the Washington Bullets' general manager, says, "We use the term chemistry too much, but that's it. You have givers and takers, scorers and defenders, and when it clicks you win it all."
The Golden State Warriors really clicked in the '75 playoffs, with 10 players contributing to a drive to the championship. But, in the Western finals the next season, they clicked off. "We were all searching for an identity that championship year," says Warriors general manager Al Attles, who was then Golden State's coach. "But rookies like Phil Smith and Jamaal Wilkes, who were seeking a niche that season, felt they'd reached it the next. We had become a first team and a bunch of reserves." Wilkes and Gus Williams seized more of the spotlight, and Rick Barry pouted down the stretch in Game 7 as Phoenix eliminated the Warriors.
Beyond maintaining its chemistry, a champ must cope with the special defenses that rival coaches throw at it every night. Russell remembers how the Celtics required a certain contribution from Heinsohn. But if the defense was giving shots only to the guards, Auerbach would move Heinsohn from forward into, say, Sam Jones's spot and run the guard plays for Heinsohn. "Red always knew why the team was winning," Russell says. "Every guy has a psychological need for a certain number of points, be they two or 22. You need role stability as well as personnel stability."
Bruce Ogilvie, professor emeritus of psychology at San Jose State, has worked closely with several NBA teams, and he believes something he calls "performance arrogance" undoes many defending champions. "You find a segment of the team, often reserves, who don't receive the follow-up recognition the superstars do," he says. "The next season there's a subtle resentment."
One of Ogilvie's clients, the 1977-78 Trail Blazers, suffered through the most extraordinary string of injuries any defending champ has had to endure. Portland was 50-10 at the end of February, 1978 and poised to tear through the playoffs once more. Then Bill Walton suffered a stress fracture in his left foot. Over the next two months, Bobby Gross, Lloyd Neal, Dave Twardzik, Maurice Lucas and Larry Steele all went down. Portland, which needed a special league dispensation to sign enough free agents to field a team, finished 58-24 and was eliminated by Seattle in the playoffs.
Why do injuries always seem to strike a champion? "As a champ, pushed to such a high level by everyone every night, you're going to be more susceptible," Laker coach Pat Riley says. Adds Atlanta Hawks general manager Stan Kasten, "To win one title you have to be relatively free of injuries. To have that happen again pushes the odds."
And several general managers, Kasten among them, believe that defending champs are mentally soft, and thus more physically vulnerable. "Players may get hurt because they're enjoying their success from a year ago and aren't as well prepared physically or mentally," Kasten says. As your high school football coach said, go 100% and you won't get hurt.
Complacency isn't something players have much control of. Quite simply, they win one and then seem to contract a sort of virus on the banquet circuit. The '80-81 Lakers and last season's Sixers both suffered from acute cases of it. " 'Winning it all' is like one great orgasm," says Ogilvie, a Freudian no doubt. "A number of players must go through a quiescent state before they can reach 'psychological erection' again."
Sixers general manager Pat Williams remembers "the state of euphoria, peace and contentment" he entered after Philly won its 1983 title. For three months everyone was transfixed by the achievement. Then on opening night the following October, the Sixers received their rings. "For a solid week I stared at that ring," Williams recalls. "It was so distracting I couldn't focus on my job. I finally put it in a box on my bureau."
"Moses didn't have nearly the year he had when they won it," says Sonju, comparing last season's 76ers to that 1983 club. "Nobody wants to win more than that guy, but it's hard to come back with that insatiable urge." The management of a title team may let up, too. After losing in the finals to Portland in '77, Philly marketed itself with the theme WE OWE YOU ONE. After finally winning the title, the Sixers released a poster of Julius Erving and Malone above the legend PAID IN FULL. Clever, but smug.
Somehow, coaches have to find new means of motivation. Auerbach recharged his players with a training-camp philippic. "The speech was spontaneous," Auerbach says, "but it usually began something like: 'Oh, so you've had a hell of a summer. You guys think you're great, huh?' And it went on from there."
There's a flip side to complacency: the opposition's motivation. "Last year opponents weren't trying to take the rings off our fingers," says Williams. "They were trying to rip them off." And coaches have no trouble selling their players on the role of the feisty underdog. "You can rally behind that so easily," says Bob Bass, the Spurs' general manager. "It builds up emotion, which breeds intensity, which is what you're looking for." Adds coach Stan Albeck, commenting on his Nets' ouster of the Sixers last spring, "We just played with enthusiasm and fervor. That's what it takes for a young team to defeat a champion. Then we hit a 'wall'—that's what marathoners call it—in the next round against the Bucks."
Perhaps that old Celtic-like dominance simply can't be achieved anymore. Denver coach Doug Moe recognizes a new order when he says, "If Boston doesn't repeat, well, the Celtics should have lost in the finals last year."
Indeed, what of these Celtics? With one of the best players in history in Larry Bird and the league's top frontcourt, they're as well equipped as any team to repeat. They still have calm K.C. Jones as coach and Auerbach's talismanic presence in the front office. And because to so many, L.A. lost last season's title as much as Boston won it, the Celts may feel they have something to prove. "They're getting better," Chicago Bulls general manager Rod Thorn says. Adds Ferry, "They can run and they can muscle. Most teams can only run."
Go ahead. Bet the house, bet the ranch. Bet a box of Red's Bances cigars. But sooner or later, something's going to get 'em.
[originallink:10633401:43727]
PHOTO
MANNY
MILLAN
Bird and Kevin McHale (32) will be in the forefront as Boston tries to fast-break to another flag.
PHOTO
SHEEDY
&
LONG
West, whose Lakers won only once, couldn't keep Sam Jones's Celts from repeating in '68-69.
PHOTO
ANDY
HAYT
In the '81 playoffs the Lakers were busy battling each other—Magic Johnson (32) was the center of dissension—and fell to Houston.
PHOTO
JAMES
DRAKE
Gross and Portland were fractured in '78.