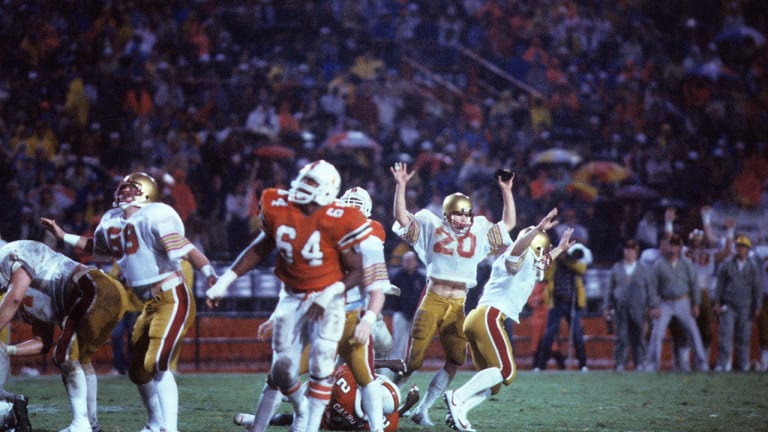 It wasn't a Fluke. It was a Flutie
Doug Flutie arched a last-second pass into the heavens that gave BC—ho-hum—another miracle win
It doesn't matter if he ever plays a down of pro football, although it would be nice. It doesn't matter if he ever quarterbacks another game for Boston College, although it will be necessary. It doesn't matter, because on one wildly wonderful play, punctuating a wildly wonderful game—if you were there and sat down you couldn't see; if you went out for a hot dog, you missed two touchdowns—Douglas Richard Flutie summed up a wildly wonderful college career last Friday in unsunny Miami. Never mind that he has two more games to play. They can only be anticlimactic.
Of course with Flutie you never know. Forty games into the most prolific passing career any college quarterback has ever had, you have to think in terms of "anything can happen" and other clichés. With Flutie, says Gil Brandt of the Dallas Cowboys, one of the few scouts who stands apart from the NFL's doubting Thomases and actually believes this outrageous little rascal can cut it as a pro, life is a magic show, and "Doug Flutie never loses, he only runs out of time." But pick your own cliché. With Flutie, they all apply.
"It's not over until the last play"? This was Friday's final play: From the line of scrimmage, a Flutieball arched high into that grieving Miami sky, covering 64 yards from toe to toe, to roommate Gerard Phelan—Flutie pushing off on his right toe and throwing into the gusting wind and rain, Phelan, in the end zone, falling directly behind and beneath the groping hands of two Miami defenders who were doing a stunning impersonation of an open door.
"It's the size of the fight in the man, not the size of the man in the fight"? At 5'9¾"—if you don't give him the three-fourths, Flutie complains—little Dougie is not much bigger than the Heisman Trophy he will most certainly be awarded this week, deserving as he is of every metallic ounce. Miami was the biggest team on his menu. And on a day better suited for ducks, the Eagles soared with Flutie, his passing alone accounting for 472 yards and three touchdowns, his running for nine yards and another TD. When the computers stopped humming, he had become the first 10,000-yard passer in major-college history. And when he went back outside an hour afterward, still in uniform so a friend could pose him in front of the Orange Bowl scoreboard, the evidence still glistened in the gloaming: Boston College 47, defending national champion Miami 45. Cast it in bronze and put it on the mantel.
There were more than a few touches of improbability in this victory, however, just as Flutie's entire career has seemed so improbable. For in this game of breathtakingly proficient, precision passing—little Flutie and Miami's 6'5" sophomore phenom Bernie Kosar put the ball up 84 times for 919 yards between them—it was that most imprecise of passes that did the dirty deed. The Hail Mary. The Everybody Go Long. The play you launch on a wing and a prayer when all time is gone and all else has failed. In the BC playbook, it's called Flood Tip, and it works (rarely) the way it sounds.
With six seconds on the clock and Miami ahead 45-41, three BC receivers were deployed far to the right side, with Phelan as the middle man. At the snap, they were to sprint downfield as fast and as far as they could, in hopes of arriving in the end zone together—flooding it—about the same time Flutie's pass got there. (Fullback Steve Strachan was supposed to block for Flutie, but he, too, ran deep downfield.) If any one was near the ball but couldn't catch it, his job was to tip it up in the air for somebody who could, somebody, the Eagles hoped, in the same color jersey. On the sideline as the play started, coach Jack Bicknell was "already forming in my mind what I would tell our kids after we lost." That's how much faith he had in Flood Tip.
But such a play works "more often than you would think," says Flutie. "I'd say it's a 50-50." However, he could recall it working exactly one time, against Temple earlier this year. But then, he says, "I've been lucky all my life, so why not?" Phelan said later that, as a senior in a mostly senior cast of Eagles who have learned to believe in miracles, "You get on the same frequency with Doug and somehow things happen. You can't always explain it."
Phelan is the best of as sure-handed a group of receivers as any one team has ever had. The Hurricanes tried combination coverages on both sides, with linebackers spraying out to support against the pass and to contain Flutie's scrambling. Miami always seemed just a fingertip away from interceding, but Troy Stradford, Scott Gieselman, Kelvin Martin, et al., made grab after tight-fingered grab of the wet ball.
Among all the others until that final moment, it was Phelan that Flutie had found most often—10 times for 178 yards and a touchdown. Then, on the last play, when Phelan went by Hurricane defensive back Darrell Fullington (alas, a freshman), he was surprised that Fullington let him go. "He must have thought Doug couldn't throw it that far," Phelan said. Phelan was a full step ahead at the Miami 10. Fullington and Reggie Sutton, another of the three Miami defenders in the area, backpedaled like outfielders and still were in good position right in front of the goal line as the fly ball came down.
​
Upfield, Miami had rushed only two men, but one of them, Jerome Brown, had squeezed through and chased Flutie out of the pocket and to his right. But that was exactly how Flutie wanted it. "The scrambling is important—it gives me the time I need on such a play," he said. (It's oh so matter of fact with Flutie, you understand.) "I knew I could throw it that far, even against the wind. I can throw 75 yards if I have to. Actually, I had to take a little off it to keep it in the end zone." (See?)
After Flutie sidestepped Brown, he circled back and around, and was at his 37-yard line when he came forward, planted his left foot and let fly. He said he "really did see Phelan break clear. He was the guy I wanted to get it to, but after I threw the ball, I didn't see anything much until the referee raised his arms. Then, I admit, I couldn't believe it, even when everybody started yelling and picking me up."
Neither could Phelan. Fullington mistimed his leap and was nudged off-balance on the way up by his own man, Sutton, as he also leaped. The ball whistled through their arms. Phelan said, "I saw him misjudge it, and I was thinking, 'Just tip it, keep it in play.' But I was falling and it came down right here [groin level] and when I rolled over, I could see writing on the ground. Colored writing. I was in the end zone!"
A fluke? Well, not really. A Flutie. It's now 10,303 yards since the little big man from Chestnut Hill started doing these slightly amazing things for the Eagles, who haven't had a season like this since 1942, and if Friday's big play wasn't predictable, it was certainly typical. But in the balmy BC dressing room afterward, Flutie himself said it was really all academic. "I don't know why I'm setting all these records, anyway," he said, "because in two years Bernie Kosar will have broken them all. He'll have 10,000 yards his junior year and break every passing record ever written."
​
Kosar now has 5,971 yards in two seasons, roughly 1,500 ahead of Flutie's pace. And therein lies the dark side of such a game as this. That one of these two young men had to lose.
They are friends, Flutie and Kosar. They met early last spring, during an NCAA promotional tour in Arizona, and played golf together. Nine holes. And when they added up the score, says Flu-tie, "it was 44 apiece. A draw." Perhaps, in the end, Kosar at least deserved another chance with the ball. But this is Flutie's season. A meant-to-be kind of year. Kosar's time will come.
They are, of course, nothing alike as quarterbacks, except that under duress they throw so remarkably well: Nobody throws on the run better than Flutie; nobody throws off-balance better than Kosar. Undoubtedly, if you were starting a pro franchise, you would take Kosar for his size. If that makes Kosar the better quarterback, it doesn't mean that Flutie is not the best college player, which is why he's Heisman bound. It's hard to say who the better passer is or who's the smarter man on the field. They are both so aware of what's happening, so deadly cool, so accomplished at improvising in their own way, within their own styles.
After the play, Flutie searched the field for Kosar, asking Miami players, "Where's Bernie? Where's Bernie?" But Bernie had seen that last pass. He had, in fact, watched Flutie all day, which is unusual because a quarterback normally has other things on his mind when the defense is on the field. "I wanted to see Doug play," he explained. And? "He's awesome." By the same token, when Miami drove 79 yards, starting with 3:50 to go, to take the lead for what seemed the last time, Flutie was snug up to the sideline himself, watching. Kosar completed five passes on that drive for 80 yards—he had to make up two penalties—and when fullback Melvin Bratton plunged the last yard for his fourth touchdown of the day and a 45-41 Miami lead, there were 28 seconds to play.
​
Flutie, smiling ever so slightly, nodded in tribute. Then he went out and winged BC 80 yards in four plays. 47-45. Finis.
He never found Kosar after the game. With the last score, Kosar began moving slowly off the field, a towel around his neck, his head down. He spoke in semisentences afterward. It had been the second straight brush with Armageddon for a young quarterback who does so many incredible things to win—he has broken just about every Miami game-, season-and career-passing record—that it's inconceivable that he could ever lose. He's now the quarterback of a team that has run up 85 points in its last two games—and lost both. (Miami blew a 31-0 halftime lead in its Nov. 10 42-40 loss to Maryland.) Counting his efforts against Boston College, Kosar has accounted for 810 passing yards in two games, only to find that total insufficient to save the Miami defense. (After the game, Hurricane defensive coordinator Bill Trout announced that he was quitting over "a question of [defensive] philosophy" with head coach Jimmy Johnson. The thoroughly exasperated Trout said that he was going into the "tomato-packing business.")
Flutie will finish up against Holy Cross this week, and then face whoever draws the short straw in the Southwest Conference in the Cotton Bowl on New Year's Day. Pity the poor devils. After that, he will await the NFL draft, hoping, he says, "that I've proved what I can do."
Would some NFL team now use a high draft pick on Flutie? Brandt was asked that question after the game. "How could you help yourself?" he replied.