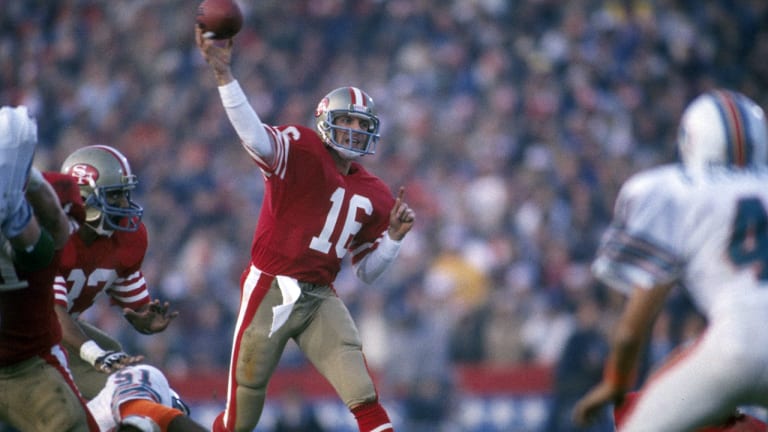 The Niners Were Never Finer
In San Francisco's 38-16 Super Bowl rout of Miami, it's hard to say which was better, the offense or defense
In the mass interviews that go with the turmoil and hype of something like Super Bowl XIX, a superathlete like the San Francisco 49ers quarterback, Joe Montana, might appear bland, even a bit dull. But this isn't the superathlete's arena. It's an artificial situation, and a blue-chip competitor like Montana will coast through it as well as he can.
And then something happens, and the sleepy-eyed guy who seemed harmless with that thicket of microphones in front of him, changes. He's transformed into a relentless predator. The blue eyes flash, and he lifts the event and the people around him into a different dimension. Last Sunday, in front of 84,059 fans in Stanford Stadium, Montana transcended the pregame hype that had relegated him to something less than a spear carrier to Miami's dazzling young Dan Marino and cut loose with his alltime game. As a result, a Super Bowl between the two quality teams of 1984, one that figured to go down to the final heartbeat, turned into a blowout, 38-16 San Francisco.
Montana's sweep was so clean that after he was through, Dolphin coach Don Shula sadly admitted, "It's going to be tough to live with this one. I'm so disappointed. Montana kept us off balance the entire game. He's a great, great athlete."
Briefly this is what Montana did to Miami last Sunday: He completed 24 of 35 passes for 331 yards, a Super Bowl record, and three touchdowns, with no interceptions. He scrambled for 59 yards and one TD on five carries, and he blew the game apart in its middle stages as he led the 49ers to scores on five straight series. During that stretch, San Francisco turned a three-point deficit to a commanding 22-point lead. Montana dodged the occasional rusher who had a shot at him, threw on the run, found the holes in the Dolphin defense—there were plenty of those—always seeming to find the right receiver. And when he ran out of passing options he tucked the ball away and galloped.
Montana put together a complete game, in contrast to that of Marino, which was all arm and no leg, to win the MVP award and the battle between the two best quarterbacks in the NFL. And when it was all over, when the crowd had thinned and only Joe and his father, Joe Sr., were left to pack up the last remnants of gear in the 49er locker room, the younger Montana tried to put the day in perspective. "Personally I wasn't worried about having that much to prove," he said. "I knew Marino was better, coming in, based on what he'd done this season. From a team standpoint the hype bothered me a little. Deep down we all felt it. All we heard was 'Miami, Miami, how are you going to stop Miami?' Yeah, yeah, we were overlooked a little.
"As far as my own game, well, I'd have to admit it was pretty close to the best I've ever played. I didn't throw anything I didn't have confidence in. We got in sort of a groove. Once you get going like that you gain confidence, and it carries over to the defense, and then back to the offense. It's a snowball kind of thing."
Snowball it did. As a team, the 49ers broke new ground. Their 537 yards gained in total offense, 326 passing (331 minus five on one sack) and 211 rushing, set a Super Bowl record. It was the most yards they'd gained in a game since '61. To put it in still tighter perspective, in their '82 Super Bowl victory over Cincinnati the Niners had 275 yards.
Marino, not Montana, found himself trying to keep pace with an offensive adding machine. His statistics look impressive, thanks to a flurry of gimme completions at the end—all told he was 29 for 50 (both records) for 318 yards—but his interceptions outnumbered his touchdowns, two to one, and he was sacked four times. And that was the difference. Montana could scramble away from the rush, Marino couldn't. When he wasn't dropped, he was flushed into bad throws. Even when he had time, his passes did strange things. He had wide-out Nat Moore open for decent gains on a pair of post patterns in the second quarter, and each time the ball did a nosedive on him. "Yeah, that surprised me, too," said 49er free safety Dwight Hicks, who was covering Moore both times. "One time his pass hit me in the foot."
Maybe in a few days, or a few weeks, a story will come out of Miami that Marino wasn't right for the Super Bowl, that he was packing too much weight or he had arm trouble or he was still suffering the effects of a dizzy spell he'd had in Thursday's practice, which was blamed at the time on some medication he'd taken for swelling in his left knee. But maybe it was just that he didn't have the luxury of working against the Dolphin defense, as Montana did. What he faced was a 49er defense that was the toughest in the NFL and that allowed only one touchdown in the playoffs—by the Dolphins on Sunday.
The game started on a high note for Miami. The Dolphins drove for a field goal on their first possession and zipped down the field for 70 yards in six plays for that touchdown on their next one. Miami led 10-7.
Eric Wright, the 49ers' right cornerback, missed a tackle on Tony Nathan on a little swing-pass play the first time the Dolphins had the ball in the game, and a five-yard gain turned into 25. Then he loosened up on the TD drive, and Marino threw for successive gains of 18 yards to Mark Clayton and 11 to Mark Duper.
"I talked to Eric after that series," Niner left cornerback Ronnie Lott said, "and told him to challenge them. He's the best cover guy we have, and he came back and made two big plays."
The Niners had opened in their basic 3-4 defense, alternating it with a 4-3 and occasionally a 4-2 nickel. Miami responded on its second series with a no-huddle offense, as the Dolphins had hinted they might during the week. The tactic was conceived to prevent San Francisco's nickel unit from coming on the field without burning up a timeout. And it worked; Miami got a big gain against the Niners' 3-4 when tight end Dan Johnson beat strongside outside linebacker Danny Bunz for a 21-yard gain that carried to the San Francisco two. But that play signaled the end of the 49ers' 3-4. For the final three quarters they kept four down linemen on the field at all times, with their pass-rush unit of Fred Dean and Dwaine Board at the ends and Gary (Big Hands) Johnson and either Jeff Stover or Michael Carter at the tackles.
The Niners knew that eventually this game would come down to a four-man rush against Marino, with little help available from the linebackers, who were too valuable in coverage to use on blitzes. The Dolphins' TD drive just forced the 49ers into the 4-3 earlier than they might have liked.
"Our four linemen are going to have to do it without help for most of the afternoon, defensive line coach Bill McPherson had said the night before the game. "Oh, we'll mix in a stunt or a blitz, just to keep from being static, and we'll show a three-man line, just to show it, although it's probably a waste of time. But our front four guys are going to have to have the game of their lives."
"Two men are keys for us," San Francisco coach Bill Walsh said, "Board and Johnson. Whether we line up Dean on the left or right side, I expect that they'll move the tight end to where he's positioned. That leaves Board on the open side, and he's crucial. He has the most stamina, he's the most irrepressible, the most dogged. But he's got to have a big game.
"We also have to get speed inside. We have to get Johnson coming in quickly up the middle one or two times, to make them think he's unblocked, even if he isn't. Maybe we'll do it with stunts. They're susceptible to tackle-tackle games, where one inside man loops around the other. They're concerned about it. Maybe we'll just play it straight and see how far we get with it."
Board had two sacks against the Dolphins, but the game's unofficial defensive MVP was Johnson. The Chargers traded him to the 49ers late in September for two draft choices, and at 32 it seemed as if his mileage had just about been used up. A few years back, when he was the regular right tackle in San Diego's 4-3 defense, he was an All-Pro, one of the most feared pass-rushers in the game, but when the 3-4 arrived he became extra baggage. The Chargers had tried him at noseguard and defensive end, and he couldn't cut it.
"I turned into a nonplayer," he says. "I'm a natural tackle. My whole game is based on quick moves inside. I'm not a defensive end. My style is beating people quickly, on the line. Everything I could do best was taken away from me in a 3-4. In San Diego I started questioning myself, wondering if I really was through. Coming to San Francisco was a breath of fresh air. All they wanted me to do was get to the passer, out of a four-man line. They didn't care how I did it. They gave me a chance to play Gary Johnson-type football, to do the things Gary Johnson's capable of."
Against the Dolphins Johnson gave Marino the type of gut pressure he hadn't seen before. Johnson shot the gaps, then, when double-teamed, he beat the maneuver with a quick arm-over. He was back in late-1970s form, and he wound up with a 12-yard sack, numerous flushes and four unassisted tackles. Significantly one of those unassisteds was on Nathan, a running back, for a three-yard loss. The book says to run against a four-man front, but the 49er linemen were penetrating too quickly. They destroyed the Dolphin rushing game with quickness. "Play the pass first and collect the run on the go," is the way Johnson put it.
Miami threw 27 passes in the first half and ran the ball only five times. It scored 16 points, but there were ominous signs. The Dolphins converted only one of six third downs. When the 49er offense was moving into high gear in the second quarter, Miami had three straight three-downs-and-out series, and All-Pro punter Reggie Roby couldn't bail the Dolphins out. Roby, usually a five-second hang-time man, kicked three of 3.5 or less and set up three Niner scores.
With 1:56 left in the half, the Dolphins regrouped and drove the length of the field for three points, and then they got a big break. There were 12 seconds left, time for the kickoff and maybe one play. Uwe von Schamann squibbed the kick to 271-pound guard Guy McIntyre. McIntyre knelt with the ball, changed his mind, got up to run and then fumbled when Miami rookie halfback Joe Carter belted him. The Dolphins recovered on the San Francisco 12 and kicked another quick field goal. Like that, they had you know what—momentum—on their side as the half ran out.
"I can laugh about the play now, but it wasn't funny at the time," McIntyre said afterward. "My first instinct when I got the ball was to fall down. Then I heard everyone yelling, 'Get up! Get up!' So I got up, and here comes someone sneaking underneath me, and he hit the ball."
At halftime it was 28-16 San Francisco, but the Niners knew one of their TDs had been an out-and-out gift from the officials. Midway through the second quarter, with the score 21-10, Montana hit Freddie Solomon on a square-in to the Dolphins' 13. Solomon took a step and free safety Lyle Blackwood knocked the ball loose, scooped it up and was headed for the Niners' goal line when field judge Bob Lewis ruled that the pass had been incomplete. The 49ers scored five plays later. Bill Quinby, the side judge, who was nearest to the play, froze and made no call. Lewis, who was behind it, did make the call, but it was the wrong one.
"You don't want the game to hinge on that play, but you never know," Blackwood would say. "I could have taken the ball up the sideline. That's a 14-point swing."
After the game, Shula shrugged it off. "We were dominated to the point where one play didn't make much of a difference," he said.
That was a fair and uncomplicated evaluation from a man who had grown larger than life in the hype-heavy atmosphere. The Genius Angle had gotten a lot of mileage—Shula's genius against that of Walsh. It bothered both coaches, and put a nasty edge on their normally placid press conferences.
"Genius, God I'm sick of that word," Walsh said one night late in the week. "It's an angle, that's all it is, an angle. It can't help you one darn bit. Sid Gillman once said, 'When you coach, you're good for five years. Then they get bored with you and start looking for angles.' "
Another, more subtle thing had bothered him: the picture that was being drawn of the contrasting offenses—Marino and the quick strike against the more methodical pass and run of San Francisco. "They talk about Marino's lightning-quick release, how swiftly he can complete his passes," Walsh said. "Well, we can do some of that, too, you know. We can throw quickly."
Looking down the lineups, Walsh could see many matchups in his favor. If some of them panned out, he'd have an offense that could keep pace. If they all did, the 49ers would be able to put big numbers on the board. He liked what he saw on the left side of his offensive line—295-pound tackle Bubba Paris blocking down on the Dolphins' 255-pound Kim Bokamper and Earl Cooper, the Niners' second tight end, outmuscling right linebacker Charles Bowser, whose greatest skill is the pass rush. Walsh liked the idea of Montana going against Miami's young inside linebackers, rookie Jay Brophy and second-year man Mark Brown. The films had shown them to be susceptible to play-action fakes and to over committing on runs. Walsh noticed that the Dolphins' three-man defensive line hadn't been stuffing things at the point of attack; they'd been funneling the action to those young inside backers, who didn't always take the right angles.
"Play-action passes have been killing them," said Paul Hackett, the 49ers' quarterback and receivers coach. "The inside linebackers come right up to the line of scrimmage."
San Francisco's idea was to set Miami up with quick passes to Dwight Clark, going against cornerbacks Don McNeal and, especially, William Judson, who likes to keep things in front of him, and then to hit the Dolphin defenders with the run, and finally to bring it all together with play-action passes to the backs or tight end Russ Francis, cutting for the hole in the middle of the Miami secondary. The veteran Dolphin safeties, Lyle and Glenn Blackwood, are ferocious tacklers, but they've lost a step, and if they missed a tackle or two....
And finally there was Montana, the unchartable element—"a lithe, almost sensuous athlete," as Walsh once called him. A supergame by Montana could turn the thing into a blowout.
The plan worked better than anyone had a right to expect. In the first quarter Montana connected with 166-pound Carl Monroe, halfback Wendell Tyler's backup, for a 33-yard touchdown on a deep in-and-out over the middle, with Lyle Blackwood a step slow on the coverage. The second TD was to fullback Roger Craig, an eight-yard slant over Brophy. Two passes to Francis set up the third score, a six-yard scramble by Montana. "I'd audibled to a quick-slant to Clark," Montana said, "but someone backed into the coverage inside, and I saw a hole and just took off."
The backs did the work on Niners TD No. 4, the last of the first half, with three straight running plays for a total of 12 yards, ending in Craig's two-yard burst. Montana's 12-yard scramble set up a field goal on the 49ers' first drive of the third quarter. Their last touchdown, which put the cruncher on the Dolphins, came on the Niners' next possession. It was built around a 40-yard crossing pattern to Tyler, in which Montana sprinted away from the rush. The score came on another cross, 16 yards to Craig, on which outside linebacker Bob Brudzinski lost coverage.
Tyler, who has had to live with a fumbling rap for his entire career, had no such problems against the Dolphins-in fact he didn't cough the ball up at all in San Francisco's three postseason games. He led Sunday's rushers with 65 yards and caught four passes for 70 more. Craig grabbed eight for 82 in the back-oriented passing game, and Francis had five receptions, equaling his most productive day of the season.
The 49er defense was built on individual heroics that melded into a shutout of Miami in the second half. Lott killed a second-quarter drive in the end zone by leaping with Clayton and getting his helmet in the way of one of Marino's patented fade-pattern throws. Wright turned acrobat to knock down a third-down pass to Duper and kill a drive in the same period, and then he squelched Miami's last genuine threat to get back into the game, late in the third quarter, when he made a leaping interception on the San Francisco one-yard line.
The Dolphins' postgame dressing room was overflowing with despair—and bewilderment.
"We blitzed a bit in the second half," Brown said, "but it seemed like every time we got there Montana was already out of the pocket."
"Our major objective was to contain Montana," defensive coach Chuck Studley said, "and we did a terrible, terrible job of it."
"It was like chasing a rabbit out there," middle guard Bob Baumhower said.
Roby took personal responsibility for the disaster. "I was trying to kill the ball, and I kicked it bad," he said. "I didn't hit one well. I was scared—scared to make a mistake. It was the worst game of my life, counting high school, college, counting everything."
Not to worry. Twenty more yards on his punts merely would have meant two more plays on each San Francisco scoring drive. That was the way this day went for the Dolphins.
"In some cases I didn't make good throws," Marino said. "I didn't play as well as I could have. Sometimes I had a chance to move, and I didn't. It's necessary for a quarterback, and it's what Montana did so well today."
"If somebody had told me two weeks ago that we'd be held to 16 points," said backup tight end Joe Rose, "I would have laughed."
Sadly, there's a segment out there that laughs at 38-16 games, just as they laughed at last year's Super Bowl, which ended 38-9 in what was also supposed to be an ultimate matchup. But it makes more sense to look at something like this and find greatness. Sunday it belonged to Montana.
PHOTO
JOHN
IACONO
Tyler set up two TDs with his running and helped keep Miami's pass rush at bay.
THREE
PHOTOS
WALTER
IOOSS JR.
Hands-on treatment—very big hands—by Johnson was part of the harassment San Francisco visited upon Marino.
PHOTO
ANDY
HAYT
His receivers covered, Montana set sail from the Miami six in the second quarter...
PHOTO
HEINZ KLUETMEIER
... and tumbled into the end zone with the third Niner touchdown. All told, he ran for 59 yards, in addition to 331 yards passing.
PHOTO
JOHN IACONO
[See caption above.]
TWO
PHOTOS
RICHARD
MACKSON
Solomon's reception was called an incomplete pass after Miami's Lyle Blackwood popped the ball loose and recovered it.
PHOTO
WALTER IOOSS JR.
[See caption above.]
TWO
PHOTOS
PETER
READ
MILLER
Miami's flickering chances died when the Niners' Wright got inside position on Clayton and picked off a Marino pass at the 49er one.
PHOTO
JOHN
IACONO
Carlton Williamson (center) had reason to exult after making 49er interception No. 2.
PHOTO
RONALD C.
MODRA
Tyler helped to give the 49ers offensive balance with his 65 yards on 13 carries.
PHOTO
ANDY
HAYT
By contrast Miami runners such as Woody Bennett picked up a total of only 25 yards.
PHOTO
PETER READ
MILLER
The 49ers put Marino down four times...
PHOTO
WALTER IOOSS JR.
...and lifted Walsh to triumphant heights.