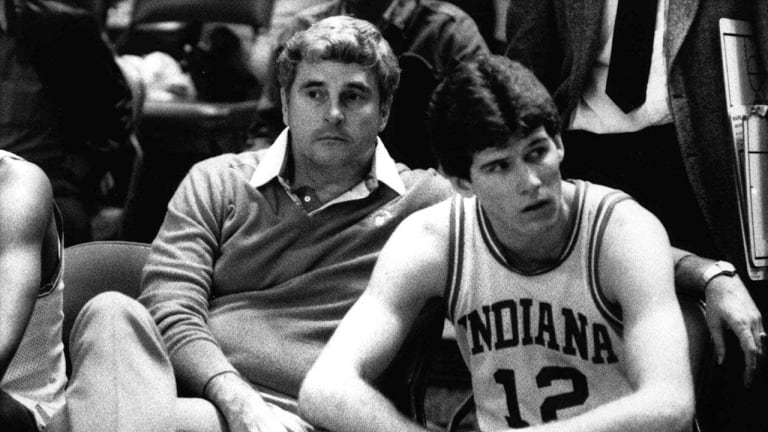 In the Heat of the Knight
Bob Knight made some odd moves, drawing boos from Indiana's fans
When Hoosier coach Bob Knight finally started to pull his regulars from what would be a 23-point rout of Minnesota last Saturday, people all over Indiana heaved a sigh of relief. For one thing, it was the first time in nearly two weeks that anybody besides Knight had any idea who the Hoosier regulars were. The players were relieved to finally know where they stood with the volatile Knight, instead of where they sat with him. Forward Mike Giomi was relieved to know he wouldn't be traveling to Indiana's next road game by Federal Express, and in the bargain Giomi had learned something about the importance of being earnest (about going to class). Steve Al-ford may have finally learned the importance of just being Steve Alford. But the most important thing that may have happened in Bloomington, Ind. last week was that after 13 seasons of nearly unwavering support, some Hoosier fans began questioning Knight's approach to the game.
Oddly, after all the things Knight has done to get himself into trouble at Indiana—knocking fans into trash cans, slapping Kentucky coach Joe B. Hall, setting off an international incident in Puerto Rico, to list a few—it was a purely basketball decision that had Knight in his worst predicament. While trying to build character, Knight tossed away an important game by benching all but one of his upperclassmen. High-handedness that had seemed the epitome of good old-fashioned discipline in the past suddenly looked plain silly in the middle of a four-game losing streak.
Busy as Knight was molding boys into men last week, he did take time out from his motivational ministry to answer some questions on his weekly radio show. The program had been a live call-in show until this year, and as host Don Fischer pointed out, the change came none too soon. "With the kind of questions people would have been asking this week, he wouldn't have lasted more than three minutes before he walked out," Fischer said. Knight didn't do much better with the press; he refused most requests for interviews and spoke only briefly after games.
The trouble began on Jan. 19 when the Hoosiers played listlessly in an 86-84 loss at Ohio State. Knight was so enraged with the lack of effort by Giomi and by swingman Winston Morgan that he made them fly home on a different plane from the one carrying their teammates. "I didn't want them in a situation where I'd keep pounding on them," Knight explained.
After that, Giomi was not allowed to practice with the Hoosiers, and when Indiana played at Purdue on Jan. 24, he was barred from the team bus. Instead he rode to the game with Brad Bomba, the team doctor. Neither Giomi nor Morgan played as the Hoosiers lost to the Boilermakers 62-52, yet both were allowed to board the team bus for the trip home. Had they somehow redeemed themselves, or was this a slap at Bomba's driving—a calculated move by Knight to get the physician to work on his shaky parallel-parking game?
While Indiana fans were still mulling that one over, the next crisis hit. When the Hoosiers left for an important game at Illinois three days later, both Giomi and Morgan were told to stay home. Morgan says now that he "wasn't playing hard, and I wasn't doing the things Coach wanted done," but at the time he was confused and troubled to suddenly find himself being left behind like a piece of forgotten baggage.
The Hoosiers were in such an emotional tailspin by the time they played Illinois that center Uwe Blab had begun to notice a transformation in Knight's personality. "During all the turmoil, he hasn't been screaming and yelling," Blab said. "And the moment Coach Knight doesn't scream and yell, you know there's a problem. It was like he had given up. He was trying to make everybody play hard, but there's only so much one person can do."
During the past year, Knight has become depressingly aware of just how little one person can do. In January he charged that recruiting abuses had become widespread across the country. He claimed that some athletes were receiving illegal inducements and cited figures from $50,000 to $100,000, but he refused specifics. Knight was also considerably drained following his summer-long pursuit of the gold medal as the U.S. Olympic coach. Last week he told Jerry Colangelo, the general manager of the Phoenix Suns, that there was a similarity between the current season and 1976-77, the dismal campaign that followed Knight's first NCAA championship, a season in which four of his players quit the team. "I think he knows he's physically and mentally exhausted," says one of Knight's close friends, "and for that reason I don't think he's going to make any career decisions right now. But the game holds few challenges for him anymore, so the only reason for him to hang around would be to pile up numbers, and that's not what he's about. I think anybody who knows him realizes he could walk away from coaching at any time. The end could come very suddenly."
If Knight has become disillusioned or even bored with the college game, it would certainly help explain the obstacles he has seemingly strewn in his own path all season. Through the end of last week he had experimented with 13 different starting lineups in 19 games, none of them as exotic or perverse as the lineup he put on the floor two weeks ago at Illinois. It was then that Knight's frustration finally bubbled over in a display of petulance that was bizarre even by his rather imposing standards. With the eventual outcome of the Big Ten race very much in the balance and a national TV audience looking on, Knight started Blab along with Delray Brooks, Steve Eyl, Joe Hillman and Brian Sloan—yes, the four freshmen. But unlike the original Four Freshmen, who were also formed on a college campus in Indiana, this combo hit some very peculiar notes. And that was about all these Hoosiers hit; they shot 28% in the first half and scored only six points in the first 10 minutes against the Illini. Indiana lost 52-41.
Even that might have been tolerable to Hoosier fans had Knight not benched guard Steve Alford for the entire 40 minutes. Alford may be the most beloved human being in the state of Indiana, so perfectly does he embody the typical Hoosier's image of himself. Knight said he benched Alford to help him concentrate on seeing the whole floor better and on improving his defense, but that explanation didn't satisfy a lot of people. "When I called my mom last night to see how she was doing," Knight told his radio audience, "the first thing she said was, 'How come you didn't play Alford?' She wasn't particularly happy that Alford didn't play." The situation upset Alford so badly that he lost confidence in his shot. "That had never happened before," said Alford's mother, Sharan. When he did return to the lineup last Thursday against Iowa, Alford went 6 for 18 in a 72-59 loss. "It's definitely been stressful," Alford said. "Why wouldn't it be?"
For Giomi, the nightmare intensified on Jan. 28 when Knight formally dismissed him from the team for what he described as "strictly a matter of academics." Giomi, who had had his scholarship taken away last summer when he got an F in an algebra-calculus class, doesn't deny that he fell short of Knight's demanding academic standards. "I made the mistake, and he made the decision," says Giomi, who was a junior. After remaking the Hoosiers as a walk-on in the fall, he boosted his academic average to 2.4. But when he started cutting classes last month, Knight found out and sent him packing, even though he led the team in rebounding with a 5.3 average. Knight, who has kept players on his roster after they were caught or arrested for drunk driving, shoplifting or possessing marijuana, says that Giomi had to be "separated" from the Hoosiers for missing three classes.
"To Coach Knight, grades are the ultimate thing," says Blab. Taken by itself, that would be commendable enough. But in Giomi's case the timing of his dismissal did seem peculiar at best, because he hadn't taken a test yet this semester. Certainly his ouster diverted attention from the Hoosiers' longest Big Ten losing streak in more than a decade. Was this merely coincidence? "No," says Blab, "Coach Knight tends to check on you more when you're not playing well."
Giomi's mother, Karen, was incensed by what happened to her son. "There's a lot of things that go on there that people don't know about," she told the Indianapolis Star. "You've seen the way he [Knight] treats those kids during games. He yells and screams and gets right up in their faces. If he does that in public, what do you think he does in private?"
When her son is asked whether it's true that Knight sometimes storms up to players in the locker room at halftime, grabs them by the crotch and says he's checking to see if they have a full complement of testicles, Giomi replies, "I haven't seen that one since I was a freshman. I couldn't go into that now. I'm really not at liberty to say. Maybe in a couple of years I could tell you a few things. Do I sound brainwashed?"