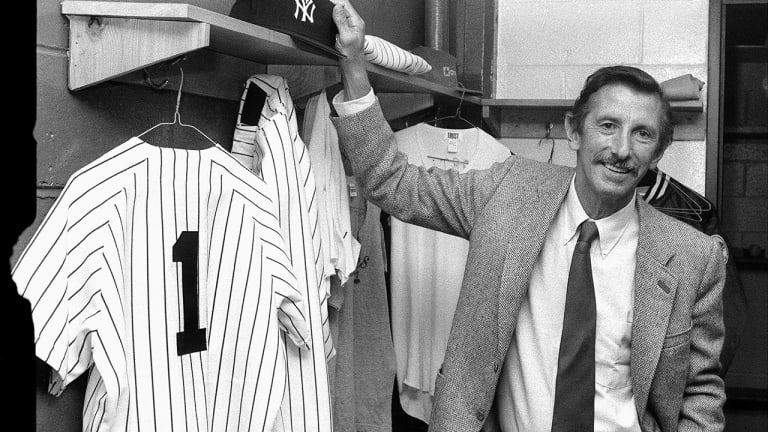 Publish date:
Oh No, Not Again
Fired seven times as a manager, Billy Martin was hired for a fourth term by the floundering Yankees
Down the rabbit hole we go. Once again, George M. (for Madness) Steinbrenner III has gotten the harebrained idea of hiring Alfred M. Pesano (a.k.a. Billy Martin) to manage the New York Yankees.
Steinbrenner fired Yogi Berra on Sunday, 16 games into the season, and hired Martin for the fourth—or is it the fifth?—time. The Yankee owner unfortunately fell two games shy of breaking his own major league record for impatience at a season's start, set on April 25, 1982 when he fired Bob Lemon and replaced him with Gene Michael, whom he had once before fired in favor of Bob Lemon.
Some people might be happy to know that Steinbrenner could hardly sleep on Saturday night. He came to his difficult decision while visiting Culver (Ind.) Military Academy, of which he is a graduate and trustee. Steinbrenner is something of an expert on discipline, and he was upset with what he saw as a lack of such on the part of the Yankees. After Saturday's loss to the White Sox, New York was 6-9 and in last place in the AL East. On Sunday morning he phoned Martin, who was advance scouting in Texas and asked him to re-re-return. Martin said yes.
"George told me he was making a change and he wanted me," the new manager said Sunday night. "He said, 'I want you to push them, get them back on top.' And I said, 'George, if that's what you want, I'm ready.' "
When general manager Clyde King, who once replaced Michael, only to be replaced by Martin, checked in with Steinbrenner during Sunday's game in Chicago, he was told to can Yogi. Berra had no idea, because after the game, which the Yankees lost 4-3 on a bases-loaded walk in the ninth, all he could talk about was the bad umpiring that had cost the Yankees the game. But 15 minutes after the loss, King brought the bad news.
King went into Yogi's office and closed the door. Then Joe Safety, the team's p.r. director, began distributing a four-paragraph statement. Some of the players took a peek at the press release, and the reactions were immediate.
Don Baylor, the DH and the leader in the clubhouse, kicked over a heavy metal garbage can, muttered, "Bull——, bull——, bull——" and stormed into the shower room. Pitcher John Montefusco stood with his mouth open in the middle of the clubhouse and said, "I don't believe it." First baseman Don Mattingly cursed Steinbrenner loudly and repeatedly and went into the trainer's room, where he hurled a metal container against the wall. The only player who seemed happy about the move was outfielder Rickey Henderson, who set the stolen-base record, under Martin while with Oakland. But Henderson tried to hide his smile from the glares of Mattingly, Baylor and Ken Griffey.
Later that night Martin said he didn't care about the players' reactions: "Guys were upset about Yogi and that's O.K. Yogi was their friend. Well, I've been Yogi's friend for 35 years, and the reason he had to leave was that they put him in last place. I don't want any friends like that. I want winners. If they don't like me, then they can't come over to my house for spaghetti."
Berra took the news well. "I had an inkling," he said, "so if it happened now or later, what's the difference? I still think this is a good club, and they're getting a good manager in Billy. George is the boss; he could do what he wants. Me, I'm going to play some golf."
Steinbrenner had assured Berra that he would be the manager the entire season, but he said the same thing to Lemon in '82. Yogi was lucky to last this long into the year. After the Red Sox blew away the Yankees in the first three games of the season, Steinbrenner talked to Earl Weaver about Weaver's managing the Yankees. Weaver apparently would rather play golf.
The last straw may have come on April 22, when only four Yankees on the roster showed up at the Stadium for a voluntary workout on an off day. Steinbrenner thought the workout should have been mandatory. "I'm damned disappointed in the turnout, especially after a team loses two of three to the Cleveland Indians, who aren't exactly the Detroit Tigers," he said. "But Yogi's running the club, he's the manager so it's fine with me."
A storm watch was put into effect, and when the rumor that Martin might come back floated down to a veteran Yankee, that player said, "You screw people like Steinbrenner does and you get yours eventually. We're fed up. Everybody likes and respects Yogi. The other guy...well, when we lose, Yogi doesn't hide in his office. He stays at the door of the clubhouse and pats us on the back."
Not only were the Yankees losing, but the Mets were winning—fans, as well as games. New Yorkers were falling in love with Gary Carter and Dwight Gooden while Henderson was recuperating in Fort Lauderdale, Fla. from an ankle injury. When Henderson finally showed up, at that infamous Monday workout, his first words were, "I don't need no press now." He made his official debut in a series against the Red Sox. A total of just 71,615 fans were at Yankee Stadium for the three games, in which Henderson went 2 for 15, left 16 runners on base and had one error and no steals.
Says one AL East general manager about Martin's return, "It's a clear indication that George is overcome by the Mets' taking publicity away from him. George can't stand the Yankees not being the preeminent team in New York, so he feels he has to do whatever he can for publicity." Sure enough, the New York papers gave Martin's fourth coming royal treatment, far overshadowing the play given the Mets for moving to within a half game of the Expos in the NL East with a thrilling, 18-inning 5-4 win over Pittsburgh.
When Martin talked to SI senior writer Ron Fimrite on Sunday, he could hardly contain himself—not about the team's prospects, but about the rules he planned to impose on the Yankees. "They'll wear coats and ties while traveling," he said. "They have to be in three hours after a night game, or by midnight after a day game. No golf or public appearances on game days. I'll have additional rules on drug abuse. All radios must have headsets. When I call a practice on an off day, attendance will be mandatory. I'll have a system of fines: $500 for a first offense, $1,000 for a second, $1,000 and a suspension for a third."
As for actual changes on the Yankees, Martin gave his coaches new signs for the hit-and-run and suicide squeeze. He may move Griffey up to second in the lineup behind Henderson and move Willie Randolph down. He would like to get Dave Righetti back in the starting rotation, but he realizes his relief pitching would be nothing without him. Martin wants another lefthanded hitter to DH, which should make Baylor even happier. Martin will also take coach Lou Piniella under his wing and groom him as a replacement. When will Piniella replace Billy? "In a couple of years," said Martin.
In a way, the players have themselves to blame for Martin's return. They had a manager whom they liked and respected, and when they had to win for him, they didn't. When they scraped up only four guys for a workout, they probably lost their freedom.
One by one, the Yankees filed into Berra's office after they heard the news. Yogi's son Dale was the first one in, of course. Then came Randolph, who has seen 10 of these changes in 10 years with the team. Winfield gave Berra a big hug. Mattingly, the most upset of all, left the office with tears in his eyes.
Later, Dale talked about what his father had told him: "He said, 'You have your future ahead of you. Mine is behind me. I've had my career. Now I want you to go have a great career. Don't let this get you down. You've known Billy since you were a kid. Just play hard, that's all he asks. I'll be watching you.'
"He's a great man, my father. He didn't deserve this."
PHOTO
TONY
TRIOLO1969PHOTOSHEEDY & LONG1971-73PHOTOJERRYCABLUCK1973-75PHOTOWALTER IOOSS JR.1975-78PHOTOMANNY MILLAN1979PHOTOFOCUS ON SPORTS1980-82PHOTOFOCUS ON SPORTS1983PHOTOJOHNMcDONOUGHMattingly was as distraught as Henderson was delighted with Martin's re-re-rehiring.PHOTOJOHN IACONO[See caption above.]TWO PHOTOSWALTER IOOSS JR.It probably was over for Yogi when George learned only four players showed for a workout.