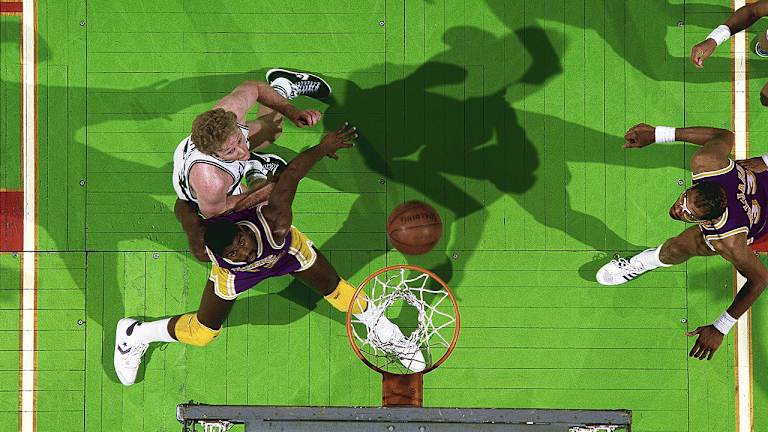 Magic Faces the Music
After his playoff woes of '84, Earvin (Magic) Johnson is under pressure, as the beat picks up this time around
Earvin (Magic) Johnson of the Los Angeles Lakers presses the red button marked DISCO, activating the mammoth sound system in his Bel Air mansion, then waits a moment as the music begins to swell. When he is sure that the beat is just right, he rises from behind his control console 11287581and moves out onto the dance floor. Slowly, tenderly, he wraps his arms around the shoulders he has been longing to hold, and with a first step that is a kind of caress he begins to glide around the room. Each song is more romantic than the last, and in the fading light of the late afternoon he tightens his grip and draws a breath that is heavy with the musk of exertion. The game is three hours away, and the world will have to wait to cut in. Magic Johnson is slow-dancing with himself.
"You play to a beat, on a stride, sort of," he says when the music stops. "Sometimes if I've been listening to a song, it will come up in my mind during a game. I always listen to music before a game. It gets me going, pumps my blood up. I'll always be more sweaty when I leave home than I am after warmups. I'm thinking about the game, but I'm into the music. You get too uptight if you're thinking about the game all day. It's there, but I'm not focused in on it. Cool. By the time I hit my car, I want an up beat, because by then my adrenaline's flowing."
On this night, April 30, against the Portland Trail Blazers in Game 2 of the Western Conference semifinals in the Forum, Johnson kept time to Jeffrey Osborne and Luther Vandross, and among the three of them they made all the right moves. Magic scored 19 points, passed off for 18 assists and grabbed nine rebounds as the Lakers routed the Blazers 134-118. On Friday, in a 130-126 win at Portland he had 13 points and 23 assists, one short of his own NBA playoff record. In Game 4, Sunday, Johnson had 31 points and 13 assists in a 115-107 loss. If he continues at his present rate and the Lakers reach the NBA World Championship Series for the fourth straight year, Johnson, at the age of 25, will become the league's alltime leader in playoff assists in only his sixth season.
"The thing about Magic is that it's hard to tell if he's getting better, because he just does what he wants to do," says Portland guard Jim Paxson. "He can score six points and totally dominate the game, which he's done against us. Or he can decide they need points, and go out and score 39, which he's also done against us. He just reads the flow of the game and decides what he's going to do that night."
After each of the games in L.A. Johnson would return to Bel Air Place, a gated enclave in which most of the homes are as well illuminated on the outside as they are on the inside. To soothe his aching back, he would slip into the Jacuzzi in the master bathroom and stare out through a window into the canyon that is his backyard. "This is one of the best parts of the house," Johnson says. "I had always dreamed of having a sunken-in tub since I saw one in a Camay soap commercial on TV. This girl goes through some big white pillars like she's in a castle, and then she comes walking out of this sunken-in bathtub. So sharp. When things are on my mind I come here a lot."
During the NBA finals last spring, as the Boston Celtics first tormented Johnson and finally humiliated him, the newly purchased house in Bel Air was Magic's castle. No furniture had yet arrived, so he would often sit for hours in empty rooms, alone in the dark and riven with doubt, trying to figure out how his life had suddenly gone so dreadfully wrong.
After the Lakers lost the championship to the Celtics in seven games, Johnson found his reputation in such disrepair that L.A. fans were discussing his chances of making a "comeback" this season. "People say he has to come back this year and prove himself all over again, which is a joke," says Lakers coach Pat Riley. "When you play in the ultimate game, there's winning and there's misery. For us it was misery."
The nightmare of the final game last June so thoroughly engulfed Johnson that when it was over he was too numb even to move. He disappeared into the showers for so long after the game that Laker publicist Josh Rosenfeld became concerned and went in after him. "He and Michael Cooper were just sitting on the floor, all covered with soap, talking," says Rosenfeld. Later, in his Boston hotel room, Johnson sat through the night with his two closest friends, Isiah Thomas of the Detroit Pistons and Mark Aguirre of the Dallas Mavericks, avoiding sleep as if he feared the dreams it might bring. "We talked until the morning came," Thomas says, "but we never talked about the game much. For that one night I think I was his escape from reality."
Magic had failed in a way that seemed to diminish him so conspicuously that earlier this season even the Celtics' Kevin McHale referred to him as "Tragic Johnson." It counted for little that against Boston Johnson had set a record for assists in a playoff series with 95—averaging 15.2 over the last five games, including a championship series-record 21 in Game 3—and had averaged 18 points a game. The Lakers had kicked away chances to sweep the series with costly mistakes in Games 2 and 4, then bungled the job again at the end of Game 7. "We made five mistakes that cost us the series," Johnson says, "and I contributed to three of them."
The first mistake came with the score tied at the end of regulation in Game 2, when he dribbled the clock down until there was no time to get off a shot. Riley claims Johnson followed his instructions. "The other players never did anything to help him," he says. "They stood out on the perimeter and didn't get open. Kareem [Abdul-Jabbar] moved with 12 seconds left, which meant he was open too early. Magic got blamed." Boston won, 124-121 in overtime.
In Game 4 Magic threw away a crucial pass with the game tied four seconds from the end of regulation, then missed two free throws late in the overtime. "I thought the free throws more than the pass were mistakes," he says. "Those were things I—not the team—I should have taken care of. When you miss the shots, you go home and you sit in the dark." Again the Lakers lost, 129-125.
In Game 7, at the Boston Garden, Johnson shot 5 for 14 and turned the ball over seven times. Twice during the last minute and a half, as the Lakers tried to mount a final charge, Johnson dribbled down the floor and was stripped of the ball without even getting off a shot. He says he is still haunted by a recurrent image of forward James Worthy standing alone under the Lakers' basket just before Boston's Cedric Maxwell slapped the ball out of Magic's hands the second time. "I'll be sitting somewhere relaxing," Johnson says, "and here it comes right up in my mind. I can still see Worthy open."
When the team returned home, Johnson closeted himself in his Culver City apartment, not leaving for three days. "When I called to see how he was," says his mother, Christine Johnson, "he said, 'Momma, I just can't talk about it.' I guess he was just so filled with hurt."
Whatever hurt Johnson felt then was only to intensify as the summer went on. He was stunned at the way he was carved up by the press that had once doted on him. He was particularly wounded by the suggestions that, with the championship at stake, he had choked. "I sat back when it was over," Johnson says, "and I thought, 'Man, did we just lose one of the great playoff series of all time, or didn't we?' This was one of the greatest in history. Yet all you read was how bad I was." A headline that appeared on a column in The Los Angeles Times asked EARVIN, WHAT HAPPENED TO MAGIC? A month later, a columnist for The Los Angeles Herald-Examiner referred to Johnson as "the tarnished superstar" and "the goat of the series," and pointed out that with the world watching him, and "right there against his arch rival, Larry Bird, he failed."
"Those wounds from last June stayed open all summer," says Riley. "Now the misery has subsided, but it never leaves your mind completely. Magic is very sensitive to what people think about him, and in his own mind I think he heard those questions over and over again to the point where he began to rationalize and say, 'Maybe I do have to concentrate more.' I think the whole experience has made him grow up in a lot of ways."
"If you noticed, before when he was playing he used to smile a lot," says Christine Johnson, "but now he doesn't smile as much. It's just a sign of his new determination. I see him settling down now and becoming more of a man."
People always seem to be deciding that Magic Johnson has finally grown up, anticipating the arrival of his new maturity as if it were a long-overdue bus. And yet growing up and settling down are matters about which Johnson has remained largely ambivalent.
He came into the NBA in 1979, a magnificent child of 20, charming and funny and, in the way of most children, almost oblivious to any world other than his own. "I'll never forget walking through airports with him," says L.A. Clipper guard Norm Nixon, who played with Johnson on the Lakers for four years. "He'd have his Walkman on and all of a sudden you'd hear somebody singing, and there he'd be—stopped in the middle of the airport, singing his song and dancing with himself."
Johnson is well aware of the effect his luminous presence has on a crowd. At a friend's engagement party recently, he went out of his way introduce himself to every middle-aged guest in attendance, figuring that they would be the most reluctant to approach him first. Later he assured his host that he had "worked the room" for him. Magic moves smoothly through any kind of crowd, clearly at ease with himself, a star intent on enjoying—and sharing—his privileges. He might show up at a Madonna concert one night—giggling at teenage girls dressed like tarts, while dancing alongside them in the aisles—and catch a concert by saxophonist David Sanborn the next. Magic is as much at ease with friends like Michael Jackson as he is being interviewed by elementary-school children. He intimidates no one. Everywhere he goes, people call out to him as they might to an old friend. "His appeal is universal," says Laker forward-center Mitch Kupchak, "and being able to communicate with everybody is a talent in itself."
But sometimes when Johnson appears to be out there dancing with the whole world, you realize that he is really dancing with himself—all alone in a crowd. "Usually I'm up and people see me as up," Magic says, "but people don't know me really. I'm a quiet person who likes to have a lot of time to himself. Sometimes when you want to get away from that crowd, that's when you don't want to be Magic at all."
In fact, Johnson spent most of his rookie season in Los Angeles cowering in his apartment, lonely and overwhelmed by the city. "My first year," he says, "I didn't do nothing, didn't go nowhere." As a 22-year-old millionaire he described to one interviewer the childhood he had grudgingly given up. "Come home from school, got the homework done, I'm gone. Go play," he said. "Oh, I wish so much it could be that way again. You don't know how much I wish it could be that way." By then Johnson was already in retreat from the grown-up world in which, he had found out, even his best intentions seemed to produce only calamity, crisis and controversy.
The Lakers had beaten Philadelphia for the NBA championship in 1980, with a performance by Johnson in the sixth and final game at the Spectrum that should have ended forever any doubts about the rookie's nickname. With Abdul-Jabbar at home nursing a sprained ankle, Johnson, after jumping center to open the game, fashioned a monument to his versatility with 42 points, 15 rebounds, seven assists and three steals. After that, whenever something bad happened in Lakerland, Magic usually got the blame. "It's going to fall on somebody's shoulders," Magic says. "It just always seems to come back to mine, one way or another."
The first thing to come down on him was the Atlanta Hawks' Tom Burleson, who landed on Magic's left knee early in his second season, eventually forcing him to miss 45 games with torn cartilage. For more than three months Johnson drifted. "It's like you're the Lone Ranger," he says. "It's the most down I've ever been. It brings you down—pow—and things that were going oh-so-good are suddenly oh-so-bad."
Things got oh-so-worse when Johnson came back from the injury five weeks before the start of the 1981 playoffs and was almost immediately reinstated in the starting lineup by Paul Westhead, then the Lakers' coach. The team had played well without Johnson, so it was not so surprising that some of his teammates—Abdul-Jabbar, most notably—were less than enchanted by all the publicity that surrounded his return. "He was blamed for creating a disturbance then, but all he was doing was being himself," says Riley, Westhead's assistant at the time. "People loved him too much, and his teammates couldn't handle it." The Lakers played disastrously while losing the first-round playoff miniseries to Houston, with Johnson—no magic this time—hoisting an air ball in the decisive closing seconds of the final game.
While that wound was still fresh, Lakers owner Jerry Buss rewarded Magic with a stunning 25-year, $25-million contract, then the biggest in all of team sports. (The deal has since been reworked so that Johnson will earn $2.5 million a year for the next nine years.) "That was another one where everyone was waiting for it to be Kareem versus me," Johnson says. Abdul-Jabbar asked for and was granted a meeting with Buss to discuss not his own but Johnson's contract, which was bizarre enough. But then to top that, Abdul-Jabbar held a press conference at which he raised questions about Magic's "favored-child" status with the owner. Abdul-Jabbar also brought up the rather intriguing question of whether Magic's 25-year pair-bonding with Buss made him part of management. Even now there are Laker players who are convinced that Johnson is consulted by management before the team makes any major personnel moves. But did Abdul-Jabbar need to broach the question publicly? "Maybe it was good, because maybe it was lurking in everyone else's mind," says forward Jamaal Wilkes. "But then again, maybe it was just an ego thing." Abdul-Jabbar, who will earn $2 million next year, insists ego had nothing to do with it. "They were giving him all this money and saying, 'Here's the ball, go entertain everybody,' " Abdul-Jabbar says. "They would never have said it, but the unstated thing was not to win, but to entertain."
From Johnson's rookie season, celebrity watchers had wondered whether L.A. could contain the egos of both Magic and Kareem. Even Johnson had been apprehensive. "People had told me so many things about Kareem," he says, "I thought. 'Uh-oh, we're not going to be able to get along.' This has been Kareem's town for a long time, and now all of a sudden there was a new guy coming in. I wasn't out to win the town, I was just here to win. After he saw that, everything was fine. It's still his town." For his part, Abdul-Jabbar says he was pleased to have Johnson around, even though it pained him terribly to be absent when Magic led the team to the '80 championship. It also had to irk Abdul-Jabbar to keep hearing how much Johnson had done to help him. "I think Magic rejuvenated Kareem," says Denver Nuggets coach Doug Moe. "At one point I thought Kareem had had it with basketball. He loafed a lot. He plays harder now than he did before Magic was there." Abdul-Jabbar has repeatedly acknowledged that debt. "His playing personality is as far away from being egotistical as you can get," Kareem says. "All he wants to do is get the ball to somebody else and let them score. If you're a big man, it's not hard to like somebody like that."
When Johnson was 11 years old, he and three friends used to stand at the corner of Middle and Williams Streets in Lansing, Mich. on summer nights and sing. "We thought we were really great on My Girl." he says. "We always had to do all the steps—cross your legs, step, kick. And, of course, when it came your turn to sing the part that goes 'my girl,' you had to cross your hands to your shoulders, to cover your heart." These days, when Johnson sings during stretching exercises, his teammates usually want to cover their ears. "No, he can't sing, not at all," says Cooper. "He can hit a few notes, but basically it's an earcracker."
When Magic is really in tune with a game's rhythm, he can turn any play into a riff of beautiful improvisation. During a game at Kansas City in March, he warmed up with a first-quarter fast break on which he was met by a defender at the free-throw line. He dribbled behind his back without breaking stride and dished to Cooper for a layup. A few minutes later he made a pass to Kurt Rambis through heavy traffic while looking toward the arena's ceiling. In the fourth quarter he came charging down the floor on a break, and when a defender once again stepped up to meet him at the foul line, he pirouetted 360 degrees and glided in on stride for the basket. At court-side, Lakers radio announcer Chick Hearn said, "God and all his apostles could not have stopped that move."
God and his apostles were just about the only ones who didn't want to take a bite out of Johnson's backside 11 games into the 1981-82 season when he was blamed for getting Westhead fired. The coach and his point guard had disagreed over how the Lakers' offense should be run, and after an angry exchange in Salt Lake City, Magic told reporters he wanted to be traded. Westhead was fired the following day. Although Johnson contends that other players were just as unhappy with Westhead's offense as he, to date no Laker has ever publicly expressed support for what Johnson did. "Only a few people outside the team knew what really happened," Johnson concedes, "and they weren't saying nothing." Even Riley, who succeeded Westhead, sounds as if he believes Johnson was left to twist slowly in the wind by his teammates. "Magic heard the mutinous attitude, and wondered how long it could go on like that," Riley says. "I think what he said about wanting to be traded was a cry for help. He acted as a spokesman, that's all. Magic's antennae are always out, and the discontented ones go to him. I think there was a lot of pressure put on him by his teammates to say something."
Johnson was booed everywhere the Lakers played for several weeks. In Seattle the fans booed every time he touched the ball. He finished fifth among guards in the balloting for the West All-Star team, the only time, other than his injury season, he failed to make the starting lineup. The Lakers won another championship that season, but for Magic much of the thrill had gone. The booing crushed him, he says now, and the unflattering stories that were written caused him to withdraw so completely that his famous smile took on the vacant look of a death mask. "You watch what you say and do after that," Johnson says. "You watch them as they watch you, and you say to yourself, 'What are they after?' " For the first time, the personalities of Magic and Earvin began to diverge.
Earvin Johnson Jr. got his nickname while he was playing at Everett High School in Lansing. When his mother, a devout Seventh-Day Adventist, first heard her son referred to as Magic, she considered it blasphemy. She was also the first to consider the practical consequences of the name. "When you say 'Magic,' people expect so much," Christine Johnson says. "I was afraid that it would give him a lot to live up to at some point."
During Johnson's first few seasons with the Lakers, Abdul-Jabbar always made it a point to refer to him in public as Earvin and not Magic. Kareem says he finally gave up when he realized almost no one knew who he was talking about. By the end of his rookie season, Magic was no longer just a nickname, but a true magical being, with a dazzling smile. Still, not everyone liked it. "Magic is a stage name. It's unreal," Riley says, "and that's what magic is—unreal. It's fantasy. Nobody can be magic for the rest of his life. When he was young it was fun to be Magic, but what happens when he's 33 or 34, when he starts slipping? That's when the name can jump up and kick him in the butt."
Johnson's friend Isiah Thomas believes Magic conjures up expectations that even a name like Dr. J does not. "I hope what has happened to him never happens to me," Thomas says. "He's at the point now where he plays great, great basketball every night and it's not even noticed." Thomas considers Johnson's performance in the All-Star Game last February proof of the extra set of standards Johnson has created for himself. "He had almost the same statistics that I had the year before, and I was the MVP of that game," Thomas says. "But because it was Magic, people just kind of said, 'Ho-hum.' " Johnson finished the game with 21 points and 15 assists; Houston's Ralph Sampson, with 24 points and 10 rebounds, was named MVP.
Earvin and Magic often overlap one another, but Johnson's closest friends are able to distinguish between the two. Charles Tucker, a clinical psychologist who is Johnson's long-time mentor and friend, prefers Earvin—the quietly reflective homebody—to the glitter image of Magic. "I don't like all that high-pollution attitude," Tucker says. "That's not the kind of person Earvin is."
To an extent, Johnson has become a prisoner of his own celebrated image—"the Pied Piper," as Riley calls him, leading the world in a merry dance to his magic flute. Says Darwin Payton, a close friend, "A lot of people treat him like he's supernatural because of the way he plays. Eve been with him in a lot of places, and wherever he is, he's the man. When he's at a club, the stars all come over to see him."
"A lot of people think they know him from seeing him out or seeing him play," says Nixon. "But they don't."
Johnson says he conceals that serious side of his personality—the Earvin side—until he is home alone. "I don't have to worry about smiling or anything then," he says. "I just sit back and be me."
Or more precisely, the me nobody knows. But that is not the only me Johnson can be. He may be Magic to his fans, but he is Magnum to Thomas and Aguirre, Buck to his teammates, Earvin to his other friends, E.J. the Deejay in the L.A. and Lansing discos, and Junior to his parents.
Any of those, of course, is an improvement over June Bug, which is what the neighbors on Middle Street called him when he was growing up. (One wonders now how this young man's life might be different if, instead of becoming Magic, he had remained forever June Bug Johnson.) On many mornings his parents would go into his room to awaken him for school, only to find that he was already up and on the schoolyard courts. "People thought 1 was crazy," he says. "They really, seriously did. It would be 7:30 and they'd be going to work, and they'd say, 'There's that crazy June Bug, hoopin'.' "
After leading his high school team to the state championship, Johnson chose to stay close to home by enrolling at Michigan State, arriving with his legend and his game already full-blown. After Magic led the Spartans to the NCAA championship in his sophomore season, defeating Bird's Indiana State team 75-64 in the final game, he turned pro, despite the opinion of one genius after another that he couldn't shoot. "I couldn't understand it when they started saying he can't shoot," says Earvin Sr. "When he was at Everett, that's practically all the boy did."
Now Magic says that when Abdul-Jabbar retires after the 1985-86 season and the Lakers need his points, there will be more nights like the one of the sixth game in Philadelphia five years ago. "There are going to be a lot of surprised people," he says. "Right now it's important for me to be in control of our team. I enjoy my role, but it's tough because you always want to be known for all the things you can do. That time will come."
It had better come soon or there may be nothing left of him. So physically demanding is Johnson's ball-handling role in the Lakers' fast-break offense that last season he wore off 15 pounds. "There are times now he'll come to practice and I can see it's killing him," says Cooper. Incredibly, even the fabulous invalid himself is convinced he is now nearer the end of his career than the start of it. "I'm not going to be out here that long," he says. "I think with the style we play, I have about five more good years. I'll still be young then, but mind-and bodywise, I'll be an old man." And when he retires? "I'm going to take that big monkey off my back, and say to someone else, 'O.K., young fella, it's yours now.' "
In his dotage, Magic has moved closer to settling down with his girl friend of seven years, the lovely Cookie Kelley, a department-store manager in Toledo. (If it is too early to predict a lifetime of marital bliss for Cookie and Magic, at the very least there is a fast-food franchise somewhere in those names.) Until that time comes, however, he keeps his eye on some of L.A.'s most beautiful women. And both hands on the wheel.
"My car was in the shop one day last year," says Forum promotions director Lon Rosen. "So while it was being fixed Earvin let me drive his Mercedes. I was driving around doing some errands, when suddenly something under the hood exploded. I called him up and said, 'Earvin, I've got bad news. Your car blew up.'
"He said, 'Were you able to save the phone number that was in the glove compartment?'
"I said, 'Earvin, listen to me. Your $40,000 car is sitting in the middle of the street. It's toast.' But he said to forget the car, that he'd have somebody pick it up later. All he kept asking me was, 'Did you save that number?' "
Well, so much for the new maturity. But as the Lakers draw closer to another shot at the championship, Johnson has begun to burn with the intensity of, well, a hot Mercedes. "He's so aggressive now that it's become like a physical thing on the court," says Cooper. "Now if you do something, instead of high-fiving, he might come over and just bump you real hard. I'm sure people might see that and think he wants to fight, but to me that's a love tap."
Hurry back, Boston. Magic Johnson is tap-tap-tapping outside your door, all alone and just dancing in the dark.
PHOTO
PETER READ MILLER
PHOTO
PETER READ MILLER
All his scoring (left), passing (above) and rebounding (right) have taken their toll on Johnson. At 25, he says he is nearer to the end of his pro career than to the beginning.
PHOTO
ANDY HAYT
[See caption above.]
PHOTO
JOHN McDONOUGH
[See caption above.]
PHOTO
PETER READ MILLER
Magic takes Manhattan Beach with Lakers Larry Spriggs, Bob McAdoo and Worthy.
TWO PHOTOS
JERRY WACHTER
In last year's championship series, the Celtics frustrated and humiliated Magic, providing him and Abdul-Jabbar with ninny miserable moments.
PHOTO
PETER READ MILLER
The public Magic is always gracious with reporters, even sixth-grader John Levine.
PHOTO
MANNY MILLAN
At the Hearns-Hagler fight, Muhammad Ali showed the Greatest's respect for Magic.
PHOTO
PETER BORSARI/GAMMA-LIAISON
Stars as heavenly as Michael Jackson tend to gravitate toward Magic. So do stars' beautiful sisters, like Janet Jackson, above.
PHOTO
KENNY TURNER
[See caption above.]
PHOTO
PETER READ MILLER
Thomas, one of Johnson's closest friends, says he wouldn't like to be in Magic's shoes.
PHOTO
PETER READ MILLER
By the pool at his Bel Air mansion, the private Johnson doesn't have to be Magic at all.