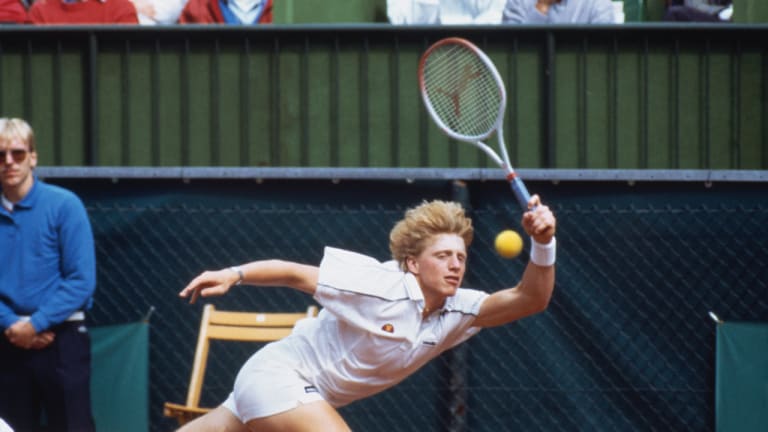 Das Wunderkind
Boris Becker, a 17-year-old from West Germany, became Wimbledon's youngest champion by bashing Kevin Curren
It happens only once in a prodigy's life, wondrously, that time when his genius comes full bloom and crystal clear. That time stood still at Wimbledon, and it didn't matter that the astounding Boris Becker—Boom Boom, the Red Bomber; make up your own moniker and mail it to Leimen, West Germany, outside Heidelberg, where he lives—won the tennis tournament without beating John McEnroe, Ivan Lendl or Jimmy Connors. He beat the men who beat them, and now, at 17 years and eight months young, Becker is champion of the world.
Imagine that. Imagine a gangly, lumbering kid who can neither drive nor vote, who cuts his own hair (badly) and doesn't know better than to sprawl headlong over the hallowed greensward, dirtying up his shirts something awful, who dropped out of school and out of last year's Wimbledon with two torn ligaments in his left ankle. Suddenly, this 6'2", 175-pound infant who has been on the tour barely a year turns up as a first everything. He's the first from his country, the first non-seed and the youngest player ever to win Wimbledon. Sure, it's easy to agree with the company line that Becker stormed through the draw and defeated the estimable Kevin Curren 6-3, 6-7, 7-6, 6-4 in Sunday's final simply because he didn't realize where he was. Rubbish.
The children of destiny know exactly where they are, what they're doing and, especially, when it's their time. Bjorn Borg made the quarters at Wimbledon at 17 and won it at 20. McEnroe reached the semis at 18 and was champion at 22. Connors won the tournament at 21, the great Rod Laver at 22. So Becker has a serious start on all of them. But they knew, too. What is your ambition, Boris, now that you have won the championship? "I am playing Indianapolis," he said, "...to win the next tournament." Hey, Boom Boom knew.
Even before the final, Curren seemed to recognize what was happening as well. In the two previous rounds the South African turned Texan had shockingly routed the last two champions, McEnroe ('84, '83, '81) and Connors ('82). But no sooner had he finished that task than he cocked an eye to Anders Jarryd's brief lead over Becker in the other semifinal. "Keep going, Jarryd," he muttered. Hey, Curren knew, too.
Curren showed how nervous he was in the final when he blew a couple of sitters to lose his first service game. Becker served out the set with two aces and two service winners. His game shimmering with power and length, Becker continued to outhit his opponent from all angles—the screaming, dipping fastball forehand, some lunging backhand cross-courts, even a momentary touch volley—yet Curren hung on. Never attaining 50% on his first service, Curren, 27, won the second-set tiebreaker 7-4 and then, with his first and only break of the match, went ahead 4-3 in the third. The grass had turned to dust by now—"like the French Open," both players agreed; "Wimbledon Motocross," somebody else said—but Becker was coping more easily with the footing and bounce in his basic Teutonic way: He simply stomped on the offending turf or cursed it or waved it off. In full cry, Becker's arsenal goes from natural aggression to confidence, from arrogance to domination. Who was the last teenager to so intimidate the surroundings, not to mention his elders? Mozart? And so now.
In the next game Becker turned the championship inescapably his way. With an enormous backhand pass, accompanied by an even larger roaring grunt, Becker broke back at 30. Boom Boom needed eight set points—he angered Curren by blatantly stalling on the first one—before winning the set in a 7-3 tiebreaker. When he again broke Curren in the first game of the fourth set, the match was over. Unless Becker gagged.
Gag? The kid was so loose he was bouncing balls on his head and chest like a soccer player, once trapping one between his thighs. "He played like it was the first round," Curren confirmed. The loser had one last threat in him, though—two break points in the second game. But Becker made like a combination of Don Budge (the looks), Lew Hoad (the disdainful power and stroke) and Max Schmeling, der germanische Schl√§ger himself (the KO punch), and simply unloaded one more service winner and another of his 21 aces to hold.
"I kept saying to myself, 'C'mon, let's go for it,' " Becker said. "I think Kevin was always, uh, worried." A state of mind that was understandable in the confusion over whether Becker was Budge or Hoad or even Boom Boom's famous countryman of the 1930s, Gottfried Von Cramm. But that baron was 0-for-3 in Wimbledon finals, so this one is way ahead of him, too.
At the outset of the fortnight, Becker and Curren could have been Fortnum and Mason, kidney-pie makers to the stars, for all John McEnroe could have cared. Curren was just another big hitter who had lost 18 of 19 sets to McEnroe, while Becker was another dangerous teen who, said Mac, "goes for broke, moves reasonably well but doesn't really think a lot." Understand, now, the heavily favored "holder" (or defending champion, as he is known in the Colonies) was under the usual siege from Fleet Street—MAC: MERCHANT OF MENACE. And poor Tatum O'Neal. She hadn't even joined the traveling squad, expressly to avoid such harassment, yet she was hailed in absentia by The Daily Mirror as "her supreme brattiness dangling from the ego of the champion."
More disturbing to Mac were the first-week rains that restricted practice time and left him unfamiliar with the grass. There's something to be said for being match tough, even at McEnroe's level and especially on the lawns. But for the first time in seven years he had decided to skip the warmup tournament at Queens. "Borg always did," Mac said. Wasn't it obvious then that you don't have to play another tournament to win Wimbledon? Moreover, by the luck of the draw the competition all but skipped him. On his lark to the quarterfinals, McEnroe came across one guy who had hardly played in two years (Peter McNamara), another who had barely won a match this year (Nduka Odizor) and two qualifiers. In retrospect, to think he would be prepared for the quick-triggered bullets of Curren was sheer folly.
In April, Curren lost 6-1, 6-1 in a first-round match in Las Vegas to the young Swede, Stefan Edberg. He promptly left the tour. Disappeared, in fact, into the bush of Botswana, where he joined a safari. Didn't pick up a racket until mid-June. Curren emerged in the fourth round at Wimbledon after having beaten D.G.C. (Colonel) Mustard, who would turn out to be the last man to break his service before the final—presumably he broke it in the dining room with the wrench—to face none other than Edberg.
Anyone who watched Curren blow the racket out of Edberg's hand in straight sets (two of them tiebreakers) might have guessed just what was in store for McEnroe: He won just six points on Curren's serve in the first set. They played on the second Wednesday, it was hot, and how McEnroe must have felt the white heat...whooosh...as Curren's rockets sailed past. How to respond? Why, with some McEntactics, of course.
Let's check the height of the net, bitch about a line call, stall, talk back to these #$%$$$# in the crowd. Leading 2-1, 40-30 in the second set, Curren took the most significant shot of the match, and it wasn't a serve or return. He had faulted his first ball when McEnroe went into his act. Curren marched to the chair and demanded two serves because of McEnroe's delaying. Hardly anybody ever does this to the world's No. 1. But it should be done. Must be. And Curren got his two serves. All the usual hell broke loose between McEnroe and officialdom, but Curren's argument was upheld. McEnroe wasn't heard from again.
Continuing to flail away at his huge second serve to prevent any rhythm on McEnroe's return, Curren cut too fine and double-faulted twice in two games. Still, Mac couldn't break him. In fact, he had only four break points the entire match. Curren was lethal on the receiving end as well. Set two, game seven, game point for McEnroe: Curren aimed down the line three straight times off first serves, and Mac didn't touch a one. Set three, game seven, McEnroe having just double-faulted: Curren loaded up the backhand again and "zoned" another trio of clean, winning returns.
After the changeover, Mac strolled to the baseline with one hand in his pocket, the 6-2, 6-2, 6-4 finish written all over his sodden face. Later, in an almost cathartic session with the press, a strangely vulnerable McEnroe said that he felt "old" and "overpowered" and "overwhelmed." He talked of "the mentality factor," of "more enjoyable things than tennis," even of retirement. What he looked like, however, was just a lovesick guy who needed to get home to his girl.
The less said about Curren's semifinal victory over Connors—the 6-2, 6-2, 6-1 score accurately reflects Jimbo's runs, hits and crotch pulls—the more humane. As defending champion in 1983, Connors had swallowed 33 Curren aces in a similar defeat. This time it was 17. "He kept swatting the big bombs," the victim testified. "They kept coming at my face or crawled along the ground. There was nothing to do."
If Connors was carried off Centre Court on his shield for the last time, at least his spiritual legacy of stare-offs and stoked-up, pumping fists remains with Becker. The youngster served notice by reaching the quarterfinals of the Australian Open in December and the semis of the Italian Open in May. Then, a week before the fortnight, he won Queens in a romp. Afterward, Johan Kriek, the losing finalist, predicted that Becker would win Wimbledon just as easily. Yuk, yuk.
In the big show, Becker came from behind in four matches. Cold and calculating, yet with that big goofy kid smile, he handled the press and the pressure. Was Ion Tiriac, the hirsute Transylvania warrior of old who manages the Wunder Boom Boom, serious when he revealed that at age 10 Becker was kicked out of the German Federation's youth program because he was "too crazy" and that even last year he had "the temperament of complete bananas"?
Wimbledon was but one round gone when Hank Pfister, his beaten opponent, rated Becker higher than Bjorn Borg or McEnroe at the same age, describing his power as "frightful." Pfister said he didn't think Becker could win Wimbledon yet. Then he thought longer. "But maybe so," he said. "The guy's got to win it sometime."
Becker's 9-7-in-the-fifth defeat of seventh-seeded Joakim Nystrom was a study in courage and chutzpah. Twice Nystrom broke Becker on an array of glorious passes to serve for the match. Twice Becker broke back and then held and broke again for the win. "When I was young..." he said, "...I mean last year."
In the fourth round Becker recovered from a twisted ankle to outslug a 1982 Wimbledon semifinalist, Tim Mayotte, 6-2 in the fifth. He hardly glanced at Mayotte on the handshake. By the quarterfinals all regularly scheduled television programs in the homeland were canceled for Boris in Limeyland. Wrote the man from the Times, "How odd Germany should have such personal interest in a court on which in 1940 they dropped a bomb."
Jarryd, the fifth seed, seemed in control of his semifinal match with Becker. Jarryd won the first set 6-2 and had two set points at 5-4 in the second. But then Boom Boom started unloading his sound effects. Trailing 3-1 in the tiebreaker, Becker thundered a return winner, served another bomb and then stalked around the net post to change ends. His stride took him straight for Jarryd, but the older man looked up just in time to lurch out of the way lest he be crunched unceremoniously to the ground. Jarryd didn't win another point in the breaker and went on to lose 2-6, 7-6, 6-3, 6-3. The Boomer patted Jarryd on the shoulder as if dismissing a puppy. "Boris never thinks about it; he just plays," said Henri LeConte, who had eliminated Ivan Lendl before falling in the quarters to Becker. "I see his plan. He just hit ball, make winner, win, say thank you and go bye-bye."
Indeed, you could say that was a fairly accurate assessment of Martina Navratilova's strategy at the championships. But before the Divine Ms. MN could claim her fourth straight Wimbledon singles title (tying Helen Wills Moody) and her sixth overall (tying Suzanne Lenglen), she had to meet the challenge of Chris Evert Lloyd on the bookshelves as well as on the court. It wasn't enough that for the first time the tournament created co-No. 1 seeds in honor of these two remarkable champions; both had new biographies to push as well. For every revelation published in Martina—she used to keep a gun under her pillow; she is intrigued with the idea of Wayne Gretzky fathering her children—Chris came up with a juicy tidbit in Lloyd on Lloyd, which she and husband John wrote with Carol Thatcher, who is the daughter of you know who. Example: The first time John was introduced to Chris, she figured he was gay because she thought only gay men said "lovely" to meet you.
Sad to say, this was the extent of the thrills emanating from the women's draw before Saturday's championship match.
On the heels of her dramatic victory over MN in Paris, Evert Lloyd merely played the best Wimbledon of her life—her scores were 6-1, 6-0; 6-3, 6-0; 6-2, 6-1; 6-0, 6-4; 6-2, 6-1; 6-2, 6-0; 6-4—until the second set of the final. In fact, she had to play pluperfectly—she made just three unforced errors—to win that first set against Navratilova, who was so nervous she could hardly keep the ball in play during the warmup. But Martina had toiled long on her serve since the French—Evert Lloyd had broken her nine times in Paris—and she had resurrected her old chip returns that are so effective on grass. Navratilova took command in the second set, pounding oppressive serves and slicing returns into the corners, and Evert Lloyd's responses were easily picked off at net. Early breaks stood up in both the second and third sets, during which Evert Lloyd found herself playing catch-up.
Compared with their exciting French final, Martina's 4-6, 6-3, 6-2 victory was routine. "It's not like I was avenging myself," she said. "But I did have something to prove. I've won this thing before."
Five times before, and now a brazen, grand new men's champion has won it as well. Victory, it is said, comes at the young "like a ghoul." But if one is brave, bold and Boris Becker, one glares it down. It also helps to know the time. At Wimbledon, the clocks were all set for Boom Boom.