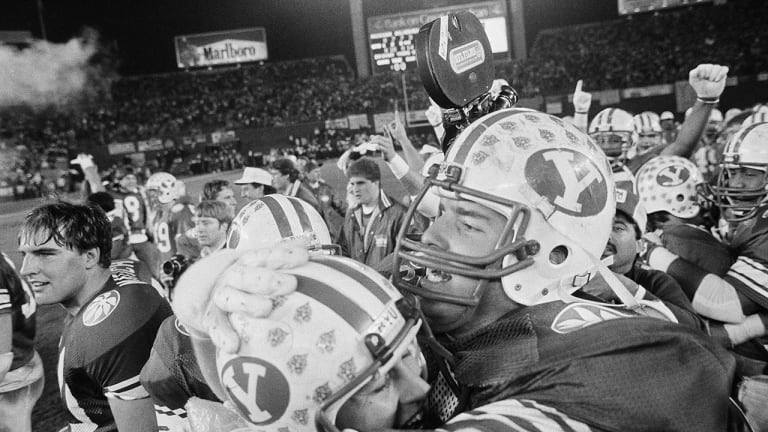 On Sept. 1, 1984 in Pittsburgh, Brigham Young was opening its football season with a 20-14 upset of Pitt. In Capetown on that day, BYU quarterback Sean Covey was dipping the head of a South African woman into a fountain of water and reciting the rites of baptism.
On Nov. 24 in Provo, BYU was crushing Utah State before the largest crowd—65,508—ever to watch a sports event in Utah. With that victory the Cougars finished their regular season at 12-0. In São Gonçalo, Brazil, BYU offensive tackle Don Busenbark was spreading the gospel in areas where 14-year-old boys carried guns.
On Dec. 21 in San Diego, BYU was defeating Michigan in the Holiday Bowl to clinch its first national championship. In Oruro, Bolivia, Cougar safety Scott Peterson was lying diagonally on his undersized bed under flypaper spattered with casualties, listening to the Armed Forces Radio broadcast of the game and biting back the black wish that his teammates not win it all without him.
Spencer Kimball, the current prophet of the Church of Jesus Christ of Latter-day Saints, had declared in 1974 that all worthy young men should spend two years—6½ days a week, no vacation, no expenses paid—converting souls around the world to the Mormon faith. The proclamation came with no asterisk for BYU football players who dreamed of NCAA championships and NFL careers. As their team became a national powerhouse, many of them struggled in places far from home to accept one phrase in the Bibles they carried from door to door: "To every thing, there is a season. . . ."
Twelve thousand feet above sea level, flatlands stretched where only mountains were meant to be. The land was strewn with stones and stunted scrub brush left to the conscience of the sun. Not a tree, not a single tree, interrupted the crushing loneliness of the Bolivian Altiplano as Scott Peterson and a Jeepful of other Mormon missionaries rolled across it, carrying the message of their prophets to a village of a few hundred Quechua Indians. "I will be a better person and a better football player when I get home," Peterson was saying when the two back wheels sank axle-deep in mud. In his white shirt and tie he climbed out, stuffed brush under the tires for traction and helped push the Jeep free. Then he called together the missionaries to celebrate with a leaping Fun Bunch high five or, as it was called in his new home, choque lo cinco (smack the five).
Once during the 95-mile, seven-hour drive they came upon a group of 13 peasants, squatting and silent, their eyes full of the vast emptiness around them. Peterson glanced down to their feet and saw the outline of a body under a white shroud, attached by two black ropes to a bicycle. "It's another of those 'Whys?' " he said. "Here, there are a lot of questions—and never any answers."
At last they arrived at Andamarca, their destination. The doors of the adobe huts were padlocked. Most of the villagers had scattered across the Altiplano to tend tiny herds of llamas or coax potatoes from the land. The few who remained moved like weary spirits, vanishing behind corners and mud walls when the Americans approached.
Exasperated, the missionaries found the mayor of Andamarca and asked why the people wouldn't come to the plaza to hear the gospel. "The last evangelists who came here killed a man and drained his brain fluid," he said. "I would not go into the countryside around here if I were you. The people might kill you."
Peterson and the others climbed back into the Jeep and began the long drive back to the mission in Oruro. On a football field you expelled your frustrations. On a mission you slowly learned to swallow them.
Six months into his 18-month mission (in 1982 the time span was reduced to 1½ years) the softening of Peterson was just beginning. Six feet four inches, 215 pounds, age 19, with the athletic ability to finish third among America's under-20 decathletes in the 1984 Junior Nationals, he was the only freshman to suit up for every BYU varsity game in '83. He seemed destined to be a three-year starting safety and punter, as well as a possible '88 Olympian. Then he chose his religion over America's religion. "I would have felt guilty if I hadn't gone on a mission," he says.
Peterson became one of 27,000 Mormons proselytizing around the world, teaching their doctrine that God still talks to humanity through prophets, and trying to increase the church's membership of six million. He was stuffed with two months of Spanish at the mission training center in Provo and then put on a plane to one of the most remote countries in the world—just in time to miss the most glorious football season in the history of his school. He swore he would be an even better player when he returned . . . but who knew?
Twenty-nine years ago, a fullback named LeGrande Young, father of future Brigham Young quarterback star Steve Young, went on a mission with 19 other BYU players. Three returned to football. Mission life could do that. Scatbacks ballooned. He-men shriveled. Madmen mellowed. "A football player steels his mind to hitting or being hit," says LeGrande. "Then you go off and practice brotherly love for two years. You come back to football and knock someone down, and you want to pick him up and apologize."
The risks of a missionary sabbatical are obvious. A player doesn't lose any eligibility during the time he is gone, but with a redshirt year of reconditioning usually necessary when he comes back, he might need seven years to complete four seasons of football. Some return more ravenous for the sport than ever. Some return with a bellyful of parasites, or to a rosterful of new recruits at their positions. Some return with a disease called perspective.
"While they're away they come to realize there are more important things than football," says BYU coach LaVell Edwards. "At some point it happens to all of us in football, but this makes it happen to some guys earlier. My philosophy is that the mission per se isn't what makes or breaks you, but that it exaggerates traits that are already there. The determined ones get more determined. The others fade away. For a coach, it makes it tough to recruit. You're always having to project which players will be available when. I try to stay out of their decisions, but let them know we support them all the way if they go."
The BYU coaching staff changed its attitude toward departing missionaries—from lament to support—when Edwards took over in 1972, and it has produced obvious dividends. Last year, 52 players were former missionaries. There will be nearly 40 this season, including three starters on offense and two on defense.
What solace are statistics, though, for a 19-year-old shivering with fever in a bug-infested room 5,000 miles from home? "Come quick, I think I'm sick," Peterson moaned into a telephone a month after arriving in Bolivia. Susie Mathis, a missionary and one of only two other Caucasians living in Oruro, rushed to his room and found him buried under three blankets next to a space heater, mumbling deliriously, with a temperature of 105°. She tore away the blankets, fed him aspirin and pressed a T shirt soaked in water to his skin.
Peterson recovered in time to get amebic dysentery the next month and aseptic meningitis a week after that. He missed only two days of work and considered himself blessed. One Mormon missionary in Bolivia had mononucleosis, aseptic meningitis, salmonella fever, typhoid and altitude sickness simultaneously. On any day in Bolivia one-third of the Mormon missionaries were sick. Some would take home intestinal tracts so ravaged their diarrhea would be incurable. Seventy percent of the people they live among have, or have been in contact with those who have had, tuberculosis.
Most days, Peterson felt good. On this one he awoke at 6:30 and reread a few paragraphs of the newspaper he had taped over the wall to prevent flakes of plaster from falling on his bed. He dumped powdered milk in a cup of chlorinated water—breakfast—and then, lying back in bed, he studied Scriptures for a little while with his roommate, a missionary from Bolivia half his size. His room didn't have space enough for a desk or chairs. He chose one of his three pairs of mud-caked shoes, and then he and his companion went out to proselytize on the unpaved streets in the poorest section of one of the poorest towns in the second-poorest country in the Western Hemisphere. He picked his way carefully around the piles of trash and puddles of human urine, and the scavenging chickens and pigs and mongrels.
Strawberry blond, a foot taller than most adults around him, Peterson didn't quite blend in. "¡Grandote, grandote!" (monster) the children cried as he walked by. "¡Tio!" (devil) called some of the older ones. Or more often, tittering at the fact that the missionaries must travel in pairs, they sneered and said, "¡Huevos!" (slang for homosexuals). They resented his dollars more than his dogma. Some blamed their economic misery on the strength of the American currency.
Once a boy with a slingshot nailed Peterson with a rock. Peterson seized the weapon, ignored the women in the market screaming at him to give it back, broke it in half and stomped away. Another time, after two hours went by without a taxi stopping to pick him up, he pulled back his punting leg and kicked a passing cab. "This country basically hates me," he wrote in his journal.
He missed his family, his girl friend and his sport. He struggled with the language, the altitude, the food, the shallow plastic tub posing as a bathtub and the pages of an old Bolivian high school yearbook that doubled as toilet paper. He was supposed to be finding a way to touch people. He wanted to hit them. "I thought I was more patient," he says. "I was a laid-back Californian."
After the anger would come guilt for feeling the anger. How could he rant about the buses not working when one of every seven babies he saw suckling their mothers on the street would die before its first birthday, when gaunt-faced little girls walked up to his table in restaurants and held out empty hands? How could he sustain an American's need for control in a country where strikes stopped the mail and public transportation every few weeks, where shops closed unexpectedly and the owners hoarded goods because they couldn't keep up with the 4,000% inflation? Where desperate miners tossed random sticks of dynamite and farmers blockaded roads, and the 190th attempted coup in the last 160 years might be one burst of rhetoric or machine-gun fire away? Where the eye-sting of tear gas was commonplace and ants crawled through sugar bowls and old women on the streets sold llama fetuses over which witches might mumble incantations to change the people's unchangeable fate?
"What if I get hurt here?" he sometimes wondered. "What if I die here?"
"It's all made me realize how much I appreciate football and my family," he says. "Everyone in America should spend one month in Bolivia. Our mission president says it's the hardest mission in the world."
More than 90% of the people were Catholics, but it was a loose Catholicism with an underpinning of paganism. Many of the miners in his town worshipped statues of Satan, and most of the people left food out for the dead on All Saints' Day, sprinkling flour on the floor and later looking to see if their ancestors had visited and left footprints. But there were rewards. Many people invited Peterson into their homes to talk. Some were genuinely moved that an American would abandon his affluence to be with them. In their helplessness some yearned to attach themselves to something large and strong. They offered him strange-smelling brews and food they couldn't spare, and he risked parasites to gulp it and gratify them. In his first four months he baptized 42 people, helping Mormon membership in Bolivia swell to 45,000. He saw men who once drank beer to dull their desperation begin to abide by the Mormons' abstention from alcohol, tobacco and caffeine, and to take care of their families instead.
But God, how he missed the smell of autumn Saturday afternoons. "There's 65,000 people at Cougar Stadium, you're something special there," he says. And then adds, hastily, "But God wants me here now. It'll be my time afterward."
He hadn't brought a football to Bolivia. He played some basketball on Mondays, when the missionaries were free until 6 p.m., did some push-ups and sit-ups, some sprints and one-legged bounding, but not as much as he knew he should. Physical activity only made him think more of what he was missing, and made all the children stare and point. "Look, grandote is running fast. Did he steal something? Now he's stopping and walking back and running fast again." They imitated him hopping on one leg. It hardly seemed worth the trouble, especially when eight hours of walking at 12,000 feet left him exhausted every day.
On Dec. 21, while he listened as BYU sealed its No. 1 rating in the Holiday Bowl, he could repress the conflict no more. Some of the names he was hearing were people who had urged him to stay in America. "Don't leave, Pete, you can play next year," they had said.
Usually, he had received the scores a few days late from American Mormons living in Bolivia or through letters from home, allowing him sufficient distance from what he had given up. But now, lying in bed as his companion slept a few feet away, he was taking it intravenously. He hated the part of him that didn't want Brigham Young to win the championship while he was stranded in the Andes.
By 2 a.m. the game was over. He clicked off the radio and worked hard to hush the inner voice. "If I'd stayed in America, I wouldn't have played pro football," he thought. "Before, I just did it because I was good at it. Now I know I love football. Now I know what's important. Before, I had trouble tackling; that was my only real weakness. Now I'll just go home and pretend every offensive player is a Bolivian calling me a huevo." He smiled.
"I can think and talk about football; it's O.K., it doesn't get me down. It gives me something to look forward to. What if they bring in somebody great at my position? I've thought of that. Maybe I'm cocky, but I think that's my position. I'll have more desire."
Peterson let his exhausted mind roam. It knew right where to go: Sept. 20, 1986 at Washington, the first big game of his first season back. "There are 60,000 drunk Washington fans doing the wave, and suddenly I make an interception. I silence them. . . ."
At 2:30 Peterson fell asleep. In four hours he would have to rise and brush the plaster chips from his bed.
At 2:30 a.m. in Rio de Janeiro, the samba drums on Rua General Espirito Santo Cordoso were pounding out an ultimatum to the flesh. The people drank wine and let the music take their hips, their thighs, their torsos—their minds. Some masqueraded as clowns, some as wizards, some as devils, some as gods. Men were dressed as women; women were barely dressed at all.
Ten floors above the most carnal carnival on earth, Don Busenbark, a 6'4", blue-eyed, baby-faced offensive tackle from BYU, slumbered in his apartment. Each day since the start of Carnaval, he had been behind doors at 7 p.m., as ordered by the mission president. On this night he studied Answers to Gospel Questions and Doctrine and Covenants while the street parties started. He then moved the little stuffed rabbit his girl friend had sent him off his bed and went to sleep.
In Busenbark's new city, women commonly strolled the sidewalks in microchip bikinis, the carriage of their bodies saying, "Take me, take me" and the nonstop pounding of the samba drums during Carnaval saying, "Why not, why not?" Naked females smiled from posters lining the walls of cafes where sweat ran down the beer bottles and the bare chests of men sitting upon the stools, and prostitutes on the streets put their arms around the shoulders of stammering Mormon missionaries. Busenbark had to do more blocking out than he had done in all his football career.
"It's a sinful city during Carnaval," he was saying as he stood in front of his church, smiling and soul-shaking with children as they entered. "A lot of things go on that are not uplifting. Yeah, the big problem here is girls. They don't wear nothing, and they like Americans."
A woman approached him to plant the two traditional kisses of greeting or departing, one on each cheek. He jerked back his head as if a fastball were coming at it. "Control of their eyes and their thoughts is the biggest problem our missionaries have here," says mission president Cory Bangerter. "We advise them to sing a song or recite something that will lift their minds to a higher plane. And to look only at the women's faces and think, 'That's one of our heavenly Father's daughters.' "
To be a Mormon missionary in a foreign country is to be cut off from your old home and never integrated into your new one. The mission assigns you a 24-hour-a-day companion, someone you've never met, and it forbids you to be alone. But you're always alone. The mission outlaws the beach. It forbids being in any room alone with any member of the opposite sex, or boarding in the home of a single or widowed woman of marrying age. With few exceptions, it disallows musical instruments, TVs, radios, movies, swimming, mustaches, beards and hair touching the ears. If you can overcome such hardships in Rio—the 6:30 alarm, the 110° heat, the 90% humidity, the 24-hour summons to sensuality—you'll surely return to America steeled for any discipline football can demand.
With seven months left on his mission, Busenbark was mentally stronger than ever. Physically, he was disappearing. Ten pounds . . . 15 . . . 25 . . . 30 . . . 35 . . . 40 . . . 45 . . . 50 . . . 55! Day after day he walked through the steamy Brazilian heat, appetite dwindling, dysentery raging, necktie pinching, white shirt sweat-plastered to his body, pants slinking down his diminishing waist. In Nova Friburgo, a town he worked in before being transferred to Rio, he had to climb 320 steps nearly every day. For six days he was so weak from a virus that he couldn't even walk or eat. In his sport coat he looked like a little boy playing dress-up in his daddy's closet, until he became too embarrassed to wear it. He stabbed his belt to make a new hole, and then another and another, until his weight stabilized on the 12th homemade hole.
Busenbark had once been a 270-pound offensive lineman; now he was a 215-pound missionary. After a month in Brazil, he couldn't even lift the giggling brown children over his head the way he had during his first few weeks there. He stared at this stranger's body in shock.
"Look," he says, grabbing a handful of loose polyester at his waist, "they need to be taken in by the tailor again. I'm under the weight I played at in high school. The Americans here are joking that I'll return as a wide receiver." He smiled weakly. In a football player's mind, mass and muscle become linked with manhood. Busenbark felt his dissolving. Did everything have a cost? Did he have to forsake his old sense of physical control to gain this new feeling of mental control?
"I feel more vulnerable," Busenbark says. "I'm nervous about going back. I have visions of getting taken apart. All my friends will laugh at me. They'll think I'm some little kid. I've laid in bed thinking, I may never play football again."
He couldn't share his fears; the Brazilians would never understand that this big gringo felt small. One night two Brazilian missionaries with whom he was living kept insisting that soccer required far more skill and finesse, that American football was just a series of random collisions among large and irrational men. He tried again and again to explain. They chuckled. In blind frustration, he slammed his fist into the door. The door cracked. The missionaries fled. Silence fell over the apartment.
Busenbark had a steady headache the entire first month, so hard was he concentrating on comprehending and speaking Portuguese. Many people didn't understand why he had come. Some said it was because he was afraid to go in the army. Some were spiritualists who left lighted candles, cooked chickens and wine on the curb for the spirits, and warned people a curse would be put on them if they joined the Mormons.
During his third week in Nova Friburgo, seven of his eight white shirts were stolen from a clothesline. No store had his size, so he wore the same shirt for a month. It became the same shade of red as the clay surface of the streets.
One morning he awoke covered with flea bites, his underclothes bloodstained from unconscious scratching. One night he lay down to sleep and the bed collapsed; termites had eaten through the slats. The shower and the toilet didn't work. The sink faucet refused to be shut off. He reached up to fix the electrical wiring to make the shower water hot, and shocked himself badly. Back home, his teammates were posing for pictures for national magazines.
"What am I doing here?" he wondered. The answer didn't always come easily in an age when causes were dying from lack of oxygen. He had been all-state both offensively and defensively in Washington, had suited up for home varsity games as a BYU freshman and was projected as a starter in his junior and senior years. He had hopes of becoming a pro. Neither of his parents was a Mormon—he hadn't become one until he was 16—and they couldn't understand why he would leave his studies. He had never thought much about becoming a missionary until the day his girl friend brought it up.
"Girls want to marry ex-missionaries, that's what mine told me," he says. "They think it makes guys more mature. A lot of my friends were going on missions, too. So I decided it was the right thing to do. Except now I don't know if I have a girl friend. I haven't received a 'Dear John' yet, but. . . ."
It took months for Busenbark truly to know why he had come. At Christmas he handed out toys to poor children, and they swarmed over him with joy. The poor always seemed to invite him in to talk and eat. The rich usually shut the door. Some people actually agreed to be baptized just so they wouldn't hurt the big gringo's feelings.
"Everybody has a bubble around them that makes them feel comfortable," he says. "By coming here, I've reached beyond my bubble. I feel more competent."
His girl friend sent a BYU national championship T shirt. He stowed it in his closet. A friend sent a BYU national championship bumper sticker. "I don't really feel a part of it," he said, putting it aside. He hadn't learned, or sought, the score of the Holiday Bowl until three weeks after the game. The only part of him that still felt like an athlete was the burning itch between his toes. The humidity had given him athlete's foot.
He sensed that he had won something important, but now he needed to know if that meant he could no longer have the things he once loved. In February he found a dingy club where he could pump iron three days a week if he woke up at 6 a.m. A few weeks after he began there, a man about to steal a radio noticed Busenbark's size and fled without it.
A few missionaries eating with him at Bob's, a fast-food chain in Rio, challenged his once-proud eating prowess. He promptly annihilated a sundae in 23 seconds and a Big Bob—"bigger than a Big Mac," he says—in a world record three seconds. The missionaries looked at him with a respect he hadn't felt in a year. He belched happily. Maybe he would be a football player again, after all.
"Ma'am, we represent the Church of Jesus Christ of Latter-day Saints," said Sean Covey, the young man expected to be the next great BYU quarterback. "We have a message about Jesus Christ today. Can we come in and share it?"
"Nee. Totsiens" (No. Goodby), said the South African woman. The door closed. The lock clicked.
He went to the next house. The fat man wore no shirt and smelled of alcohol. "No," he said. "I was born into the Dutch Reformed Church, grew up in it, and I'll die in it." The door closed.
He approached a third house. A Scottish terrier spilled onto the porch, barking furiously. A woman in her 40s glared at Covey for irritating her pet. "I have my church," she snapped. "Please close the gate behind you!"
"Have a good day," he said politely as he left. Another scoreless day was coming to a close for the quarterback who threw for 33 touchdowns during his senior year at Provo High and completed 56% of his passes as a freshman for the BYU jayvees.
Covey returned to his apartment for a quick bite before going out to proselytize again that evening. As he ate a sandwich, his gaze fell upon his wall. Upon it was a picture of the church's present prophet with a quote that said, "Those who climb the highest mountains in life are the men of discipline." The wall also featured a list of 26 sayings about work; a list of five inspiring thoughts; a list of four goals for the week; a list of 10 things to do to achieve success; a list of five things to keep in mind while saying the 20 prayers a day he usually said; an inspirational poem; and pictures of Mormon temples in Hawaii, Utah, Idaho, Arizona, Alberta and Johannesburg.
On the desk were 40 books on religion and 30 tapes of religious speeches. Covey headed back to his car, where the trunk held a key ring packed with scriptures to memorize as he walked door to door, along with stacks of religious pamphlets, tapes, books and films. In the corner, almost hidden, lay a deflated football. Covey had thrown it three times in his first year in South Africa, winced at the wobbling results and then left it in the trunk to exhale quietly. He had written home and told his parents to stop sending articles about BYU's championship after receiving the first two or three.
Before the mission let him rent a Toyota Corolla for about $20 a month, he had worn out the seats of two pairs of pants going door-to-door on a bicycle. His thighs had become so thick from riding as many as 30 miles a day, he could no longer yank his Levi's over them. The brakes wore out on his bike, and then the soles of his shoes wore out from being dragged on the streets as brakes.
"Most missionaries work 60 hours a week," says G. Phillip Margetts, president of the 12,000-member South African mission. "Sean Covey works 70 to 80. He's the hardest-working missionary I've ever seen."
The more difficult his mission became, the more tightly Covey wrapped it around himself. Working mostly in white areas of South Africa his first year, he was bucking one of the most stubborn human clans on earth. The Afrikaners have all but welded church and state, interpreting the Bible to mean that God had tapped them as His chosen race to carve a civilization amid the black tribes of Africa and to propagate the Dutch Reformed Church. They quote verses from the Bible that they claim sanction apartheid. They stiffen at the sight of Mormon foreigners urging Afrikaners to defect. Funny, back in America it was the Mormons whom many considered racists, the church having forbidden blacks to be priests until its prophet received a divine message to the contrary in 1978.
On Dec. 21, the day his teammates played in the Holiday Bowl, Covey was teaching a woman about his church, despite her husband's threat to kill him if he continued. Some Dutch Reformed ministers told their congregations that the missionaries were Communists and spies and polygamists. (Actually, the Mormons stopped taking multiple wives nearly a century ago.) Ministers told people they would burn in hell if they converted.
"You're Mormons, aren't you?" one Afrikaner asked a pair of American missionaries as he watered his lawn.
"Yes, sir, we are."
"You believe in baptism by immersion, don't you?"
"That's right, sir."
"Good," he said, turning the nozzle and soaking them. For Mormons, a missionary's mission is converting souls, not feeding the hungry or winning voting rights. When Covey got into houses, he was under orders not to discuss apartheid or politics. But often he went days without getting past a single door, sometimes bicycling 10 miles back to his apartment through driving rain. The frustration drove him to work harder. Didn't the value of a thing come not from what you gained from it, but from what it cost you?
He could not bear to do anything unless he did it well. Besides being Utah's Class AAA MVP in football, he had achieved a high school GPA just [3/100]ths of a point shy of perfection. His father, who recently taught religion and organizational behavior at BYU, had been a mission president in Ireland. His mother had given birth to him in Belfast. As far back as Covey could remember, he had known he would go on a mission. He had envisioned all the souls he would round up and herd to the truth.
On Christmas Day, when the other missionaries were relaxing, he knocked on doors and reaped more rejection. Some nights he hid in his bathroom from his companion and wept. "Sometimes you feel all alone in the world," says Covey. "I had a landlady who fed me spinach pancakes for dinner. When I didn't eat them, she cut them up and put them in my eggs the next morning. If I left a light on for two seconds, she'd yell at me. Some people shooed me from their doors like I was an animal. Some told me I could go to hell.
"I've been humbled. I've realized how limited my power is. The battles rage inside me, between the glory of God and the glory of man. I used to pride myself that I hadn't cried in seven years. Then I went on a mission, and I was crying every few nights."
Covey grew up within a mile of Cougar Stadium, cutting out hundreds of articles about Brigham Young football for his scrapbooks, attending home games, mimicking the great BYU quarterbacks in his backyard. He quarterbacked Provo High to the state championship. Coaches from Pitt, Stanford, UCLA, Oregon State and Air Force knocked on his door, but he knew deep down where he was going. After watching Covey play the six-game jayvee season, including a game in which Covey completed 47 of 77 passes for 520 yards, Edwards sensed that the latest branch on the Cougars' Gifford Nielsen-Marc Wilson-Jim McMahon-Steve Young-Robbie Bosco family quarterback tree had shown itself.
And then he was gone, 10,000 miles from Provo, to the farthest possible mission from the church's hub, pushing away news about his team, suppressing the football player inside him for fear it might interfere with the missionary. During Monday afternoon pickup basketball games at the church, what he had bottled up burst from him in ways that surprised the others. The 6'1", 180-pound cherub-cheeked missionary was bouncing bodies off the wall.
"I've felt longings for football," he says. "But I've closed them off. You can control your mind. Football is important to me, but my feelings for the church are a lot more important. A lot of my friends said I'd accomplish more by staying and producing a winning team for the church, that BYU football is introducing people all over to our religion. But why should I be exempt from what the prophet asked of all young men just because I play football?
"I was pampered all my life. The mission is the toughest thing I've ever done. But getting rejected constantly makes you stronger. All great things are hard. This is a great life."
During the last week of December, Covey had to make a decision. The church had recently re-extended the duration of missions from 1½ years to two, but all those afield at the time could select either stint. If Covey chose 18 months he would be home by July 1985, having missed just one season of football. Surely no one would question his commitment: None of the BYU quarterback greats of the last decade had gone on missions at all.
Covey postponed the decision until the last moment, the anxiety eating at him. On Christmas Day he telephoned his father—one of two calls a missionary is allowed to make each year without getting special permission—and asked for advice. His father told him the family would support him either way. He wondered what his hero, the Scottish runner Eric Liddell in Chariots of Fire, would have done. Covey fasted and prayed for help. "People were telling me, 'You look terrible,' " he recalls. "I was so deep in thought people were talking to me and I didn't even know it."
Something told him that if he could overcome himself, he could overcome anything or anyone. He called the mission president on New Year's Day and told him he would skip another season of football and stay. The anxiety vanished. Now his sacrifice felt whole.
Steve Young, the Mormon millionaire, sat on the grass outside the Los Angeles Express practice field wearing a Dodger baseball cap, white sweatshirt, jeans and unlaced sneakers as he waited for a teammate to give him a ride to his hotel. As of the second week of his second season as the highest-paid player in football, Young hadn't bought a house or even moved into an apartment. Nor had he replaced his 20-year-old, 225,000-mile Oldsmobile, which had been too exhausted to make the trip from Provo to Los Angeles.
Young had considered going on a mission after his freshman, sophomore and senior seasons at BYU. The weight of his ancestry virtually demanded it. His great-great-great grandfather was Brigham Young. His father, all four uncles, and even his younger brother, Mike, who's a Brigham Young quarterback now, had gone. His friends were going. Each time, though, he had decided against going. He couldn't go just when he was about to become a starter; he might never get the opportunity again. He couldn't go after he became a starter; the school needed him too much.
Young set 13 NCAA records and became the No. 1 pick of the USFL. He signed a contract worth $40 million over 43 years. He immediately gave almost $200,000 to BYU for scholarships, and will end up contributing one-tenth of his $40 million to the church as he receives it. He provides the Mormons with a high-profile personality who introduces thousands of people to the church. He wishes he had gone on a mission.
During college Young would go home to Greenwich, Conn. and read the letters Mike sent from Honduras. They spoke of pull-ups on banana trees for strength and oxcart trips to teach the poor. His father would watch him become sad.
"I tell him that he could never influence the Indians of Peru the way he can influence people in America now, but that doesn't convince him," says LeGrande Young. "It's a bit of a guilt complex. He's afraid of the money he's making. He just wants to go on living the college life. Heck, he still bums money from his mother."
Young: "I'd advise any young man in the church to go when he was 19 [the first year Mormon men are eligible] if he possibly can. If I had gone on a mission before I signed and everything became crazy, I might have handled things better. I still want to go if I can. I even sent in my missionary papers at Christmas after my senior season. The longer I wait, the harder it becomes to go, but the more I want to go. My life is always in a state of uncertainty. Maybe when I retire. . . ."
He peered down the road in search of his ride, wondering why so few understood: What championship, what fame, what career was not worth risking—rather than to live a life without a mission?